Honoring the wisdom that comes with age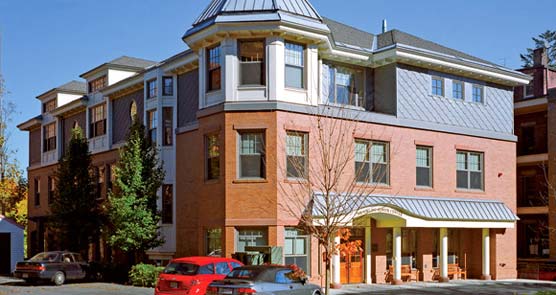 Ruthann Dobek, director
My own father was a special man, a teacher and humanitarian who instilled in my to find the good in everyone.  Please join me in doing something in his memory this month for someone.
Get smart with your SmartPhone Wednesday June 28 from 3-5 pm here.  Drop in and learn.
Monday, July 24 the REAP program summer event presents Generation 2 Generation from Encore Boston Movement.  Panel and mentoring with young people.  1-3 pm.  Deidre Waxman:  617. 730. 2767
Wednesday, June 28 is the TRIPPS ice cream social.  Hear about the ways to get around without a car.  Eat ice cream.  June 28 from 1-3 pm.  Register:  617. 734. 2644
Vibrant Assistive Technology Program
Mass Association for the Blind and Visually Impaired announces the VIBRANT program together with the Centers on Aging and our Center.  It's about assistive technology.  If you're losing sight, we'll train you on technology to help.  Assistive is hardware or software to help with cooking, cleaning, shopping, reading, TV, creating spreadsheets, banking, travel, health and fitness.  If you have low vision or are blind, reach out.
Assessments are done by Sassy Outwater, our assistive technology coordinator.  You'll be matched with a volunteer for training on screen magnification, text aloud, shopping online.  Call 617. 780. 9037 or email:  SOutwater@mabcommunity.org       You may also meet her (below) here Wednesday and Thursday afternoons in the computer lab.
Whatever your interests, get to know us.  Stay connected with our programs and services.  We're here to help fill your days with creative activities and new friends whether it's exercising, volunteering or learning something new.  Our gym has new gear and great staff.   Stop in 8:30-4:30.   And take a hike, or dance, lift weights, walk, yoga.  For every minute you exercise, you add seven minutes to your life, so says Harvard School of Public Health.
What's the difference between the Council on Aging and the Senior Center?  The Council is a municipal department of the Town of Brookline.  The Senior Center is the building.  And then there's the Brookline Multi-Service Center Corporation.  That's our official name for the non-profit that raises funds.  The official name is unwieldy so we ask you to make checks out to Brookline Senior Center.  And, the Town's budget for us covers 70% of our total costs.  The non-profit raises money to pay for the rest.  30% of our budget comes from you.  In this fiscal year, which ended June 30, private donations were $241,000.  Here's how we spent part of it: – – – $33,000 to the Fitness Program classes for 368 participants and scholarships – – – $59,000 for a new van:  $27,000 for the driver and gas for 2,987 rides and – – – $27,000 for programs, supplies and food
Our Volunteer of the Year is Barbara Kean.  The award was presented at the volunteer lunch.  Barbara is an ambassador for us who exemplifies kindness and concern.  Certificates were given to volunteers Corey Cohen, Frank d'Entremont, Rita d'Entremont, Regina Frawley, Carol Fullerton, Phil Fullerton, Rhona Hirschowitz, Charlotte Millman, Michelle Moshin, Fran Pechenick, Vera Sharma, Eleanor Small, Muriel Stark, David Weinberg, Louise Weinberg, Ada White, Roberta Winitzer.
Our Community Partner of the Year is Goddard House.
---
Get checked in June

Barbara Westley, public health nurse, Brookline Public Health Department

Wednesday, June 28 – – Blood pressure screening with Barbara Westley, RN from 1-2 at O'Shea House, 61 Park St
Podiatry Clinic – – Routine foot care with Dr. John McLaughlin: $40.  Call for appointment:  617. 730. 2777
Wednesday, JULY 19 – – Low Vision peer-led support group meets at 1 – no meeting in June
---
Richard Dowling plays Scott Joplin, 6/29
Join us Thursday, June 29 at 1 to welcome pianist Richard Dowling in celebration of the 100th anniversary of Scott Joplin's death.  Dowling's concert features ragtime rags, waltzes, marches and cakewalks.  (He performed Joplin's complete works in concert at Carnegie Hall April 1.)  Register:  617. 730. 2770
---
Elks Barbecue, 7/1
Brookline Elks Lodge #866 brings their summer barbecue to the Center Saturday, July 1 at 1 pm.  Reserve:  617. 730. 2770
---
Free Fridays from Highland St Foundation
"Free Fun Fridays offer visitors no-cost admission to venues in Massachusetts. It was created to increase access and enrichment opportunities for children and families every Friday through the end of August."            Highland Street Foundation
June 23
Lyric Stage Company of Boston
Mary Baker Eddy Library
The Sports Museum
Clark Art Institute
The Mount: Edith Wharton's Home
Worcester Art Museum
Peabody Essex Museum
The Discovery Museums
June 30
Boston Children's Museum
MIT Museum
Norman Rockwell Museum
Springfield Museums
EcoTarium
Maritime Gloucester
New Bedford Whaling Museum
The Gardens at Elm Bank (Massachusetts Horticultural Society)
July 7
Isabella Stewart Gardner Museum
New England Historic Genealogical Society
Ventfort Hall Mansion and Gilded Age Museum
Mahaiwe Performing Arts Center
Amelia Park Children's Museum
Falmouth Museums on the Green
Pilgrim Hall Museum
Children's Museum in Easton
The Hall at Patriot Place
July 14
Edward M. Kennedy Institute
The Metropolitan Waterworks Museum
Harvard Museums of Science and Culture
Larz Anderson Auto Museum
Provincetown Art Association and Museum
Edward Gorey House
Museum of Russian Icons
Cape Ann Museum
July 21
Museum of Fine Arts, Boston (MFA)
Tanglewood
Boston Athenaeum
The Museum of the NCAAA
Fruitlands Museum, The Trustees
Spellman Museum of Stamps and Postal History
Lynn Museum
Hancock Shaker Village
Sandwich Glass Museum
July 28
JFK Presidential Library and Museum
Commonwealth Museum
Arnold Arboretum
The Eric Carle Museum
Berkshire Theatre Group
Historic Deerfield
Cape Cod Museum of Art
Wenham Museum
Tower Hill Botanic Garden
August 4
Commonwealth Shakespeare Company
Old State House
The Greenway Carousel
Fort Devens Museum
Children's Museum at Holyoke
International Volleyball Hall of Fame
The Old Manse, The Trustees
JFK Hyannis Museum
August 11
Franklin Park Zoo
Fuller Craft Museum
Cape Cod Maritime Museum
Worcester Historical Museum
Griffin Museum of Photography
Fitchburg Art Museum
Jacob's Pillow Dance
Smith College Museum of Art
Naumkeag, The Trustees
August 18
The Institute of Contemporary Art, Boston (ICA)
Old Sturbridge Village
Freedom Trail® Foundation
Buttonwoods Park Zoo
Cape Cod Children's Museum
Concord Museum
Berkshire Museum
Emily Dickinson Museum
August 25
Boston Harbor Islands National and State Park
USS Constitution Museum
Plimoth Plantation
MASS MoCA
Nantucket Whaling Museum
The Children's Museum of Greater Fall River
Museum of African American History
Cape Cod Museum of Natural History
Heritage Museums and Gardens
---
Computer Session Tuesdays
Dan Siagel is back with half hour one to one sessions Tuesdays from 2-4 pm in the lab.  He helps with basic PC skills, Smartphones Apple and Android.  Info:  Olga Sliwa 617. 730. 2768        To make an appointment:  617. 730. 2777
---
Drawing for Pleasure Thursdays
Learn to draw Thursdays through July 27, 9:30-11:30 am.  NO CLASS June 22.  Open to those with little or no experience and as a refresher.  Instructor Louise Weinberg builds on each session.  Materials:  $10.  Register:  617. 730. 2770
---
Bereavement Support Wednesdays: 7/12,19,26, 8/2 and 8/9
For those who have lost a loved one in the last year, join us Wednesdays July 12, July 19, July 26, August 2 and August 9.  Deidre Waxman:  617. 730. 2767       Participants will be screened by phone
---
Job Search Workshops: 6/26, 7/3
Learn basic job search skills:  elevator pitch, resume, references, skills, LinkedIn and ageism.  June 26 and July 3 from 1-4 pm.  Register with facilitator Patricia Burns:  617. 730. 2743
---
Zumba Gold Thursdays
Join instructor Emily Brenner Thursdays from 1:30 – 2:30 for Zumba gold through August 3.  NO CLASS JUNE 8, JUNE 22, JULY 20.   Drop in for $7/class,  free to Brookline Housing Authority residents.   – – Sponsored by the Brookline Multi-Service Senior Center Corp
---
Elizabeth Pollock, president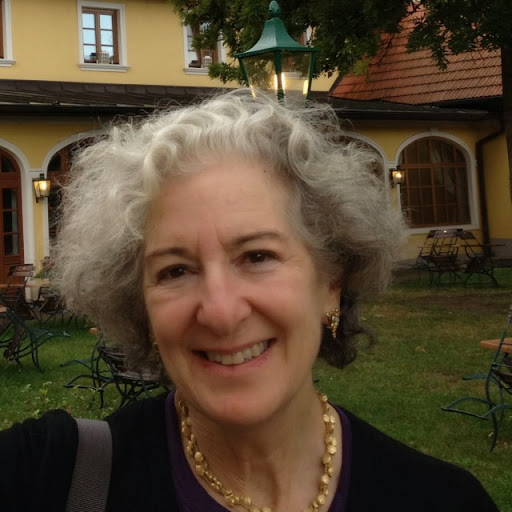 Help a friend afford a Fitness Center membership.  We're seeking donors to help others with scholarships.  It's $35/month and $420/year.  Our fiscal year ends June 30.  Your help will sustain these programs.
Last year the endowment fund donated $47,000 to the operations budget.  By 2020 we want to double our endowment.  Areas that need your help include transportation, specifically the van and drivers.  A legacy donation supports programs and the physical plant.  We thank you.

"Exercise is the only thing that helps everything associated with aging," says Janice Schwartz, MD, professor of medicine at UC, San Francisco.  Look for better physical health and memory.   We hope you'll look into our fitness center and ping pong program.  If you can, help us with scholarships to the fitness center.  We're grateful to Bay State Federal Savings Charitable Foundation for their donation.
I care deeply about the future of the Center and so I have included it in my estate planning. Endowments help ensure the future of the organization with reserves. We're hoping to double our endowment by 2018. You can contribute directly or put the Brookline Senior Center in your will.  Gifts of $1,000 will be added to our Wall of Honor.  Be sure to let us know you've included us in your will or trust so we can recognize you in our Ambassador Club.  ***   "I give $___ to Brookline Multi-Service Senior Center Corp (EIN 04-2719972), a Massachusetts non-profit corporation, located at 93 Winchester St, Brookline, MA 02445 to be used for general purposes." – – Consult your lawyer or financial advisor
---
News
– – – – – – – – – – – – – – – – –
The Reunion Project:  The Brookline Senior Center and Brookline's Goddard House exhibit photos by Lora Brody of women from age 65 – 100 as they look now along with pictures of when they were younger.  Through June 30  http://www.thereunionproject.org/
– – Sponsored by the Brookline Senior Center, Brookline CAN, Goddard House and the Center Communities
Artist Gary Chen gussies the van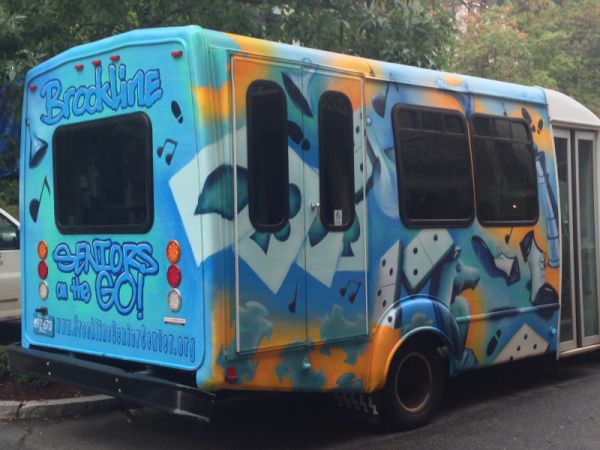 – – photo by Mary Nguyen
Thanks a million, Artists for Humanity!   
– – – – – – – –
Newsletter
– – Find the newsletter at the library, Town Hall, banks, Stop & Shop, Star Market on Beacon and the Brookline Booksmith.  The best way to be sure you get one is to subscribe: for $10 we'll mail it to you for a year.  If you're a retailer with space for a stack of newsletters, call us.  We deliver.  Be an advertiser:  Click for ad specs
Planned Giving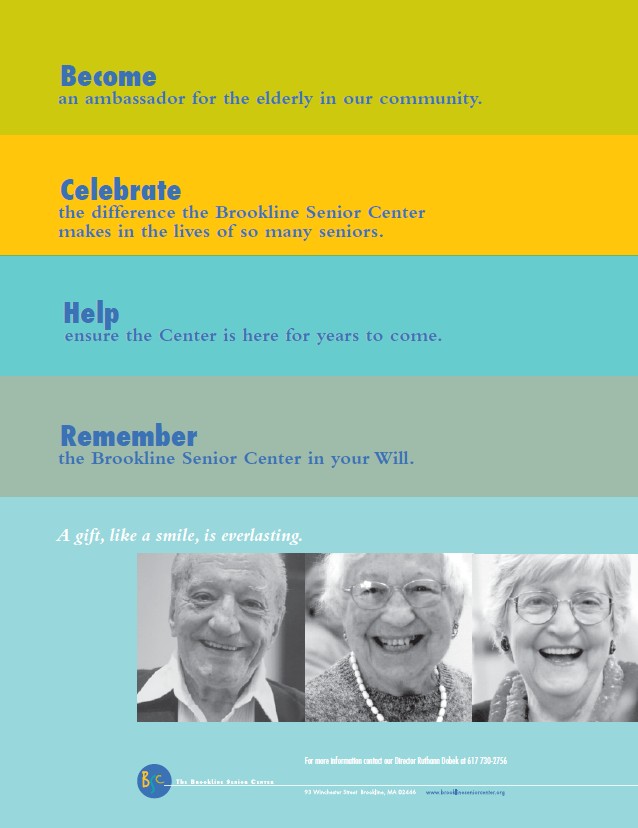 – – Consider leaving a legacy to the Senior Center.  Your bequest is a gift of hope.  Please call Ruthann Dobek, director:  617. 730. 2756 and help us secure a bright future
– –