Honoring the wisdom that comes with age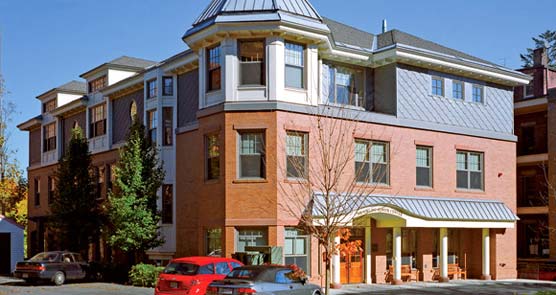 Ruthann Dobek, director
We close Monday May 28 for Memorial Day.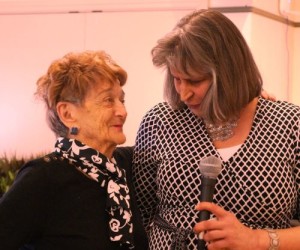 – – Eleanor Small (left)
Our John and Molly Dolan volunteer of the year is Eleanor Small who's been with us for 12 years.  She works the gift cart, food pantry and the craft fair.  Eleanor is also the co-leader of the out to lunch bunch and an avid bridge player.  Ruthann Dobek describes Eleanor as warm and welcoming.  "She never waits to be asked to help.  Eleanor is a true ambassador of the Center and exemplified the sharing, giving and paying it forward of John and Molly Dolan for whom the award is named."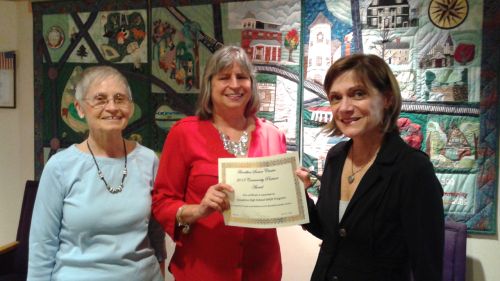 – – left to right: Patricia Burns, volunteer coordinator; director Ruthann Dobek and SHOP advisor Lisa Gaffey
Our community partner of the year is the Brookline High School SHOP program.  SHOP is a collaboration between us and the community service group at the school:  students helping seniors with shopping along with developing new friendships.  Student coordinators are  Nick Brown, Shahar Hartman and Roy Golan along with faculty advisor Lisa Gaffey.  In March, the SHOP program was featured on Boston 25 NEWS (link to the right).
Our luncheon was dedicated to the memory of Vivian H. Freeman who was volunteer coordinator for 18 years.  Vivian was a Wellesley College graduate with a master's in education.  Her life was devoted to volunteering and service.

– – Vivian H. Freeman
Celebrating his one-year anniversary as a volunteer, Daniel Price:
Daniel started his piano journey at 2 with an 8 note child's piano. He quickly learned the names of the notes and at age 4 his mother enrolled him in piano lessons. He took piano throughout elementary and high school and guitar starting in 2001. Daniel graduated with a double major from Berkeley School of Music last year and became a volunteer at the Senior Center in April 2017. Daniel gave a fantastic concert at the Senior Center the following October complete with old favorites, original pieces honoring some of our volunteers and informative introductions to each piece. Daniel performed again in March  and provided the entertainment for the Annual Volunteer Appreciation Luncheon in April.
When we asked him why he chose to work with seniors, Daniel said that he lost his grandfather in 2013 and then began checking in even more regularly with his grandmother with whom he has a wonderful relationship. He felt that seniors are too often interrupted in their storytelling and wanted to work with them to give them space for reminiscing. He then researched top senior centers in the Boston area and settled on our Brookline Senior Center.
Thank you speech     (click to listen)         Daniel sent this audio on his one year anniversary being a volunteer. We feel he has enriched our lives as much as we have enriched his.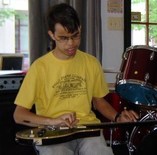 – –  Daniel Price
I honor of Mother's Day, I made a donation to the Center in memory of my grandmother, in honor of my wonderful mother Patricia Dobek, one of our generous benefactors, and in memory of my dear mother in law Gladys Boghosian, a fan of the Center.  Is there someone in your life you'd like to honor? This is a wonderful time to do it. Please make a donation in honor of or in memory of the special women in your life.
We're hosting a treasure trove of events in May and we're proud to celebrate older Americans month.  We also say goodbye to our excellent students Lucy, Anne, Alicia, Kara and Olivia.  They contributed much to our community and we wish them well in their careers.  For those who are mothers, a special thank you for the hard work, love and sacrifice you make for your families and everyone else.  Sons and daughters, honor your mothers by doing something kind for someone.
Wednesday, May 23 – – Annual reading of memoirs by members of adult education's telling your story.  Here at 10:15
Thursday, June 21  – Annual Sidewalk Sale from 10-2pm.  Donations accepted but please no clothing, linen or appliances.  Proceeds benefit our programs and services.
The Brookline Age-Friendly City committee needs new members.  The group seeks "to strengthen the Town's response to its senior population through collaboration with the Town, the Council on aging and BrooklineCAN.  Attend monthly meetings and contribute to committee projects."  Committee members are appointed by the Select Board for three year terms.  Information:  co-chair Frank Caro   frank.g.caro@gmail.com
According to a study by Harvard University Public Health, for every minute you exercise, you're adding seven minutes to your life.  They recommend exercising at least 150 minutes/week.  Activity benefits cancer, heart, arthritis, diabetes and respiratory illness.  Research also links exercise with better mood and cognition.  After a difficult day nothing makes me feel better than a brisk walk.  So dance, lift weights, walk, yoga.  Join our fitness center.
---
May Health Checks

Barbara Westley, public health nurse, Brookline Public Health Department

Podiatry Clinic – – Routine foot care with Dr. John McLaughlin: $40.  Appointments:  617. 730. 2777
---
TRIPPS
May 18, May 25 and June 1 – – Getting Around with Uber and Lyft.  A multi-session class on how to use your SmartPhone to ride share.  Bring your SmartPhone and Apple/Google password.  Meets at the Coolidge Corner branch of the library.  Register: 617. 730. 2644
May 24 and May 25 – – AARP Safe Driving Course here from 1-3 pm, a two-session class.  Changes in road, rules and vehicles.  $15/AARP members, $20/non.  Register: 617. 730. 2644
June 20 – – Apply for a Charlie Card Wednesday, June 20 from 1-3 pm and learn about Uber, Lyft, taxi vouchers and MBTA bus and subway options
---
Paula Span: Updating the New Old Age, 5/24
Thursday, May 24 we welcome New York Times reporter Paula Span.  She is the author of When the Time Comes, and writes The New Old Age for the Times.  Trends, opportunities, challenges, purposeful living, new models, healthcare, medical over treatment, dementia, end of life, and fighting ageism.  Reception: 6-6:30, tribute to Helen Kass, LICSW, program: 6:45- 8 pm.  Register: 617. 730. 2770. – – A collaboration of BrooklineCan and its founding partners
---
Identity Theft + Shreddit, 6/4
Staff from Norfolk District Attorney Michael Morrissey's office are here Monday, June 4 from 1-4 to talk about identity theft and fraud.  Brookline residents bring sensitive documents and computer hard drives to be destroyed in the mobile shredding truck.  The presentation is from 1-2.  Light refreshments followed by shredding.  No charge and you can watch.  Register: 617. 730. 2770 for the presentation.
---
Chess Thursdays
Chess players of all levels join us Thursdays 1-3 pm. Bring a board or use ours.
---
Zumba Gold Thursdays
Emily Brenner, instructor leads Zumba Gold Thursdays from 1:30-2:30.   This session ended May 10. – – Sponsored by the Brookline Multiservice Senior Center Corp
– – Emily Brenner photo courtesy of Ohm Wellness Center
---
Computer Tuesdays
Dan Siagel does individual half hour sessions Tuesdays.  Regular sessions resume with Fran Pechenick for basic, email and internet. Dan works with Smartphones, tablets and laptops Apple Windows and Android. Info:  Olga Sliwa 617. 730. 2768
---
Bridge Fridays
Bridge guru Jan Davidson welcomes experienced players Fridays at 9 am.  Join us for revolving games.  617. 730. 2760
---
Dance Party Tuesdays
Meet instructor Lynn Modell Tuesdays 11-11:45.  $2
---
Elizabeth Pollock, president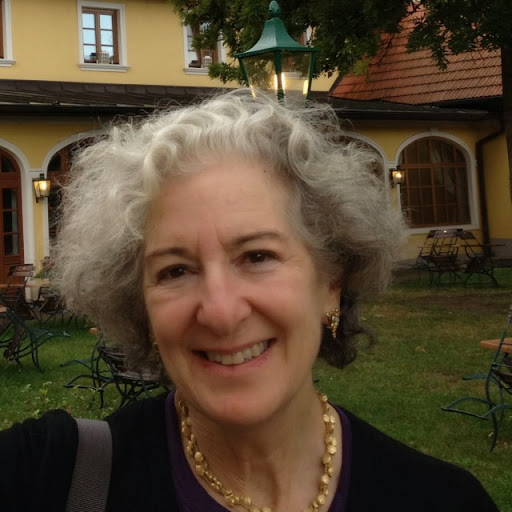 May is a special month with spring in full bloom. We have some of the most comfortable and beautiful days and nights. And we honor the women in our lives. May is a great time to honor mothers, grandmothers and other women and men who make a difference in our lives. Consider making a gift in their memory.
If you would like to create a tribute gift, contact Ruthann Dobek.  Marie Lavine's daughters, Corrine Long's family, and Vivian Freeman's family have insured their mothers are honored each year with their special gift.  Ruthann: 617. 730. 2756  and rdobek@brooklinema.gov   
I care deeply about the future of the Center and so I have included it in my estate planning. Endowments help ensure the future of the organization with reserves. You can contribute directly or put the Brookline Senior Center in your will.  Gifts of $1,000 will be added to our Wall of Honor.  Be sure to let us know you've included us in your will or trust so we can recognize you in our Ambassador Club.  ***   "I give $___ to Brookline Multi-Service Senior Center Corp (EIN 04-2719972), a Massachusetts non-profit corporation, located at 93 Winchester St, Brookline, MA 02445 to be used for general purposes." – – Consult your lawyer or financial advisor
Help a friend with a Fitness Center membership.  Our gym has equipment and supportive staff.  We're open weekdays 8:30-5pm. We're seeking donors to help others with scholarships.  It's $35/month and $420/year. We're grateful to Bay State Federal Savings Charitable Foundation for their support. I, the board, and the entire Senior Center family thank you!

---
News
– – – – – – – – – – – –
Jerry Feuer visits Age Friendly Businesses
Be one:  http://www.brooklinecan.org/age_friendly_business.html
– – – – – – – –
Wonder Woman Ruthann Dobek:  
wickedlocal.com/news/20180315/ruthann-dobek-brookline-senior-centers-wonder-woman
Boston 25 News: SHOP program

:

http://www.fox25boston.com/news/shopping-for-seniors-brookline-program-creates-bond-between-seniors-students/704932381
Panoramic Photos  by Francis Gardino

through June 29
– – born in Malden, grew up in Everett
Newsletter
– – Find the newsletter at the library, Town Hall, banks, Stop & Shop on Harvard, Star Market on Beacon and Brookline Booksmith.  The best way to be sure you get one is to subscribe: for $10 we'll mail it to you for a year.  If you're a retailer with space for newsletters, call us.  We deliver.  Be an advertiser:  Click for ad specs
Planned Giving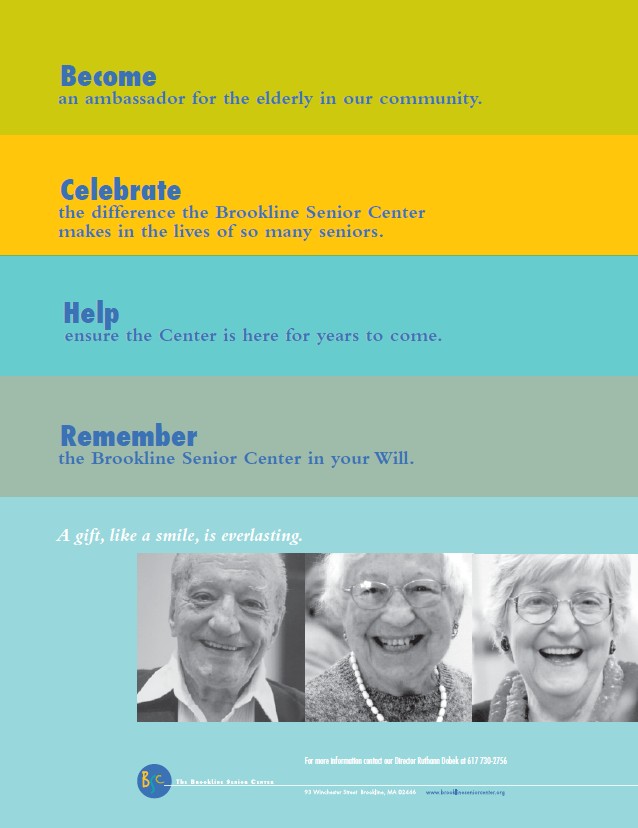 – – Consider leaving a legacy to the Senior Center.  Your bequest is a gift of hope.  Please call Ruthann Dobek, director:  617. 730. 2756 and help us secure a bright future