Honoring the wisdom that comes with age
Alzheimer's Team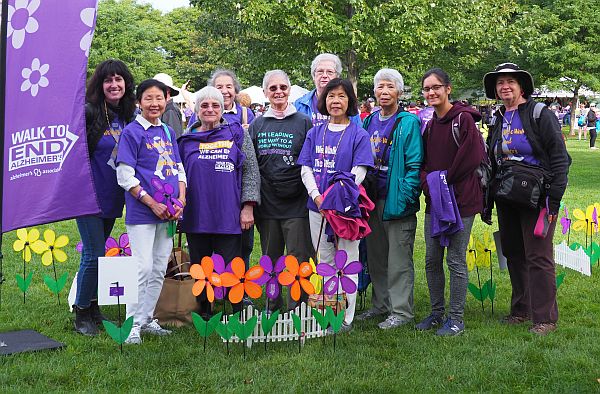 ---
Ruthann Dobek, director
What we do matters. Whether we're hosting someone's 100th birthday, find someone housing or receiving a gift from an estate, we are proud to be a vital part of the community. We offer not only a safe haven, but also a vibrant community center.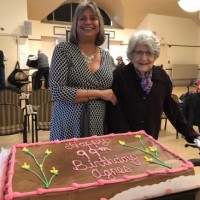 I'm taking this moment to recognize the importance of our work. I'd like to thank this community who enrich Brookline adult's lives each day. February brings some of the coldest weather and with it winter blues. We are here to help make the days warm and enjoyable with programs and activities. Check this website or call us for updates or cancellations due to weather: 617. 730. 2770.
I'm inspired by people who bundle up and refuse to let the cold weather get to them. Your disposition warms us all. So much is happening here. Check out the fitness center, Zumba gold, dance party, qigong or ping pong.  Events on tap:  February 19 is the African American and women's suffrage program and on February 21 we're off to the Rose Art Gallery in Waltham.
I worry about the temperature this month. If you turn down the heat, make sure to wear warm fleece.  If you're having trouble with your heating bill, call us for fuel assistance. We also help with SNAP food stamp applications.  Our food commodity program has 35 pounds of non-perishable food each month.  Join us for a hot lunch daily and our food pantry Tuesdays.
The days are getting longer.  January 1 sunset was 4:22.  February 1 it's 4:58 and by the end of the month it's 5:34.   – – Ruthann Dobek, director
Monday, March 9 – – the ukulele group meets at 1.  No meeting this month.
Wednesday, March 11 – – Council on Aging meets at 1 with Jane Honoroff, principal, and Jeff Fraser of the Family Practice and The Mediation Group talking about mediation and family conflict resolution. (The Council will not meet in February)
+ + + + + + + + + +
Recycle Here – – You can recycle your eyeglasses, cell phones and soda tabs.  Collection boxes in reception
We take medical equipment for our equipment loan program. PLEASE CALL FIRST:  Jamie Jensen: 617 730. 2753.
And we're always looking for donations of costume jewelry, scarves, purses, small household items and others to sell on the gift cart.  Please: no clothing, no linens, no electrics
Visit Us – – Tours Monday-Friday. 617. 730. 2777
---
February Health Services

Barbara Westley, public health nurse, Brookline Public Health Department
Thursday, February 20 – – Barbara Westley, RN will do blood pressure screening here from 1-2 pm
Thursday, February 20 – – Staff from Brookline Hearing Services is here from 1-2 for routine cleanings and counseling.  No charge.  Batteries: $5
Wednesday, March 18 – – The Low Vision Group meets at 1. No meeting in February.
Fitness Center – – become a member and use strength training and cardio equipment. Assistance of personal trainer at no charge. Call Sharon Devine: 617. 730. 2769
Podiatry Clinic – – First and third Thursdays from 9-11:30 am. Routine foot care only (nail and callus trimming) $40 for 15 minutes with Dr. John McLaughlin.   Make an appointment:  617. 730. 2777      No second opinions
---
Operation Diabetes, 2/20
Join us Thursday, February 20 at 1 for a program by the Operation Diabetes team, with the American Pharmacist Association/Mass College of Pharmacy & Health Sciences.  Hear about a healthy diet and exercise and how stress affects diabetes.  Register: 617. 730. 2770
---
Death Cafe, 2/20
Our second Death Cafe is Thursday, February 20 from 5:30-7 pm.  Death Cafes are for people of all ages to socialize, eat, drink and talk about death.  No agenda, no objectives, advertising or themes.  No registration needed.  Information from Kate Jovin 617. 730. 2751 or Michael Allen 617. 730. 2754.  https://deathcafe.com/
---
WGBH Studio Tour, 2/24
Join us Monday, February 24 at 9:15 am. We will take the MBTA bus for a studio tour behind the scenes of TV and radio studios and performance spaces.  Bus to Cleveland Circle to pick up the #86 bus that runs through Brighton to WGBH.  All are welcome.  Register with Maria: 617. 730. 2644
---
Defining Decades Mondays starts 2/24
Keeping up with the Joneses, boo-boo, Daddy-O and workaholic.  These phrases embody decades that affected our lives. Join our group beginning Monday, February 24 to reminisce and swap stories from a decade that changed your life.  Social work intern Bella Anderson is facilitating this six-week group for history buffs.  Register with Bella:  617. 730 2772
---
American Songbook Concert, 2/26
Bob DiCicco, left, vocalist, and our own Joe Reid on piano are back Wednesday, February 26 at 1 with Great American Songbook classics.  Register: 617. 730. 2770
---
CBD Seminar, 2/27
Cassandra Corona, owner, Your CBD Store in Brookline, is here Thursday, February 27 at 1 to talk about cannabidiol, CBD, the chemical in the Cannabis sativa plant. Hear myths and facts about industrial hemp so you can be an informed consumer.  Limited to 25.  Register: 617. 730. 2770
---
MBTA CharlieCard Event, 3/18
Join us Wednesday, March 18 from 1-3 to apply for a Charlie Card.  Bring a picture ID showing your date of birth. Over 65 only. Fill out an application and we'll take your picture.  MBTA mails the card to you in 6-8 weeks.  Or visit the Downtown Crossing station on the concourse near the Red and Orange lines 8-5:30 and get it while you wait.
---
Elizabeth Pollock, president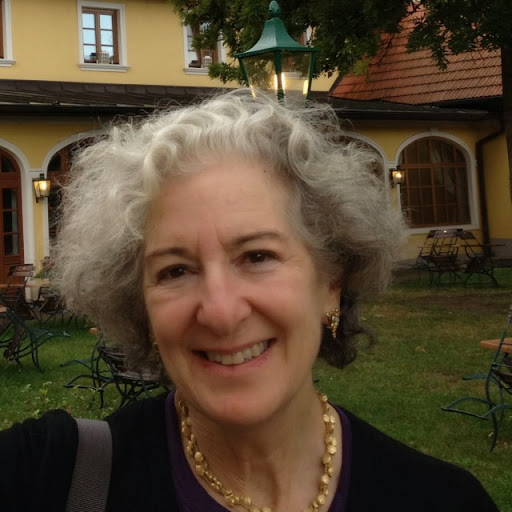 It's hard to believe it's February – – a leap year. So much this month: Groundhog Day (I'm hoping spring comes soon), Presidents Day and my favorite, Valentine's Day (I'm a big fan of chocolate and flowers). If there's someone in your life you'd like to remember, please consider making a gift to the Center in their honor or memory. Valentine's Day also reminds me to take stock of whether I've honored the organizations I love as well.

Thanks to your support of our end of the year appeal, we are able to replace some worn out fitness equipment. But we're only halfway there. It's not too late to support keeping our older adults active and fit. If you haven't already given, please give now at the donate via Paypal up on the right.
I care deeply about the future of the Center and so I have included it in my estate planning. Perhaps you'd like to do that as well.  It's relatively easy – see below for suggested bequest language.  You may also consider making the Center a beneficiary of your life insurance policy, IRA or 401K. If you're over 70 1/2, you can apply part or all of your Required Minimum Distribution (RMD) tax free to the Center.  By planning ahead now, you can help ensure a vital Senior Center  for years to come.  Be sure to let us know that you've included us in your will or trust so we can recognize your generosity and include you in our Ambassador Club.  I, the Board and the entire Center family thank you!
Suggested bequest language for giving:  "I give $___  (or percent of my estate or percent of the remainder of my estate) to Brookline Multi-Service Senior Center Corp (EIN 04-2719972), a Massachusetts non-profit corporation, located at 93 Winchester St, Brookline, MA 02446 to be used for general purposes."   Please consult your lawyer or financial advisor
– – with much appreciation, Betsy Pollock
---
News
Gallery 93  "Figuring it Out"  Figure Drawing by members of the Brookline Senior Center Drawing for Pleasure class, Martin R. Anderson, instructor
Exhibit runs through February 28
– – – – – – – – – –
AARP TAX PREP ASSISTANCE
AARP tax aide volunteers will be here Tuesdays starting February 11 through Tuesday, March 31 to help you file your 2019 return.  Bring your 2018 return.  Make an appointment:  617. 730. 2777
– – – – – – – – – –
AGE FRIENDLY BUSINESSES

Be one:  http://www.brooklinecan.org/age_friendly_business.html
– – – – – – – – – –
WONDER WOMAN, RUTHANN DOBEK:  
wickedlocal.com/news/20180315/ruthann-dobek-brookline-senior-centers-wonder-woman
– – – – – – – – – –
BOSTON 25 TV: SHOP PROGRAM
http://www.fox25boston.com/news/shopping-for-seniors-brookline-program-creates-bond-between-seniors-students/704932381
– – – – – – – – – –
NEWSLETTER
– – Find the newsletter here, at the library, Town Hall, banks, Stop & Shop on Harvard, Star Market on Beacon and Brookline Booksmith.  The best way to get one is subscribe: for $10 we'll mail it to you for a year.  If you're a retailer with space for newsletters, call us.  We deliver.  Advertise with us:  Click for ad specs
– – – – – – – – – –
PLANNED GIVING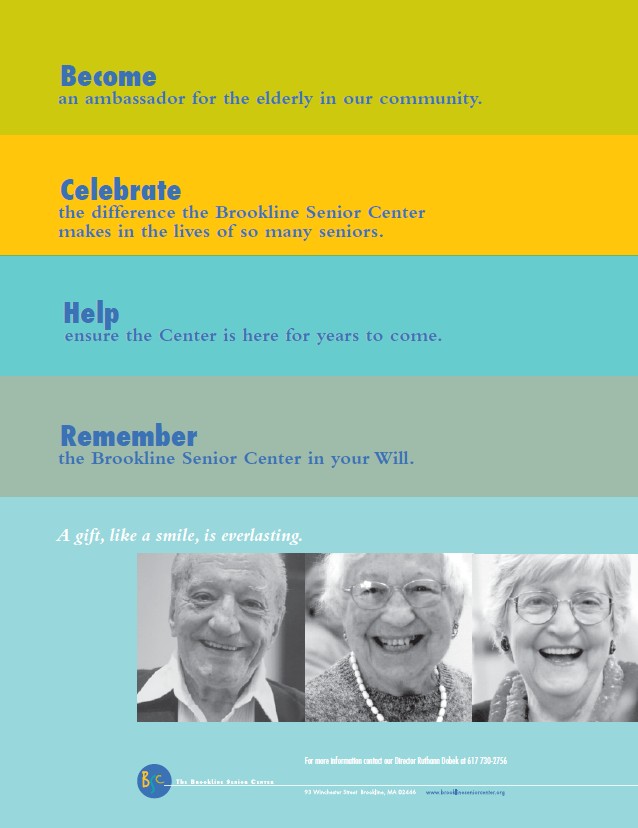 – – Consider leaving a legacy to the Senior Center.  Your bequest is a gift of hope.  Please call Ruthann Dobek, director:  617. 730. 2756 and help us secure a bright future. Brookline Multi-Service Senior Center Corp  (EIN 04-2719972), a Massachusetts non profit corporation.