Honoring the wisdom that comes with age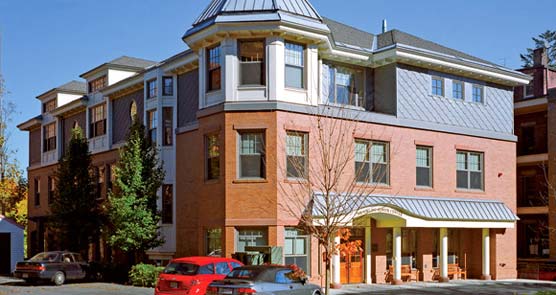 Ruthann Dobek, director
February brings cold weather and sometimes winter blues.  We're here to spend the days with programs and activities.  Don't let the cold keep you away.  The days are getting longer.  January 1 sunset was 4:22, February 1 at 5:12 and by February 28, 5:44 pm.
Florence Warren Exhibit at the Coolidge Corner Library:  Paintings and prints through February.  Warren (below)  was a docent at the Met in Manhattan lecturing on Chinese and modern art.   She attended Hofstra and Adelphi and lives in Brookline.
Vibrant Assistive Technology Program
Mass Association for the Blind and Visually Impaired announces the VIBRANT program together with the Centers on Aging and our Center.  It's about assistive technology.  If you're losing sight, we'll train you on technology to help.  Assistive is hardware or software to help with cooking, cleaning, shopping, reading, TV, creating spreadsheets, banking, travel, health and fitness.  If you have low vision or are blind, reach out.
Assessments are done by Sassy Outwater, our assistive technology coordinator.  You'll be matched with a volunteer for training on screen magnification, text aloud, shopping online.  Call 617. 780. 9037 or email:  SOutwater@mabcommunity.org       You may also meet her (below) here Wednesday and Thursday afternoons in the computer lab.
Whatever your interests, get to know us.  Stay connected with our programs and services.  We're here to help fill your days with creative activities and new friends whether it's exercising, volunteering or learning something new.  Our gym has new gear and great staff.   Stop in 8:30-4:30.   And take a hike, or dance, lift weights, walk, yoga.  For every minute you exercise, you add seven minutes to your life, so says Harvard School of Public Health.
What's the difference between the Council on Aging and the Senior Center?  The Council is a municipal department of the Town of Brookline.  The Senior Center is the building.  And then there's the Brookline Multi-Service Center Corporation.  That's our official name for the non-profit that raises funds.  The official name is unwieldy so we ask you to make checks out to Brookline Senior Center.  And, the Town's budget for us covers 70% of our total costs.  The non-profit raises money to pay for the rest.  30% of our budget comes from you.  In this fiscal year, which ended June 30, private donations were $241,000.  Here's how we spent part of it: – – – $33,000 to the Fitness Program classes for 368 participants and scholarships – – – $59,000 for a new van:  $27,000 for the driver and gas for 2,987 rides and – – – $27,000 for programs, supplies and food
---
Health screenings: blood, podiatry, low vision

Barbara Westley, public health nurse, Brookline Public Health Department, wants you to know it's not too late for a flu shot.  Schedule a no-cost appointment: 617. 730. 2320, bwestley@brooklinema.gov      Bring health insurance cards.  No flu mist

Wednesday, February 22 – Blood pressure screening with Barbara Westley, RN at O'Shea House, 61 Park St from 1-2 pm
Podiatry Clinic – – Routine foot care with Dr. John McLaughlin: $40.  Call for appointments:  617. 730. 2777
---
Tax Prep Tuesdays
AARP tax volunteers are here Tuesdays through April 11 to help with filing returns.  Bring a copy of your 2015 return.  Make an appointment:  617. 730. 2777
---
Balance Workshop, 2/27
Work on strength and balance with Steven Shain, personal trainer Monday, February 27 at 1 in this one-hour work it out.  Exercises to go.  Limited to 30.  Register:  617. 730. 2770
---
Starting a Business in Brookline, 3/15
Want to find out how to start a business?  The Mass Small Business Administration is offering a seminar Wednesday, March 15, from 1 – 3:00 at the Main Library, 361 Washington St
1. United States Small Business Administration (SBA) programs/services available for start-up and existing businesses
2. Town of Brookline, Economic Development & Long-Term Planning Division
Learn how the SBA can help you in starting and growing your business.
Counseling/Technical Assistance /Small Business Development Centers / SCORE / Center for Women & Enterprise / City & State Economic Development Offices
Access to Capital
The Town's Economic Development & Long-Term Planning Division will provide an overview of services  – – hosted by the Massachusetts SBA District Office, 617. 565. 5560
---
Online Volunteer Jobs Mondays
Work with Alberta Lipson to find volunteer jobs online through database inquiries and support. Try our volunteer website if you're looking for meaningful work in Brookline and Boston.  Schedule an appointment Mondays 2-4 pm:  albertalipson@gmail.com
---
Acupuncture Thursdays
Thursdays meet Julia Herskowitz, LicAc MAc for information about acupuncture.  You can have a demonstration to see what it's like.  She makes referrals for ongoing treatment.  Donation: $5.  Make an appointment:  617. 730. 2777
---
Bridge Fridays
Bridge guru Jan Davidson welcomes experienced players Fridays at 9 am.  Join us for revolving games.  Call 617. 730. 2760
---
Zumba Gold, Thursdays
Join instructor Emily Brenner Thursdays 1:30 – 2:30 for Zumba gold.  Winter session:  through  March 2.  Cost:  $45   You may drop in for $7/class,  free  to Brookline Housing Authority residents.  – – Sponsored by the Brookline Multi-Service Senior Center Corp
---
Fitness Center
Our Fitness Center is open every day 8:30-4:30 with supportive staff.  Register:  Sharon Devine   617. 730. 2769                                                         
---
Elizabeth Pollock, president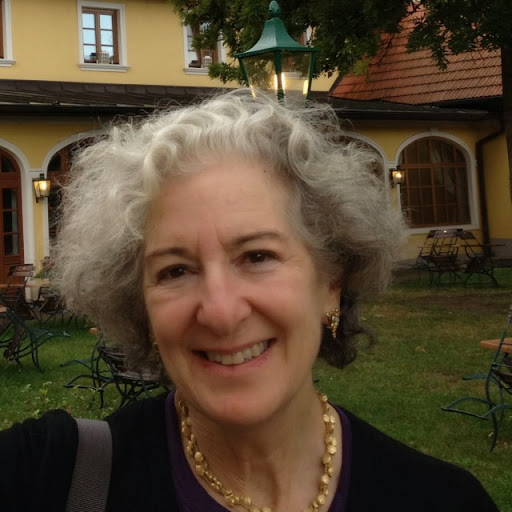 My favorite in February is Valentine's Day.  I'm a fan of chocolate and flowers.  If there's someone you'd like to remember, consider making a gift to the Center in their honor.
"Exercise is the only thing that helps everything associated with aging," says Janice Schwartz, MD, professor of medicine at UC, San Francisco.  Look for better physical health and memory.   We hope you'll look into our fitness center and ping pong program.  Our fiscal year ends June 30.  If you can, help us with scholarships to the fitness center.  We're grateful to Bay State Federal Savings Charitable Foundation for their donation with much appreciation.
This year our endowment fund donated $47,000 to the Center's operating budget.  Endowment ensures additional income to preserve our legacy.
I care deeply about the future of the Center and so I have included it in my estate planning. Endowments help ensure the future of the organization with reserves. We're hoping to double our endowment by 2018. You can contribute directly or put the Brookline Senior Center in your will.  Gifts of $1,000 will be added to our Wall of Honor.  Be sure to let us know you've included us in your will or trust so we can recognize you in our Ambassador Club.  ***   "I give $___ to Brookline Multi-Service Senior Center Corp (EIN 04-2719972), a Massachusetts non-profit corporation, located at 93 Winchester St, Brookline, MA 02445 to be used for general purposes." – – Consult your lawyer or financial advisor
---
News
– – – – – – – – – – – – – – – – –
Carolyn Letvin Exhibit
Sheep Specific:  Paintings and Monotypes by Carolyn Letvin

through March 30



– – – – – – – –
Artist Gary Chen gussies the van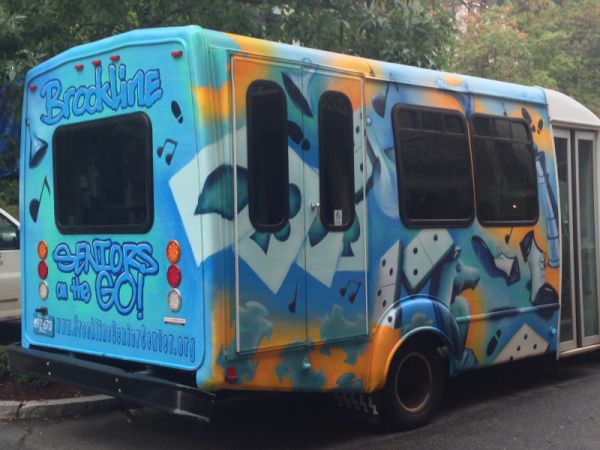 – – photo by Mary Nguyen
Thanks a million, Artists for Humanity!   
– – – – – – – –
Newsletter
– – Find the newsletter at the library, Town Hall, banks, Stop & Shop, Star Market on Beacon and the Brookline Booksmith.  The best way to be sure you get one is to subscribe: for $10 we'll mail it to you for a year.  If you're a retailer with space for a stack of newsletters, call us.  We deliver.  Be an advertiser:  Click for ad specs
Planned Giving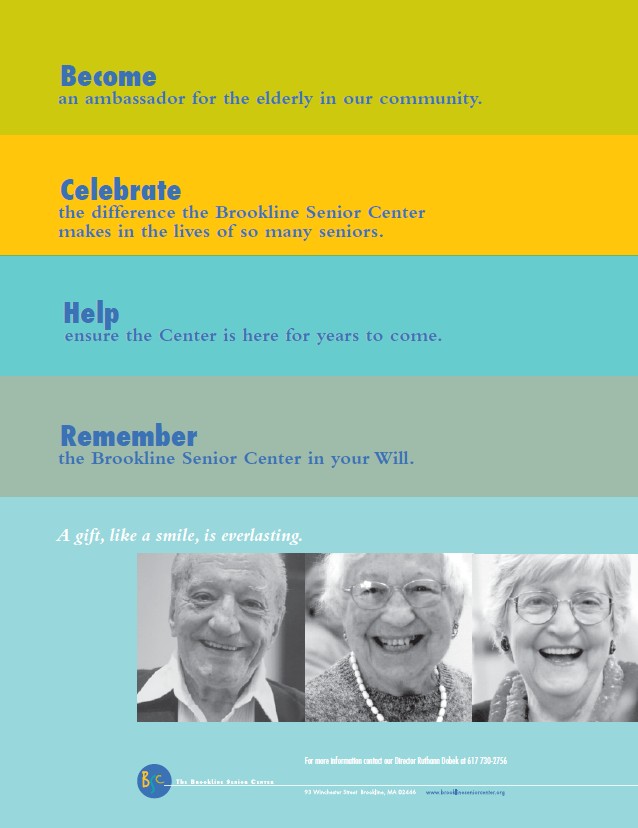 – – Consider leaving a legacy to the Senior Center.  Your bequest is a gift of hope.  Please call Ruthann Dobek, director:  617. 730. 2756 and help us secure a bright future
– –