Honoring the wisdom that comes with age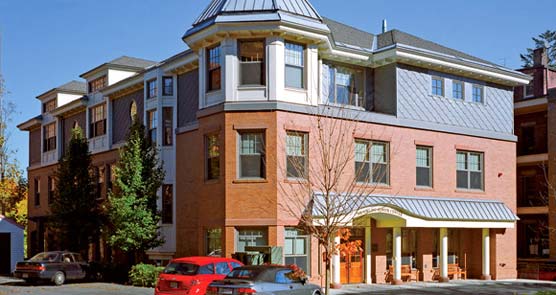 Ruthann Dobek, director
Friday, August 18 at 3 see a free Friday movie:  Beauty and the Beast (2017).  Bring kids, refreshments after.  Register:  617. 730. 2770
Thanks to legislators Frank Smizik, Jeffrey Sanchez, Michael Moran, Ed Coppinger and Cynthia Creem for advocating to maintain funding.  In the state formula we may be granted $10/person in a budget with much competition.  Sanchez will be leading the Ways and Means Committee.
Nancy Daly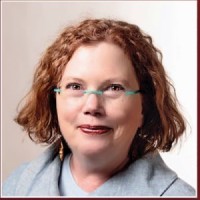 Our 16th Autumn Benefit is Wednesday, October 25 and we're honoring Nancy Daly for 12 years as a selectwoman.  Beth Israel Deaconess Medical Center is a diamond sponsor.  More jewels welcome.
Our August events include the Springwell BBQ on Tuesday, August 15 and Camp Memory Connections on Wednesday, August 23.
Vibrant Assistive Technology Program
Mass Association for the Blind and Visually Impaired announces the VIBRANT program together with the Centers on Aging and our Center.  It's about assistive technology.  If you're losing sight, we'll train you on technology to help.  Assistive is hardware or software to help with cooking, cleaning, shopping, reading, TV, creating spreadsheets, banking, travel, health and fitness.  If you have low vision or are blind, reach out.
Assessments are done by Sassy Outwater, our assistive technology coordinator.  You'll be matched with a volunteer for training on screen magnification, text aloud, shopping online.  Call 617. 780. 9037 or email:  SOutwater@mabcommunity.org    You may also meet her (photo) here Wednesday and Thursday afternoons in the computer lab.
Meetings:  The nominating committee of the Council on Aging meets Wednesday, August 9 at 1 to consider new members.  To serve or nominate, contact Ruthann Dobek.  Next  meeting of the Council is Wednesday, September 13 at 1  – – Next meeting of the Holiday Craft Fair committee is September 21 at 1 – – rdobek@brooklinema.gov                         
---
Autumn Benefit, 10/25
All sponsors will be listed on our website as well as the Senior News & Events newsletter. Diamond and Ruby sponsors will receive special signage and acknowledgment.
DIAMOND—$2,500+ 8 tickets to event, acknowledgment in the invitation with full page ad in the program
RUBY— $1,000-$2,499 6 tickets to event, acknowledgment in the invitation with full page ad in the program
SAPPHIRE—$750-$999 4 tickets to event, acknowledgment in the invitation with half page ad in the program
EMERALD— $500-$749 2 tickets to event, acknowledgment in the invitation with half page ad in the program
TOPAZ—$300-$499 2 tickets to event, acknowledgment in the invitation with business card ad in the program
Enclosed is a check for $_________ payable to the Brookline Senior Center. Or use a credit card on this page at the top where it says "DONATE"  and add Autumn Benefit under special instructions. 
Individual tickets are $100 and $65 for seniors. Kindly respond by Friday, August 18 to be included in the invitation and program book.
Ruthann Dobek 617.730.2756 or rdobek@brooklinema.gov    Please give name, address, phone, email – – Brookline Senior Center is a non-profit 501(c)(3) organization. All donations are tax-deductible to the extent of the law
---
August Health Screenings

Barbara Westley, public health nurse, Brookline Public Health Department

Wednesday, August 16 – – Low vision group meets here at 1
Thursday, August 17 – – Blood pressure screening with Barbara Westley, RN here 1-2 pm
Thursday, August 17 – – Staff from Brookline Hearing Services is here from 1-2 pm for free routine cleanings and counseling.  Batteries: $5/pack
Wednesday, August 23 – – Blood pressure screening with Barbara Westley, RN at O'Shea House, 61 Park St, 1-2 pm
Podiatry Clinic – – Routine foot care with Dr. John McLaughlin: $40.  Call for appointment:  617. 730. 2777
---
Be a Lifesaver, 8/17
Thursday, August 17 at 1 meet Barbara Jackson, RN and hear about her work as a Red Cross Blood Bank nurse.  Learn about donating and all about blood while helping others. She has an MS in health science and is a CHES (Certified Health Education Specialist) credential as well as being a Licensed Training Provider.  Register:  617. 730. 2770  Barbara Jackson's site
---
Free Fridays from Highland St Foundation
"Free Fun Fridays offer visitors no-cost admission to venues in Massachusetts. It was created to increase access and enrichment opportunities for children and families every Friday through the end of August."            Highland Street Foundation
August 18
The Institute of Contemporary Art, Boston (ICA)
Old Sturbridge Village
Freedom Trail® Foundation
Buttonwoods Park Zoo
Cape Cod Children's Museum
Concord Museum
Berkshire Museum
Emily Dickinson Museum
August 25
Boston Harbor Islands National and State Park
USS Constitution Museum
Plimoth Plantation
MASS MoCA
Nantucket Whaling Museum
The Children's Museum of Greater Fall River
Museum of African American History
Cape Cod Museum of Natural History
Heritage Museums and Gardens
---
Exercise After Knee & Hip Surgery, 8/21
Monday, August 21 at 1 with physical therapist Steve Shain.  Workshop about improving strength, flexibility and range of motion after replacements.  Floor exercises.  Bring a mat.  Register:  617. 730. 2770
---
Norfolk Courthouse Tour, 8/24
Courtesy of District Attorney Michael Morrissey, we get a tour of the Norfolk Superior Courthouse Thursday, August 24.  We'll see a criminal court session, meet court staff and the Attorney's colleagues.  Transportation provided by Sheriff Michael Bellotti.  Van leaves here at 9:30 sharp and returns around 2:30.  Pizza lunch is provided; you may bring your own too.  Elevators, ramps, standing and walking.  Register:  617. 730. 2770
---
Tribute to Tolerance, 8/28
Monday, August 28 at 1 we welcome back Eve Nussbaum Soumerai for her annual tribute, this year honoring Anne Frank, Martin Luther King Jr., Mark Twain, Dalai Lama and Felisa Rincon De Gautier. Soumerai is a  lecturer, teacher and Holocaust survivor.  Her publications include Human Rights: The Struggle for Freedom, Dignity and Equality (1998) and Daily Life During the Holocaust (Greenwood, 1998), both of which she coauthored with Carol Schulz.  Publications on Amazon   – –       Omi on youtube  – –        Register:  617. 730. 2770
---
Dance Party USA, 8/30
Wednesday, August 30 from 6:30-8:30 DJ Tommy Bahama is back with tunes from the '50s, '60s and '70s.  Light refreshments.  Residents of Center Communities sign up in their buildings (100, 112 Centre St & 1550 Beacon St).  Otherwise, register: 617. 730. 2770
---
TRIPPS, 9/11 and 9/13
Transportation Resources, Information, Planning and Partnership for Seniors, TRIPPS, is on the road.  Join us Monday, September 11 at 1 to hear transportation options offered by the Center.
Wednesday, September 13 our smartphone drop ins resume.  617. 730. 2644.  For August smartphone individual sessions, call us.
---
Elizabeth Pollock, president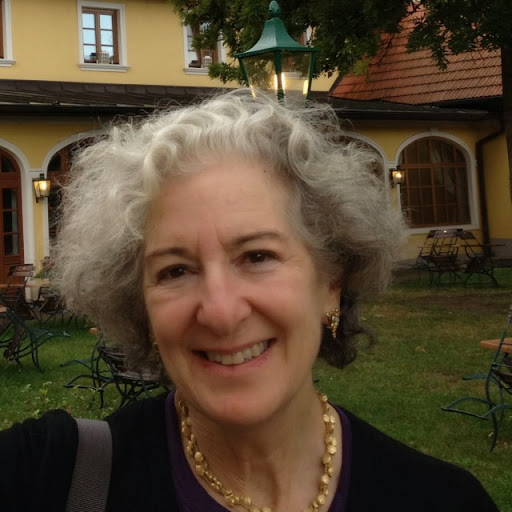 Our 16th Autumn Benefit is Wednesday, October 25 at 6.  We're honoring Nancy Daly.  Join us for great food, raffles and entertainment.  Proceeds benefit our programs.  We welcome sponsorship from companies, nonprofits and individuals.  As well, gift certificates, merchandise and services for raffles welcome.  Ruthann Dobek:  rdobek@brooklinema.gov
Help a friend afford a Fitness Center membership.  We're seeking donors to help others with scholarships.  It's $35/month and $420/year.  Your help sustains these programs.
Last year the endowment fund donated $47,000 to the operations budget.  By 2020 we want to double our endowment.  Areas that need your help are transportation, specifically the van and drivers.  A legacy donation supports programs and the physical plant.  We thank you.

"Exercise is the only thing that helps everything associated with aging," says Janice Schwartz, MD, professor of medicine at UC, San Francisco.  Look for better physical health and memory.   We hope you'll look into our fitness center and ping pong program.  If you can, help us with scholarships to the fitness center.  We're grateful to Bay State Federal Savings Charitable Foundation for their donation.
I care deeply about the future of the Center and so I have included it in my estate planning. Endowments help ensure the future of the organization with reserves. You can contribute directly or put the Brookline Senior Center in your will.  Gifts of $1,000 will be added to our Wall of Honor.  Be sure to let us know you've included us in your will or trust so we can recognize you in our Ambassador Club.  ***   "I give $___ to Brookline Multi-Service Senior Center Corp (EIN 04-2719972), a Massachusetts non-profit corporation, located at 93 Winchester St, Brookline, MA 02445 to be used for general purposes." – – Consult your lawyer or financial advisor
---
News
Exhibition
Mixed media by Evelyn Berde:  A Passion for Color  through August 31 in Gallery 93, second floor.  Berde will be here Friday, August 11 at 1 for a gallery talk.  "Her work resembles a patchwork of childhood and adult experience as an artist, mother, wife and teacher."  Register:  617. 730. 2770
– – – – – – – – – – – – – – – –
Arlene Stern
director, Brookline Council on Aging  1980-2002
Because of Arlene Stern's advocacy, the Council on Aging was established as a professional elder care agency that hired dedicated social workers to support Brookline elders.  With the generosity of her husband Roger Stern, and with her leadership, our Center was built.  It is a state of the art organization.  Arlene's sense of humor, her feistiness and tenacity continue to sustain us.  We miss her.
– – – – – – – – – – – – – – – – –
Newsletter
– – Find the newsletter at the library, Town Hall, banks, Stop & Shop, Star Market on Beacon and Brookline Booksmith.  The best way to be sure you get one is to subscribe: for $10 we'll mail it to you for a year.  If you're a retailer with space for a stack of newsletters, call us.  We deliver.  Be an advertiser:  Click for ad specs
Planned Giving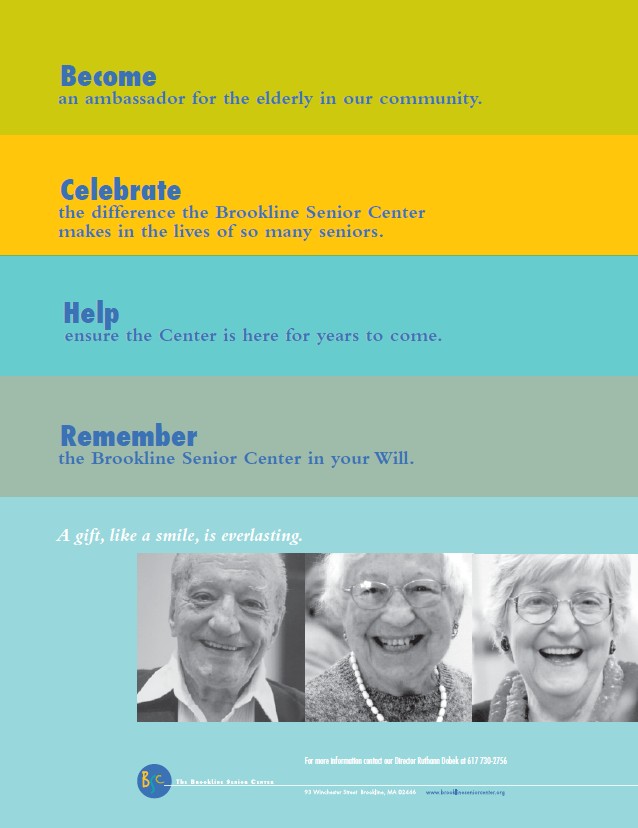 – – Consider leaving a legacy to the Senior Center.  Your bequest is a gift of hope.  Please call Ruthann Dobek, director:  617. 730. 2756 and help us secure a bright future
– –