Honoring the wisdom that comes with age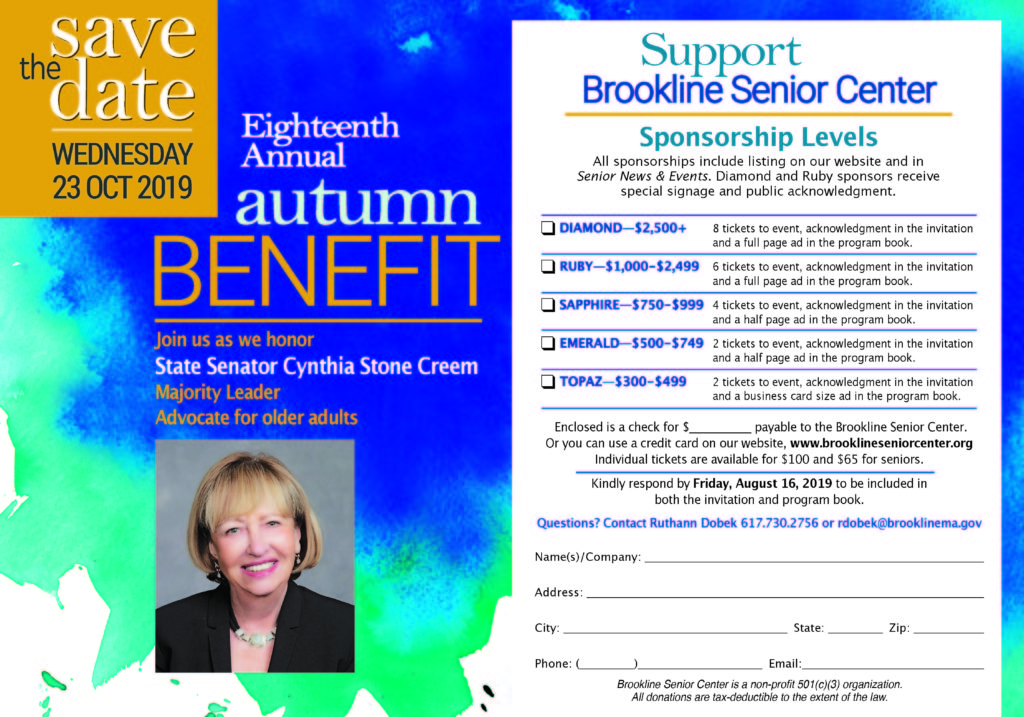 Autumn benefit Wednesday, October 23.    Click for larger version:  https://www.brooklineseniorcenter.org/how-to-help/

---
Ruthann Dobek, director
Welcome back. September is Senior Center Month and this year's theme is "The Key to Aging Well." Innovative programs can change the perception of aging and create community resources for aging expertise. We are striving to ensure that the future of aging in Brookline is evolving. To celebrate, get involved by volunteering or helping with a program. These resources will empower you to make choices that enhance and help you find balance in your life.
We offer a variety of classes and programs from art to zumba. Try tai chi, computer class, literary discussions, chorus. Or teach a class yourself. The Asian community celebrates the harvest with the August Moon Festival Monday, September 9 at 1. Our Jewish friends celebrate Rosh Hashanah beginning September 29. Warm wishes to both communities.
Special thanks for state legislators who worked to increase funding for elders.  We will receive $12 per elder in a budget that had much competition.  The team includes Ed Coppinger, Nika Elugardo, Michael Moran, Frank Smizik, Tommy Vitolo and Cynthia Creem.  State Senator Majority Leader Creem also secured funding for our Alzheimer's Caregivers Respite Program and we will be honoring her at the Annual Benefit in October. She deserves recognition for her advocacy and legislative efforts.  The event includes dinner and entertainment.  Your sponsorship is greatly appreciated.  (above)
I urge you to attend the Annual Benefit Wednesday, October 23. It's our biggest fundraiser and I guarantee a great time with food, music and neighbors. Buy your tickets early and show your support.  A special thank you to Diamond Sponsors Beth Israel Deaconess Medical Center and Michael Merrill.
Thursday, September 19 – – is the BrooklineCAN Annual Meeting: Watch us Network: U-CAN-2. (below) One of our major issues is transportation. The TRIPPS program helps elders find alternative options. We are committed to improving our transportation service and one way you can help is donating to the Van Fund, one of our critical programs.  Call Maria Foster, TRIPPS manager, for more information: 617. 730. 2644
Sunday, September 22 support our team walking in the Alzheimer's walk and attend Brookline Day at Larz Anderson Park.
Wednesday, October 2 – – Brookline Music School concert at 1
Join me at the Farmers Market Thursdays from 1:30-6:30 rain or shine.  (Centre Street West Parking Lot) – – Ruthann Dobek, director
+ + + + + + + + + +
Recycle Here – – You can recycle your eyeglasses, cell phones and soda tabs.  Collection boxes in reception
We take medical equipment for our equipment loan program. PLEASE CALL FIRST:  Jamie Jensen: 617 730. 2753.
And we're always looking for donations of costume jewelry, scarves, purses, small household items and others to sell on the gift cart.  Please: no clothing, no linens, no electrics
Visit Us – – Tours Monday-Friday. 617. 730. 2777
---
September Health Checks

Barbara Westley, public health nurse, Brookline Public Health Department
Wednesday, September 18 – – Peer led Low Vision Support Group meets at 1
Thursday, September 19 – – Blood pressure screening with Barbara Westley, RN here from 1-2
Thursday, September 19 – – Staff from Brookline Hearing Services is here from 1-2 for routine cleanings and counseling. No charge. Batteries: $5
Fitness Center – – become a member and use strength training and cardio equipment. Assistance of personal trainer at no charge. Call Sharon Devine: 617. 730. 2769
Tuesday, October 29 – – Annual flu clinic here from 11:30 – 1. No charge, bring insurance cards
Podiatry Clinic – – Routine foot care only (nail and callus trimming) $40 with Dr. John McLaughlin by appointment: 617. 730. 2777
---
DNA Testing, 9/13
Joyce Graff is here Friday, September 13 at 1:30 to talk about DNA: what it means, applications and how you can use it for "evaluating risk factors to finding the right wine."  Graff is founder of the VHL Alliance, http://www.vhl.org an organization for rare genetic disease and the former head of the New England Regional Genetics Group, http://www.nergg.org                  Register: 617. 730. 2770
---
You are what you drink, 9/16
Our bodies are 70% water. Use water as your secret weapon. Brenda Gailhouse, MSPT, physical therapist and owner of Maximize Your Mobility is here Monday, September 16 at 1 to talk about how water and food can improve your energy and balance.  Learn ways to make water taste good and tips on what to eat to increase muscle and endurance. Register: 617. 730. 2770
---
Sue Katz Reading, 9/17
Sue Katz reads from her new collection of stories, A Raisin in My Cleavage Tuesday, September 17 from 4-5:30. Stories about older people in the "interplay of heart and smart, facing off against the dangers of a viral wedding smooch, a scary staircase, a runaway supermarket cart, a disastrous online date, and a stolen sausage." Katz used to teach our fitness class.  Register: 617. 730. 2770
---
TRIPPS Fisher Hill Park Trip, 9/18
TRIPPS hosts a walk and a park ranger talk Wednesday, September 18 from 9:30 – 12 noon at Fisher Hill Park. Transportation, water, snacks and bathrooms available. Meet here at 9:30 for transportation.  Register with Maria Foster: 617. 730. 2644  mfoster@brooklinema.gov        – – Funded by the MCOA Go4Life Family Fun Walk Program
---
Frontotemporal Dementia, 9/18
Katie Brandt, director of caregiver support services and public relations for the Mass General Hospital frontemporal disorders unit is here Wednesday, September 19 at 1 to talk about how FTD differs from Alzheimer's and how young onset Alzheimer's affects families.  Hear about caregiver support and community connections.  Register: 617. 730. 2770
---
BrooklineCAN Annual Meeting, 9/19
The Brookline Community Aging Network's 9th Annual Meeting is Thursday, September 19 from 5-7 pm.  Free and open to all, we are celebrating Building a Stronger Brookline Community Through Active Networking. Watch us Network, UCAN2-"Together we Accomplish What We Cannot Do Alone."  Refreshments from 5-6, Brookline High School's Jazz Band and visit with community award winners:  Kent Street Affordable Senior Housing; Brookline Climate Action Committee; and Brookline Transportation Board.
Learn more about BrooklineCAN education, communications and Livable Community Advocacy Committee.  Matt Weiss, host of Age Friendly Cities program, introduces the speakers at 6:  Karen Shiffman and Carey Goldberg, WBUR producers. Shiffman is executive producer of On-Point.  Goldberg is editor and host of CommonHealth, news about health, medicine and science.
BrooklineCAN members Frank Caro, Claire Goodwin and Patricia Burns exhibit their art.  – – Sponsored by the Brookline Senior Center, Center Communities of Brookline, Goddard House and Jewish Family & Children's Service.
Register: 617. 730. 2770.  Learn more about  http://www.brooklineCAN.org  
---
Alzheimer's Walk, 9/22
Sign up to walk with us: 1 1/2 or 3 1/2 miles. Transportation to and from the walk.  Patricia Burns, coordinator, team co captain at 617. 730. 2743 to enroll and donate.
---
Elizabeth Pollock, president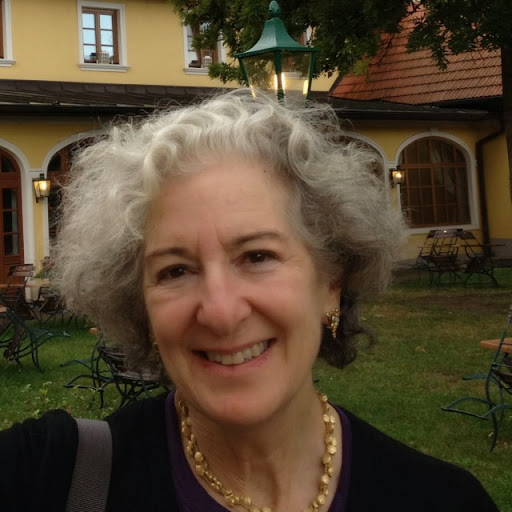 Our 18th Annual Autumn Benefit is Wednesday, October 23 at 6.  We are honoring State Senator Cynthia Creem, the majority leader. She is a long-time contributor and advocate for adult issues.  The evening includes food, raffles and entertainment. Sponsorships welcome from individuals, companies and nonprofits. We also welcome gift certificates, merchandise and services that can be raffled.
As I read the list of supporters and donors, I am humbled by your generosity and how much you care about the Center. Benefactors are critical to our mission since the Town covers only 70% of our annual budget.
We also need your voice as an advocate. Educate our leaders on the issues. Show up at hearings. Write to legislators and the media. Support funding for gaps in services that elders depend on.
Food insecurity is a problem in Brookline.  A recent survey of Brookline's seniors who receive food help from us found that 26% of respondents reported having been without food for a whole day for 1-10 days the prior month.  An additional 18% went to bed hungry at least once in the prior month. If you know of anyone who will benefit from our food distribution program,  have them call us: 617. 730. 2777.
I care deeply about the future of the Center and so I have included it in my estate planning. Endowments help ensure the future of the organization with reserves. You can contribute directly or put the Brookline Senior Center in your will.  Gifts of $1,000 will be added to our Wall of Honor.  Be sure to let us know you've included us in your will or trust so we can recognize you in our Ambassador Club.  ***   "I give $___  (or percent of my estate or percent of the remainder of my estate) to Brookline Multi-Service Senior Center Corp (EIN 04-2719972), a Massachusetts non-profit corporation, located at 93 Winchester St, Brookline, MA 02445 to be used for general purposes."  Consult your lawyer or financial advisor
– – with much appreciation, Betsy Pollock
---
News
– – – – – – – – – –
Louise Weinberg exhibition: My Way of Seeing Artwork. In Gallery 93 through October 31
– – – – – – – – – –
AGE FRIENDLY BUSINESSES

Be one:  http://www.brooklinecan.org/age_friendly_business.html
– – – – – – – – – –
WONDER WOMAN, RUTHANN DOBEK:  
wickedlocal.com/news/20180315/ruthann-dobek-brookline-senior-centers-wonder-woman
– – – – – – – – – –
BOSTON 25 TV: SHOP PROGRAM
http://www.fox25boston.com/news/shopping-for-seniors-brookline-program-creates-bond-between-seniors-students/704932381
– – – – – – – – – –
NEWSLETTER
– – Find the newsletter here, at the library, Town Hall, banks, Stop & Shop on Harvard, Star Market on Beacon and Brookline Booksmith.  The best way to get one is subscribe: for $10 we'll mail it to you for a year.  If you're a retailer with space for newsletters, call us.  We deliver.  Advertise with us:  Click for ad specs
– – – – – – – – – –
PLANNED GIVING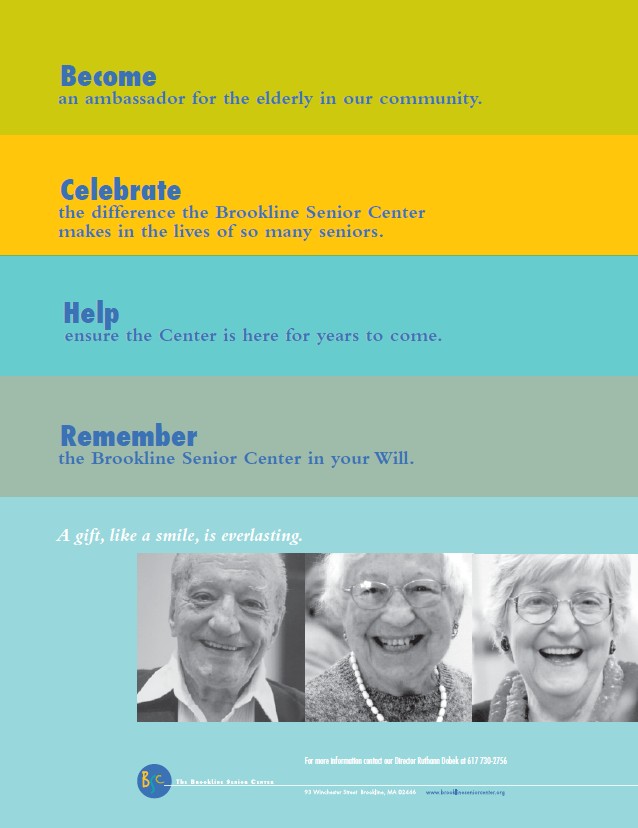 – – Consider leaving a legacy to the Senior Center.  Your bequest is a gift of hope.  Please call Ruthann Dobek, director:  617. 730. 2756 and help us secure a bright future. Brookline Multi-Service Senior Center Corp  (EIN 04-2719972), a Massachusetts non profit corporation.