Honoring the wisdom that comes with age
Volunteers of the Year
The Center hosted its annual volunteer appreciation luncheon April 10.  The 2019 John and Molly Dolan award went to Carol and Phil Fullerton.  Tim Sullivan received the Unsung Hero award. Brookline Bank received the Community Partner award. Patricia Burns, volunteer coordinator, quoted "volunteering as the silver bullet, a positive jolt, a giver's high and a great way to live to be 100."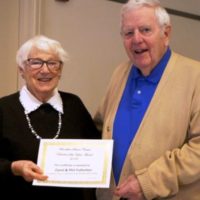 Carol and Phil Fullerton, Volunteers of the Year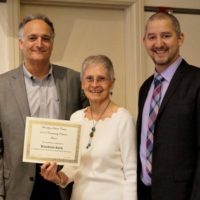 Brookline Bank, Community Partner of the Year  Left: Peter Roveto, Patricia Burns, Sasha Liang
Tim Sullivan, Unsung Hero of the Year
---
Ruthann Dobek, director
We are closed Monday, May 27 for Memorial Day
As Mother's Day approaches, I think fondly of the special women in my life – such as my late grandmother, Bernice Dobek, who was my inspiration of becoming a geriatric social worker.  She lived downstairs and often took care of me when my parents worked. I cherish some of my earliest memories of her; being in her garden, her holding me close and sharing her fragrant lilacs. She was a true role model for aging in community.

In honor of Mother's Day, I am making a donation to the Center in memory of my grandmother; in honor of my wonderful mother, Patricia Dobek, who is one of our generous benefactors, and in memory of my dear mother in law, Gladys Boghosian, who was a fan of the Center. Is there someone in your life that you'd like to honor? This is a wonderful time to do so.  Please make a donation in honor of or in memory of the special women in your life.
We are hosting wonderful events this month. The theme for Older Americans Month embodies the spirit of the Council on Aging: connect, create and contribute. I urge you to attend one of our special events and invite a friend as well. You can't go wrong by attending our activities.
May is also the time we say goodbye to our excellent students: Laci, Lily and Cherchaela. They contributed much to our community and we wish them well.
Wednesday, May 22 – – Annual public reading at 10:15 am of the Brookline Adult Education autobiographical writing group, Telling Your Story.  Free, open to all
Thursday, May 23 – – Tour the Nantucket Lightship LV-112 in East Boston The first US landmark visible to vessels entering our waters from Europe.  Transatlantic shipping set their course to Nantucket Shoals Lightship Station from 1936-1975. Van trip Thursday, May 23 from 10- 1pm or so.  Not handicapped accessible so be able to climb steep stairs, no sandals. Bring lunch.  Fee $10 to be paid when you register. 617. 730. 2777
Monday, June 3 – – 1 to 4 pm. Data shredding here courtesy of Norfolk District Attorney Michael Morrissey. Clean out your files and shred personal documents free.  Also a presentation of identity theft from 1-2 pm.  Light refreshments. We assist with boxes and bags and you can watch. Hard drives welcome but they are not destroyed here.  Register: 617. 730. 2770 for the presentation
Recycle Here – – You can recycle your eyeglasses, cell phones and soda tabs.  Collection boxes in reception
We take medical equipment for our equipment loan program. PLEASE CALL FIRST:  Jamie Jensen: 617 730. 2753.
And we're always looking for donations of costume jewelry, scarves, purses, small household items and others to sell on the gift cart.  Please: no clothing or electrics.
Volunteer Daniel Price writes:  Today is an important day for me. It's been 2 years since I walked into Brookline Senior Center April 26 2017.  Here is a mp3 of me giving a thank you speech, thanking seniors and staff for the generosity that they carry to me. Thank you, Daniel
---
MAY Health

Barbara Westley, public health nurse, Brookline Public Health Department
Wednesday, May 22 – – O'Shea House blood pressure screening is CANCELLED
Podiatry Clinic – – Routine foot care with Dr. John McLaughlin: $40.  Appointments:  617. 730. 2777
---
TRIPPS May Events
Thursday, May 23 – – Getting around with Uber and Lyft.  Two sessions
Thursday, May 23 10-11:30 am and Thursday, May 30 from 10-1 pm. Learn about ride sharing and take a trip.  Bring a smartphone and your Apple ID or Google password.  Meets at the Main Library, village conference room. Presenter: Jane Gould, PhD, and author of "Aging in Suburbia."  Register: 617. 730. 2644
Wednesday, May 29 – – Join us here at 1 pm for a group discussion on giving up your car. All are welcome.  Register: 617. 730. 2644
---
Hand Drumming, 5/20
Tim Kane, certified drum circle facilitator and drum set instructor, is here Monday, May 20 from 1-2 pm.  Play a Djembe and explore your inner beat.  Learn rhythms from around the world.  Drums are provided, limited to 30.  Register: 617. 730. 2770     Learn more: https://kanedrums.com/
---
Palliative and Hospice Care, 5/22
Felicia Gonzalez, MSN, RN, CHPN, home health palliative nurse at Hebrew SeniorLife, is here Wednesday, May 22 at 1 to talk about the difference between palliative and hospice care.  After, she will be available to talk specifics of Hebrew SeniorLife's home and community services.  Refreshments, register: 617. 730. 2770
---
Computer Security + Recovery, 5/23
Alan Shepro, IT customer service professional, will talk about what you can do when things go wrong with your computer.  Join him Thursday, May 23 at 1 for a non technical, helpful discussion.  Register: 617. 730. 2770
---
Estate Plans, Wills, Health Care Proxy, 5/29
Join Milton attorney Philip D. Murphy Wednesday, May 29 at 1 pm to learn about creating a will, general durable power of attorney and health care proxy. A simple estate plan can be done at reasonable cost. Register: 617. 730. 2770 – – Sponsored by the Massachusetts Bar Association and the Massachusetts Chapter of the National Academy of Elder Law Attorneys
---
Zumba Gold Thursdays
Emily Brenner, instructor leads Zumba Gold for seven Thursdays from 1:15-2:15.  Session runs through May 30.  This class is free thanks to Blue Cross Blue Shield of Mass in partnership with SilverSneakers(R)

– – Emily Brenner photo courtesy of Ohm Wellness Center
---
Reiki Therapy Tuesdays
Akemi Minami, certified Reiki therapist, offers 25-minute appointments to Brookline residents over 60 and Senior Center volunteers.  Sessions: 9-12 noon Tuesdays.   $7/session  Five-treatment books:  $25    617. 730. 2777
---
Elizabeth Pollock, president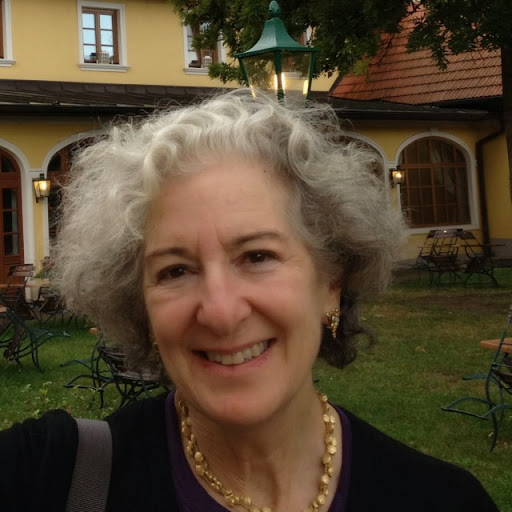 May is such a special month here.  Spring is in full bloom. We have some of most comfortable and beautiful days and nights. And we honor the women in our lives. May is a great time to honor our mothers, grandmothers and the other women and men in our lives. Consider making a gift to the Center in their memory.  To create a tribute gift, contact our director, Ruthann Dobek at 617. 730. 2756 or rdobek@brooklinema.gov Families like Marie Lavine's daughters, and Corinne Long's family, and Vivian Freeman's family have ensured that their mothers are honored each year with their special gift.
Food insecurity is a problem in Brookline.  A recent survey of Brookline's seniors who receive food help from us found that 26% of respondents reported having been without food for a whole day for 1-10 days the prior month.  An additional 18% went to bed hungry at least once in the prior month. If you know of anyone who will benefit from our food distribution programs, please have them call us: 617. 730. 2777.  Thank you for caring for your neighbors and our community.
I care deeply about the future of the Center and so I have included it in my estate planning. Endowments help ensure the future of the organization with reserves. You can contribute directly or put the Brookline Senior Center in your will.  Gifts of $1,000 will be added to our Wall of Honor.  Be sure to let us know you've included us in your will or trust so we can recognize you in our Ambassador Club.  ***   "I give $___  (or percent of my estate or percent of the remainder of my estate) to Brookline Multi-Service Senior Center Corp (EIN 04-2719972), a Massachusetts non-profit corporation, located at 93 Winchester St, Brookline, MA 02445 to be used for general purposes."  Consult your lawyer or financial advisor
---
News
STOP & SHOP COMMUNITY BAGS:  The Council on Aging has been chosen by Stop & Shop, 155 Harvard St, as the newest non profit in the community bag program.  For the month of May, for every community bag you buy with the giving tag, at $2.50, the Council gets a $1 donation.  Info at https://stopandshop.bags4mycause.com/
– – – – – – – – – –
Gallery 93          through June 30
Light and Water – –     Paintings by Jean-Pierre Dubreuil
Reception with the artist: Thursday, May 14  6-8 pm
– – – – – – – – – –
AGE FRIENDLY BUSINESSES

Be one:  http://www.brooklinecan.org/age_friendly_business.html
– – – – – – – – – –
WONDER WOMAN, RUTHANN DOBEK:  
wickedlocal.com/news/20180315/ruthann-dobek-brookline-senior-centers-wonder-woman
– – – – – – – – – –
BOSTON 25 TV: SHOP PROGRAM
http://www.fox25boston.com/news/shopping-for-seniors-brookline-program-creates-bond-between-seniors-students/704932381
– – – – – – – – – –
NEWSLETTER
– – Find the newsletter here, at the library, Town Hall, banks, Stop & Shop on Harvard, Star Market on Beacon and Brookline Booksmith.  The best way to get one is subscribe: for $10 we'll mail it to you for a year.  If you're a retailer with space for newsletters, call us.  We deliver.  Advertise with us:  Click for ad specs
– – – – – – – – – –
GARDENING TOGETHER
Learn the essentials of vegetable and flower gardening at our community gardens on Webster St and Lawton garden.  Enjoy the company of women gardeners and share food.  Meet May 17 and May 24 at the Brookline Community Foundation, 40 Webster Place.  Misti Jaynes, thriving community liaison: 857. 247. 6253   mistijanes68@gmail.com – – Supported by a grant from the Brookline Community Foundation
– – – – – – – – – –
PLANNED GIVING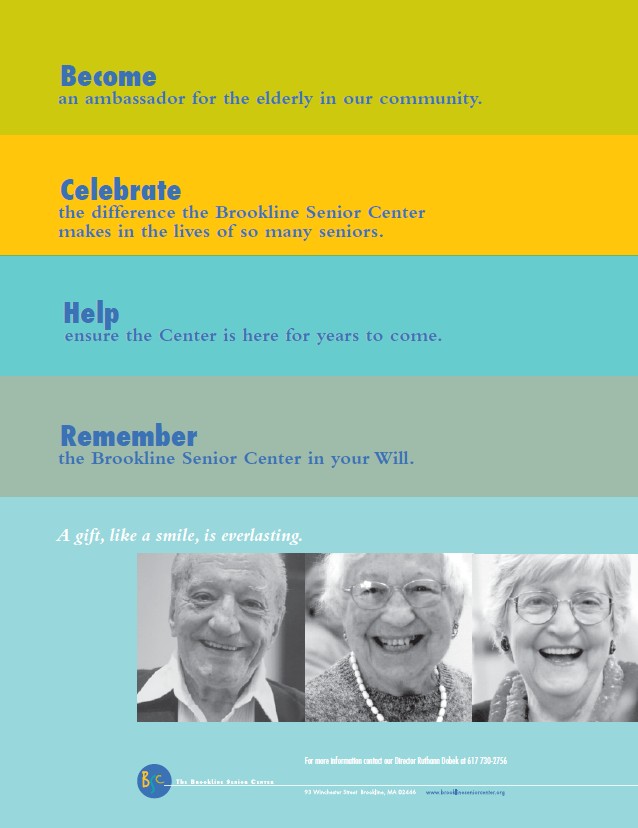 – – Consider leaving a legacy to the Senior Center.  Your bequest is a gift of hope.  Please call Ruthann Dobek, director:  617. 730. 2756 and help us secure a bright future. Brookline Multi-Service Senior Center Corp  (EIN 04-2719972), a Massachusetts non profit corporation.