Honoring the wisdom that comes with age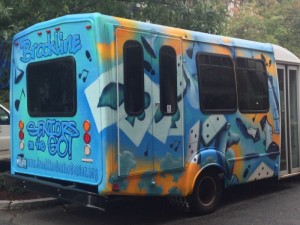 ---
Ruthann Dobek, director
We are closed Thursday, November 22 for Thanksgiving and open on Friday.

"Feeling gratitude and not expressing it is like wrapping a present and not giving it."- – William Arthur Ward
November is the month of Thanksgiving and a season of gratitude.  Here are things I am most grateful for every day.
Volunteers – over 350 strong and they are here every day for us.  We would have to close our doors if we had to go without their thousands of hours of dedicated work.
Board members – are the reason we have our funding and programs. They advocate for quality programs in the rain, snow, freezing cold and against the bitter and ageists.
Programs – now more than ever, a tremendous bargain for high quality entertainment and education
Staff – a strong team of devoted people who work hard each day to make the community strong and vibrant. They are unsung heroes who toil to keep seniors independent.  Say thank you this month.
Services – the envy of most communities. We provide dignity and independence to every Brookline senior through top notch delivery. This has been our vision for over 50 years and will continue to guide us as we create new ways to help seniors "age well in our community."
YOU – Brookline seniors, the ones who make this job worthwhile with your wisdom, creativity and energy.  I salute so many of you every day.
Sponsors – A personal thank you to everyone who supported our 17th autumn benefit. Your donations will ensure that seniors have access to a wide range of transportation options.
Spirit of Kindness – people who come to the Senior Center share this attitude. We care about one another. Joys and heartaches alike are part of our powerful community. We support one another and stay connected.
PATTIE CHASE – Thank you to our Brookline Bees quilting group leader who is leaving.  We are grateful for her time and dedication.  She will be missed.
Enjoy the holiday with family and friends. Take a moment to create your own list of things you are grateful for and share your feelings of gratitude with others.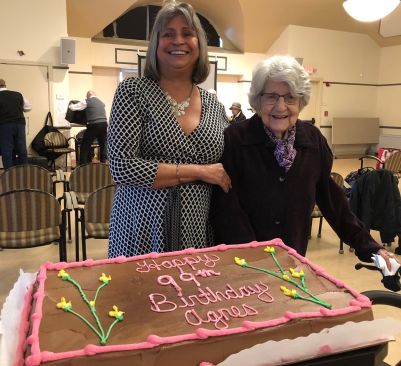 We celebrated Agnes Rogers' 99th birthday Monday, October 15!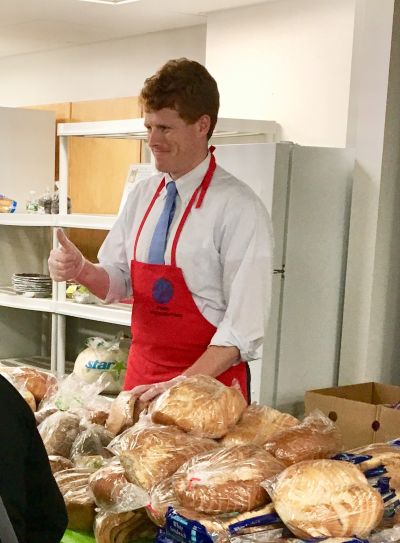 Congressman Joseph Kennedy helping out in our food center.
Wednesday, November 14 – – Council on Aging meets at 1 with Brookline Fire Chief, John Sullivan.  Hear his vision on fire safety for all.  We welcome new members.  RDobek@brooklinema.gov
Monday, November 19 – – An afternoon of stories and poems with Dick Flavin, announcer for Red Sox games.  He is the poet laureate and senior ambassador for the Sox, a member of the Massachusetts Broadcasters Hall of Fame and best selling author of Red Sox Rhymes: Verses and Curses.  Starts at 1 pm. Register: 617. 730. 2770
Transportation continues to be a major concern for elders. Our TRIPPS program can help you find alternative transportation options. Call Maria Foster @ 617. 730. 2644 for more information.  We are committed to improving our transportation service. One way you can help is making a donation to support the van fund, which depends on your gifts to continue.  Another way is completing our short transportation survey @ https://bit.ly/2Lx6jXQ    Paper copies are available here as well.
---
Autumn Benefit Sponsors as of 11/1
Your gifts actively sustain our programs – your support ensures our future – with thanks to
DIAMOND:  Beth Israel Deaconess Medical Center, Michael Merrill
RUBY:  Bay State Federal Savings Charitable Foundation, Brookline Bank, Arthur Epstein, 56tGoddard House Assisted Living, Hamilton Company Harold and Maura Brown, Shulamit Kahn and Kevin Lang, Betsy Pollock, Sue B. Reamer, Winnie and Richard Rubino, Suzanne Salamon and Alan Einhorn, Sherrill House, Wade Horowitz LaPointe LLC
SAPPHIRE:  Patricia H. Dobek, Ruthann Dobek and Glenn Boghosian, Rogerson House
EMERALD:  Atkin Associates LLC-Barrie Atkin, Laurde and Elias Audy, Doris Tobey Axelrod and Lawrence Marks, Center Communities of Brookline/Hebrew Senior Life, Rev. George and Margie Chapman, Lesley and Zahra Hendi, Mount Pleasant Home, The Move Maven, Providence House Assisted Living, Evelyn Roll, Carol and M John Christian, Marilyn and Andre Danesh, Sidney Gelb, Jewish Family & Children's Service, Elaine Kwiecien, V. Celia Lascarides, Pathway Home Realty Group, Ruth K. Seidman, Waterstone at the Circle, Wingate Residences at Boylston Place, Sonia and William Wong
TOPAZ:  Always Best Care Senior Services, Dr. Michele Baker and Rabbi Jim Morgan, BAYADA Home Health Care, Brookline Community Foundation, Brookline Hearing Services, Brookline Municipal Credit Union, Carol and Frank Caro, Helen Charlupski, Judith Chasin, Eleanor Clarkson, Nancy Daly and Kevin Cavanaugh, Rita and Morgan Daly, Betsy and Dennis DeWitt, Eastern Bank, Elder Achievers, Thomas A. Faulhaber, Doris and Saul Feldman, Nancy Heller, Home Instead Senior Care, Georgia and Bruce Johnson, Israel Van Kooy & Days LLC, Joyce and Barr Jozwicki, Rudolph Kass, Pat Krol and Steve Chiumenti, Lasky Home Smith, Levine Chapels, Alberta and Roger Lipson, Longwood Dental Group, Margolis & Bloom LLP, Sylvia and Ralph Memolo, Judy Meyers and Mark Pasternack, Judith B. Mir, Cecily and Alan Morse, Mojtaba Mostashari and Morry Sapoznik, Toni Schroder, Roberta S. Winitzer, Susan and Neil Wishinsky
Thanks to the Event Committee:  Barrie Atkin, Ruthann Dobek, Jessica Milley-Gee, Sherry Hanks, Betsy Pollock, Julie Washburn, Karen Weisberg, Roberta Winitzer, Lisa and Danny Wisel, Sonia Wong
---
November Health Checks

Barbara Westley, public health nurse, Brookline Public Health Department

Thursday, November 15 – – Barbara Westley, RN does blood pressure screening here from 1-2 pm
Thursday, November 15 – – Staff from Brookline Hearing Services is here from 1-2 for cleanings and counseling.  No charge.  Batteries: $5
Wednesday, November 28 – – Barbara Westley, RN does blood pressure screening at O'Shea House, 61 Park St from 1-2 pm
Wednesday, November 28 – – The peer led Low Vision Support Group meets at 1 pm
Podiatry Clinic – – Routine foot care with Dr. John McLaughlin: $40.  Appointments:  617. 730. 2777
---
TRIPPS Trips, 11/15
November 15 – – Getting around with Uber and Lyft, 10-11:30 am
Wednesday, November 28 – – MBTA Senior CharlieCard applications and renewals, 1-3 pm
Join this multi-session class to use your Smartphone with ride-share. Bring your Smartphone and come with your Apple or Google password.  Register: 617. 730. 2644
---
Holiday Craft Fair, 11/15
Our holiday mini craft fair has one last day Thursday, November 15 at TOWN HALL from 10-2.    617. 730. 2770
---
LinkedIn Basics, 11/19
Patricia Burns leads a seminar on LinkedIn job search Monday, November 19 from 3-5 pm.  Register: 617. 730. 2743
---
Real Estate Tax Exemption, 11/27
Sandy Spector is here Tuesday, November 27 from 10-12 noon to help with real estate tax exemptions and abatements.  See her in the gallery.
---
Brookline Poets Afternoon, 11/26
Monday, November 26 at 1 pm, meet Zvi. A. Sesling, Brookline's poet laureate, and other local poets for readings.  Register: 617. 730. 2770.
---
MBTA Charlie Cards, 11/28
Wednesday, November 28 from 1-3 pm get a Charlie Card to ride the T.  Bring picture ID with date of birth (over 65).  We'll help with the application and take your picture.  The card is mailed to you in 6-8 weeks.  TRIPPS will be here too with transportation options, subway and bus maps.   (You can get a card immediately at the MBTA Charlie Card store in the Downtown Crossing station weekdays from 8:30-5)
---
Elizabeth Pollock, president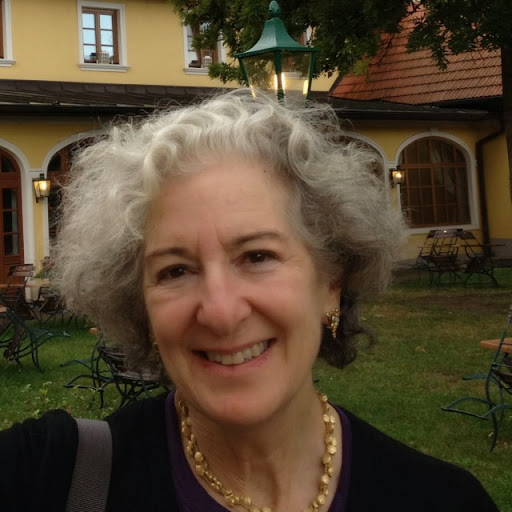 Thanks to everyone who attended our annual benefit.  You made the evening a very wonderful time. To our sponsors, thank you for caring about Brookline's seniors.  This year you set a new record.  Special thanks to diamond sponsors Beth Israel Deaconess Medical Center and Michael Merrill.  Thank you to sponsors and supporters who donated tickets so low income people could enjoy the evening.
The money we raised goes to support programs and services that help the most needy access transportation.  As Thanksgiving approaches, I am reminded of how many people give time, money and other resources to help Brookline seniors live with dignity and respect.  Thank you all! And best wishes for a wonderful Thanksgiving.
We gratefully accept donations to our nonprofit and they are completely tax deductible.  They keep the van running as well as funding furnishings, improvements and innovative programs.  We are proud of our strong community and need your help to sustain it.  Please be as generous as you can.  The Board and the Center family thank you.
Marie Lavine memorial concert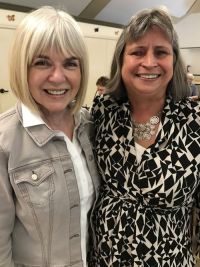 – – Eileen Solomon, daughter of Marie Lavine with Ruthann Dobek
"Exercise is the only thing that helps everything," says Dr. Janice Schwartz, professor of medicine at UC San Francisco.  I'm amazed at the research that confirms the value of fitness for older people.  It improves health, memory and helps prevent dementia.  We're also raising funds for scholarships to our fitness center.  Join me in supporting this program.  Our fiscal year ends June 30.  Your contribution will sustain us.
I care deeply about the future of the Center and so I have included it in my estate planning. Endowments help ensure the future of the organization with reserves. You can contribute directly or put the Brookline Senior Center in your will.  Gifts of $1,000 will be added to our Wall of Honor.  Be sure to let us know you've included us in your will or trust so we can recognize you in our Ambassador Club.  ***   "I give $___ to Brookline Multi-Service Senior Center Corp (EIN 04-2719972), a Massachusetts non-profit corporation, located at 93 Winchester St, Brookline, MA 02445 to be used for general purposes." – – Consult your lawyer or financial advisor
---
News
– – – – – – – – – – – – – – –
ANDREA ROSENTHAL PHOTOGRAPHS through December 28: Reimaginings

Image: My Goal (after Andrew Wyeth)
– – – – – – – – – –
HOSPITALITY HOMES
needs hosts to provide spare rooms to families of patients.  Shannon Heckethorn: 888. 595. 4678, ext. 3
– – – – – – – – – –
MEDICARE OPEN ENROLLMENT
Premiums, deductibles, co-pays and drug coverage change.  During open enrollment you can adjust your plan.  SHINE counselors available through December 7.  617. 730. 2770
– – – – – – – – – –
LIBRARY CONNECTION
The Library Connection, a partnership of Brookline's Council on Aging and the Public Library of Brookline,  delivers library materials to home bound Brookline residents unable to leave their home.  Contact volunteer coordinator Patricia Burns at the Council on Aging   617. 730. 2743
– – – – – – – – – – – –
AGE FRIENDLY BUSINESSES

Be one:  http://www.brooklinecan.org/age_friendly_business.html
– – – – – – – – – –
WONDER WOMAN RUTHANN DOBEK:  
wickedlocal.com/news/20180315/ruthann-dobek-brookline-senior-centers-wonder-woman
– – – – – – – – – –
BOSTON 25 TV: SHOP PROGRAM
http://www.fox25boston.com/news/shopping-for-seniors-brookline-program-creates-bond-between-seniors-students/704932381
– – – – – – – – – –
Newsletter
– – Find the newsletter at the library, Town Hall, banks, Stop & Shop on Harvard, Star Market on Beacon and Brookline Booksmith.  The best way to get one is subscribe: for $10 we'll mail it to you for a year.  If you're a retailer with space for newsletters, call us.  We deliver.  Advertise with us:  Click for ad specs
Planned Giving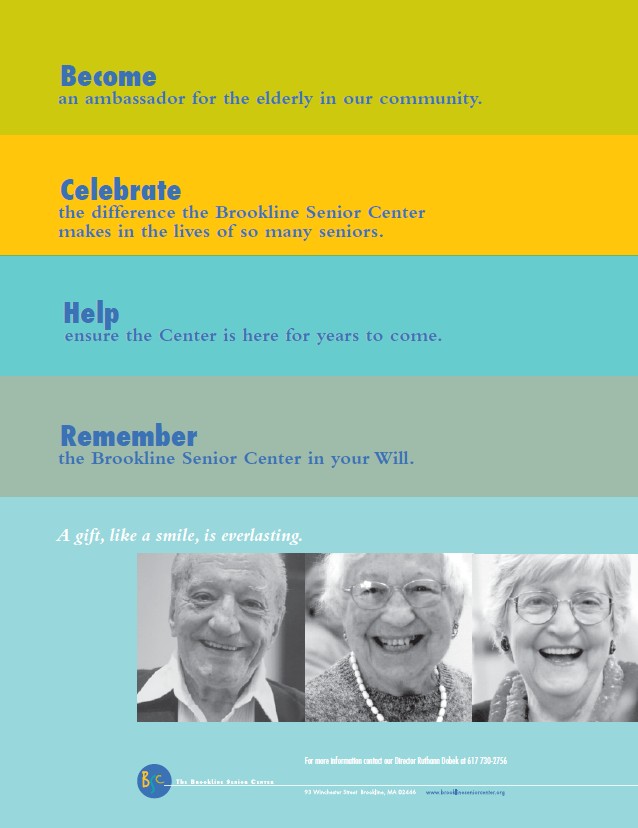 – – Consider leaving a legacy to the Senior Center.  Your bequest is a gift of hope.  Please call Ruthann Dobek, director:  617. 730. 2756 and help us secure a bright future