Honoring the wisdom that comes with age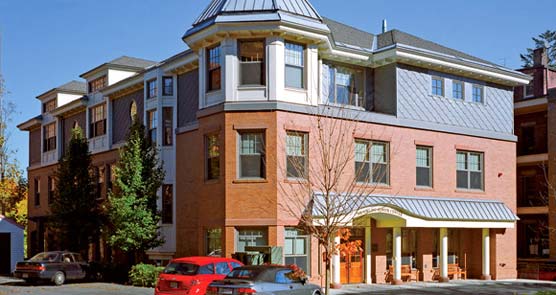 Ruthann Dobek, director
In May I think about special women in my life:  my grandmother, Bernice Dobek, who was my inspiration for becoming a geriatric social worker.  She took care of me while my parents worked.  I cherished being with her in her garden and sharing her fragrant lilacs.  She was a model for aging in place.  In honor of Mother's Day, I am making donations in memory of my grandmother,  and honoring my mother, Patricia Dobek, one of our generous benefactors;  I'm also remembering my mother in law Gladys Boghosian.  We welcome your donation to commemorate special women in your life.
This month we say goodbye to our students Claire, Faith, Samantha and Kayla who contributed so much to our community.
Our Volunteer of the Year is Barbara Kean.  The award was presented at the volunteer lunch April 5.  Barbara is an ambassador for us who exemplifies kindness and concern.  Certificates were given to volunteers Corey Cohen, Frank d'Entremont, Rita d'Entremont, Regina Frawley, Carol Fullerton, Phil Fullerton, Rhona Hirschowitz, Charlotte Millman, Michelle Moshin, Fran Pechenick, Vera Sharma, Eleanor Small, Muriel Stark, David Weinberg, Louise Weinberg, Ada White, Roberta Winitzer.
Our Community Partner of the Year is Goddard House.
Get an MBTA senior Charlie Card here Wednesday, June 14, 1-3 pm.  Bring a picture ID with date of birth.  We'll fill out the application and take your picture.  Cards mailed in 6-8 weeks.  (Or visit the MBTA at downtown crossing Red/Orange line concourse 8:30-5 pm and get it while you wait.)
Our annual sidewalk sale is Thursday, June 15, 10-2 pm, rain or shine.  Proceeds benefit programs and services.  Donations welcome.  (We do not accept clothing, linen or appliances.)
Vibrant Assistive Technology Program
Mass Association for the Blind and Visually Impaired announces the VIBRANT program together with the Centers on Aging and our Center.  It's about assistive technology.  If you're losing sight, we'll train you on technology to help.  Assistive is hardware or software to help with cooking, cleaning, shopping, reading, TV, creating spreadsheets, banking, travel, health and fitness.  If you have low vision or are blind, reach out.
Assessments are done by Sassy Outwater, our assistive technology coordinator.  You'll be matched with a volunteer for training on screen magnification, text aloud, shopping online.  Call 617. 780. 9037 or email:  SOutwater@mabcommunity.org       You may also meet her (below) here Wednesday and Thursday afternoons in the computer lab.
We are closed Monday, May 29 for Memorial Day
Whatever your interests, get to know us.  Stay connected with our programs and services.  We're here to help fill your days with creative activities and new friends whether it's exercising, volunteering or learning something new.  Our gym has new gear and great staff.   Stop in 8:30-4:30.   And take a hike, or dance, lift weights, walk, yoga.  For every minute you exercise, you add seven minutes to your life, so says Harvard School of Public Health.
What's the difference between the Council on Aging and the Senior Center?  The Council is a municipal department of the Town of Brookline.  The Senior Center is the building.  And then there's the Brookline Multi-Service Center Corporation.  That's our official name for the non-profit that raises funds.  The official name is unwieldy so we ask you to make checks out to Brookline Senior Center.  And, the Town's budget for us covers 70% of our total costs.  The non-profit raises money to pay for the rest.  30% of our budget comes from you.  In this fiscal year, which ended June 30, private donations were $241,000.  Here's how we spent part of it: – – – $33,000 to the Fitness Program classes for 368 participants and scholarships – – – $59,000 for a new van:  $27,000 for the driver and gas for 2,987 rides and – – – $27,000 for programs, supplies and food
---
Tell your Story, 5/24
Wednesday, May 24 at 10:15 is the annual reading of Brookline's Adult Education autobiography writing group, Telling your Story here.  Open to all
---
TRIPPS MIT AgeLab, 5/23
Tuesday, May 23 from 6-8 pm hear Dr. Lisa D'Ambrosio talk about "Keeping People Mobile Today and Tomorrow: Research at the MIT AgeLab."  D'Ambrosio is a research associate who investigates "financial planning and preparedness, transportation and mobility, and technology adoption."  She is a contributor to and co-editor with Dr. Joseph F. Coughlin of Aging America and Transportation: Personal Choices and Public Policy.  Register with TRIPPS:  617. 730. 2644
---
Get checked in May

Barbara Westley, public health nurse, Brookline Public Health Department

Wednesday, May 24 – – Blood pressure screening with Barbara Westley, RN at O'Shea House, 61 Park St from 1-2 pm
Podiatry Clinic – – Routine foot care with Dr. John McLaughlin: $40.  Call for appointment:  617. 730. 2777
---
Silver Leaf Gospel Singers, 5/31
Wednesday, May 31 at 1 concert by the a cappella
Silver Leaf Gospel singers under the direction of deacon Randy Green.
---
Using Space Better at Home, 6/1
BrooklineCAN workshop on space planning at home Thursday, June 1 from 4-6 pm.  Len Fishman, director of gerontology institute at UMASS Boston provides an overview.  Staff from Brookline building, planning and health departments offer information about Town regulations for renovation and renters.  Register:  617. 730. 2770
---
Community Chorus Concert, 6/3
Saturday, June 3 at 8 pm at All Saints Parish for the spring concert with orchestra:  Bach, Brahms, Bruckner.  Tickets: $15, $10 seniors at the door. Rehearsal is Wednesday, May 24 here, open to all, 6:15-9:15 pm.
---
Shred it here, 6/5
Rip it up and protect yourself from identity theft.  The shredding truck is here Monday, June 5 from 1-4 along with a talk with staff from Norfolk District Attorney Michael Morrissey's office.  Open to Brookline residents. Register for the presentation 1-2 pm:  617. 730. 2770.  Computer hard drives welcome.
---
Public Health Policy Forum: Health Care, 6/21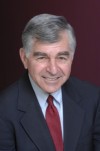 Our annual health policy forum is moderated by Michael Dukakis. Topics: women's health, opiate addiction, adequate coverage for all.  Wednesday, June 21 at 6, panel starts at 7.  Panel:  Dr. Monica Bharel, commissioner of Mass Dept of Public Health;  Dr. Jennifer Childs-Roshak, president and CEO of Planned Parenthood League of Mass;  Jon M. Kingsdale, PhD, former lead of Mass Health Connector and consultant.  Open to all, no registration. – – Presented by Friends of Brookline Public Health and Brookline Adult & Community Education, with Brookline Department of Public Health, Brookline Council on Aging, League of Women Voters, Brookline Commission for Women and Brookline Department of Veterans Services
---
Chess Thursdays
Come play Thursdays, 1-3 pm.  Bring your own board or use ours.   Julie Washburn:  617 730.2760
---
Elizabeth Pollock, president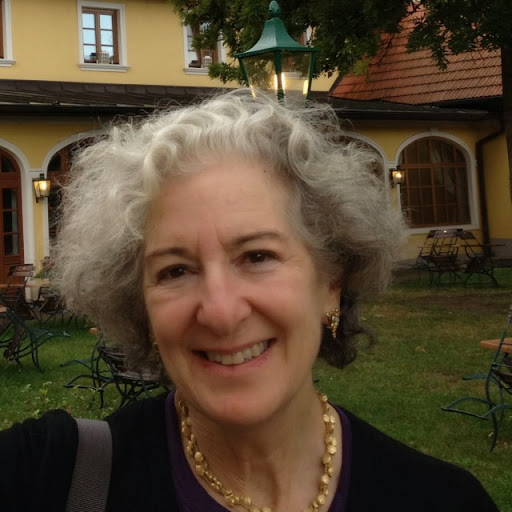 This year the endowment fund donated $47,000 to the operations budget.  By 2020 we want to double our endowment.  Areas that need your help include transportation, specifically the van and drivers.  A legacy donation supports programs and the physical plant.  We thank you.

"Exercise is the only thing that helps everything associated with aging," says Janice Schwartz, MD, professor of medicine at UC, San Francisco.  Look for better physical health and memory.   We hope you'll look into our fitness center and ping pong program.  Our fiscal year ends June 30.  If you can, help us with scholarships to the fitness center.  We're grateful to Bay State Federal Savings Charitable Foundation for their donation with much appreciation.
I care deeply about the future of the Center and so I have included it in my estate planning. Endowments help ensure the future of the organization with reserves. We're hoping to double our endowment by 2018. You can contribute directly or put the Brookline Senior Center in your will.  Gifts of $1,000 will be added to our Wall of Honor.  Be sure to let us know you've included us in your will or trust so we can recognize you in our Ambassador Club.  ***   "I give $___ to Brookline Multi-Service Senior Center Corp (EIN 04-2719972), a Massachusetts non-profit corporation, located at 93 Winchester St, Brookline, MA 02445 to be used for general purposes." – – Consult your lawyer or financial advisor
---
News
– – – – – – – – – – – – – – – – –
The Reunion Project:  The Brookline Senior Center and Brookline's Goddard House exhibit photos by Lora Brody of women from age 65 – 100 as they look now along with pictures of when they were younger.  Through June 30  http://www.thereunionproject.org/
– – Sponsored by the Brookline Senior Center, Brookline CAN, Goddard House and the Center Communities
Artist Gary Chen gussies the van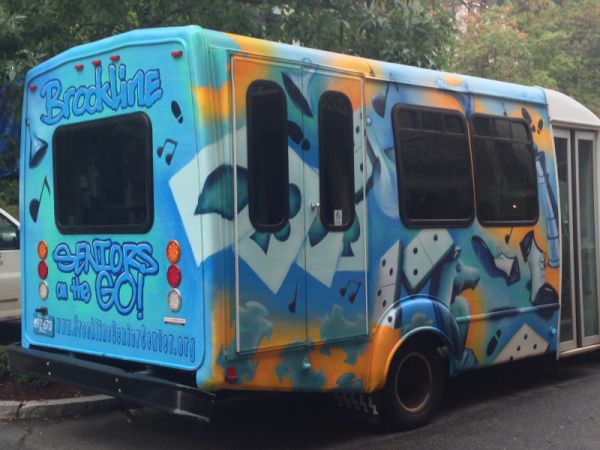 – – photo by Mary Nguyen
Thanks a million, Artists for Humanity!   
– – – – – – – –
Newsletter
– – Find the newsletter at the library, Town Hall, banks, Stop & Shop, Star Market on Beacon and the Brookline Booksmith.  The best way to be sure you get one is to subscribe: for $10 we'll mail it to you for a year.  If you're a retailer with space for a stack of newsletters, call us.  We deliver.  Be an advertiser:  Click for ad specs
Planned Giving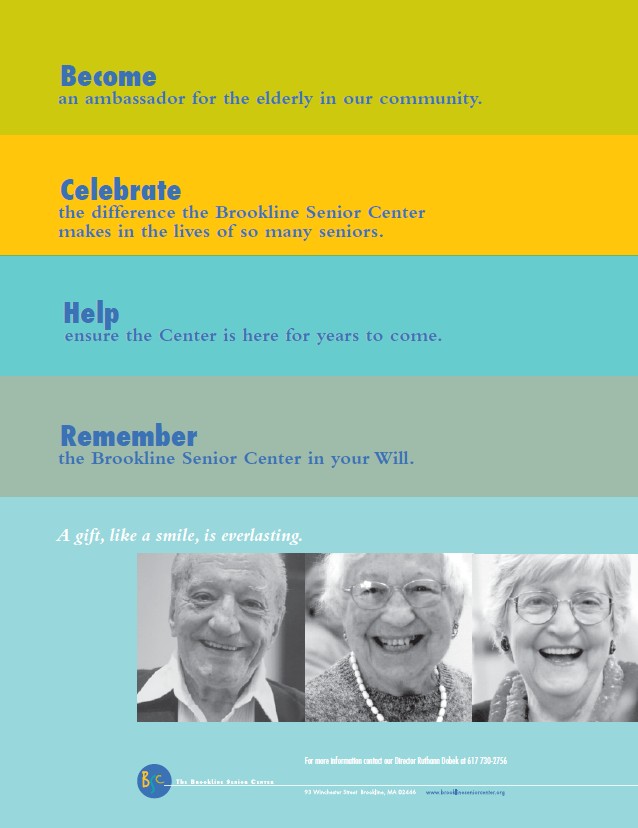 – – Consider leaving a legacy to the Senior Center.  Your bequest is a gift of hope.  Please call Ruthann Dobek, director:  617. 730. 2756 and help us secure a bright future
– –