Honoring the wisdom that comes with age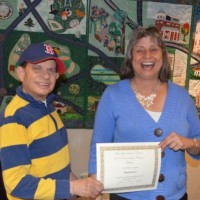 ---
Ruthann Dobek, director
We urge you to comply with CDC recommendations https://www.cdc.gov/coronavirus/2019–ncov/vaccines/fully–vaccinated–guidance.html
•  June 1, we opened the Senior Center during regular business hours  Monday-Friday, 8:30 am-5:00 pm.
•  June 15, the Governor to lift the state of emergency

•  June 21 the Senior Center resumes programming, and all town buildings are open. Find updates here: https://www.brooklinema.gov/245/Council-on-Aging, as well as on our main line.
We are optimistic that vaccination rates will allow us to be together, and we remain vigilant. This means restrictions may return. We look forward to seeing you, and as always, welcome your comments.

As an essential organization, the demands on our services have increased. Your support inspires us. We are committed to providing essential services, so please encourage anyone who needs assistance to contact us at 617. 730. 2770. Donations are appreciated. Go to www.brooklineseniorcenter.org and click the orange PAYPAL button, or send a check.
As always, the best part of donations are the thank you notes.

"First, allow me to thank you for the countless services you perform for our Senior Center. What a Herculean task you 'shoulder' every day! I really appreciate the SENIOR NEWS AND EVENTS. Thank you many times over. I have only lived in Brookline (now Chestnut Hill) for a short few years and I have enjoyed it all. Every person I have met has been courteous and helpful."
"As usual, you rock! Thank you for your continued work on the behalf of us seniors who need rides. It has been a rough and ragged time navigating the pandemic, but I hope "the new normal" will restore some balance and feelings that venturing outside in the company of others will be restored to us. Thank you for your constant address to this issue and for maintaining this service throughout the pandemic."
"We appreciate the extra lunch of the roast turkey. It was absolutely delicious and I couldn't have made it better myself. There was so much we got 4 meals out of it! We appreciate all that is being done during this COVID time. We are a big fan of the Senior Center anyways as they have always done a good job for seniors. When I tell my kids, they'd love to live in Brookline."
---
Finally, Happy Father's Day to fathers and grandfathers. My father was a very special man. He was a teacher and humanitarian who instilled in me the importance of finding the good in all people. Indeed, every day his spirit is here in the Senior Center as one of his lessons was to always be warm and welcoming and open to all people by striving to make the world a better place one kind act at a time. Please join me in doing something extra nice this month for someone in his memory. – – Ruthann Dobek, director
---
WHAT'S NEWS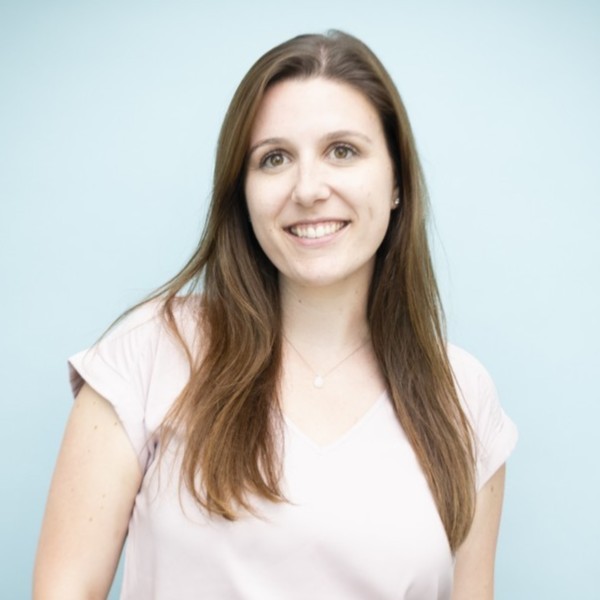 WELCOME Katie McClean, LICSW our new Homecare Coordinator. Katie was a graduate student from Boston College's School of Social Work here from September 2015 to May 2016. Recently she was the branch administrator for Caring People.  You can reach her at 617. 730. 2755. Katie has a deep passion for geriatric social work, and her enthusiasm will bring the program energy and innovation.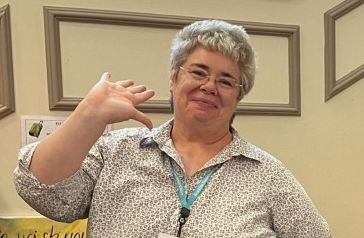 WELCOME  Jae McCabe, our new Group Leader. She looks forward to meeting you and being part of the community.  You'll reach her soon: 617. 730. 2106

---
It is with great sadness that we announce the unexpected passing of Michelle Fitzgerald, our wonderful Springwell Grab and Go lunch program coordinator. Michelle was dedicated to her role this past year and she will be greatly missed. May her memory be a blessing to all who knew her.Services for Michelle were private, but if you would like to send a card to the family, please bring it to Jamie Jensen or Julie Washburn.
---
Meetings, Classes
◊ ◊
---
Brookline Farmers Market Thursdays
The Brookline Farmers Market is at the Centre Street west parking lot behind the Coolidge Corner Theater Thursdays 1:30-6:30. Most products come from Mass and New England. Wear your mask, keep your distance.

https://www.brooklinefarmersmarket.com/
https://www.instagram.com/brooklinefarmersmarket/
https://www.facebook.com/BrooklineFarmersMarket/
---
Tommy Bahama is Back, 6/22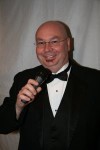 Join us for a welcome back celebration Tuesday, June 22 at 1:30 pm with Tommy Bahama in person. Music, dancing and cold drinks.

REGISTER:  Jamie Jensen    jjensen@brookinema.gov    617.730.2753

---
Shine New to Medicare Fair, 6/23
Learn about signing up for Medicare! This national fair is for people turning 65, retiring, or joining Medicare because of a disability.
There is no cost to attend. This event is made possible through a grant from the federal government.
Anyone who registers can attend all or part of this online event. You will need a computer or mobile device to participate.   Times: 3:00 – 7:00 EDT
REGISTER:  www.shiptacenter.org
---
JUNE Pride Month
Goddard House residents are celebrating Pride month with an LGBTQ+ Movie Festival, and a panel on gender and sexual identity. In 2019, Goddard became the first assisted living community in the state to obtain LGBT Cultural Competency Accreditation through SAGECare to better serve LGBTQ+ older adults. To watch the flag–raising, visit https://protect-us.mimecast.com/s/WQXmCW6jqvuZDq3ri6Mile?domain=us02web.zoom.us/j/87877520036
VIDEOS
State of Pride:  https://www.youtube.com/watch?v=_J48BIRaG7A
Not Another Second: LGBT+ seniors share their stories: https://www.youtube.com/watch?v=q43kBuC_ups
Transgender Lives|Our America with Lisa Ling: https://www.youtube.com/watch?v=O6AzH7c3JJ8
The Day it Snowed in Miami: https://www.youtube.com/watch?v=seYFHXnCSo0
Stonewall Uprising: https://www.youtube.com/watch?v=MIbAVS-cDBs
WGBH Celebrates Pride: https://www.wgbh.org/pride
---
MetroWest Legal Services Clinic, 6/24
MetroWest Legal Services is offering a private, FREE half hour legal PHONE consultation June 24 from 12-4 pm.  They provide legal aid to seniors on housing, public benefits and social security; durable power of attorney, health care proxy and simple probate; Medicaid, nursing home, domestic relations; consumer and bankruptcy.  When you register have one sentence or a few words ready on the subject of your call.
REGISTER:  Jamie Jensen    jjensen@brookinema.gov    617.730.2753
---
ELF Giveaway, 6/24
We're giving away crutches, knee scooters, and many walkers. Join us Thursday, June 24 from 10-2 pm outside here. 617. 730. 2752
If the weather is bad, we'll be inside.
NOTE: WE ARE NOT ACCEPTING DONATIONS IN JUNE but you can borrow gear.
---
The Bubbe Diaries, 6/29
Join Paula Span, who writes the Generation Grandparent column for the New York Times, Tuesday, June 29 at 3 pm as she talks about her audio book, a collection of her columns.  "We're pregnant! You're going to be a grandparent!".  (She reads it.) She'll share her ideas and invite you to share yours in this virtual discussion.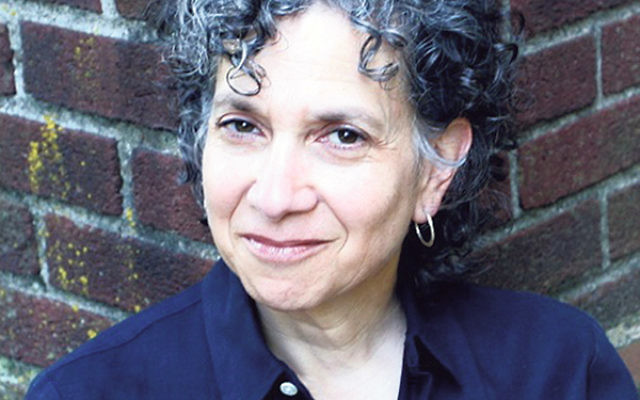 ORDER: The Bubbe Diaries: https://www.audible.com/pd/The–Bubbe–Diaries–Audiobook/B091J7M7FL
CONNECT:      https://hebrewseniorlife.zoom.us/j/8581186414
LINKS HELP:  Jamie Jensen   jjensen@brooklinema.gov 
_ _ Sponsored by BrooklineCAN, Center Communities of Brookline, Goddard House Assisted Living & Memory Care, and the Brookline Senior Center
---
Memory Connections Cafe, 6/30
The Café, for people with early memory challenges and their care partners to connect with peers through socialization and programming, is on Zoom.  Join us Wednesday, June 30 from 1:30–3:00pm.
REGISTER:  Jamie Jensen   jjensen@brooklinema.gov 
– – This month's Cafe is sponsored by Wingate at Chestnut Hill

---
Gregory Maichack

Pastel Workshop, 7/14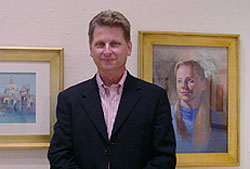 Gregory Maichack is back via Zoom Wednesday, July 14 from 1:00 ‐3:00 with his Jean–Francoise Millet inspired "Dandelions" workshop.This pastel painting workshop is for beginners to experienced artists. You create your own version of "Dandelions" by choosing parts of Millet's painting that inspire you.  Your materials including pastels, paper and pencils are here to pick up in advance.

REGISTER:   Jamie Jensen   617. 730. 2753  jjensen@brooklinema.gov
– – Sponsored in part by the Brookline Commission for the Arts and the Massachusetts Cultural Council
---
JUNE Crafting with the Library

Each month reserve a free kit with everything you need to craft a masterpiece. You keep everything including a DVD with instructions by one of your favorite librarians.  This month we are creating stencils and decorating reusable bags.  There are 20 kits for distribution and you pick them up here.
CALL: Julie Washburn: 617. 730. 2760
---
---
JUNE Food Pantries / SNAP
St. Paul's Church, 15 St. Paul Street – –  WEDNESDAY 3-6 pm, THURSDAY 11-2 pm
55A Egmont Street, Community Room – –  THURSDAY 3-7 pm, SATURDAY 10-1 pm
226 High Street, Community Room – – TUESDAY 3-7 pm
CALL:   617. 800. 5339
WRITE:  brooklinefoodpantry@gmail.com
You get prepacked bags of perishable and non-perishables. Everyone waits outside.
https://www.brooklinefoodpantry.org/
The Pantry needs canned tuna and chicken, rice, cereal, lentils, macaroni and cheese, oatmeal, canned vegetables and tomatoes, and shelf stable milk and juice.
SNAP  Mass residents can use SNAP benefits to buy food online from Amazon and Walmart:  https://www.mass.gov/snap-online-purchasing-program
---
JUNE Lunch to Go /Food Commodity
SPRINGWELL' S GRAB AND GO LUNCH MONDAYS, WEDNESDAYS AND FRIDAYS
♠ Call by 10:30 two business days ahead to reserve your chilled lunch: 617. 730. 2747
♠ You get a menu with the meal.  See the month's selections in the JUNE newsletter, page 12:  https://www.brooklinema.gov/Archive.aspx?AMID=37    
NO MEAL FRIDAY, JUNE 18 – SENIOR CENTER IS OPEN
FOOD COMMODITY: Next distribution is WEDNESDAY, JUNE 16. Low income people over 60 receive 35 pounds of shelf stable food the third Wednesday each month. Pickup is outside with masks.
REGISTER: 617. 730. 2753    Jamie Jensen  jjensen@brooklinema.gov
---
JUNE at Welcome Home Pantry
Welcome Home is a "home goods pantry in Newton that accepts and provides gently used housewares." Right now they need towels, pots and pans, and blankets. See the website for a complete list of what they take. You donate goods or make a wish list to ask for what you need:  No forms, no fees. No stains, no chips, no tears.
NO baby goods, NO bed skirts, NO mattress pads, NO books, NO clothing, NO toys, NO vases, NO wine glasses, NO computer gear, NO hangers
WRITE: welcomehomemass@gmail.com
CALL:   617. 454. 4795
JUNE DROP OFF – –  RESERVATIONS ARE A MUST – –
Mondays        1-2 pm
Wednesdays   2-3 pm
Arrive at Welcome Home (Trinity Church, Furber Lane, Newton Centre) at your reserved day and time. We take the items we can accept from your car.
https://www.welcomehomemass.org/
---
Mutual Aid Brookline Delivers
If you are high risk and need food and medication delivered
CALL Monday – Friday, 9-6 pm: 617. 651. 1468
We offer companionship, connecting the community through conversation.
In partnership with the Brookline Library, we deliver library material:  617. 651. 1037       MutualAidBrookline.Delivery@gmail.com
PEOPLE    https://mutualaidbrookline.com/about/#team
---
ONGOING PROGRAMS
---
JUNE Pickleball Tuesdays & Sundays
Brookline Recreation has pickleball at Warren Field Courts on Tuesdays (through June 29) from 5:45 to dusk;  Sundays (through June 27) from 9:00 – 12 noon.  Space is limited; you must register
CALL:  617. 730. 2082 or  jcook@brooklinema.gov

COST: $5/ per session
REGISTER: – – https://www.amilia.com/store/en/town–of–brookline/shop/programs/60450
---
Spanish/Latino

Instrumental + Vocal Class Fridays
Join us Fridays 3-4 pm through November on Zoom
CALL: 617. 953. 7016
Clase de música para adultos mayores! Por Zoom ¿Quiere compartir música y entretenerse más? ¡Los viernes de 3:00 – 4:00pm! Del 5 de febrero –19 noviembre. Informacion: 617–953–7016   
– – Sponsored by Auspiciadores: Spanish Immersion and Brookline Senior Center

---
Dance Party Thursdays
Dance Party with Lynn Modell – – Thursdays from 1:00-1:30

Music from the '40s-'60s plus show tunes to dance it out.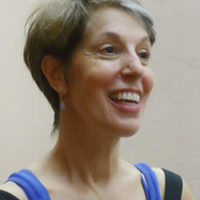 ---
Knitting/Crafting Circle
Hadassah Margolis, who created the Welcome Brookline Blanket Project, invites you to her knitting/crafting circle. She is working on masks; you can bring your blanket or mask project or other craft.
REGISTER:  media@welcomeblanket.org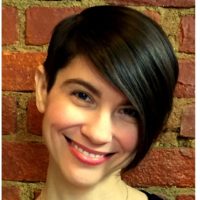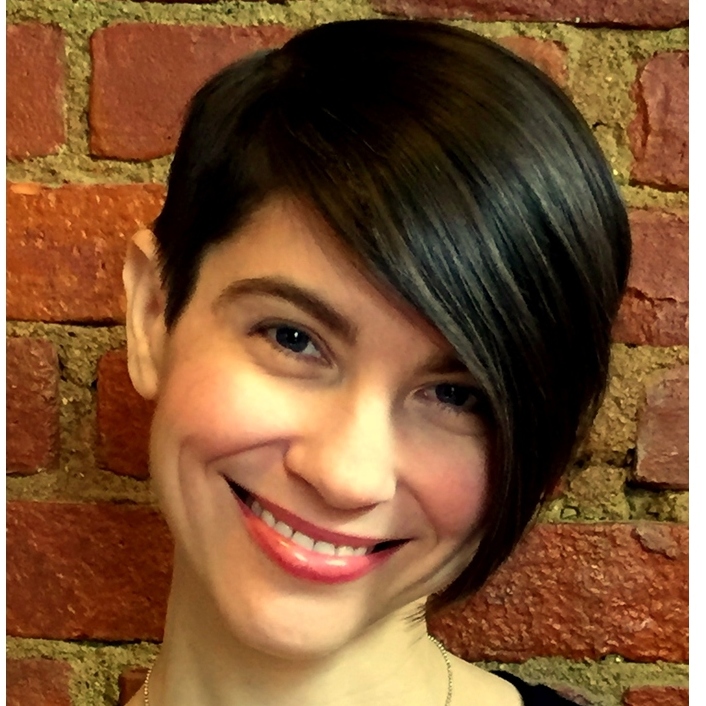 ---
Singing Mondays

We meet some Mondays at 4 pm for 45 minutes.  Mostly folk songs and the group decides what to sing. Everyone is muted except the song leader.  WRITE:  Judy Chasin  hearojudy51@yahoo.com
---
Mindfulness Wednesdays and Fridays
Join our video call by computer or phone from 10:00 -10:30 a.m. to practice mindfulness.  Led by Michael Allen, LCSW. Mindfulness helps with relaxation and bolsters attention and insight.  Go to https://us04web.zoom.us/j/137115626?.
QUESTIONS: Mallen@brooklinema.gov   617.730.2754
---
Living our Values Wednesdays
Wednesday mornings from 9-10 am
REGISTER: editor@businessforum.com
---
Current Events Fridays
Friday mornings from 10:30-12 noon
REGISTER:  mkt128@rcn.com
---
Short Story Mondays
A good short story can provide the basis for a great discussion. We will send a story by email or hard copy. We  meet twice a month Mondays from 10:30-11:30. Bring your own coffee and
REGISTER:   Kate Jovin   617. 730. 2753  kjovin@brooklinema.gov
---
Coffee Hour Tuesdays + Thursdays
Join us Tuesdays and Thursdays from 10-11 am
https://brooklinema.zoomgov.com/j/1601241673 
CALL      Michael Allen:    617.730.2754
---
Sharon Devine's Exercise Classes
REGISTER:  617. 730. 2769     sdevine@brooklinema.gov
♠   Flexibility – Mondays 1:00-1:30 pm
♠   Building Balance Skills – Tuesdays 1:00-1:30 pm
♠   Exercise for Aging Joints  –  Wednesdays 11:30-12:30 pm
♠   Exercises to Improve Physical Balance  –  Fridays 2:00-2:30
---
Chess
Attention, seniors who love chess.  You can play virtual chess with chess-savvy volunteers on your phone, computer or iPad.
CALL Jamie Jensen: 617. 730. 2753
---
French Conversation Tuesdays
We meet Tuesdays from 1-2:00 pm. New people, regardless of proficiency, please join us.
REGISTER  Monique Richardson mona647@comcast.net
---
Storytelling
We're working with Brookline Interactive Group (BIG) and Steps to Success for intergenerational storytelling. Students interview their grandparents and seniors on immigration, COVID, and other topics. We are looking for more people who want to share their stories.
CONTACT    Jamie Jensen at    jjensen@brooklinema.gov     617.730.2753    
STORIES:    https://www.youtube.com/playlist?list=PL_kXbXA0-Qd7Y2r28byeMX9RBCYdQ1uEG
---
Western Gunslinger Mondays
Dan Seligman, from Norfolk County RSVP, presents 10 seminars on Zoom: Western Gunslingers: The Truth Behind the Westerns. Join him Mondays from June 7 – August 9 from 11-12 noon.  Learn about the life and times of gunslingers in the 19th century including the good guys like Buffalo Bill Cody and the bad guys like Jesse James.
REGISTER:  Dan Seligman   drseligman@comcast.net  by June 2
---
Brookline Bees Sewing Tuesdays
The group, led by Joyce Graff, hosts Zoom meetings Tuesdays at 10:30 am. We accept donations of fabric, sewing notions and sewing machines. We worked through May to create quilts for HelpOurKids that provides supplies for children newly taken into foster care. We make blankets and "worry–eater dolls."
https://protect-us.mimecast.com/s/_u9nC82BEAuWYz4yf2sRro?domain=helpourkidsinc.org

WRITE: brooklinebeehive@gmail.com
Also, Joyce posted on YouTube quilts by her grandmother and great great grandmother in Pennsylvania. Introduced by Julie Washburn!    https://www.youtube.com/watch?v=w3ncuAVmIfw&feature=youtu.be 
---
Brookline Safety Net
A program of the Brookline Community Foundation and the Senior Center, the Safety Net helps residents and others in neighboring towns meet basic needs of food, housing, utilities and transportation.  Call the Foundation: 617. 277. 8107      If you can make a donation, your support could make all the difference to a neighbor in need: https://www.brooklinecenter.org/our-impact/safety-net-community
---
Call to Action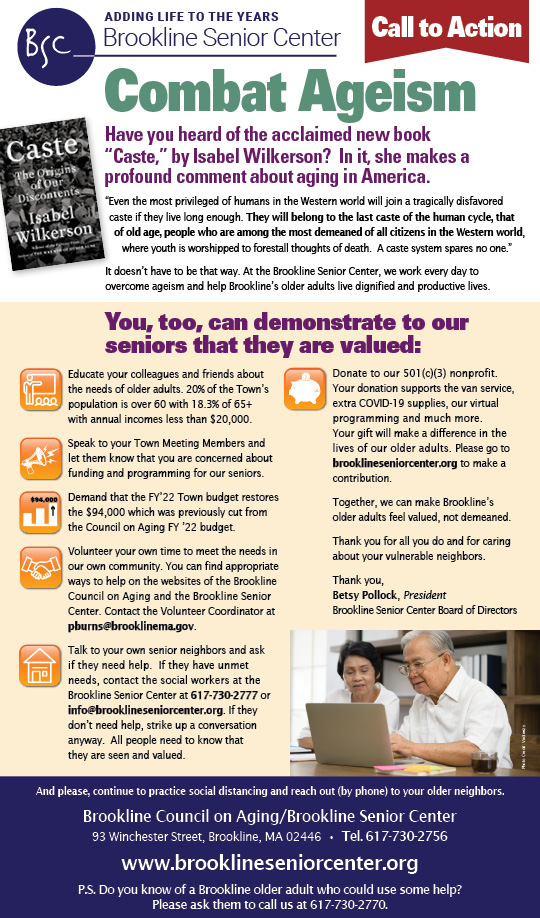 ---
Elizabeth Pollock, president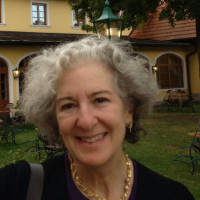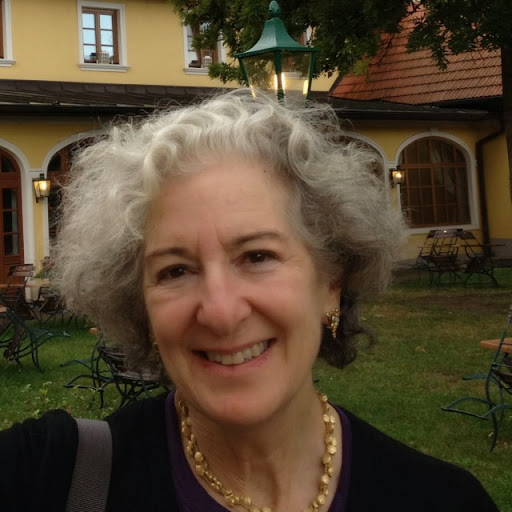 I am often asked, "How I can help the Brookline Senior Center?" There are several ways focusing on our needs for advocating, fundraising, and volunteering. This month I want to let you know about a new project that needs your help.What if you had no Internet service –or no smartphone? What if you had no access to online shopping, Zoom meetings, and other online activities?
Imagine how different your life would have been during the pandemic! Think about how much you depend each day on the internet! Unfortunately, many of our seniors don't have basic internet or a device to access the web. This puts them at higher risk for social isolation and loneliness, as well as an inability to get essential services.
That is why we're so excited to share news about Brookline Senior Connect. This new program will provide basic internet access, the loan of a tablet, and software. The Brookline Senior Center was awarded a pilot grant from Massachusetts Councils on Aging  to provide six months of Verizon internet and a tablet to 5 seniors. Our hope, however, is 25 people in the pilot program. With your help, we can reach this goal.
♥    Your donation of $200 pays for one tablet

♥    Your donation of $38 covers the Verizon data plan for one month. $76 covers two months; $127 provides 3 months of data.
Your donation helps insure the sustainability of Brookline Senior Connect. Connecting our seniors is critical for their mental health and well–being. Your gift is needed now more than ever. Please give generously at www.brooklineseniorcenter.org  at the orange PAYPAL button above on the right or send a check to Brookline Senior Center, 93 Winchester Street, Brookline MA 02446. Contributions in any amount are appreciated.
If you know someone who would benefit from Brookline Senior Connect or if you would like to be a mentor, please contact Ruthann Dobek    rdobek@brooklinema.gov  617. 730. 2756

I care deeply about the future of the Center and so I have included it in my estate planning. Perhaps you'd like to do that as well.  It's relatively easy – see below for suggested bequest language.  You may also consider making the Center a beneficiary of your life insurance policy, IRA or 401K. If you're over 70 1/2, you can apply part or all of your Required Minimum Distribution tax free to the Center.  – – Betsy Pollock, LICSW,  president, Brookline Senior Center board of directors

Suggested bequest language for giving:  "I give $___  (or percent of my estate or percent of the remainder of my estate) to Brookline Multi-Service Senior Center Corp (EIN 04-2719972), a Massachusetts non-profit corporation, located at 93 Winchester St, Brookline, MA 02446 to be used for general purposes."   Please consult your lawyer or financial advisor

---
News
_ _ _ _ _ _ _ _ _ _
BROADBAND INTERNET PROGRAM
A program to help you get temporary discounted internet service.
CALL:   Support Center  833.511.0311    Mass Eligibility  800.392. 6066
https://www.fcc.gov/broadbandbenefit
_ _ _ _ _ _ _ _ _ _
LANDLINES AND ZOOM: If you use a landline,  you may pay for a long distance call. It usually does not apply to cell phones. A meeting may offer a toll-free telephone number but it also may not.
_ _ _ _ _ _ _ _ _ _
LINKS: We test every link. On occasion, one may not work.  Copy any link into a browser, like Google.  HELP:   Jamie Jensen: jjensen@brooklinema.gov      617. 730. 2753
– – – – – – – – – –
READ THE JUNE NEWSLETTER  – –  https://www.brooklinema.gov/Archive.aspx?AMID=37      The best way to get one is to subscribe: $10/year.  (If you're a retailer with space for newsletters, call us.  We deliver.)  Advertise:  ad specs
_ _ _ _ _ _ _ _ _ _
AGE FRIENDLY BUSINESSES

Be one: http://www.brooklinecan.org/age_friendly_business.html
– – – – – – – – – –
WONDER WOMAN, RUTHANN DOBEK:  
wickedlocal.com/news/20180315/ruthann-dobek-brookline-senior-centers-wonder-woman
– – – – – – – – – –
BOSTON 25 TV: SHOP PROGRAM
http://www.fox25boston.com/news/shopping-for-seniors-brookline-program-creates-bond-between-seniors-students/704932381
– – – – – – – – – –
PLANNED GIVING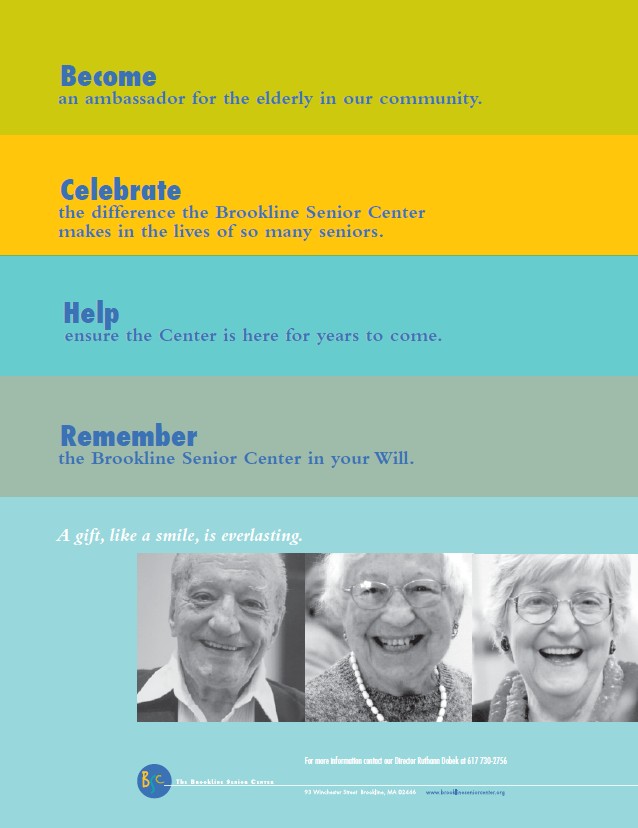 – – Consider a legacy to the Senior Center.  Your bequest is a gift of hope.  CALL Ruthann Dobek, director:  617. 730. 2756 to help us secure a bright future. Brookline Multi-Service Senior Center Corp  (EIN 04-2719972), a Massachusetts non-profit corporation.