Honoring the wisdom that comes with age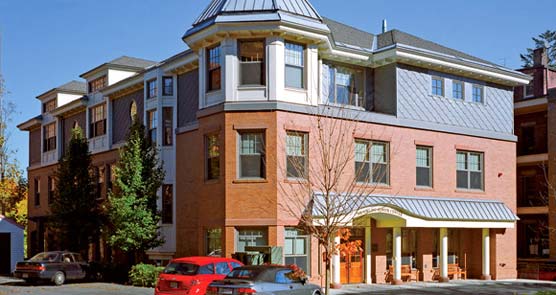 Dobek on Councils on Aging
Excerpts from the Mass Blue Cross Blue Shield Healthy Times Fall newsletter
Staying involved with others in the community as you age is an important way to prevent loneliness and depression.  Like other Councils on Aging across the stage, the COAs in Brookline and Chicopee help accomplish this goal with programs and services.
"Our whole mission is to keep people active and engaged," says Ruthann Dobek, COA director in Brookline.  "If people can't come to the senior center, we do our best to reach them in their homes."
At the Brookline Council, support groups are one of the hallmark programs to help seniors make connections with others, especially during times of change.  Bereavement groups, Alzheimer's support groups, a support group for seniors without children and a newcomers group are some of the opportunities for building new relationships.
"It's helpful for people to connect with other who are going through the same experience to know they are not alone," says Dobek.
The Brookline Council also offers groups that meet around interests like ping pong, chorus and current events.
"The groups often take on a life of their own with group members exchanging phone numbers or getting together for potlucks," says Dobek.
For those who cannot get to the center, the "Home Line" programs offers help to the home-bound for a small fee.  The Council also teams up with Brookline High School students who do grocery shopping and provide home visits.
"We carefully match students with the seniors," says Dobek.  "Both the students and the seniors get a lot out of it.  It's one of the most popular community service programs at the high school."
Read the story and the newsletter from Blue Cross via PDF
---
Ruthann Dobek, director
We close Thursday, November 23 for Thanksgiving.  Open November 24
"Feeling gratitude and not expressing it is like wrapping a present and not giving it." – – William Arthur Ward
November brings Thanksgiving and a season of gratitude.  Here are things I'm grateful for:
Volunteers – over 300 strong and they are here every day for us. We would have to close our doors if we had to go without their thousand of hours of dedicated work.
Board Members – are the reason we have funding and programs. They advocate for quality services in rain, snow and cold and against the bitter and ageist.
Programs – now more than ever, a bargain for high quality entertainment and educational opportunities.
Staff – a strong team of devoted people who work hard each day to make the community strong and vibrant. They are unsung heroes who work to keep seniors independent.  Stop in and say thank you.
Services – the envy of most communities.  We provide dignity and independence to every Brookline senior through top notch delivery. This has been our vision for over 50 years and will continue to guide us as we create new ways to help seniors "Age Well in our Community."
You – Brookline seniors, the ones who make this job worthwhile with your wisdom, creativity and energy. I salute so many of you every day.
Sponsors – A personal thank you to all who supported our 16th annual autumn benefit. Your donations will ensure that seniors have access to a wide range of transportation options.
Spirit of Kindness – people who come to the senior center share this attitude. We care about one another. The joys and heartaches alike are part of our powerful community. We support one another and stay connected.
Enjoy the holidays with your family and friends. Take a moment to create your own list of things you are grateful for and share your feelings of gratitude with others.
Meetings
Thursday, November 30 – – EATING FOR IMMUNITY with Meghan Ostrander, RD Springwell's nutrition director, is here at 1 pm to talk about good eating.  Register:  617. 730. 2770
First Light Brookline:  Thursday, November 30 from 5-8 pm.  Performances,exhibits, giveaways, food, raffles.  The Senior Chorus performs in the Arcade Building 5-5:25 pm.   http://www.firstlightbrookline.com/           See more
Tuesday Bereavement Support Group 11/21-12/12
Holidays often bring up feelings of sadness and loneliness for the newly bereaved.  Join us Tuesday, November 28 and Tuesday, December 5 and Tuesday, December 12 for this support group.  Register with Deidre Waxman:  617. 730. 2767
---
November Here's to your Health

Barbara Westley, public health nurse, Brookline Public Health Department

Podiatry Clinic – – Routine foot care with Dr. John McLaughlin: $40.  Appointments:  617. 730. 2777
Thursday, November 30 – – EATING FOR IMMUNITY with Meghan Ostrander, RD Springwell's nutrition director, is here at 1 pm to talk about good eating.  Register:  617. 730. 2770
---
Holiday Fraud, 11/27
Meet Robin Putnam, research and special projects manager from the Office of Consumer Affairs and Business Regulation; and Amy Schram, senior community relations specialist from the Better Business Bureau Monday, November 27 at 1.  Fraud discussion on Black Friday shopping, return policies, defective merchandise, warranties, lost and stolen packages, gift certificates, credit card skimming, identity theft and fraud prevention.  Register:  617. 730. 2770
---
Elks Holiday Dinner, 12/2
Saturday, December 2 at 1 we gather for the annual holiday dinner given by Brookline Elks Lodge 886.   The Elks also give a magnificent tree as a centerpiece for our holiday decor.  We thank Brookline Elks Lodge 886 for their gifts to our community and send the members our best for the new year.  Reservations beginning November 17:  617. 730. 2770
---
John Ratey, MD 12/5
Author John Ratey, MD is here Tuesday, December 5 at 6 pm to talk about his books, Spark and Go Wild.  Program with discussion and book signing. In Spark he talks about the effects of exercise on the brain.  Go Wild examines how having a lifestyle like our ancestors helps health and well being.  Dr. Ratey is an associate clinical professor of psychiatry at Harvard. He was recently honored by the Mass Psychiatric Society as the 2016 Outstanding Psychiatrist of the Year. Register: 617. 730. 2770, free – – Sponsored by BrooklineCAN
---
Zumba Gold Thursdays thru December
Zumba gold with instructor Emily Brenner Thursdays from 1:30 – 2:30.   New classes Thursday, November 30; Thursday, December 7, Thursday, December 14 and Thursday, December 21.  Session:  by the class $7,  free to Brookline Housing Authority residents.   – – Sponsored by the Brookline Multi-Service Senior Center Corp
---
Reiki Therapy Tuesdays
Akemi Minami, certified Reiki therapist, offers 25-minute appointments to Brookline residents over 60 and Senior Center volunteers.  Sessions: 9-12 noon Tuesdays.   $7/session  Five-treatment books:  $25    617. 730. 2777
---
Chess Thursdays and Fridays
Play Thursdays, 1-3 pm.  Bring a board or use ours.   Julie Washburn:  617. 730.2760
Beginners!  Three Brookline High School seniors, co-captains of their chess club, will be here Fridays from 3-5 for lessons and games.  Patricia Burns:  617. 730. 2743
---
Computer Tuesdays
Dan Siagel does half hour individual sessions Tuesdays in the lab.  He helps with basic PC skills, Smartphones Apple and Android.  Fran Pechenick helps with computer basics: email and navigating the web.  Info:  Olga Sliwa 617. 730. 2768      Appointments:  617. 730. 2777
---
Elizabeth Pollock, president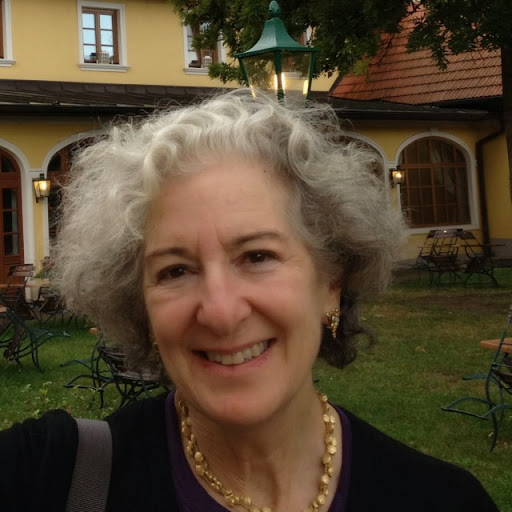 Thank you to everyone who attended and volunteered at the Autumn Benefit.  You made the evening a wonderful time.  To our sponsors: thank you for caring about Brookline's seniors.  This year you set a new record.  With special thanks to our diamond sponsors:
Beth Israel Deaconess Medical Center
Frank McNulty
Michael Merrill
Sherrill House
and to sponsors and supporters who donated tickets so low income elders could enjoy the evening.
The money raised tonight goes to support programs and services that help our most needy elders access transportation.  As Thanksgiving approaches, I am reminded of how many people give their time, money or other resources to help Brookline seniors live with dignity and respect.  Thank you all! And best wishes for a wonderful Thanksgiving.
Help a friend afford a Fitness Center membership.  We're seeking donors to help others with scholarships.  It's $35/month and $420/year.  Your help sustains these programs.  "Exercise is the only thing that helps everything associated with aging," says Janice Schwartz, MD, professor of medicine at UC, San Francisco.  Look for better physical health and memory.   If you can, help us with scholarships to the fitness center.  We're grateful to Bay State Federal Savings Charitable Foundation for their donation.
I care deeply about the future of the Center and so I have included it in my estate planning. Endowments help ensure the future of the organization with reserves. You can contribute directly or put the Brookline Senior Center in your will.  Gifts of $1,000 will be added to our Wall of Honor.  Be sure to let us know you've included us in your will or trust so we can recognize you in our Ambassador Club.  ***   "I give $___ to Brookline Multi-Service Senior Center Corp (EIN 04-2719972), a Massachusetts non-profit corporation, located at 93 Winchester St, Brookline, MA 02445 to be used for general purposes." – – Consult your lawyer or financial advisor
---
News
Photographs by Sally Chapman: 
Yards of Faith/Heritage 
November 2-December 29
Artist reception Thursday, November 30, 6-8 pm in Gallery 93, second floor
– – – – – – – – – –
BrooklineCAN Annual Meeting
Ruthann Dobek with Alice Bonner, MA Secretary of Elder Affairs – – photo by Elenore Parker
Betsy Munzer, president, Brookline League of Women Voters, Frank Caro, co-chair, BrooklineCAN – – photo by Elenore Parker
Kerri Ann Tester, program director, TRIPPS, Frank Caro, Roberta Winitzer, chair, Council on Aging – – photo by John Seay
Erin Kinney, Brookline Interactive Group with Frank Caro – – photo by Elenore Parker
Brookline High School Jazz Band – – photo by Elenore Parker
Surprise Guest Lauds Organization
The BrooklineCAN (Brookline Community Aging Network) 7th Annual Meeting and Exposition began with the introduction of a surprise guest: Alice Bonner, secretary of elder affairs for the Commonwealth of Massachusetts. Secretary Bonner praised BrooklineCAN not only for its success but also for the organization's efforts to make Brookline a better place to live for people of all ages. She particularly noted BrooklineCAN's project to identify public bathrooms throughout the town. The Annual Meeting, whose theme was The Power of Engagement, was September 14.
The meeting opened with master of ceremonies, Roberta Winitzer, introducing Ruthann Dobek and Frank Caro, Steering Committee co-chairs.
Prior to the meeting, guests enjoyed refreshments and exhibits from BrooklineCAN committees and town organizations: Brookline Recreation Department, Board of Selectmen, and Public Libraries. The Brookline High School Jazz Band presented a lively concert.
Keynote speaker Judith Gonyea, professor and associate dean of research at Boston University School of Social Work,addressed Promoting Age-friendly Communities in the Current Political Environment: Opportunities and Challenges. She discussed how life is enriched when people are actively involved in meaningful projects and goal-directed activities and stressed how vital social engagement is. She noted that isolated elders have higher rates of some illnesses. Recent research has borne out that genetic changes have been found in elders who are socially isolated.
Frank Caro, representing BrooklineCAN, presented community service awards to Erin Kinney, manager of engagement, Brookline Interactive Group (BIG); Betsy Munzer, president, Brookline League of Women Voters; and Kerri Ann Tester, program manager,TRIPPS (Transportation Resource Information, Planning, & Partnership for Seniors).
Awardees were recognized for their work around engagement: encouraging volunteerism, educating and informing and promoting access to activities that encourage citizen involvement.
Affiliated with the Brookline Senior Center, BrooklineCAN is an all-volunteer organization which enables older residents to remain independent and fully engaged in the community. The organization advocates on behalf of Brookline's older residents, works with town agencies on behalf of Brookline seniors, provides ways for members to contribute to the community, and in general acts to make Brookline an even better place to live for people of all ages.
Visit us at http://www.brooklineCAN.org, or call 617. 730. 2777 for information and to request a copy of BrooklineCAN's newsletter. – – Press contact: Elenore Parker 617. 232. 6444
Newsletter
– – Find the newsletter at the library, Town Hall, banks, Stop & Shop on Harvard, Star Market on Beacon and Brookline Booksmith.  The best way to be sure you get one is to subscribe: for $10 we'll mail it to you for a year.  If you're a retailer with space for newsletters, call us.  We deliver.  Be an advertiser:  Click for ad specs
Planned Giving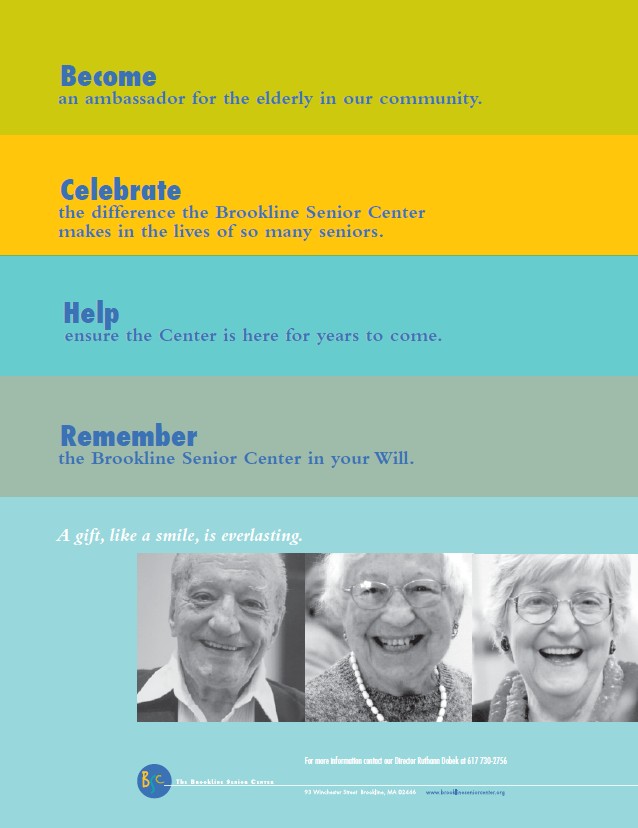 – – Consider leaving a legacy to the Senior Center.  Your bequest is a gift of hope.  Please call Ruthann Dobek, director:  617. 730. 2756 and help us secure a bright future
– –