Honoring the wisdom that comes with age
and a smile
Happy 2nd Birthday, Josie!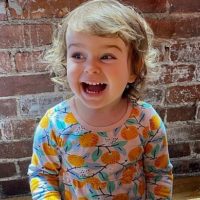 1.The Center has the highest level filters using 100% outside air. All our rooms are designed for good ventilation. Brookline's Building Department is monitoring the HVAC system to be in compliance with the CDC.
2. We are not permitted to ask about your vaccination status. If you need one, call us.
3. Non-vaccinated people will wear masks and distance indoors and out. Masks are required on ride shares, livery, taxis, MBTA, commuter rail and stations, healthcare and rehab settings. You must wear a mask on our transports.
---
Ruthann Dobek, director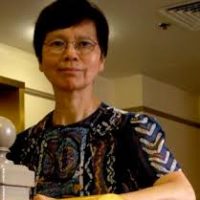 Sonia Wong
What a thrill it has been to see our community return. Whether it is dancing in the ballroom, singing in the Friday chorus, exercising in the fitness center or picking up lunch, it is gratifying to see our Center abuzz. We are following public health regulations and remain on alert. We urge everyone to get vaccinated and wear masks.
Thank you for your generosity and commitment to our mission. I am impressed with our community's ability to rally. Your response is tremendous- making a donation, volunteering and of course advocating for the Council on Aging and the Brookline Senior Center.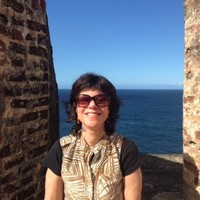 Deidre Waxman
I wish Deidre Waxman a happy and productive retirement! Deidre has been an important part of the Council on Aging team for 34 years. Deidre developed Retirement Engagement Alternatives Program (REAP) and has a strong commitment to helping people find meaningful opportunities in retirement.
Deidre has been a political activist  and I know that she will continue to be involved in policies and politics that impact health. The following quote from John Lewis also applies to Deidre:   "My philosophy is simple. When you see something that is not right, not fair, not just, say something! Do something! Get in trouble! Good trouble! Necessary trouble!"
Summer goes by quickly so savor your favorite tradition. Join us here in the air conditioning and don't forget the Farmers Market Thursdays at 1:30 in the Centre St parking lot behind the Coolidge Theater. – – Ruthann Dobek, director
---
WHAT'S NEWS
Our AUGUST newsletter is online:  https://www.brooklinema.gov/Archive.aspx?AMID=37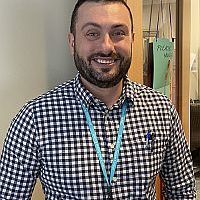 Mark Catalano
A warm welcome to Mark Catalano, our new volunteer coordinator! Mark was our social work intern last year. You can reach Mark about volunteering at 617. 730. 2743.  In August, Mark is here Tuesdays, Wednesdays and Thursdays.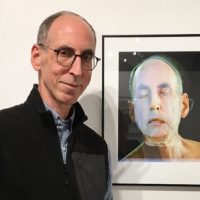 David Weinberg
David Weinberg, our Gallery93 curator since 2014, is retiring. We appreciate his time, effort and care that he puts into every gallery show. Thank you. We wish him all the best.  He will be missed.  https://www.galateafineart.com/david-weinberg.html  
"After a 30 year career in academic medicine at a Boston teaching hospital, David Weinberg turned his interests in fine art photography and digital imaging into a second career as a professional photographer. He received a certificate in photography from the College of Communications at Boston University in 2006. He is the curator of Gallery 93, is a member of Galatea Fine Art, and has a studio in Brookline."
Help wanted: A curator to showcase and coordinate our exhibits (4-6/year). Work with the program manager to identify and assist artists with installations. Create press releases and coordinate receptions and gallery talks.  Ideal candidates have an art or curatorial background. Annual stipend.  Jamie Jensen  617. 730. 2753  jjensen@brooklinema.gov
Help wanted:  Volunteers to work with the Springwell Community Dining Program:  Checking in, setting tables, serving and clean up.  Time commitment is 11 am-1 pm weekdays of your choice.  Mark Catalano 617. 730. 2743 mcatalano@brooklinema.gov
Give us a call to get on the email list:  617. 730. 2770
---
AUGUST/SEPTEMBER EVENTS
---
Easy Travel, 8/5
Easy Travel is back with Lauren Carroll, English Language Learner Teacher in Brookline. Join her Thursday, August 5 at 1:30 to hear about Antigua and Grenada.
REGISTER: 617. 730. 2770
---
Drawing Butterflies, 8/10 + 8/17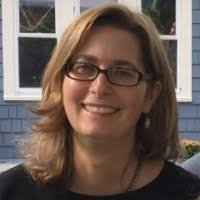 Hilary Tolan leads a two-part seminar on Zoom August 10 and August 17 from 1:30-3:00 on butterflies. Learn drawing, watercolor and experiment with the realistic and fanciful. Workshop is appropriate for all levels.
Gather your supplies ahead:
• Pencil (regular #2 pencil works, with an
eraser) and a pencil sharpener
• Sharpie marker (both thin and regular tip if
possible)
• 2-3 pieces of Watercolor paper (Either full
sheet or 1/2 sheet at 6 x9/ 5 x 7 is good)
• Scrap paper (this is important so you can
test your colors)
• Watercolor set
• Brushes- size 8 and size 2 or 4, all sizes you
have available, (especially one medium size
and one smaller size)
• Water cup and paper towels
• Colored pencils and/or watercolor pencils
(optional but nice to have on hand)
REGISTER:  Jamie Jensen  617. 730. 2753  jjensen@brooklinema.gov
---
Boston Budo Demo, 8/11
Wednesday, August 11 at 1 pm, Noah Lucia from Boston Budo will give a short seminar on karate techniques he will be teaching in a future class here.  Budo is a Japanese term describing modern martial arts. He will demonstrate basic movement and balancing exercises for a traditional form of karate known as "Sanchin."  Special thanks to Sanctuary Medicinals for co-sponsorship.
---
Elvis is Back, 8/12
Join us Thursday, August 12 at 1 when our favorite Elvis performance artist, Robert Black is back.  After, Presentation Rehab and Skilled Care Center serves up ice cream sundaes.  Seating is limited.    https://www.robertblackentertainment.com/
REGISTER: 617. 730. 2770
---
Book/Card Making Workshop, 8/17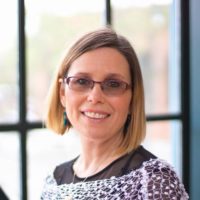 Join Abhilasha Natarajan, our former student intern, for a fun-filled workshop Tuesday, August 17 at 3:00.  We will create small, accordion-style books, customized with your choice of imagery, colored papers and ribbons. Bring your creative spirit and playful curiosity. This workshop will be held in person here and supplies are provided.
http://www.abhilashanatarajan.com/
REGISTER:  617. 730. 2770.
---
Brookline Hearing Services, 8/19
Staff from Brookline Hearing is here Thursday, August 19 from 1-2 pm for cleanings and counseling.  No charge, no appointments.  Batteries: $5.
---
Tangocise, 8/19
Fran Beaumont presents a group exercise called Tangocise set to, of course, tango music. Improve posture and balance, and develop core strength. You don't need a partner.  Join us Thursday, August 19 at 1. See Fran in action:  https://vimeo.com/87777073?ref=em‐share
REGISTER: 617. 730. 2770
---
Memory Connections Café, 8/25
The Café, for people with early  memory challenges and their care partners to connect with peers, is still virtual.  Join us in the ZOOM café Wednesday, August 25 from 1:30-3:00pm.
REGISTER FOR THE LINK:     Jamie Jensen 617.730.2753      jjensen@brooklinema.gov
---
Sidewalk Sale, 8/26
From 10-2, rain or shine, we're on the street Thursday, August 26 with trinkets and white elephants. Proceeds benefit programs and services.
---
Virtual Death Cafe, 8/31
Tuesday, August 31 from 3-4:30. Socialize, eat, and drink while talking about death and dying. There's no agenda, advertising, objectives or themes. The goal is to increase our awareness of death so we can make the most of our (finite) lives. Typically, we provide tea and cake, but since it's virtual we hope you bring your own.  Click the link at 3 pm:       https://brooklinema.zoomgov.com/j/1613105712
CONNECT BY PHONE: 646-828-7666       MEETING ID 161 310 5712
LEADERS:  Michael Allen  617. 730. 2754          Kate Jovin 617. 730. 2751
INFO:  https://deathcafe.com/
---
Council on Aging, 9/1 – Nominating Committee 8/11

The Council meets Wednesday, September 1 at 1 pm on Zoom.  We are recruiting new members. Click at 1 pm https://brooklinema.zoomgov.com/j/1613065290
CONNECT BY PHONE:  646-828-7666      MEETING ID 161 306 5290
– – – – – – – – – – – – – – – – – – – – – – – – – – – – – – – – – – – – – – –
Wednesday, August 11 at 1 pm the nominating committee meets on Zoom.  Click at 1 pm  https://brooklinema.zoomgov.com/j/1603642403
CONNECT BY PHONE:  646-828-7666      MEETING 160 364 2403
---
---
AUGUST Food Pantries
St. Paul's Church, 15 St. Paul Street – –  WEDNESDAY 3-6 pm, THURSDAY 11-2 pm
55A Egmont Street, Community Room – –  THURSDAY 3-7 pm, SATURDAY 10-1 pm
226 High Street, Community Room – – TUESDAY 3-7 pm
CALL   617. 800. 5339
WRITE     brooklinefoodpantry@gmail.com
VISIT     https://www.brooklinefoodpantry.org
RECEIVE   prepacked bags of perishable and non-perishables. Everyone waits outside. Wear your mask.
The Pantry needs canned tuna and chicken, rice, cereal, lentils, macaroni and cheese, oatmeal, canned vegetables and tomatoes, and shelf stable milk and juice.
NOTE The main pantry at St. Paul's Church is moving its operation center to United Parish, 210 Harvard St, across from the Mobil station. We will have more information once the move is made.  617. 730. 2777
---
NEW: AUGUST Lunches - - Food Commodity
NEW!  SPRINGWELL' S WEEKDAY LUNCHES MONDAYS THRU FRIDAYS

Have it your way.  Take your Springwell lunch home OR eat it here in the dining room.
We need to know one business day in advance before 10:30 am if you want it packed to go or heated to eat here. Sorry, no changes on the lunch day.
You don't have to commit to one way for the whole month. You just need to let us know one day ahead if you're staying or going.
CALL  Kristine Farley     617. 730. 2747   by 10:30 ONE BUSINESS DAY ahead and say if you're eating here or taking it to go
SEE the menu for AUGUST in the newsletter, page 20:  https://www.brooklinema.gov/Archive.aspx?AMID=37  on page 20
NOW   Cash donations accepted: $2/meal
PICKUP  On the third floor, every weekday from 12-12:30
_ _ _ _ _ _ _ _ _ _
FOOD COMMODITY: Next distribution is WEDNESDAY, AUGUST 18. Low income people over 60 receive 35 pounds of shelf stable food the third Wednesday each month. Pickup is by appointment outside.
REGISTER: 617. 730. 2753    Jamie Jensen  jjensen@brooklinema.gov
---
Mutual Aid Brookline Delivers
If you are high risk and need food and medication delivered
CALL Monday – Friday, 9-6 pm: 617. 651. 1468
We offer companionship, connecting the community through conversation.
In partnership with the Brookline Library, we deliver library material:  617. 651. 1037       MutualAidBrookline.Delivery@gmail.com
PEOPLE    https://mutualaidbrookline.com/about/#team
---
Greater Boston Chinese Golden Age Center
Greater Boston Chinese Golden Age Center, our online partners, are offering tai chi, line dancing, painting and more.  CALL:  Sophia Ding: 857-990-3316 and VISIT:  https://gbcgac.org/
---
Emily Brenner Dance Fitness/Yoga
Saturdays from 11-11:45 am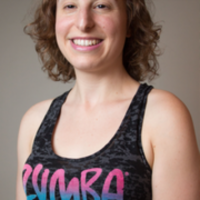 Emily Brenner, our Zumba Gold instructor, has a free class Saturday mornings. She also offers donation based classes throughout the week:
Monday: 10 am Zumba®
Tuesday: 10 am Strength/Low-Impact fitness (chair suggested, light hand weights or cans/water bottles as light weights are optional)
Wednesday: 10 am Let Your Yoga Dance®
Thursday: 5 pm All levels Fitness (weights optional)
WRITE   emily.brenner@comcast.net
---
AUGUST at Welcome Home Pantry
Welcome Home is a "home goods pantry in Newton that accepts and provides gently used housewares." Right now we urgently need blankets. See the website for what we take. You donate goods or make a wish list to ask for what you need:  No forms, no fees.
NO baby goods, NO bed skirts, NO mattress pads, NO books, NO clothing, NO toys, NO vases, NO wine glasses, NO computer gear, NO hangers, no stains, no chips, no tears

WRITE: welcomehomemass@gmail.com
CALL:   617. 454. 4795
AUGUST DROP OFF – –  RESERVATIONS ARE A MUST
Wednesdays   2-3 pm
Arrive at Welcome Home (Trinity Church, Furber Lane, Newton Centre) at your appointed time. We take the items we can accept from your car.
https://www.welcomehomemass.org/
---
Brookline Safety Net
A program of the Brookline Community Foundation and the Senior Center, the Safety Net helps residents and others in neighboring towns meet basic needs of food, housing, utilities and transportation.  Call the Foundation: 617. 277. 8107      If you can make a donation, your support could make all the difference to a neighbor in need: https://www.brooklinecenter.org/our-impact/safety-net-community
---
Elizabeth Pollock, president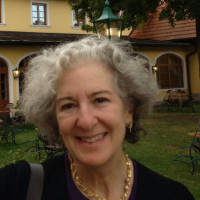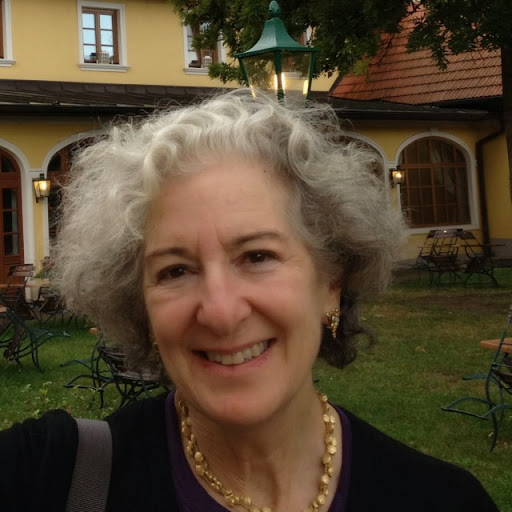 What a year it has been. We are so grateful to all of the wonderful people in our community who helped us in so many ways. Thanks to our volunteers, donors and sponsors for supporting our essential staff and services. As we have learned, COVID-19 was devastating for many. As we shift to a new stage, the work continues. We especially need financial support for Project Senior Connect, our transportation programs, and new technology for the Center.
Thanks to those who have already donated to Project Senior Connect. Our goal is to provide tablets and internet connection to those who are under served. We have collected over $12,000 and are hoping to double that in the coming months.
Some of our transportation services are supported by a state tax on Uber and Lyft rides. Due to the decrease in rides there was a decrease in funding. At the same time, we are now seeing an increase in transportation requests. As we return to in-person programs, we will also continue to offer them virtually. This combination requires new cameras, monitors, and projectors to simulcast programs.
Please consider a donation by sending a check or at Paypal above right to make a tax-deductible donation. Your generosity is appreciated.  – – Warm regards, Betsy Pollock, LICSW,  president, Brookline Senior Center board of directors

Suggested bequest language for giving:  "I give $___  (or percent of my estate or percent of the remainder of my estate) to Brookline Multi-Service Senior Center Corp (EIN 04-2719972), a Massachusetts non-profit corporation, located at 93 Winchester St, Brookline, MA 02446 to be used for general purposes."   Please consult your lawyer or financial advisor

---
News
– – – – – – – – – – – – – – – –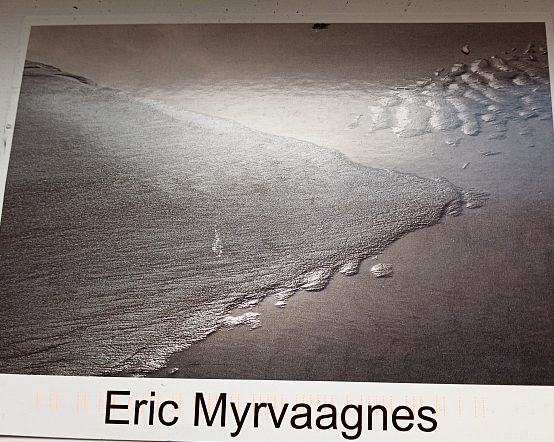 GALLERY93 EXHIBIT:  Photographs by Eric Myrvaagnes, August 16 – November 15.  Reception with the artist Thursday, August 19 from 4:00-6:00.
_ _ _ _ _ _ _ _ _ _
TEMPORARY BROADBAND INTERNET PROGRAM
To help you get temporary discounted internet service.
CALL:   Support Center  833.511.0311    Mass Eligibility  800.392. 6066
https://www.fcc.gov/broadbandbenefit
– – – – – – – – – –
READ THE AUGUST NEWSLETTER  – –  https://www.brooklinema.gov/Archive.aspx?AMID=37      The best way to get one is to subscribe: $10/year.  (If you're a retailer with space for newsletters, call us.  We deliver.)  Advertise:  ad specs
_ _ _ _ _ _ _ _ _ _
AGE FRIENDLY BUSINESSES

Be one: http://www.brooklinecan.org/age_friendly_business.html
– – – – – – – – – –
WONDER WOMAN, RUTHANN DOBEK:  
wickedlocal.com/news/20180315/ruthann-dobek-brookline-senior-centers-wonder-woman
– – – – – – – – – –
BOSTON 25 TV: SHOP PROGRAM
http://www.fox25boston.com/news/shopping-for-seniors-brookline-program-creates-bond-between-seniors-students/704932381
– – – – – – – – – –
PLANNED GIVING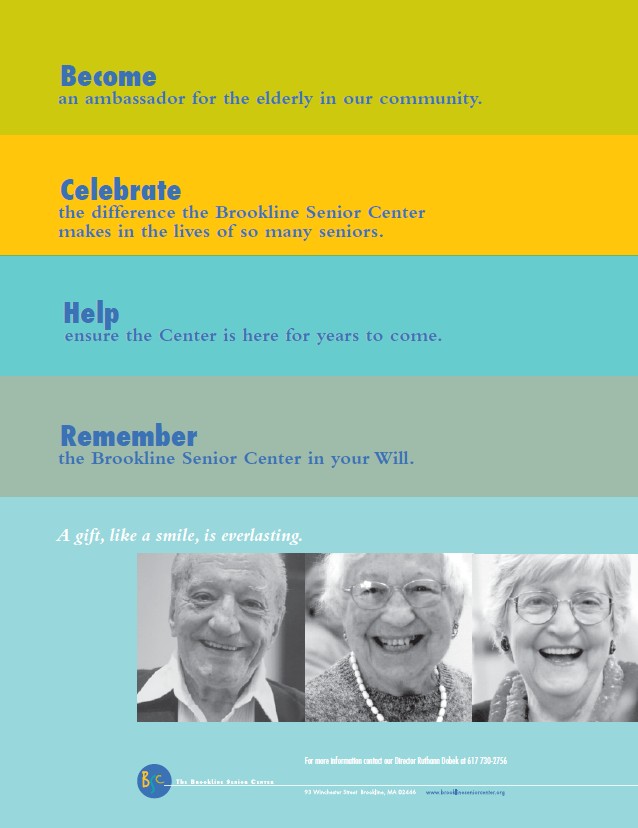 – – Consider a legacy to the Senior Center.  Your bequest is a gift of hope.  CALL Ruthann Dobek, director:  617. 730. 2756 to help us secure a bright future. Brookline Multi-Service Senior Center Corp  (EIN 04-2719972), a Massachusetts non-profit corporation.