Honoring the wisdom that comes with age
Tuesday's Food Pantry Team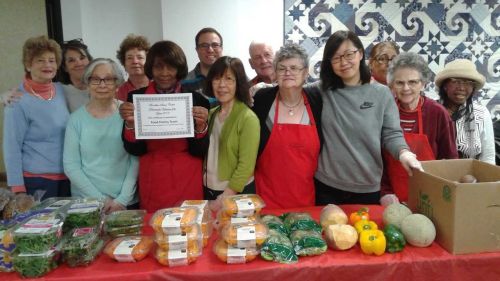 ---
Ruthann Dobek, director
We are closed Monday, January 20 for Martin Luther King Jr. Day
Happy New Year!  I am eager to start the new year with a new calendar and my list of goals and resolutions.  I also like to start January by expressing gratitude for my many blessings.  I hope you join me.
The Senior Center is here to help fill your days with creative, interesting activities and to help make new friends.  We want to help you achieve your resolutions whether it's exercising, volunteering, learning or staying healthy.  Consider getting to know us one of your personal goals.  Resolve to donate your time and talents to make us the best senior center.  Resolve to donate to keep us viable.  Thanks to your generosity, we are able to offer more transportation.  We were also able to increase our hours and buy supplies.  And this year we're looking forward to getting new fitness equipment.
I'm grateful for those who included kind words with their holiday wishes: "Thank you for your marvelous care of all of Brookline's fortunate elders" – and "I am so grateful and thankful. You are all the best of the best." – "There is no other place like the Senior Center! Thank you for all that you do and all the love that you show."
We remind you that the Center is a great bargain and place to stretch your dollar.  We offer free bread and produce on Tuesdays and a hot lunch every day.  Our concerts and movies are free and our classes are a great value.  Also, subsidized transportation is available. Our staff and volunteers provide benefit counseling and help with fuel assistance, SNAP food stamps, and income tax.
I wish each of you a happy, healthy and prosperous 2020.  Resolve to be kind and welcoming to all.  – – Ruthann Dobek, director
Wednesday, February 12 – – Pickleball for 55+ from 2:30-4:30 at the Brookline Senior Center.  Fee: $3/day.  Two  indoor courts and instruction.  Learn to play, bring your own paddle or use one of ours.  Pickleball combines elements of tennis, badminton and ping pong played with a paddle and a plastic ball.  Joshua Cooke: 617. 730. 2082   jcooke@brooklinema.gov
Tuesday, January 21 – – Sandy Spector answers your questions about real estate tax exemptions and abatements from 10-12 noon  in the gallery.
+ + + + + + + + + +
Recycle Here – – You can recycle your eyeglasses, cell phones and soda tabs.  Collection boxes in reception
We take medical equipment for our equipment loan program. PLEASE CALL FIRST:  Jamie Jensen: 617 730. 2753.
And we're always looking for donations of costume jewelry, scarves, purses, small household items and others to sell on the gift cart.  Please: no clothing, no linens, no electrics
Visit Us – – Tours Monday-Friday. 617. 730. 2777
---
January Health Services

Barbara Westley, public health nurse, Brookline Public Health Department
Fitness Center – – become a member and use strength training and cardio equipment. Assistance of personal trainer at no charge. Call Sharon Devine: 617. 730. 2769
Podiatry Clinic – – First and third Thursdays from 9-11:30 am. Routine foot care only (nail and callus trimming) $40 for 15 minutes with Dr. John McLaughlin.   Make an appointment:  617. 730. 2777      No second opinions
---
Honoring Martin Luther King, 1/20
We are celebrating the life and values of Dr. Martin Luther King, Jr. Monday, January 20 at 3 pm at the Coolidge Corner Theater.  This year's speaker is Ruth Ellen Fitch:  One Family's Experience.  Featuring Brookline High School Testostatones, Brookline High School Glee Club, and Brookline Poet Laureate Zvi Sesling.   Doors open at 2:30.  Info:  Caitlin Starr 617. 730. 2345 – -You must reserve a free seat on EventBrite:  BrooklineMLK.Eventbrite.com   
---
Voter Registration, 1/21 and 2/4
The League of Women Voters of Brookline is here Tuesday, January 21 and Tuesday, February 4 from 12:30-2:30 so that you can register or update your voter information.  The deadline to register to vote in the March presidential primary is February 12. Your registration will be confirmed by the Brookline Town Clerk. Register to vote!
---
Great Ladies of Song, 1/22
An audio visual presentation of Great Ladies of Song by John Clark, an instructor at Brookline Adult Education.  Rosemary Clooney, Peggy Lee and Jo Stafford head the bill of swing band singers of the 30s and 40s.  Join us Wednesday, January 22 at 1.  Register: 617. 730. 2770
---
Disaster Preparedness Seminar, 1/23
Be Red Cross Ready with a preparedness seminar that includes having a kit, making a plan and being informed.  Get an ID card and see sample kits Thursday, January 23 at 1.  Register: 617. 730. 2770
---
Archie Richards Piano Concert, 1/27
Archie Richards will give a one-hour classical piano concert Monday, January 27 at 1.  Hear the first movement of Beethoven's Waldstein Sonata, Debussy's Clair de Lune and Chopin's Ballad in G minor, along with Liszt.  Register: 617. 730. 2770
---
Encore Meet and Greet, 1/30
Looking for a networking group to learn about work and volunteer opportunities?  Join us Thursday, January 30 from 1-3 for a conversation with facilitators Amy Avergun, brain friendly workshop designer and Mary Gunn, Encore Community Program director.  Limited to 12.  No charge, open to all, refreshments.  RSVP to Deidre Waxman: 617. 730. 2767   dwaxman@brooklinema.gov                   
Gunn                       Avergun
---
Defining Decades Mondays, 2/24
Keeping up with the Joneses, boo-boo, Daddy-O and workaholic.  These phrases embody decades that affected our lives. Join our group beginning Monday, February 24 to reminisce and swap stories from a decade that changed your life.  Social work intern Bella Anderson is facilitating this six-week group for history buffs.  Register:  617. 730 2772
---
Elizabeth Pollock, president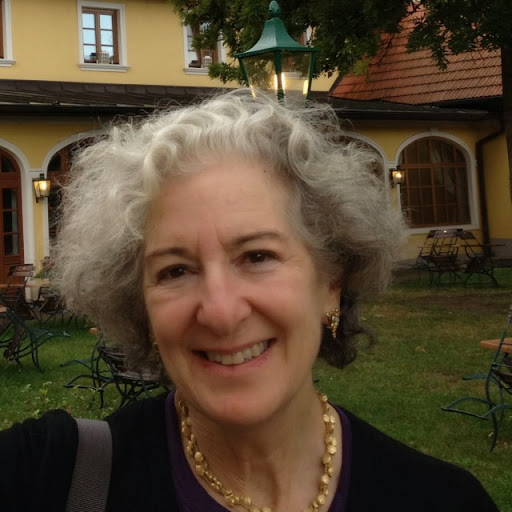 Thank you for thinking of us in your end of year contributions. With the snow and ice, many seniors become home bound finding it difficult to get here.  Thanks to your support, they can get here and take advantage of our programs and services.  Your generosity ensures the van keeps rolling all year long. Your support also makes possible our Lyft and Uber rides which is important. If you would like to donate, see our paypal donate button at the top right.  Checks are good too.  I wish you a healthy and warm 2020.
Food insecurity is a problem in Brookline.  A recent survey of Brookline's seniors who receive food help from us found that 26% of respondents reported having been without food for a whole day for 1-10 days the prior month.  An additional 18% went to bed hungry at least once in the prior month. If you know of anyone who will benefit from our food distribution program,  have them call us: 617. 730. 2777.
I care deeply about the future of the Center and so I have included it in my estate planning. Endowments help ensure the future of the organization with reserves. You can contribute directly or put the Brookline Senior Center in your will.  Gifts of $1,000 will be added to our Wall of Honor.  Be sure to let us know you've included us in your will or trust so we can recognize you in our Ambassador Club.  ***   "I give $___  (or percent of my estate or percent of the remainder of my estate) to Brookline Multi-Service Senior Center Corp (EIN 04-2719972), a Massachusetts non-profit corporation, located at 93 Winchester St, Brookline, MA 02445 to be used for general purposes."  Consult your lawyer or financial advisor
– – with much appreciation, Betsy Pollock
---
News
Gallery 93  "Figuring it Out"  Figure Drawing by members of the Brookline Senior Center Drawing for Pleasure class, Martin R. Anderson, instructor
Exhibit runs through February 28
– – – – – – – – – –
Thank you, Brookline Elks, for the tree that was the centerpiece for our holiday.  We appreciate everything you do.
_ _ _ _ _ _ _ _ _ _
AARP TAX PREP ASSISTANCE
AARP tax aide volunteers will be here Tuesday, February 11 and Tuesday, April 7 to help you file your 2019 return.  Bring your 2018 return.  We will schedule appointments starting Tuesday, January 21.  617. 730. 2777
– – – – – – – – – –
AGE FRIENDLY BUSINESSES

Be one:  http://www.brooklinecan.org/age_friendly_business.html
– – – – – – – – – –
WONDER WOMAN, RUTHANN DOBEK:  
wickedlocal.com/news/20180315/ruthann-dobek-brookline-senior-centers-wonder-woman
– – – – – – – – – –
BOSTON 25 TV: SHOP PROGRAM
http://www.fox25boston.com/news/shopping-for-seniors-brookline-program-creates-bond-between-seniors-students/704932381
– – – – – – – – – –
NEWSLETTER
– – Find the newsletter here, at the library, Town Hall, banks, Stop & Shop on Harvard, Star Market on Beacon and Brookline Booksmith.  The best way to get one is subscribe: for $10 we'll mail it to you for a year.  If you're a retailer with space for newsletters, call us.  We deliver.  Advertise with us:  Click for ad specs
– – – – – – – – – –
PLANNED GIVING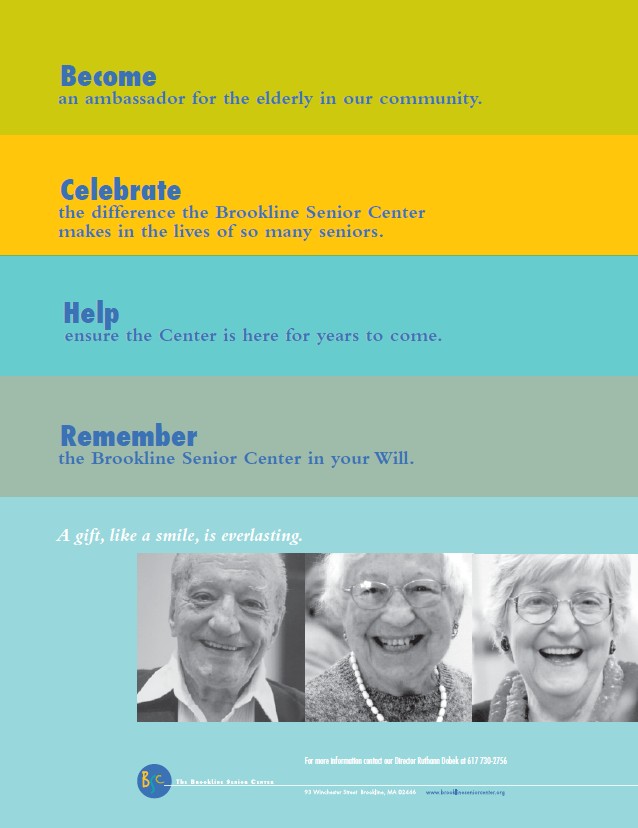 – – Consider leaving a legacy to the Senior Center.  Your bequest is a gift of hope.  Please call Ruthann Dobek, director:  617. 730. 2756 and help us secure a bright future. Brookline Multi-Service Senior Center Corp  (EIN 04-2719972), a Massachusetts non profit corporation.