Honoring the wisdom that comes with age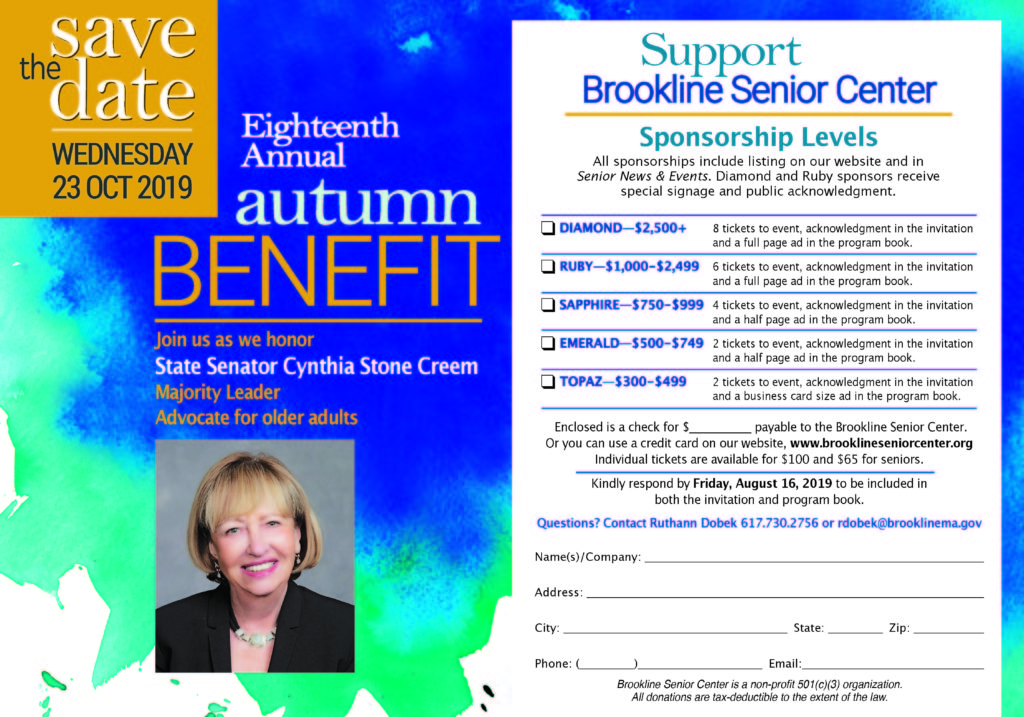 Autumn benefit Wednesday, October 23.  To be included in the program book and invitation, please respond by August 16.    Click for a larger version:  https://www.brooklineseniorcenter.org/how-to-help/

---
Ruthann Dobek, director
Special thanks for state legislators who worked to increase funding for elders.  We will receive $12 per elder in a budget that had much competition.  The team includes Ed Coppinger, Nika Elugardo, Michael Moran, Frank Smizik, Tommy Vitolo and Cynthia Creem.  State Senator Majority Leader Creem (below) also secured funding for our Alzheimer's Caregivers Respite Program and we will be honoring her at the 18th Annual Benefit in October.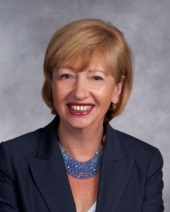 She deserves our recognition for her advocacy and legislative efforts.  The event includes dinner and entertainment.  Your sponsorship is greatly appreciated.  (See above)
Thursday, September 19 is the BrooklineCAN Annual Meeting: Watch us Network: U-CAN-2. One of our major issues is transportation. The TRIPPS program helps elders find alternative options. We are committed to improving our transportation service and one way you can help is donating to the Van Fund, one of our critical programs.  Call Maria Foster, TRIPPS manager, for more information: 617. 730. 2644.
The heat of summer goes on and Emily Brenner continues her great free workout Zumba Gold class Thursday afternoons.
Thank you for the Brookline Elks Lodge #866 for a great BBQ Saturday, July 13!
Join me at the Farmers Market Thursdays from 1:30-6:30 rain or shine.  (Centre Street West Parking Lot) – – Ruthann Dobek, director
+ + + + + + + + + +
Recycle Here – – You can recycle your eyeglasses, cell phones and soda tabs.  Collection boxes in reception
We take medical equipment for our equipment loan program. PLEASE CALL FIRST:  Jamie Jensen: 617 730. 2753.
And we're always looking for donations of costume jewelry, scarves, purses, small household items and others to sell on the gift cart.  Please: no clothing, no linens, no electrics
Visit Us – – Tours Monday-Friday. 617. 730. 2777
---
August Health Checks

Barbara Westley, public health nurse, Brookline Public Health Department
There are no more screenings in August
Podiatry Clinic – – Routine foot care only (nail and callus trimming) $40 with Dr. John McLaughlin by  appointment: 617. 730. 2777
---
Free Fun Fridays - August
The Highland Foundation offers free Friday admissions through August   617. 969. 8900   http://highlandstreet.org/programs/free-fun-fridays-2019 
August 23 – – Institute of Contemporary Art (Boston), Berkshire Museum (Pittsfield), Boston Athenaeum (Boston), Buttonwood Park Zoo (New Bedford), Emily Dickinson Museum (Amherst), Fort Devens Museum (Devens), Freedom Trail Foundation (Boston), Heritage Museums & Gardens (Sandwich), Museum of African American History (Boston & Nantucket), Mary Baker Eddy Library & Mapparium (Boston)
August 30 – – Old Sturbridge Village, Cape Cod Museum of Natural History (Brewster), Capron Park Zoo (Attleboro), EcoTarium (Worcester), Griffin Museum of Photography (Winchester), Hull Lifesaving Museum (Hull), Mass Audubon's Ipswich River Wildlife Sanctuary (Topsfield), MASS MoCA (North Adams), Museum of the First Corps of Cadets (Boston), Osterville Historical Museum (Osterville)
---
Summer REAP Program, 8/22
Jewish Vocational Services and Norfolk County RSVP are here Thursday, August 22 from 11-12:30 pm with paid and volunteer opportunities.  You must register for this free event: 617. 730. 2767 with Deidre Waxman, email: dwaxman@brooklinema.gov
---
Wendee Glick Concert, 8/26
Join Wendee Glick, vocals, and Steve Heck on piano Monday, August 26 at 1 for The Great American Songbook and Broadway songs.  Glick has a strong stage presence.  Heck went to Berklee and teaches piano and vocal.  Register: 617. 730. 2770
---
Plant Based Diets, 8/29
Sara Sezun, the Sierra Club Mass Chapter plant based team leader, is here Thursday, August 29 at 1 to talk about how eating whole grains, legumes, fruit and vegetables helps your health and decreases carbon footprints.
---
John F Kennedy Seminar, 9/4
In partnership with the John F. Kennedy National Historic Site, we are offering an interactive program about the life and times of President Kennedy Wednesday, September 4 from 1-3:30 pm.  Share your personal stories "with others who remember being there."  Register: 617. 730. 2770
---
Tao of Forgiveness Wednesdays, 9/11
Are you interested in mindfulness, living a joyful life and Tao?  Join us reading parables from the Tao tradition. Each week we will read a story with a brief meditation.  Discussion focus on how we engage with our memories, how to be kind to ourselves and others, and how we can square with reality. Group will run six weeks starting Wednesday, September 11 at 10:30. Registration recommended, walk-ins welcome.  Questions to Michael Allen: 617. 730. 2754. Register: 617. 730. 2770
---
TRIPPS Fisher Hill Park Trip, 9/18
TRIPPS hosts a walk and ranger talk Wednesday, September 18. Transportation, water, snacks and bathrooms available.
---
Elizabeth Pollock, president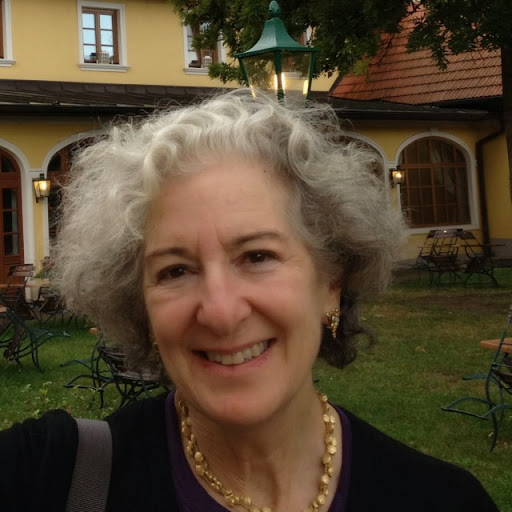 Our 18th Annual Autumn Benefit is Wednesday, October 23 at 6.  We are honoring State Senator Cynthia Creem, the majority leader. She is a long-time contributor and advocate for adult issues.  The evening includes food, raffles and entertainment. Sponsorships welcome from individuals, companies and nonprofits. We also welcome gift certificates, merchandise and services that can be raffled.
Your support is critical to what we do. We accept donations to our nonprofit. Your gifts keep the van running, expand transportation options, support fitness, fund furnishings and improvements.  The Town of Brookline covers just 70% of our budget. Please be as generous as you can.  Pay by check to Brookline Senior Center or online (above right) with Paypal.
Did you know "exercise is the only thing that helps everything associated with aging"?  That's according to Dr. Janice Schwartz, professor of medicine, University of California, San Francisco.  I am amazed by the amount of research that confirms the value of fitness for older adults. It improves physical health, memory and helps prevent dementia.
Food insecurity is a problem in Brookline.  A recent survey of Brookline's seniors who receive food help from us found that 26% of respondents reported having been without food for a whole day for 1-10 days the prior month.  An additional 18% went to bed hungry at least once in the prior month. If you know of anyone who will benefit from our food distribution program,  have them call us: 617. 730. 2777.
I care deeply about the future of the Center and so I have included it in my estate planning. Endowments help ensure the future of the organization with reserves. You can contribute directly or put the Brookline Senior Center in your will.  Gifts of $1,000 will be added to our Wall of Honor.  Be sure to let us know you've included us in your will or trust so we can recognize you in our Ambassador Club.  ***   "I give $___  (or percent of my estate or percent of the remainder of my estate) to Brookline Multi-Service Senior Center Corp (EIN 04-2719972), a Massachusetts non-profit corporation, located at 93 Winchester St, Brookline, MA 02445 to be used for general purposes."  Consult your lawyer or financial advisor
---
News
PARTY OF THE CENTURY TUESDAY, OCTOBER 15
You are invited to the party of the century Tuesday, October 15, 2-3:30 pm.  We're looking for centenarians to be honored.  Are you 99 or over?  Know someone?  Let us know.  We're celebrating Agnes Rogers whose 100th birthday is October 15.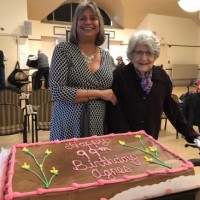 Dance to the Bo Winiker Band with treats from New Paris Bakery
To register, please contact Julie Washburn: 617. 730. 2770, jwashburn@brooklinema.gov
and let her know if you want her to send an invitation to a friend or relative.
– – – – – – – – – –
Brookline Senior Center Van
Monday-Thursday, 9:00am-3:00pm
617. 730. 2750
Door-to-door to the Senior Center for educational and social programs. Monday-Thursday. Suggested donation: $1. Call 617. 730. 2750 by 3:00pm on the business day before the ride is needed.
– – – – – – – – – –
Brookline Elderbus
Monday-Friday, 9:00am-3:00pm  
617. 730. 2777
Elderbus makes an hourly circuit that includes the Senior Center, senior housing, and shopping areas. Suggested donation: 50 cents.  Schedules in English, Russian and Chinese. Call 617. 730. 2777
_ _ _ _ _ _ _ _ _ _
Gallery 93 presents Rebecca Loechler's Art for Pleasure class:  Ina Chertok, Joel Covitz, Elena Khanina, Renee Marshall, Lyudmila Rudyakov, Nancy Van Zant, Tamara Shilmayster, Kea van der Ziel, Florence Warren, Claire Weston
Exhibition through August 30

– – – – – – – – – –
AGE FRIENDLY BUSINESSES

Be one:  http://www.brooklinecan.org/age_friendly_business.html
– – – – – – – – – –
WONDER WOMAN, RUTHANN DOBEK:  
wickedlocal.com/news/20180315/ruthann-dobek-brookline-senior-centers-wonder-woman
– – – – – – – – – –
BOSTON 25 TV: SHOP PROGRAM
http://www.fox25boston.com/news/shopping-for-seniors-brookline-program-creates-bond-between-seniors-students/704932381
– – – – – – – – – –
NEWSLETTER
– – Find the newsletter here, at the library, Town Hall, banks, Stop & Shop on Harvard, Star Market on Beacon and Brookline Booksmith.  The best way to get one is subscribe: for $10 we'll mail it to you for a year.  If you're a retailer with space for newsletters, call us.  We deliver.  Advertise with us:  Click for ad specs
– – – – – – – – – –
PLANNED GIVING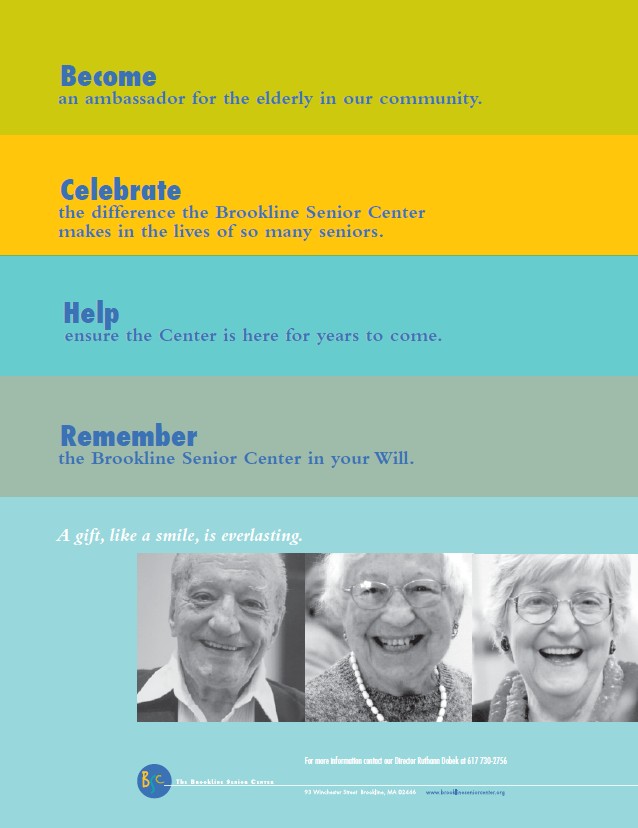 – – Consider leaving a legacy to the Senior Center.  Your bequest is a gift of hope.  Please call Ruthann Dobek, director:  617. 730. 2756 and help us secure a bright future. Brookline Multi-Service Senior Center Corp  (EIN 04-2719972), a Massachusetts non profit corporation.