Honoring the wisdom that comes with age
FOR IMMEDIATE RELEASE – – Brookline Bank

FROM: Ruthann Dobek, director
I want to thank all who responded to our appeal for a new refrigerator. We are happy to tell you that Brookline Bank has announced they will donate the remaining funds to ensure we can purchase a new commercial one.  Before their commitment, we had raised $1,124 toward the goal of $2,300.
Mary Mullarkey, Magaly Shiromani, Century Bank, Susan Erickson, Sherry Lee, Chi Chung and Toy Soo Lau, Hedi: Tuesday volunteer, Loretta DeSesa, John Hodgman, James Boland, Carol and Phil Fullerton, Barry Shore Family, Anita Breslaw, Claire Goodwin, anonymous, Tuesday Food Pantry volunteers, Dorothea Brown, Marie Louise-Gabbe, Ruthann Dobek, Kitty Kaufman
---
Ruthann Dobek, director
The first day of spring is one thing, and the first spring day is another. The difference between them is sometimes as great as a month. – – Henry Van Dyke (1852-1933)
March, despite claiming to have the first day of spring, has some of the bleakest weather and with it some of us get the winter blues. We are here to help make the days go by in a warm way with lots of programs and activities. You can choose among programs on chocolate, Elvis and classical music.  Certainly coming through our doors is the perfect antidote to mud, gray days and the wind. Stop by today.
March is Social Work Month. This year's theme is "Elevate Social Work." I want to acknowledge the important work of our social workers. We have social work interns, professional staff, retired social work volunteers and board members.  Each contributes to Brookline's strong sense of community.  When you see one of our social work team members, please thank and tell them they are our "champions."  Buy daffodils, eat Irish soda bread and take a walk when the sun shines.
SAVE APRIL 10 FOR THE ANNUAL VOLUNTEER LUNCHEON at 12:30. Invitations and nominations in the mail shortly.  RSVP by March 28:  617. 730. 2777

FOOD COLLECTION MARCH – – We are collecting protein rich food for local pantries.  There is a donation box in the lobby here.  We're looking for peanut butter, canned beans, canned and foil wrapped tuna, salmon and chicken; dried fruit, figs, canned fruit, canned ravioli and spaghetti with meat; protein drinks.  No senior should go hungry in Brookline. We have SNAP food stamps, hot lunches, weekly bread and produce programs, the Food Commodity Program and the Brookline Food Pantry. Ample nourishment abounds ensuring sound nutrition. We ask our visitors to bring a non-perishable item to help the food pantries. The last day is March 26.
---
March Health Checks

Barbara Westley, public health nurse, Brookline Public Health Department

Wednesday, March 27 – – Blood pressure screening with Barbara Westley, RN at O'Shea House, 61 Park St, from 1-2 pm
Podiatry Clinic – – Routine foot care with Dr. John McLaughlin: $40.  Appointments:  617. 730. 2777
---
AARP Tax Prep Tuesdays
Tuesdays through April 2 meet with an AARP tax aide volunteer for help filing your return.  You must bring your 2017 return. Volunteers ARE NOT ABLE to help with amended returns prior to 2016.  Make an appointment: 617. 730. 2777
---
Piatigorsky Concert, 3/23
Saturday, March 23 at 1 join artists Richard Dowling, pianist and Erika Wueschner, soprano for the annual Piatigorsky Foundation Concert.  Dowling's career includes Lincoln Center, recitals at Carnegie Hall, and an award from the National Federation of Music Clubs.  Wueschner debuted at the Savonlinna Festival in Lohengrin, and her career includes Carnegie Hall, Sibelius Hall in Helsinki and Théâtre des Champs Elysées. The Foundation's "mission is to make live classical music part of the fabric of everyday life."  Register: 617. 730. 2770
---
Elvis in the Building, 3/25
Robert Black is back as Elvis at 1.  Bring your dancing shoes.  Black, a tribute artist, performs in Rhode Island, Connecticut and Vermont.  Register: 617. 730. 2770     More here:  https://www.robertblackentertainment.com/
---
Medical Cannabis Access and Choice, 3/27
Medwell Health and Wellness, together with the Brookline Council on Aging, present a seminar on medical cannabis, products and becoming a patient.  Chronic pain, insomnia, anxiety, arthritis, nausea and neuropathy are conditions that may be helped.  Join us Wednesday, March 27 at 1 for a better understanding.  Questions about the event:  Ann Brum at Medwell: 774. 517. 5195.  Register: 617. 730. 2770
---
TRIPPS celebration, 3/28
Come celebrate as the TRIPPS pilot program transitions from the Mass Department of Transportation.  This event is for TRIPPS volunteers, program participants and those interested in issues for driving and transport.  Join us from 3-4:30 pm. Register: 617. 730. 2644
---
Rainbow Cinema: Cloudburst 3/28
Our first Rainbow Cinema is Thursday, March 28 at 6 pm.  Cloudburst (2012) is a "hilarious, foul-mouthed lesbian road movie with Brenda Fricker and Olympia Dukakis on the run from a nursing home." – – RottenTomatoes.com
This movie event is the first for the new Center LGBT and friends meetup. Drop-ins welcome. RSVP encouraged.  Kate Jovin, LCSW 617, 730. 2751
---
Job & Volunteer Search Tuesday, 3/26
Last workshop:  March 26 on finding jobs and volunteer openings.  Open to all  2-3:30 pm.  Register with Patricia Burns: 617. 730. 2743
---
Elizabeth Pollock, president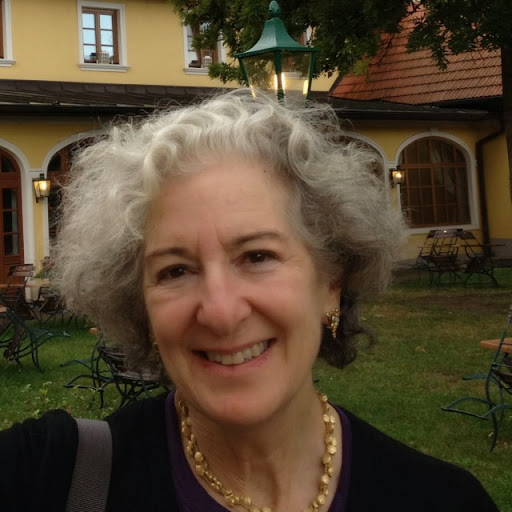 A huge thank you to Brookline Bank who came to our rescue! Brookline Bank has offered to help replace our commercial refrigerator. Thanks to our generous participants, we were halfway to our goal of $2,300 when the Bank announced they would push us over the top. Thanks to all who donated. The new refrigerator is the main commercial appliance we use to store food for our food pantry.  Many residents benefit from this program.
Yes, food insecurity is a problem in Brookline.  A recent survey of Brookline's seniors who receive food help from us found that 26% of respondents reported having been without food for a whole day for 1-10 days the prior month.  An additional 18% went to bed hungry at least once in the prior month. If you know of anyone who will benefit from our food distribution programs, please have them call us: 617. 730. 2777.  Thank you for caring for your neighbors and our wonderful community.
I care deeply about the future of the Center and so I have included it in my estate planning. Endowments help ensure the future of the organization with reserves. You can contribute directly or put the Brookline Senior Center in your will.  Gifts of $1,000 will be added to our Wall of Honor.  Be sure to let us know you've included us in your will or trust so we can recognize you in our Ambassador Club.  ***   "I give $___  (or percent of my estate or percent of the remainder of my estate) to Brookline Multi-Service Senior Center Corp (EIN 04-2719972), a Massachusetts non-profit corporation, located at 93 Winchester St, Brookline, MA 02445 to be used for general purposes."  Consult your lawyer or financial advisor
---
News
– – – – – – – – – –
Gallery 93  through April 30
Oh, The Places I've Been, photography by Patricia J. Burns
– – – – – – – – – –
AGE FRIENDLY BUSINESSES

Be one:  http://www.brooklinecan.org/age_friendly_business.html
– – – – – – – – – –
LIBRARY CONNECTION

The Library Connection delivers library material to home bound Brookline residents. Volunteers will deliver. If you want to be a volunteer or receive the service, contact volunteer coordinator Patricia Burns: 617. 730. 2743
– – – – – – – – – –
WONDER WOMAN, RUTHANN DOBEK:  
wickedlocal.com/news/20180315/ruthann-dobek-brookline-senior-centers-wonder-woman
– – – – – – – – – –
BOSTON 25 TV: SHOP PROGRAM
http://www.fox25boston.com/news/shopping-for-seniors-brookline-program-creates-bond-between-seniors-students/704932381
– – – – – – – – – –
NEWSLETTER
– – Find the newsletter here, at the library, Town Hall, banks, Stop & Shop on Harvard, Star Market on Beacon and Brookline Booksmith.  The best way to get one is subscribe: for $10 we'll mail it to you for a year.  If you're a retailer with space for newsletters, call us.  We deliver.  Advertise with us:  Click for ad specs
– – – – – – – – – –
PLANNED GIVING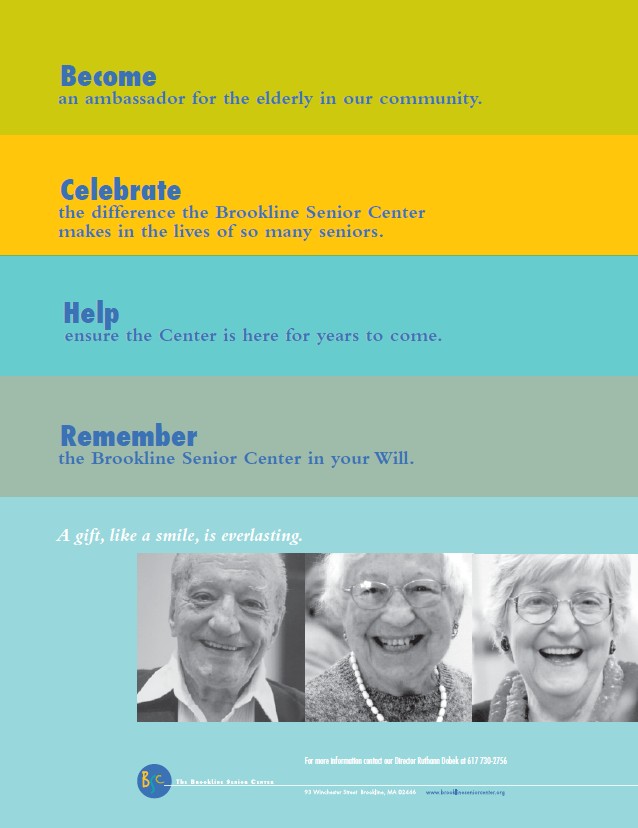 – – Consider leaving a legacy to the Senior Center.  Your bequest is a gift of hope.  Please call Ruthann Dobek, director:  617. 730. 2756 and help us secure a bright future. Brookline Multi-Service Senior Center Corp  (EIN 04-2719972), a Massachusetts non-profit corporation.