Honoring the wisdom that comes with age
Autumn Benefit, 10/24 (click)
---
Ruthann Dobek, director
A special thank you to our state legislators who worked to increase funding for elders. We will be awarded in the State Formula Grant at least $11/elder in a budget that had much competition. We are waiting for our allocation but are grateful that the state legislators place high priority on elder care. Our legislative team of Frank Smizik, Jeffrey Sanchez, Michael Moran, Ed Coppinger and Cynthia Creem deserve our gratitude for being strong elder advocates.  Special acknowledgement to Cynthia Creem who got funding for our Alzheimer's Caregivers Respite Program. We are most appreciate of her effort.
Save Thursday, September 13 for the BrooklineCAN Annual Meeting here at the Center. This is a festive event kicking off BrooklineCAN's campaign promoting age friendly businesses. And it's time to announce our 17th Annual Autumn Benefit on Wednesday, October 24. This year we are honoring the law firm of Wade, Horowitz & LaPointe LLC for their dedication to older adults and the community. We are planning a fabulous evening of great food and entertainment. We expect it to be a sellout. Please consider donating at a sponsorship level to support our critical needs.
Transportation continues to be a major concern for elders. Our TRIPPS program can help you find alternative transportation options. Call Maria Foster @ 617. 730. 2644 for more information.  We are committed to improving our transportation service. One way you can help is making a donation to support the van fund, which depends on your gifts to continue.  Another way is completing our short transportation survey @ https://bit.ly/2Lx6jXQ    Paper copies are available here as well.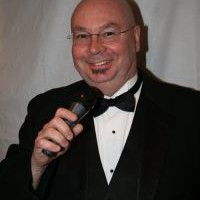 While some of our regular classes are on vacation, August still has great activities. The end of summer dance with DJ Tommy Bahama (above) is Friday, August 24. It's dedicated to Dotty Bell, who retired with 20 years of service to the Council on Aging. Savor the lazy days of August with Brookline Recreation's outdoor concerts and movies. Before you know it, the hectic after Labor Day season will be here.
Thursday, September 20 – – Required annual tax work off meeting is at 1.  Regrets only to Deidre Waxman: 617. 730. 2767
The Brookline Age-Friendly City committee needs new members.  The group seeks "to strengthen the Town's response to its senior population through collaboration with the Town, the Council on aging and BrooklineCAN.  Attend monthly meetings and contribute to committee projects."  Committee members are appointed by the Select Board for three year terms.  Information:  co-chair Frank Caro   frank.g.caro@gmail.com
---
August Health Checks

Barbara Westley, public health nurse, Brookline Public Health Department

Podiatry Clinic – – Routine foot care with Dr. John McLaughlin: $40.  Appointments:  617. 730. 2777
---
Free Fridays
10th anniversary of the Highland Foundation's free Fridays through August for museums.  Everyone's welcome.
http://www.highlandstreet.org/sites/default/files/program_download/free-fun-friday-2018-english-schedule.pdf
FRIDAY, AUGUST 24

Harvard Museums of Science and Culture – Cambridge
Buttonwood Park Zoo – New Bedford
MassMoCA – North Adams
Heritage Museums and Gardens – Sandwich
Cape Cod Children's Museum – Mashpee
Smith College Museum of Art – Northampton
The Old Manse, The Trustees – Concord
Emily Dickinson Museum – Amherst
Hull Life Saving Museum – Hull
Museum of African American History – Boston, Nantucket
---
Camp Memory Connections, 8/22
The second annual Camp Memory Connections is Wednesday, August 22 from 11-2 pm at Larz Anderson Park's picnic shelter rain or shine.  It's an outdoor camp experience for people living with memory changes and their care partners.  Chat, have a camp lunch and join in to art, exercise and music.  Care partners must accompany those who require care assistance.  RSVP to Jamie Jensen 617. 730. 2753      This replaces our Memory Connections Cafe for August            JJensen@brooklinema.gov               Transportation and bathroom available. – – Supported by a grant from the Brookline Community Foundation
---
Dance Party, 8/24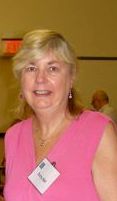 In honor of Dotty Bell's retirement, join us Friday, August 24 from 6-8 for a dance party with DJ Tommy Bahama.  Light refreshments.  Please bring 1 or 2 non perishables for one of Dotty's favorite charities.  Sponsored by the Senior Center.  Register: 617. 730. 2770
---
R Hayden+T Shrago Concert, 8/27
Rebecca Hayden, soprano and pianist Tanya Shrago (below) are here Monday, August 27 at 1 for a performance of American song styles, vaudeville, musical theatre and George Gershwin.  Register: 617. 730. 2770
---
BrooklineCAN Annual Meeting, 9/13
BrooklineCAN's 8th Annual Meeting is Thursday, September 13 from 5-7 pm here.  On the agenda: Age friendly business leaders David Leschinsky (Eureka Puzzles), Kathy Tallman (Coolidge Corner Theatre) and Kyle Perzanoski of Brookline Bank will discuss how businesses are embracing the age friendly campaign.  – – Sponsored by the Brookline Chamber of Commerce and Brookline Economic Development Advisory Board
---
Alzheimer's Walk, 9/23
Sign up for our group's participation in the Boston walk for Alzheimer's Sunday, September 23.  Walk 1 1/2 or 3 1/2 miles.  Sign up with Patricia Burns: 617. 730. 2743
---
Computer Tuesdays
Dan Siagel does individual half hour sessions Tuesdays.  Regular sessions resume with Fran Pechenick for computer basics, email and internet. Dan works with Smartphones, tablets and laptops Apple Windows and Android. Appointments:  Olga Sliwa 617. 730. 2768
---
Elizabeth Pollock, president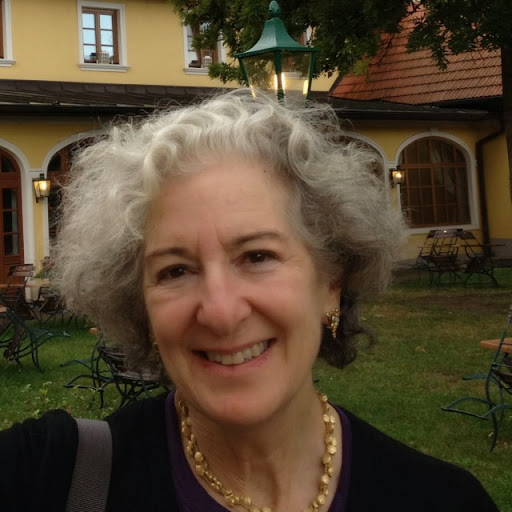 Our 17th Annual Autumn Benefit is Wednesday, October 24 at 6.  This year we're honoring the law firm of Wade Horowitz and LaPointe LLC. They have been a significant contributor to the Center.  The attorneys volunteer in our monthly legal clinic and offered educational programs.  The benefit includes great food, raffles and entertainment. Proceeds go to important services. Sponsorships are welcome from individuals, companies and nonprofits. We welcome gift certificates, merchandise and services to raffle. For more information, contact Ruthann Dobek  rdobek@brooklinema.gov      617. 730. 2756     With much appreciation, Betsy Pollock
Marie Lavine memorial concert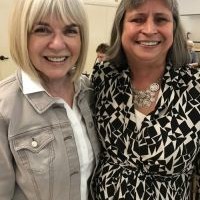 – – Eileen Solomon, daughter of Marie Lavine with Ruthann Dobek
"Exercise is the only thing that helps everything," says Dr. Janice Schwartz, professor of medicine at UC San Francisco.  I'm amazed at the research that confirms the value of fitness for older people.  It improves health, memory and helps prevent dementia.  We're also raising funds for scholarships to our fitness center.  Join me in supporting this program.  Our fiscal year ends June 30.  Your contribution will sustain us.
If you would like to create a tribute gift, contact Ruthann Dobek.  Marie Lavine's daughters, Corrine Long's family, and Vivian Freeman's family have insured their mothers are honored each year with their special gift.
I care deeply about the future of the Center and so I have included it in my estate planning. Endowments help ensure the future of the organization with reserves. You can contribute directly or put the Brookline Senior Center in your will.  Gifts of $1,000 will be added to our Wall of Honor.  Be sure to let us know you've included us in your will or trust so we can recognize you in our Ambassador Club.  ***   "I give $___ to Brookline Multi-Service Senior Center Corp (EIN 04-2719972), a Massachusetts non-profit corporation, located at 93 Winchester St, Brookline, MA 02445 to be used for general purposes." – – Consult your lawyer or financial advisor
Help a friend with a Fitness Center membership.  Our gym has equipment and supportive staff.  We're open weekdays 8:30-5pm. We're seeking donors to help others with scholarships.  It's $35/month and $420/year. We're grateful to Bay State Federal Savings Charitable Foundation for their support. I, the board, and the entire Senior Center family thank you!

---
News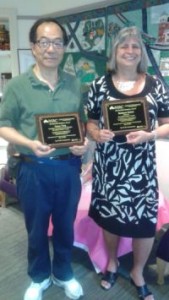 The Greater Boston Employer Advisory Board's 21st Distinguished Employer Award was presented to Ruthann Dobek, director and Jimmy Tong, building custodian June 19. This award is given to employers in recognition for going above and beyond expectations in promoting diversity and hiring applicants with disabilities.
– – – – – – – – – – – –
Age Friendly Businesses
Be one:  http://www.brooklinecan.org/age_friendly_business.html
Wonder Woman Ruthann Dobek:  
wickedlocal.com/news/20180315/ruthann-dobek-brookline-senior-centers-wonder-woman
Boston 25 News: SHOP program

:

http://www.fox25boston.com/news/shopping-for-seniors-brookline-program-creates-bond-between-seniors-students/704932381
Newsletter
– – Find the newsletter at the library, Town Hall, banks, Stop & Shop on Harvard, Star Market on Beacon and Brookline Booksmith.  The best way to get one is subscribe: for $10 we'll mail it to you for a year.  If you're a retailer with space for newsletters, call us.  We deliver.  Advertise with us:  Click for ad specs
Planned Giving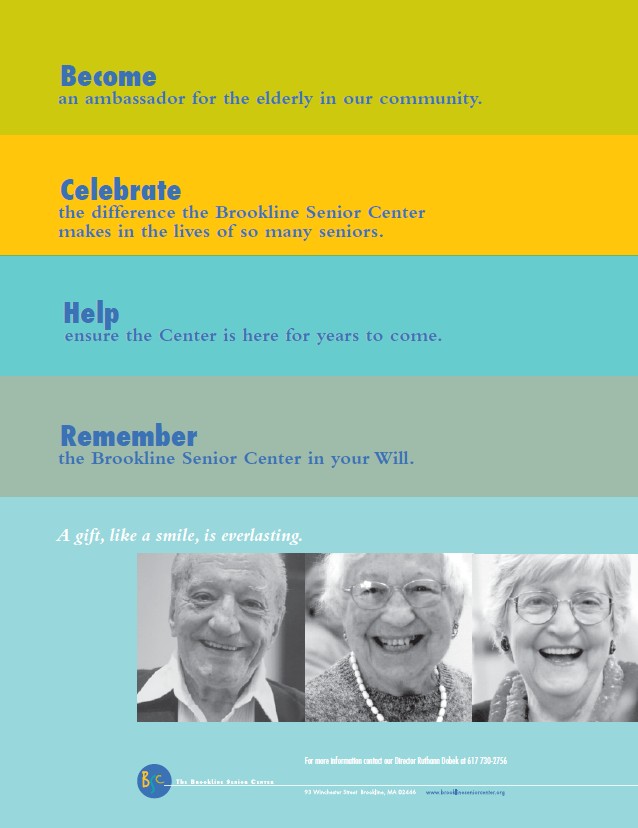 – – Consider leaving a legacy to the Senior Center.  Your bequest is a gift of hope.  Please call Ruthann Dobek, director:  617. 730. 2756 and help us secure a bright future