Honoring the wisdom that comes with age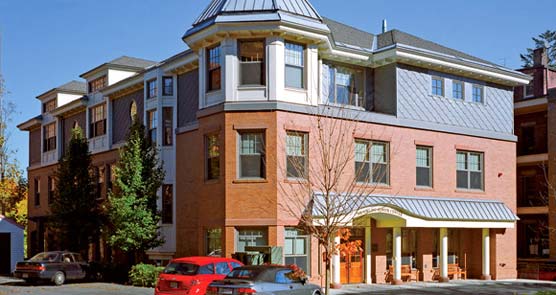 Ruthann Dobek, director
Wonderful Woman:  wickedlocal.com/news/20180315/ruthann-dobek-brookline-senior-centers-wonder-woman
The first day of spring is one thing and the first spring day is another. The difference between them is sometimes as great as a month. Henry Van Dyke (1852-1933).  March, with the first day of spring, has some of the bleakest weather.  At the Center we're here to help make the days go by in a warm and enjoyable way with lots of programs and activities.
I want to thank all who responded to our Annual Appeal.  Donations support a "place to sit."  We purchased 60 classroom chairs.  We need to replace 15 chairs @$388 each.  Help gratefully accepted.
March is Social Work month. This year's theme is "Social Workers Stand Up."  I want to acknowledge the important work of our social workers. We have social work interns, professional staff, retired social work volunteers and board members. Each contributes to Brookline's strong sense of community. When you see one, please thank them and tell them they're our champions who stand up for people with illnesses, mental health crises, veterans, children and families.
Buy daffodils, shamrocks, have a slice of soda bread and walk in the sun. We're collecting for the soup kitchen protein drive. Donations welcome.
Thanks to Boston 25 News for a fine piece on our SHOP program:  http://www.fox25boston.com/news/shopping-for-seniors-brookline-program-creates-bond-between-seniors-students/704932381 
Drawing for Pleasure with models – meets Thursdays from 9:30-11:45 under the direction of Louise Weinberg and Martin Anderson. For people with some experience.  Model fee: $5.  Register: 617. 730. 2770
Friday, March 23 – – Friday flick at 1 pm:  Chisholm '72: Unbought and Unbossed (2004) documentary about congresswoman Shirley Chisholm who ran for president.  Register: 617. 730. 2770
Monday, March 26 – – Metropolitan Chorale Artists in Residence are here at 1 celebrating Opera's Greatest Hits and the songs of Leonard Bernstein.  Soprano Natalie Logan, tenor Garry McLinn and pianist Julia Scott Carey present a program of arias and duets from La Traviata, Rigoletto, Don Pasquale, Manon, La Boheme, Candide and West Side Story.  Register: 617. 730. 2770
Logan
McLinn
Scott Carey
Thursday, March 29 – – Mass College of Pharmacy student and faculty seminar at 1 pm.
Wednesday, April 11:  our annual volunteer lunch at 12:30. By invitation.  Nominations for volunteer of the year may be made to Ruthann Dobek   Rdobek@brooklinema.gov
Welcome Kate Jovin, MSW, LCSW, a recent grad from Simmons College of Social Work.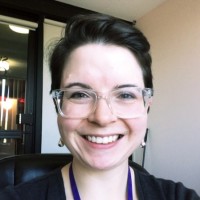 ---
March Health Checks

Barbara Westley, public health nurse, Brookline Public Health Department

Podiatry Clinic – – Routine foot care with Dr. John McLaughlin: $40.  Appointments:  617. 730. 2777
Wednesday, March 28 – – Barbara Westley, RN does blood pressure screening from 1-2 pm at the O'Shea House, 61 Park St
---
Food Collection in March
We are collecting protein rich food for a local soup kitchen this month.  Suggestions:  peanut butter, canned beans, canned tuna, canned salmon, canned chicken, dried apricots, figs, canned fruit, canned ravioli and spaghetti with meat, protein rich drinks.   March pick-up Wednesday, March 28.  Donation box on the second floor.
---
Tax Filing Tuesdays
AARP tax aide volunteers are here TUESDAYS through April 10 to help you file.  You must bring your 2016 return.  (Amended returns ONLY for 2016.)  Call for appointment:  617. 730. 2777
---
Medical Marijuana, Access + Choice, 3/28
Join us for a professional seminar on medical marijuana Wednesday, March 28 at 1.  It may help treat pain, insomnia, anxiety, nausea, arthritis and neuropathy. MedWell Health & Wellness along with the Council on Aging will provide a better understanding.  Medical evaluation follows the program.  Questions about the event should be directed to Ann Brum of Medical Health: 744. 223. 7330.   Register: 617. 730. 2770
---
Loss Support Group Wednesdays, 3/28 - 4/25
Discuss loss and change in a supportive environment: driving, housing, vision, mobility and memory.  Five sessions: Wednesday, March 28; Wednesday, April 4; Wednesday, April 11; Wednesday, April 18; Wednesday, April 25 from 2-3:30.  Register: 617. 730. 2770.
---
Public Health Week: Dialogue Starts Here, 4/3
The Dialogue Starts Here-Hello Brookline starts the conversation about a health care proxy during National Public Health Week.  Join us Tuesday, April 3, 1:30-3:30. Register: 617. 730. 2770.  Program is coordinated by Hebrew Senior Life Center Communities, Brookline Department of Public Health, Brookline Senior Center – – Supported by the Brookline Community Foundation and Ryan Construction Company.
---
Contra Dancing, 4/8
Join us Sunday, April 8 from 7-9 pm for Contra Dancing with Sue Rosen, caller, Amy Larkin on fiddle and Debby Knight on piano.  Beginners and singles welcome.  Bring clean soft soled shoes.  "Contra is a folk dance with origins in English, Scottish, and French styles of the 17th century. In lines of couples, the dancers move down the line with walking steps to energetic live music, dancing with different partners.  A caller prompts the dancers."   Reserve: 617. 730. 2777     Tickets: $7, buy them here cash or check, or on online at ballroomcontradance.eventbrite.com      
– – Event sponsored by Chobee Hoy Associates, Bobby Allen, Esq., Citizens Bank, Delta Dental Corp, Joyce Fredkin, New England Private Wealth Advisors, Robert Marcus Real Estate, The Albert Corporation, Stop & Shop, Whole Foods
Rosen
Larkin
Knight
---
Ending Ageism, 4/19
---
Computer Tuesdays
Dan Siagel does individual half hour sessions Tuesdays in the nurse's office through April 10.  Bring your own smartphone, tablet or laptop.  Info:  Olga Sliwa 617. 730. 2768      Appointments:  617. 730. 2777
---
Elizabeth Pollock, president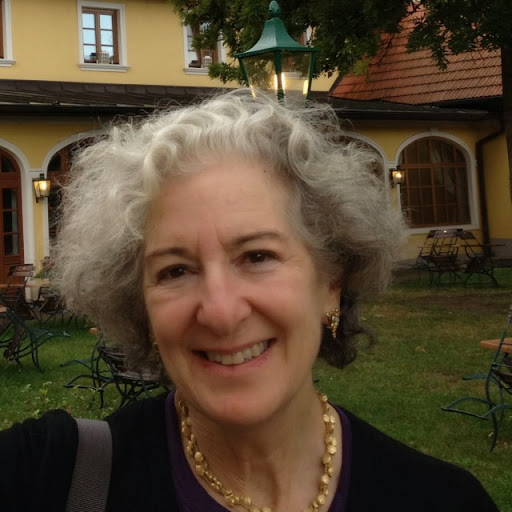 Please give our seniors a place to sit.  Thanks to your wonderful end of year donations, we bought 60 new classroom chairs.  We need to replace others at $388 each.  Please be as generous as you can.  Thank you.
I care deeply about the future of the Center and so I have included it in my estate planning. Endowments help ensure the future of the organization with reserves. You can contribute directly or put the Brookline Senior Center in your will.  Gifts of $1,000 will be added to our Wall of Honor.  Be sure to let us know you've included us in your will or trust so we can recognize you in our Ambassador Club.  ***   "I give $___ to Brookline Multi-Service Senior Center Corp (EIN 04-2719972), a Massachusetts non-profit corporation, located at 93 Winchester St, Brookline, MA 02445 to be used for general purposes." – – Consult your lawyer or financial advisor
Help a friend with a Fitness Center membership.  Our gym has equipment and supportive staff.  We're open weekdays 8:30-5pm. We're seeking donors to help others with scholarships.  It's $35/month and $420/year. We're grateful to Bay State Federal Savings Charitable Foundation for their support. Thank you.

---
News
– – – – – – – – –
"Off the Wall,"  photographs by Julie Smith
through April 27

– – – – – – – – – – – – – – – – – – – – – –
BCAN Age Friendly Businesses
Be one:  http://www.brooklinecan.org/age_friendly_business.html
– – – – – – – – – – – – – – – – – – – – – – –
Food Pantry Tuesdays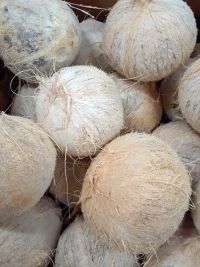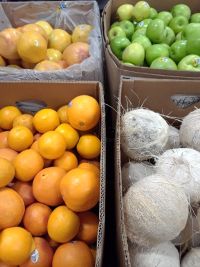 – – – – – – – –
Newsletter
– – Find the newsletter at the library, Town Hall, banks, Stop & Shop on Harvard, Star Market on Beacon and Brookline Booksmith.  The best way to be sure you get one is to subscribe: for $10 we'll mail it to you for a year.  If you're a retailer with space for newsletters, call us.  We deliver.  Be an advertiser:  Click for ad specs
Planned Giving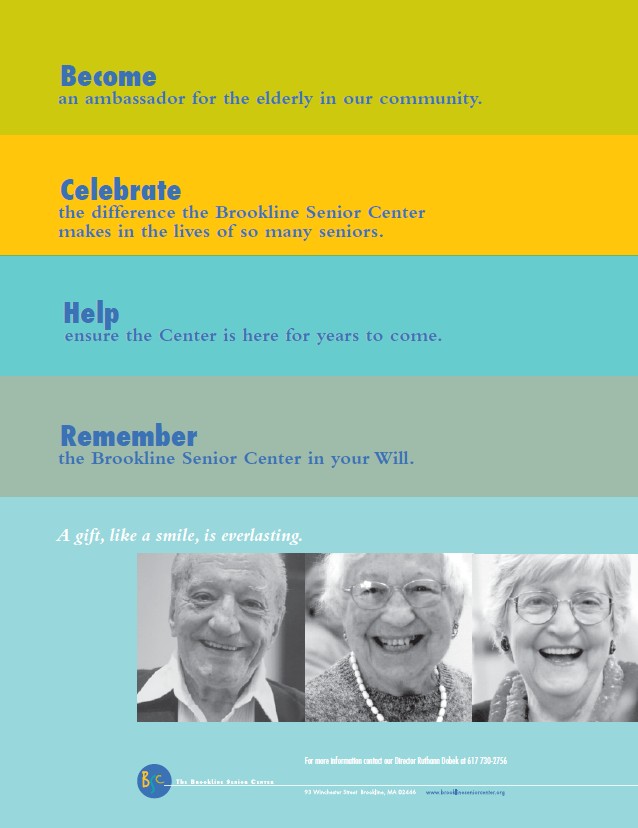 – – Consider leaving a legacy to the Senior Center.  Your bequest is a gift of hope.  Please call Ruthann Dobek, director:  617. 730. 2756 and help us secure a bright future
– –