Honoring the wisdom that comes with age
---
---
Ruthann Dobek, director
ŽŠ›The Senior Center is temporarily closed.  However, many of our programs and services are available by phone and video.  We are also continuing to provide transportation, home care and safety net programs. We monitor our phones so leave your name and number: 617. 730. 2777 or 617. 730. 2770.  We respond Monday – Friday from 8:30 – 5:00.  For emergencies, call 911.
Our offices are closed Monday, May 25 for Memorial Day. Staff will not be checking or responding to messages. The office reopens May 26.
We encourage you to reach out if you need help. Here are some of the services we've provided in the last weeks.
 Medical transportation for a man to get to his dialysis appointments when his regular vendor was not available
A home care worker did meal planning and grocery shopping for a woman with dementia who depends on our hot lunches
Our social workers and volunteers are reaching out to our older adults by phone to check on their well being
For their children out of town, our social workers are a lifeline of advice, resources and safety checks to their parents in Brookline
The quilting group and other talented Senior Center sewers are making face masks
We are providing Emergency Relief Services
Your generosity makes it possible for us to offer these services. We know the demands will grow too. There will also be long-term challenges and our goal is to continue to serve.
We need your help.  Many seniors are high risk. More than 20% of Brookline's older adults live in poverty and face food insecurity. Nearly two out of three have four or more chronic conditions making them more susceptible to the virus.  Many have lost jobs – or access to in-home community services.
Can we count on your support?  You can help your neighbors with a donation today.  Use the orange Paypal button above or send us a check at 93 Winchester St, Brookline, MA 02446.  Thank you for helping our most vulnerable residents.  And please,  social distance and reach out to each other by phone.

---
Visit the Town's website: https://brooklinecovid19.com 
General questions:  call the State's 211 line. For Brookline public health inquiries, call our Health Department: 617.730. 2300.  For non-medical questions specific to Brookline: 617. 879. 5636. Call centers are operating from 8-5 pm.  After hours, you can leave a message. Non-medical questions: covid19info@brooklinema.gov
Masks:  The Town of Brookline reminds you face coverings are required, that means mandatory including over the nose, in public except for children under 2.  Police and Fire Department requests you do not to call 911 about face coverings.  Call the Health Department: 617.730.2300.  Got Masks Brookline is connecting people who need masks with people who make them:  www.gotmasksbrookline.org     
Online: Since we don't know when we will resume our programs, we have online options with some of our regular facilitators.  These virtual programs are new to everyone so there may be glitches but we hope you'll give online a try. We will suggest ways to have a little fun as well.
In memoriam: Our hearts go out to friends and family of people who died since we closed.  Their presence will be missed but their spirits will always be remembered.  We extend our condolences and mourn their loss.
Phyllis Campana, James Colleran, Bill Cortelyou, Rose DeSimone, Elinor Downs, Barbara Goldstein, Marge Harvey, Irving Hurwitz, Sally Bland Johnson, Jill Judson, Mary Lawlor Levine, Joseph Magnus, Eleanor McLees, Harris Risman.  If you would like to include a loved one, leave a message: 617. 730. 2777   rdobek@brooklinema.gov
Even though we can't be together, please know we are thinking of you and trying to figure ways to be "alone together."
Mother's Day reminds me of the special women in my life – my late grandmother, Bernice Dobek, who was my inspiration for becoming a geriatric social worker.  I honor my mother, Patricia Dobek, one of our generous benefactors.  And I remember my dear mother-in-law Gladys Boghosian, who was a fan of the Center. I have made a Mother's Day donation to honor them. Is there someone you'd like to honor? This is a wonderful time to do it.
We hope you and your loved ones stay well and we look forward to celebrating with you when it's safe to reopen.  Don't hesitate to reach out if you need anything or just to say hello.    – – Ruthann Dobek, director
---
Brookline Food Pantries Update
Brookline Food Pantry at St. Paul's Church, 15 St. Paul Street  WEDNESDAYS 3-6 pm, THURSDAYS 11-2 pm
Brookline Food Pantry at 55A Egmont Street, Community Room  THURSDAYS 3-7 pm, SATURDAYS 10-1 pm
Brookline Food Pantry at 226 High Street, Community Room TUESDAYS 3-7 pm
Courtesy of the Brookline Democratic Town Committee
May 4 Update:
​Eligibility to get emergency supplemental food. You must meet one of the following:
                    a) ​Be a Brookline resident 
                    b) Have children in the Brookline Public School System
                    c) Have a Brookline Food Pantry issued ID card
                    d) Approval from the Executive Director or Operations Manager due to special circumstances 
                                   * To make a request for approval, please call 617-800-5339 or email brooklinefoodpantry@gmail.com
For information,  contact Chanin Kennedy at chanin@brooklinefoodpantry.org
---
Updates
Fuel Assistance
The deadline for applying is May 29.  ABCD, Action for Boston Community Development, is taking new applications: 617. 348. 6599. This number is just for new applicants.  Apply for home heating oil, propane or kerosene; and if your heating system is not working. (Gas and electric will not be turned off during the emergency.)
If you need information on the status of your application: 617. 348. 6411
https://bostonabcd.org/service/fuelassistance/
---
Property Tax
Bills due May 1 are now due June 1. Applications for exemptions and small commercial exemptions are due June 1, delayed from April 1. Interest and penalties for late payments that were due after March 10 are waived if you pay by June 30. This includes payments that are due June 1.
---
Mutual Aid Brookline Network
If you are high risk and need food, medication and necessities delivered, call us at 617. 651. 1468 or write MutualAidBrookline@gmail.com  
---
Brookline Safety Net

A program of the Brookline Community Foundation and the Senior Center, the Safety Net helps residents and others in neighboring towns meet basic needs of food, housing, utilities and transportation.  Call the Foundation: 617. 277. 8107
If you can make a donation, your support could make all the difference to a neighbor in need: https://www.brooklinecenter.org/our-impact/safety-net-community
---
MBTA

Service is reduced on B, C and D Green Line trains.  Boarding:  Riders will board at the back doors of buses and the back of street-level trolleys. People who must can board at the front.  All riders must wear masks.        https://www.mbta.com/fares/charliecard
From Sunday, July 5 to Saturday, August 1 the C trains on Beacon Street will not run from Cleveland Circle to Kenmore Square.  This includes weekdays and weekends. Free buses will run on Beacon Street to Kenmore.     https://www.mbta.com/diversions/green-line-c
---
Municipal Town Election Tuesday, June 9 and Election Forum

Polls are open 7am-8 pm. This election is for Select Board, Town Meeting, library trustees, housing authority and School Committee. People are encouraged to vote early by mail. The last day to register is May 29. To register or obtain a ballot: 617. 730. 2010 or https://brooklinema.gov/townclerk                  
Return by email: townclerk@brooklinema.gov
FAX: 617. 730. 2043
Mail: Office of the Town Clerk, PO Box 470860, Brookline MA 02447
BrooklineCAN is holding an election forum for the Select Board candidates Thursday, May 21 at 2 pm on ZOOM.  The three candidates for the two positions are Heather Hamilton, Eric Hyett and John VanScoyoc. The forum will cover Town issues and those affecting older people. Michael Allen, one of our social workers, is moderator. Send questions to Michael:  617. 730. 2754  and MAllen@brooklinema.gov  
Brookline Interactive Group (BIG) will stream live:  http://brooklineinteractive.org/live/ and it will be on local access cable.  The event will be recorded and posted on http://brooklineinteractive.org and www.brooklinecan.org
Town government is important. The Select Board is vital. Please vote.
File your taxes by July 15

The State and Federal filing date is July 15.  IRS: 800. 829. 1040  https://www.irs.gov    Mass Department of Revenue: 800. 392. 6089     https://www.mass.gov/orgs/massachusetts-department-of-revenue
---
2020 Census

You need the form that came in the mail with your ID number to do the federal census online:https://2020census.gov/     844. 330. 2020   The Town census is separate and as important.
---
Registry of Motor Vehicles

Class D and Class DM licenses, ID cards, and learner's permits that expire between March 1 and April 1 have a 60-day extension.  The extension does not apply to Commercial Driver's Licenses (CDL) or "those whose end of stay in the US is the same as the date on their license, ID or learner's permit. The Registry is not providing updated credentials to reflect the extended date. This does not apply to vehicle registration."  Renew your registration here: www.Mass.Gov/RMV
---
The RIDE
The RIDE is running.  There are no shared trips. RIDE clients should book trips 1-3 days in advance.  All riders must wear masks. Customers with eligibility ending before June 1 will get automatic extensions. The RIDE is contacting people with existing appointments. The Charlie Card Store is closed for now.   https://www.mbta.com/fares/charliecard     www.mbta.com/theride
If you are new to the RIDE, you may get temporary eligibility if you meet medical criteria: 617.337.2727    Eventually, you will have an in-person interview.
---
Brookline Public Library
Remote services include story hours, crafts, and ancestry. Members can connect with reference librarians via chat and email.  Visit https://www.brooklinelibrary.org/elibrary/online-resources/ for eBooks, movies, music and databases
---
Brookline Adult and Community Education
Spring term begins in May and is online.  See class listing and register: https://brooklineadulted.org
---
Economic Stimulus Payments
$1,200/adult and $500/child if you make $75,000 or less, heads of households less than $112,500 and married couples less than $150,000 based on 2018 figures. Payments are made by direct deposit or check. If you did not file a return in '18 or '19 and don't get Social Security, disability, survivor, SSI or railroad retirement, enter your info here: https://www.irs./gov/coronavirus/non-filers-enter-payment-info-here
---
Ukulele MeetUp
Judy Chasin, our ukulele leader, suggests the Ukulele Union of Boston meetup: https://www.meetup.com/BostonUke/ to find a free group that fits your level.
---
Shopping Hours for Seniors
CVS: 9:00-10:00 am
WALGREENS: 8:00-9:00 am Tuesdays
MARKET BASKET: 6:00-7:00 am   978.851.8000
ROCHE BROS. 7:00-8:00 am    781.235.9400
SHAWS & STAR MARKET: 6:00-7:00 am  AND 6:00-9:00 Tuesdays and Thursdays    781.963.6995 –  508.313.4000
STOP & SHOP: 6:00-7:30 am      800.767.7772
WHOLE FOODS: 8:00- 9:00 am, check your location  844.936.8255
TARGET: 8:00-9:00 am  857. 317. 5220
TRADER JOE'S:  8:00-9:00 am    617. 278. 9997
WEGMAN'S: 7:00-8:00am
---
Add Life to the Years 2020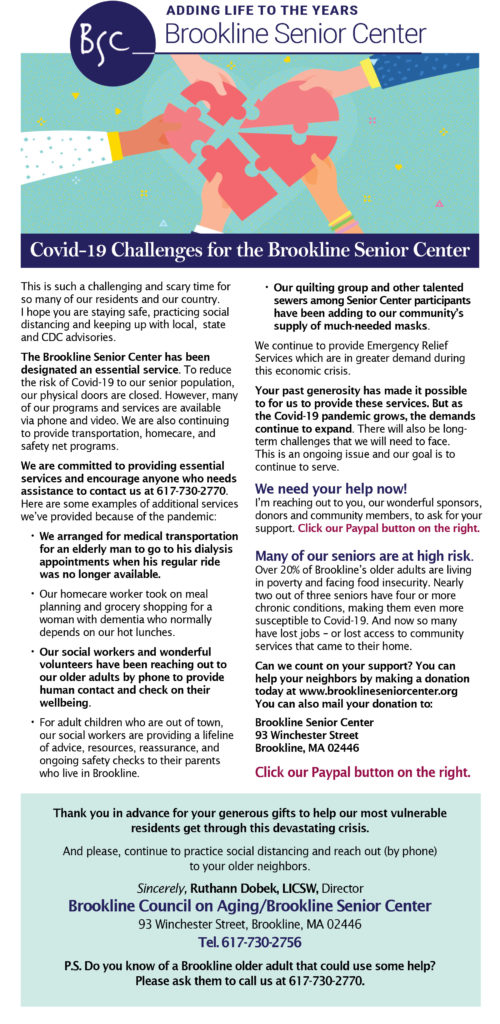 ---
Our Programs are Online
Computer One to One Help
Do you have smart phone or computer questions?  One on one help is available by phone in 30-minute appointments. You can get help setting up Zoom, Team Viewer or What's App.  Call 617. 730. 2777 and press # pound to bypass the message.  Leave your name and phone number and tell us what you need help with.
---
Crafting & Hobbies
Brookline Bees Sewing Group – – Tuesdays at 10:30 am
The group is hosting Zoom meetings. To connect, brooklinebeehive@gmail.com
Knitting/Crafting Circle – – Zoom TBA
Hadassah Margolis, who created the Welcome Brookline Blanket Project, invites you to her knitting/crafting circle. She is working on masks; you can bring your blanket or mask project or other craft.  Find May dates and Zoom info from Hadassah here:  media@welcomeblanket.org
---
Discussion Groups
Living Our Values – – Wednesdays from 9:00-10:00 am
The group hosts Zoom meetings. To connect, editor@businessforum.com
Current Events – – Fridays from 10:30-12 noon
Meets on Zoom. To connect, mkt128@rcn.com
Public Issues Book Group – – On hold
From Tom Faulhaber: The library is closed until until at least June 29.  While we are doing other meetings on Zoom, we can't since the library is closed.  Our meetings will resume two months after the library reopens as it will take time for them to get copies.  Our first book is The Fifth Risk, by Michael Lewis.
---
Dance
Dance Party with Lynn Modell – – Thursdays from 2:00-2:30
Music from the '40s-'60s plus show tunes to dance it out. You don't need lots of space but look out for scatter rugs, trip hazards and uneven floor.  Info from
lemodell@gmail.com
Combo Dance Fitness/Yoga Dance – – Saturdays from 11-11:50 am
Emily Brenner, our wonderful Zumba Gold instructor has a free class Saturday mornings thanks to Blue Cross Blue Shield. She is also offering donation based classes throughout the week:
Monday: 10 am Zumba®
Tuesday: 10 am Strength/Low-Impact fitness (chair suggested, light hand weights or cans/water bottles as light weights are optional)
Wednesday: 10 am Let Your Yoga Dance®
Thursday: 5 pm All levels Fitness (weights optional)
To join any of Emily's classes, please use the following link: https://us04web.zoom.us/j/5563356908?pwd=SEc2M3NLL0c3QnFDRzVxd3VlWmtZdz09
Meeting ID: 556 335 6908
Password: 1853
---
Wellness
Mindfulness Practice – – Mondays and Wednesdays from 10:00-10:30

Join our video call by computer or phone from 10:00 a.m. to 10:30 a.m. to practice mindfulness.  Led by Michael Allen, LCSW, and Conor McDermott Welch. Mindfulness helps with relaxation and bolsters attention and insight.  Go to https://us04web.zoom.us/j/137115626. Questions to Michael: mallen@brooklinema.gov and 617. 730. 2754
Qigong – – Tuesdays from 6-6:30 pm
Laura Kandziolka, our former qigong instructor, has live classes on Facebook.  You don't need a Facebook account.  Go to https://www.facebook.com/TaoAndZenHealing/ and click on the video menu on the left. You can find past recorded sessions.  They are highly recommended by our current instructor Dale Butler.
---
Staying Fit
Staying fit in a limited space at home is challenging but it has never been more important.
Our community partners at Hebrew Senior Life are sharing yoga fit, keeping it loose, flex and stretch, fit and flexible, chair Zumba gold, get fit while you sit and morning boot camp. Find them here and as always, check with your health practitioner first:                      
https://www.youtube.com/channel/UC7UXoLrkqksNR1bs3EEShug
---
Exercises for health and rejuvenation video with Mei Chu is here and as always, check with your health practitioner first:           https://youtu.be/vjXy8peF4qU
---
The YMCA has free online groups including yoga and tai chi.  You don't have to be a member:  https://ymca360.org
The National Institute on Aging has exercises too and as always, check with your health practitioner first:
https://www.nia.nih.gov/health/exercise-physical-activity
---
Unemployment/Employment
Many people are unemployed and people over 60 are no exception.  However, there are openings.
– – The State is hiring 1,000 tracers who will keep track of where the virus is active:  https://jobs.crelate.com/portal/talentboost/job/3kyqki4zeqoyugdzsha5iynhce
– –  The State is coordinating opportunities for healthcare workers looking for temporary jobs in inpatient and long term care. Retired or semi-retired can apply for these paid jobs:   https://www.mass.gov/info-details/apply-for-jobs-at-covid-19-temporarycare-sites
– – Supermarkets are hiring.
– – The gig economy may be hiring.  Check with Uber, Lyft and delivery services.
– – The Center's REAP program has a list of people who have been laid off.  If you need work, write to Deidre Waxman dwaxman@brooklinema.gov or call 617. 730. 2767.  If there's enough interest, we'll schedule a Zoom workshop to discuss job updates.
– – We are committed to finding REAP employment programs.  The SCSEP program continues under Operation ABLE, the National Asian Pacific Center and the Federal Government. We're also expecting to hear from the Brookline Tax Work Off program.
---
Federal Trade Commission: Scams Right Now
This information is from the Federal Trade Commission.  https://consumer.ftc.gov/features/coronavirus-scams-what-ftc-doing
1. Hang up on robo calls. Don't press numbers and don't say "yes" ever.
2. Vaccine and home test kits do not exist.
3. Deal only with trusted sources. Don't share information that hasn't been verified.
4. Online, know your source for online cleaning, health and medical supplies. If they claim they have them, they probably don't.
5. Don't click links. Ever
6. Do your homework about donations to charities and crowdfunding. Don't send cash, gift card or wires ever.
---
Mindfulness Corner
William Martin's book, The Tao of Forgiveness, features parables, discussions and meditations. Like parables from any tradition, his stories provide opportunities to reflect on some of the core emotional dilemmas of life. He builds on our capacity to mindfully reflect on the way we think about and interact with the world at deep levels and our moment to moment thoughts.
Read a review of The Tao:  https://www.spiritualityandpractice.com/books/reviews/view/19868
Questions to ask:
1. Where does my attention normally rest?
2.  Am I the one choosing where to place my attention?
3.  Where do I want my attention to rest?
Activity:
 Let your attention gradually find its way to the breath entering and leaving your body
 A minute is enough. Notice your breath for long enough to see the spaciousness that is available
As you do this, your thoughts will still be there. See if you can notice them.
---
Elizabeth Pollock, president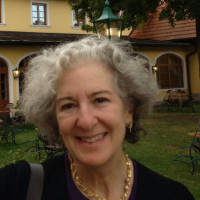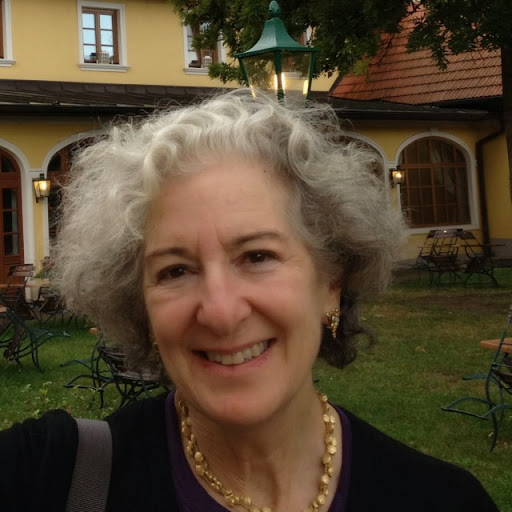 I hope everyone is sheltering in place and staying connected to friends and family by phone and internet. Our staff is available to help along with the community and its volunteer programs. I was on state representative Tommy Vitolo's weekly update show on Brookline Interactive (BIG) to discuss these issues:  https://brooklineinteractive.org/tommy-vitolos-weekly-update-guest-betsy-pollock-licsw/

We look forward to May's weather as well as honoring the women in our lives who make a difference. Consider a donation in their honor and memory.  If you want to make a tribute gift, call Ruthann Dobek: 617.730.2756   rdobek@brooklinema.gov
Families such as Marie Lavine's daughters, Corinne Long's family and Vivian Freeman's family have ensured their mothers are honored each year.  Please use our Paypal button at the top right. Your contribution is deeply appreciated.
Leave us a message: 617. 730. 2777.  If you're having a medical emergency, call 911.  Thank you for your continued support of our mission and our work.
I care deeply about the future of the Center and so I have included it in my estate planning. Perhaps you'd like to do that as well.  It's relatively easy – see below for suggested bequest language.  You may also consider making the Center a beneficiary of your life insurance policy, IRA or 401K. If you're over 70 1/2, you can apply part or all of your Required Minimum Distribution (RMD) tax free to the Center.  By planning ahead now, you can help ensure a vital Senior Center  for years to come.  Be sure to let us know that you've included us in your will or trust so we can recognize your generosity and include you in our Ambassador Club.  I, the Board and the entire Center family thank you!
Suggested bequest language for giving:  "I give $___  (or percent of my estate or percent of the remainder of my estate) to Brookline Multi-Service Senior Center Corp (EIN 04-2719972), a Massachusetts non-profit corporation, located at 93 Winchester St, Brookline, MA 02446 to be used for general purposes."   Please consult your lawyer or financial advisor– – with much appreciation, Betsy Pollock
---
News
– – – – – – – – – –
Read every single newsletter for the last 12 years here – –  https://www.brooklinema.gov/Archive.aspx?AMID=37           (Later, when we resume publishing, find the newsletter at the library, Town Hall, banks, Stop & Shop on Harvard, Star Market on Beacon and Brookline Booksmith.  The best way to get one is subscribe: for $10 we'll mail it to you for a year.  If you're a retailer with space for newsletters, call us.  We deliver.)  Advertise with us:  Click for ad specs
_ _ _ _ _ _ _ _ _ _
AGE FRIENDLY BUSINESSES

Be one:  http://www.brooklinecan.org/age_friendly_business.html
– – – – – – – – – –
WONDER WOMAN, RUTHANN DOBEK:  
wickedlocal.com/news/20180315/ruthann-dobek-brookline-senior-centers-wonder-woman
– – – – – – – – – –
BOSTON 25 TV: SHOP PROGRAM
http://www.fox25boston.com/news/shopping-for-seniors-brookline-program-creates-bond-between-seniors-students/704932381
– – – – – – – – – –
PLANNED GIVING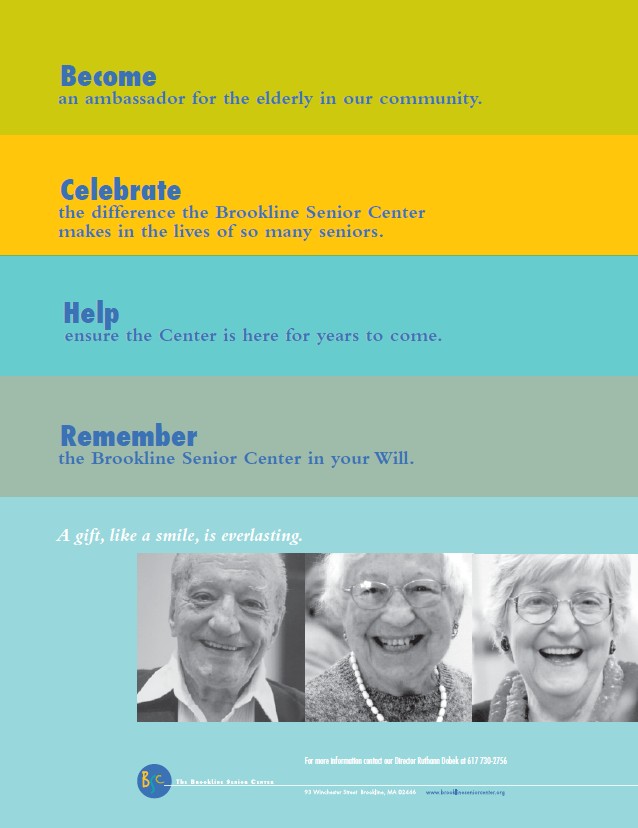 – – Consider leaving a legacy to the Senior Center.  Your bequest is a gift of hope.  Please call Ruthann Dobek, director:  617. 730. 2756 and help us secure a bright future. Brookline Multi-Service Senior Center Corp  (EIN 04-2719972), a Massachusetts non profit corporation.