Honoring the wisdom that comes with age
Zumba Gold's Emily Brenner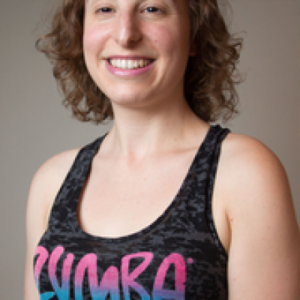 ---
Ruthann Dobek, director
"Not he who has much is rich, but he who gives much." – – Erich Fromm, psychoanalyst
Statistics show that more than half of all charitable giving takes place between Thanksgiving and New Year's. This season I am grateful for your generosity. Our seniors give their time, energy and money to keep the Center a welcoming haven for our community's elders. I know many of you share this vision. I hope you will consider a holiday gift to the Center. Know that no matter whether it is a few dollars or larger gift, all are appreciated and well utilized. To make a donation using a credit card, please see the orange "Donate via Paypal" above to the right.
Our New Year's open house is Monday, December 30 with the music of the Winikers to ring in 2020. Hope to see you and be sure to bring a friend. My holiday wish is that no one goes to bed cold, hungry or lonely. I am convinced in this remarkable town, with your help, we can ensure that our seniors are warm, well fed and befriended. Peace to all. – – Ruthann Dobek, director
p.s. Thanks to everyone who made this year's Autumn Benefit a success. Thanks to sponsors and donors, we will thrive in 2020.
p.p.s.  We have a new bike rack.  It's behind the building near the door.  Six spots to lock up.  Send name and photo with your bike at the rack to Maria Foster for a chance to win a CVS gift card.  mfoster@brooklinema.gov
p.p.p.s.  We're collecting warm hats, scarves and gloves, handmade or new, for 65 friends at a Brighton soup kitchen.  Please bring items to Jessica Milley-Gee on the second floor before December 16.
We are closed Wednesday, December 25 for Christmas
Friday, December 13 – – Join us at 10 am for the senior chorus holiday concert.  We will be presenting the proceeds of the craft fair. Donations will also be made to the World Central Kitchen. Thanks to the crafters, volunteers, donors and buyers who made this event a success.  Register: 617. 730. 2770
Tuesday, December 17 – – Sandy Spector is here to talk to you about real estate tax exemptions and abatement in the gallery from 10-12 noon.
Wednesday, January 8 and Wednesday, February 12 – – Pickleball for 55+ from 2:30-4:30 at the Brookline Senior Center.  Fee: $3/day.  Two  indoor courts and instruction.  Learn to play, bring your own paddle or use one of ours.  Pickleball combines elements of tennis, badminton and ping pong played with a paddle and a plastic ball.  Joshua Cooke: 617. 730. 2082   jcooke@brooklinema.gov
+ + + + + + + + + +
Recycle Here – – You can recycle your eyeglasses, cell phones and soda tabs.  Collection boxes in reception
We take medical equipment for our equipment loan program. PLEASE CALL FIRST:  Jamie Jensen: 617 730. 2753.
And we're always looking for donations of costume jewelry, scarves, purses, small household items and others to sell on the gift cart.  Please: no clothing, no linens, no electrics
Visit Us – – Tours Monday-Friday. 617. 730. 2777
---
December Health Checks

Barbara Westley, public health nurse, Brookline Public Health Department
Thursday, December 19 – – Barbara Westley, RN does blood pressure checks from 1-2 pm here.
Thursday, December 19 – – Staff from Brookline Hearing Services is here from 1-2 pm for hearing aid cleanings and counseling, no charge. Batteries: $5/pack.
Fitness Center – – become a member and use strength training and cardio equipment. Assistance of personal trainer at no charge. Call Sharon Devine: 617. 730. 2769
Podiatry Clinic – – First and third Thursdays from 9-11:30 am starting in January. Routine foot care only (nail and callus trimming) $40 for 15 minutes with Dr. John McLaughlin.   Appointments:  617. 730. 2777      No second opinions
---
Take Care of your Teeth, 12/12
Dr. Yasmin Chebbi, DMD is here Thursday, December 12 at 1 to talk about a healthy connection between mouth and body, options for missing teeth, caring for dentures, dry mouth, CPAP alternatives, and going to the dentist for the best oral health.   Register: 617. 730. 2770
---
Online Safety with Robin Putnam, 12/13
Robin Putnam from the Mass Office of Consumer Affairs and Business Regulation is here Friday, December 13 at 1 to talk about how to be safe online with your smart device, social media, phishing and online banking, scams and identity theft.  Register: 617. 730. 2770
---
Waltzes We Love, 12/16
Tatyana Shrago, pianist, is here Monday, December 16 at 1 for a concert of old and contemporary favorites.  Register: 617. 730. 2770
---
Loss and Grief Support Tuesdays
Tuesday afternoons in December we are offering a support group for those coping with loss, grief or a life event. Open to Brookline and surrounding community residents over 60 who want to share their experience.  No charge.  Michael Allen, LCSW 617. 730. 2754   mallen@brooklinema.gov
---
Qigong Tuesdays
Qigong, chee gung, is the practice of mental and physical balance by coordinating breath, movement and awareness.  Join us Tuesdays through January 7 from 9:30-10:30.  No charge, registration required: 617. 730. 2777
---
Dance Party Tuesdays
Lynn Modell is here 11- 11:45 for Dance Party Tuesdays.  Suggested donation: $2
---
Zumba Gold with Emily Brenner Thursdays
Emily Brenner leads Zumba Gold Thursdays from 1:15-2:15.  Free.  This session runs through December 12.

---
Elizabeth Pollock, president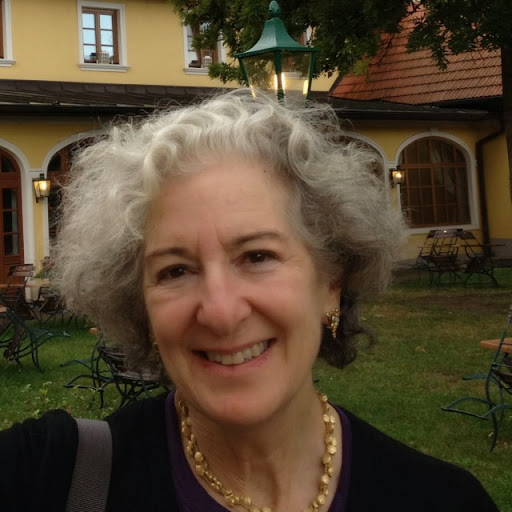 The holidays are a special time of year. I hope everyone enjoys celebrating with family and friends. This is also the time of year when we think about giving to those less fortunate. Please consider a donation to the Center. The money we raise from our Annual Appeal supports programs and services that help our most needy access benefits like fuel assistance, food SNAP program and emergency resources. I am reminded of how many people give of their time and money to help our seniors live with dignity and respect.  Than you to all! And best wishes for a wonderful holiday season.
Food insecurity is a problem in Brookline.  A recent survey of Brookline's seniors who receive food help from us found that 26% of respondents reported having been without food for a whole day for 1-10 days the prior month.  An additional 18% went to bed hungry at least once in the prior month. If you know of anyone who will benefit from our food distribution program,  have them call us: 617. 730. 2777.
I care deeply about the future of the Center and so I have included it in my estate planning. Endowments help ensure the future of the organization with reserves. You can contribute directly or put the Brookline Senior Center in your will.  Gifts of $1,000 will be added to our Wall of Honor.  Be sure to let us know you've included us in your will or trust so we can recognize you in our Ambassador Club.  ***   "I give $___  (or percent of my estate or percent of the remainder of my estate) to Brookline Multi-Service Senior Center Corp (EIN 04-2719972), a Massachusetts non-profit corporation, located at 93 Winchester St, Brookline, MA 02445 to be used for general purposes."  Consult your lawyer or financial advisor
– – with much appreciation, Betsy Pollock
---
News
IRS ALERT:  The IRS will never call for past due amounts or threaten to arrest you.  Note the calling number and call police.
– – – – – – – – – –
Rebecca Loechler exhibition:  Strength in Fragility, handcut paper artwork.
In Gallery 93 November 5 – December 31

– – – – – – – – – –
AGE FRIENDLY BUSINESSES

Be one:  http://www.brooklinecan.org/age_friendly_business.html
– – – – – – – – – –
WONDER WOMAN, RUTHANN DOBEK:  
wickedlocal.com/news/20180315/ruthann-dobek-brookline-senior-centers-wonder-woman
– – – – – – – – – –
BOSTON 25 TV: SHOP PROGRAM
http://www.fox25boston.com/news/shopping-for-seniors-brookline-program-creates-bond-between-seniors-students/704932381
– – – – – – – – – –
NEWSLETTER
– – Find the newsletter here, at the library, Town Hall, banks, Stop & Shop on Harvard, Star Market on Beacon and Brookline Booksmith.  The best way to get one is subscribe: for $10 we'll mail it to you for a year.  If you're a retailer with space for newsletters, call us.  We deliver.  Advertise with us:  Click for ad specs
– – – – – – – – – –
PLANNED GIVING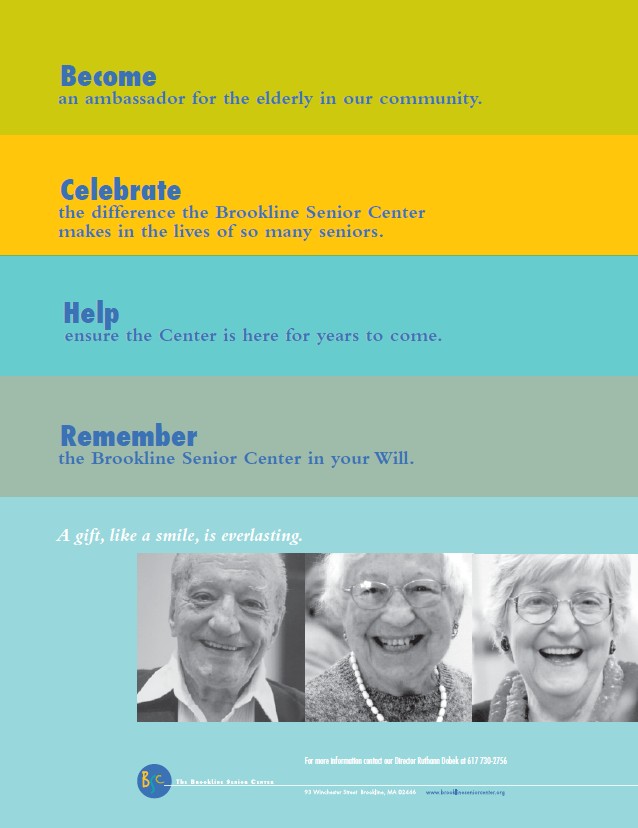 – – Consider leaving a legacy to the Senior Center.  Your bequest is a gift of hope.  Please call Ruthann Dobek, director:  617. 730. 2756 and help us secure a bright future. Brookline Multi-Service Senior Center Corp  (EIN 04-2719972), a Massachusetts non profit corporation.