Honoring the wisdom that comes with age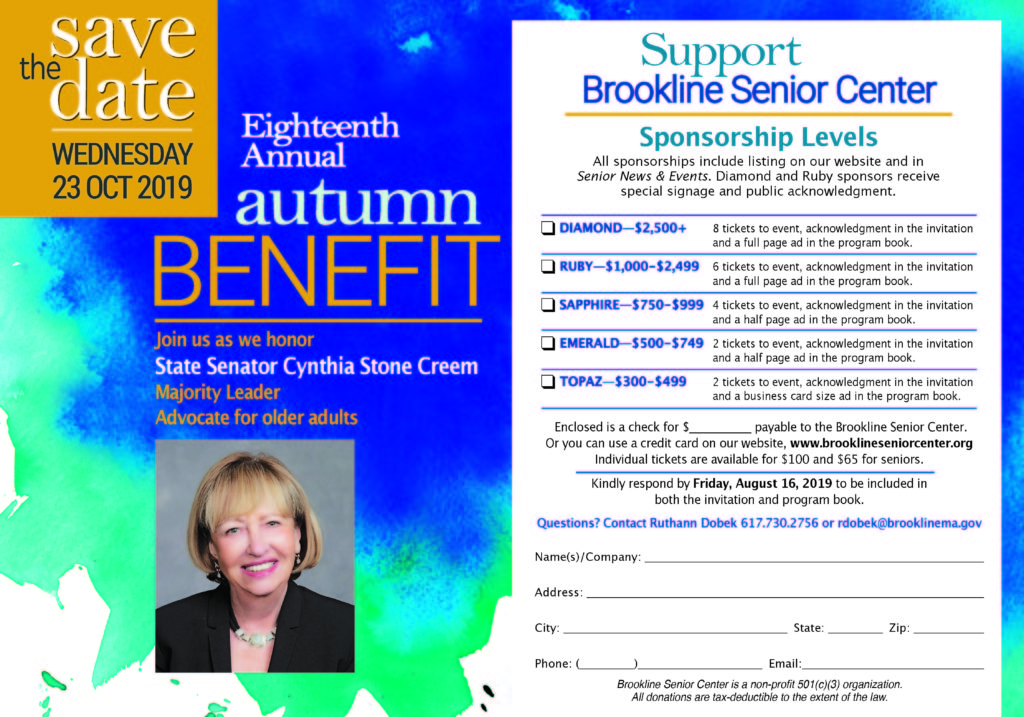 Autumn benefit Wednesday, October 23.  To be included in the program book and invitation, please respond by August 16.    Click for a larger version:  https://www.brooklineseniorcenter.org/how-to-help/

---
Ruthann Dobek, director
July can be a time for vacations and a slower pace but not here. Enjoy our special events and regular programs all summer and we're a cooling center.   The Theater Club will take in La Cage Aux Folles Sunday, August 11.
The heat of summer goes on as Emily Brenner continues her great free workout Zumba Gold class Thursday afternoons
I'd like to share a thank you from Brookline Housing Authority's ESOL program, "uplifting immigrant learners through the teaching of English," after we hosted their graduation: "Thanks to you and the Senior Center for contributing your space. It was a fantastic venue and your support helped with key behind the scenes details from transportation to clean up. Very grateful for all you do!"
I want to wish a happy Fourth of July to all. My family has a big party to watch the fireworks with great summer food. I look forward to grilled burgers, sweet watermelon and fresh corn on the cob. Summer flies by so quickly so be sure to savor your favorite tradition. Keep cool, we're air conditioned. Join me at the Farmers Market Thursdays for treats and socializing! – – Ruthann Dobek, director
####
Sunday, August 11 – – La Cage Aux Folles at the Reagle Theater, Waltham
Recycle Here – – You can recycle your eyeglasses, cell phones and soda tabs.  Collection boxes in reception
We take medical equipment for our equipment loan program. PLEASE CALL FIRST:  Jamie Jensen: 617 730. 2753.
And we're always looking for donations of costume jewelry, scarves, purses, small household items and others to sell on the gift cart.  Please: no clothing, no linens, no electrics
Visit Us – – Tours Monday-Friday. 617. 730. 2777
---
July Health Checks

Barbara Westley, public health nurse, Brookline Public Health Department
Thursday, August 1 – – Lynn Schuster, RN from Visiting Nurse and Community Care is here at 11 am for Ask a Nurse.  (July is cancelled)
Podiatry Clinic – – Routine foot care only (nail and callus trimming) $40 with Dr. John McLaughlin by  appointment: 617. 730. 2777
---
Free Fun Fridays - July, August
The Highland Foundation offers free Friday admissions through August   617. 969. 8900   http://highlandstreet.org/programs/free-fun-fridays-2019 
July 26 – – Isabella Stewart Gardner Museum (Boston), Edward M. Kennedy Institute (Boston), Cape Cod Museum of Art (Dennis), Commonwealth Museum (Boston), Commonwealth Shakespeare Company (Boston), Fitchburg Art Museum (Fitchburg), Historic Deerfield (Deerfield), Larz Anderson Auto Museum (Brookline), Gardens at Elm Bank (Wellesley), Ventford Hall Mansion & Museum (Lenox)
August 2 – – Franklin Park Zoo (Boston), Boston Symphony Orchestra at Tanglewood (Lenox), Chatham Shark Center, Children's Museum at Holyoke, Concord Museum in Concord, Intl Volleyball Hall of Fame (Holyoke), Lynn Museum in Lynn, Museum of Russian Icons (Clinton), Naumkeag, The Trustees (Stockbridge), Old State House (Boston).
August 9 – – Boston Harbor Islands National and State Park, Davis Museum at Wellesley College, Gore Place (Waltham), Hancock Shaker Village (Pittsfield), JFK Hyannis Museum, Museum of the National Center of Afro-American Artists (Boston), New Bedford Whaling Museum, Old Colony History Museum (Taunton), Greenway Carousel (Boston), Worcester Historical Museum
August 16 – – John F. Kennedy Presidential Library & Museum (Boston), Berkshire Theatre Group (Stockbridge), Cahoon Museum of American Art (Cotuit), Discovery Museums (Acton), Fruitlands Museum, The Trustees (Harvard), Fuller Craft Museum (Brockton), Harvard Museums of Science & Culture (Cambridge), Paragon Carousel (Hull), Provincetown Art Association and Museum, USS Constitution Museum (Boston)
August 23 – – Institute of Contemporary Art (Boston), Berkshire Museum (Pittsfield), Boston Athenaeum (Boston), Buttonwood Park Zoo (New Bedford), Emily Dickinson Museum (Amherst), Fort Devens Museum (Devens), Freedom Trail Foundation (Boston), Heritage Museums & Gardens (Sandwich), Museum of African American History (Boston & Nantucket), Mary Baker Eddy Library & Mapparium (Boston)
August 30 – – Old Sturbridge Village, Cape Cod Museum of Natural History (Brewster), Capron Park Zoo (Attleboro), EcoTarium (Worcester), Griffin Museum of Photography (Winchester), Hull Lifesaving Museum (Hull), Mass Audubon's Ipswich River Wildlife Sanctuary (Topsfield), MASS MoCA (North Adams), Museum of the First Corps of Cadets (Boston), Osterville Historical Museum (Osterville)
---
Computer Security + Recovery, 7/25
Join Alan Shepro,  IT customer service specialist, Thursday, July 25 at 1. Learn what you can do and when to ask for help. This is not a technical talk but rather a discussion on how to avoid things going wrong. Register: 617. 730. 2770
---
Boston Public Library Lunch by MBTA, 7/26
Next lunch out for the T Travelers is Friday, July 26, 9:30-1:30 pm at the Boston Public Library.  See a taping of Boston Public Radio with Jim Braude and Margery Eagan; and hear a Concert in the Courtyard with the Boston Youth Symphony Orchestra. There are two cafes for light lunch.  (No outside food is permitted) Our bus will take you to the Washington Square Green Line and you'll get off at Copley, at the Library.  Take the Green Line back to Washington Square and go by bus to the Center.  Register: 617. 730. 2644
---
Dementia Friendly Experience, 7/31
Unsure of how to talk to people showing memory loss and confusion? Join our one-hour Dementia Friendly Experience here Wednesday, July 31 at 3.  Maximum of 24 attendees each session.  Free. You must register: 617. 730. 2770. – – Sponsored by Goddard House, Brookline Senior Center, and Brookline Community Aging Network
---
Zumba Gold with Emily Brenner Thursdays
Emily Brenner leads Zumba Gold Thursdays from 1:15-2:15.  This session goes through August 8.  Free

---
Computer Tuesdays + Thursdays
Computer phobic or in need of help?  Dan Siagel does individual half hour sessions Tuesdays 12-2. Dan works with Smartphones, tablets and laptops Apple, Windows, and Android.  By appointment only. Call Olga Sliwa:  617. 730. 2768
Plus, Alan Shepro is here Thursdays in the computer lab from 2-4 for drop-in visits.  If it has a chip, he can help.
---
Bridge Fridays
Bridge guru Jan Davidson welcomes experienced players Fridays at 9 am.  Join us for revolving games.  617. 730. 2760
---
Elizabeth Pollock, president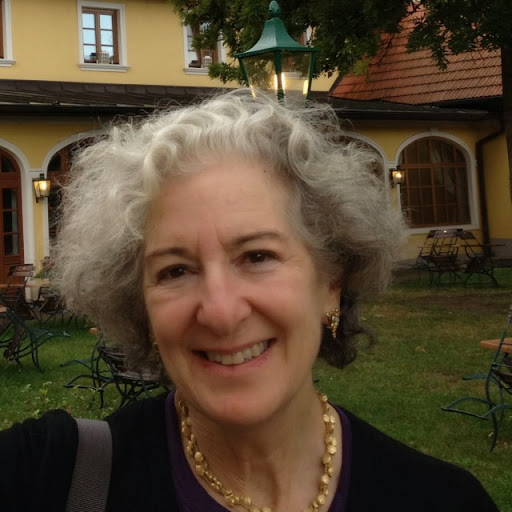 Your support is critical to what we do. We accept donations to our nonprofit. Your gifts keep the van running, expand transportation options, support fitness, fund furnishings and improvements.  The Town of Brookline covers just 70% of our budget. Please be as generous as you can.  Pay by check to Brookline Senior Center or online (above right) with Paypal.
Did you know "exercise is the only thing that helps everything associated with aging"?  That's according to Dr. Janice Schwartz, professor of medicine, University of California, San Francisco.  I am amazed by the amount of research that confirms the value of fitness for older adults. It improves physical health, memory and helps prevent dementia.
Food insecurity is a problem in Brookline.  A recent survey of Brookline's seniors who receive food help from us found that 26% of respondents reported having been without food for a whole day for 1-10 days the prior month.  An additional 18% went to bed hungry at least once in the prior month. If you know of anyone who will benefit from our food distribution program,  have them call us: 617. 730. 2777.
I care deeply about the future of the Center and so I have included it in my estate planning. Endowments help ensure the future of the organization with reserves. You can contribute directly or put the Brookline Senior Center in your will.  Gifts of $1,000 will be added to our Wall of Honor.  Be sure to let us know you've included us in your will or trust so we can recognize you in our Ambassador Club.  ***   "I give $___  (or percent of my estate or percent of the remainder of my estate) to Brookline Multi-Service Senior Center Corp (EIN 04-2719972), a Massachusetts non-profit corporation, located at 93 Winchester St, Brookline, MA 02445 to be used for general purposes."  Consult your lawyer or financial advisor
---
News
– – – – – – – – – –
Tax Abatement: this program has a few openings for the 2020 fiscal year. To join, be over 60 and own property in town. Meet income requirements (below $62,450). Work 125 hours between now and March 15 in a Town department and get an abatement of $1,350. Call Deidre Waxman: 617. 730. 2767
– – – – – – – – – –
BrooklineCAN needs volunteers to support our programs, We need members who like meeting and greeting. We work in teams, we engage in advocacy, social and educational events. Call 617. 730. 2777 or write: info@BrooklineCAN.org
– – – – – – – – – –
Gallery 93 presents Rebecca Loechler's Art for Pleasure class:  Ina Chertok, Joel Covitz, Elena Khanina, Renee Marshall, Lyudmila Rudyakov, Nancy Van Zant, Tamara Shilmayster, Kea van der Ziel, Florence Warren, Claire Weston
Exhibition through August 30

– – – – – – – – – –
AGE FRIENDLY BUSINESSES

Be one:  http://www.brooklinecan.org/age_friendly_business.html
– – – – – – – – – –
WONDER WOMAN, RUTHANN DOBEK:  
wickedlocal.com/news/20180315/ruthann-dobek-brookline-senior-centers-wonder-woman
– – – – – – – – – –
BOSTON 25 TV: SHOP PROGRAM
http://www.fox25boston.com/news/shopping-for-seniors-brookline-program-creates-bond-between-seniors-students/704932381
– – – – – – – – – –
NEWSLETTER
– – Find the newsletter here, at the library, Town Hall, banks, Stop & Shop on Harvard, Star Market on Beacon and Brookline Booksmith.  The best way to get one is subscribe: for $10 we'll mail it to you for a year.  If you're a retailer with space for newsletters, call us.  We deliver.  Advertise with us:  Click for ad specs
– – – – – – – – – –
PLANNED GIVING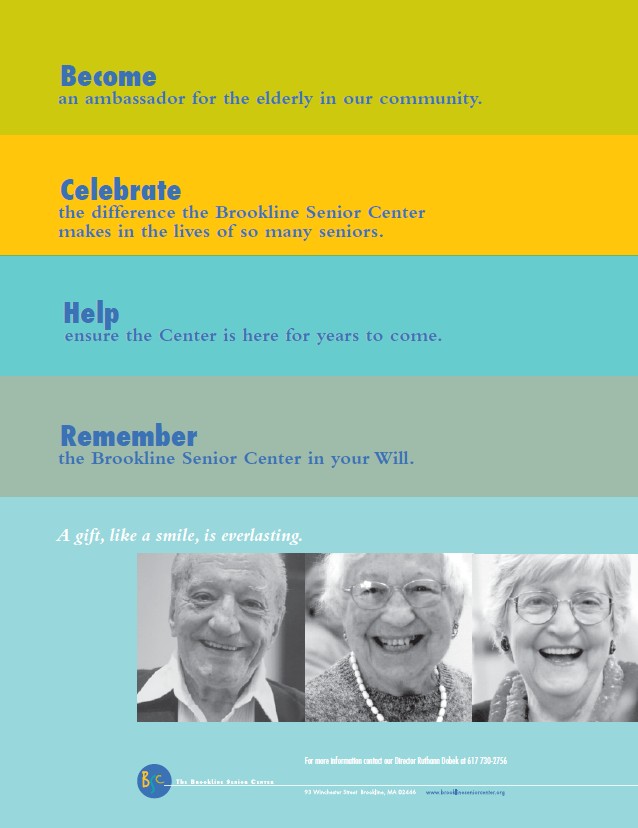 – – Consider leaving a legacy to the Senior Center.  Your bequest is a gift of hope.  Please call Ruthann Dobek, director:  617. 730. 2756 and help us secure a bright future. Brookline Multi-Service Senior Center Corp  (EIN 04-2719972), a Massachusetts non profit corporation.