Mission and About Us
Autumn Benefit Event Committee
Barrie Atkin
Dorothy Bell
Ruthann Dobek
Sherry Hanks
Lynne Karsten
Betsy Pollock
Julie Washburn
Karen Weisberg
Lisa and Danny Wisel
Sonia Wong
Autumn Benefit Sponsors 2016 (as of November 1)

DIAMOND:  Beth Israel Deaconess Medical Center, Michael Merrill
RUBY:  Bay State Federal Savings Charitable Foundation, Carol and Frank Caro, Chobee Hoy, Goddard House Assisted Living, Shulamit Kahn and Kevin Lang, Betsy Pollock, Suzanne Salamon and Alan Einhorn, Tufts Public Health/Tufts University School of Medicine, Winnie and Richard Rubino
SAPPHIRE:  Patricia Dobek, Ruthann Dobek and Glenn Boghosian
EMERALD:  Atkin Associates LLC-Barrie Atkin, Laurde and Elias Audy, Center Communities of Brookline/Hebrew Senior Life, Margie and Rev. George Chapman, Marilyn and Andre Danesh, Friends of Brookline Public Health, Jewish Family and Children's Services, Doris Toby Axelrod and Lawrence Marks, Sue Reamer, Carol and Maurice Sapoznik, Ruth Kertzer Seidman and Aaron Seidman, Sherrill House, Wade Horowitz LaPointe LLC, Deborah Goldberg and Michael Winter, Sonia and William Wong, Emilie Drooker, Sidney Gelb, Elaine Kwiecien, anonymous
TOPAZ:  Always Best Care of Boston, Bayada Home Health Care, Helen Charlupski and Joseph Biederman, Brighton House, Brookline Bank, Brookline Community Foundation, Brookline Hearing Services, Brookline Municipal Credit Union, Cambridge Public Health Department, Nancy Daly and Kevin Cavanaugh, Eleanor Clarkson, Carolyn and Ted Colton, Betsy and Dennis DeWitt, Eastern Bank, Doris and Saul Feldman, Marcia and Rob Heist, Nancy Heller, Home Instead Senior Care, HouseWorks, Donna and Martin Kalikow, V. Celia Lascarides, Alberta and Roger Lipson, Longwood Dental Group, Harry Margolis, Sylvia and Ralph Memolo, Cecily and Alan Morse, The Move Maven, Mount Pleasant Home, New Outlook Homecare, Judy Meyers and Mark Pasternack, Pathway Home Realty Group, Presentation Rehabilitation & Skilled Care Center, Providence House Senior Living Community, RE/MAX Unlimited, Ellen Bruce and Richard Segan, Enid Shapiro, Robert Sperber, Stanetsky Memorial and Levine Chapels, Jean and Peter Stringham, Wingate Residences at Boylston Place, Roberta Winitzer, Antoinette Schroder, Somerville Cambridge Elder Services
 Centenarian Celebration 2015

"We had a wonderful time celebrating with our centenarian friends July 15, 2015 and none of it would have been possible without our community partners: BrooklineCAN, Center Communities of Brookline and Goddard House Assisted Living." – – Julie Washburn     
– – – – –
We were sorry to learn that Ethel Weiss died Thursday, December 11.  She was 101.
Seniors Take Action, Town Repairs Sidewalks
Elenore Parker 617-232-6444 media_releases@brooklinecan.org
Ruthann Dobek 617-730-2756 rdobek@brooklinema.gov
Frank Caro 617-739-9228 Frank.g.caro@gmail.com
Until recently, residents of the five Brookline Senior Housing developments often found that a walk to the market or the library could be hazardous due to broken, uneven sidewalks. That is changing
Thanks to an innovative project initiated by BrooklineCAN (Brookline Community Aging Network) and involving several Brookline organizations, senior housing residents learned how to organize and present their sidewalk concerns to the Brookline Housing Authority (BHA) and the Department of Public Works (DPW). To everyone's delight, the DPW committed to repairing the sidewalks identified by the residents. Many of those sidewalks have already been repaired.
What makes this story so powerful is that the residents, community groups, the BHA and the DPW worked together to improve the lives of everyone who uses sidewalks. The project was initiated early in 2015 by BrooklineCAN, a volunteer group that aims to keep seniors active and engaged in the community.
Its Livable Community Advocacy Committee garnered support from the Brookline Council on Aging and funding from Jewish Family & Children's Services  to hire a community organizer to manage the project. Janet Selcer was hired through ReServe, an organization that provides experienced professionals over age 55 with meaningful work in nonprofit groups.
As a result of this project, Brookline residents of senior housing have an easier time walking to the market. Equally important, under the direction of BrooklineCAN they have gained the ability to organize and advocate for issues that affect the quality of their lives. They also have become acquainted with many neighbors in their building as well as residents in other senior housing developments.
And working together, they have made walking in Brookline safer for seniors and for residents of all ages. For additional information about Brookline Community Aging Network and to request a copy of BrooklineCAN's monthly newsletter, visit http://www.brooklineCAN.org or call 617-730-2777
Autumn Benefit 2015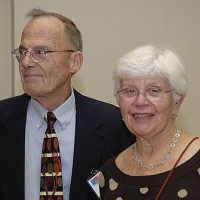 We are delighted to honor Carol and Frank Caro (pictured).  They're long-time residents and community advocates.  Their personal mission is to make Brookline a more livable community for all.  They were instrumental in the creation of the Community Aging Network, Brookline CAN, a group that helps older residents remain engaged.  They've both been Town Meeting members.  Carol is a librarian and is active in the Sister City project in South America.  Frank is a gerontologist and professor emeritus at UMass Boston.  We applaud their dedication to Brookline.
Event Committee:  Barrie Atkin, Ruthann Dobek, Sherry Hanks, Betsy Pollock, Julie Washburn, Karen Weisberg, Lisa Wisel, Danny Wisel, Sonia Wong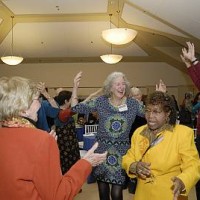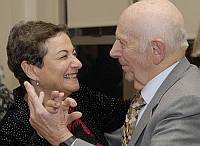 ---
Autumn Benefit Sponsors 2015
DIAMOND   Michael Merrill,   Beth Israel Deaconess Medical Center
RUBY    Bay State Federal Savings Charitable Foundation,  Goddard House Assisted Living, Hamilton Company – Maura and Harold Brown, Chobee Hoy, Shulamit Kahn and Kevin Lang,  Betsy Pollock, Suzanne Salamon and Alan Einhorn, Carol and Morry Sapoznik
SAPPHIRE  Patricia Dobek, Ruthann Dobek and Glenn Boghosian
EMERALD   Atkin Associates LLC – Barrie Atkin, Doris Toby Axelrod and Lawrence Marks, Center Communities of Brookline/Hebrew SeniorLife,  Margie and Rev. George Chapman, Marilyn and Andre Danesh, Gerontology Institute @UMass Boston, Sidney Gelb, Deborah Goldberg and Michael Winter, Jewish Family & Children's Services, Pathway Home Realty Group, Providence House Senior Living Community, Ruth Kertzer Seidman and Aaron Seidman, Sherrill House, Village Mobil/Cypress Automart, Wade Horowitz LaPointe LLC, Sonia and William Wong
TOPAZ     Bank of Canton,  Brookline Bank, Brookline Hearing Services, Brookline Municipal Credit Union, Ellen Bruce and Richard Segan, Cathleen and Stanley Cavell, Nancy Daly and Kevin Cavanaugh, Helen Charlupski and Joseph Biederman, Eastern Bank Charitable Foundation, Elder Achievers, EPOCH Senior Living, Thomas Faulhaber, Doris and Saul Feldman, Benjamin Franco, Regina Healy and Bob Sloane, Marcia and Robert Heist, Home Instead Senior Care, House Works, Linda Jason and Andrew Fischer, Elaine Kwiecien, V. Celia Lascarides, Corinne Long, So Hing Mak, John Grew Jr, Helen and Shael Herman, Helen and Rudy Kass, Harry Margolis, Sylvia and Ralph Memolo, Sneider Kellman PC, Alberta and Roger Lipson, Cecily and Alan Morse, Judy Meyers and Mark Pasternack, Mount Pleasant Home, The Move Maven, Lucy and Dick Robb, Antoinette Schroder, Shirley Selhub, Enid Shapiro, Dr. Robert Sperber, Stanetsky Memorial Chapels and Levine Chapels, Arlene Stern, Jean and Peter Stringham, Ellen and Matthew Weiss, Roberta Winitzer, Ashima Dayal and Dav
Our mission
We provide a wide range of programs and services in health, arts, nutrition and recreation. Our goal is helping people maintain their independence so they continue to be active members of the community. We believe in enhancing growth and a sense of belonging while encouraging individual contribution and the sharing of life experiences.
Our teachers, social workers and volunteers provide instruction, assistance and friendship eight hours a day, five days a week. We can't think of a better way to help people stay in their homes than coming out to join our programs.
The Center welcomes everyone regardless of age, income, disability, sexual, ethnic or religious background. We recognize all our program collaborators and are grateful for their support.
History
Brookline real estate developer Roger Stern donated the land on Winchester Street in 1995. Later that year Town Meeting voted to accept the gift and began planning the building. A year later Childs, Bertman & Tseckares was chosen to provide design services. In 1999 Town Meeting authorized $2.7 million in bonds to cover the construction. The Federal Community Development Block Grants program covered the remaining $1.6 million. The Center opened in 2001.
Today
The programs and services provided by the professional staff have grown. Hundreds of people visit each day to finish an art project, stay in shape, meet with friends, play bridge, see a social worker, work in the computer lab and read in the library.
We are a community center: a place to make good friends, find something worthwhile to do, and where you can give back in a way that fosters a sense of belonging.