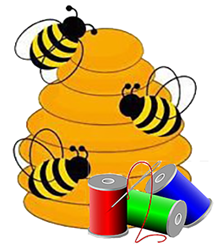 Brookline Bees
We meet every Tuesday at 10:30am at the Senior Center. The Bees are beginning to swarm with great ideas for the fall craft fair! We are making a series of cute little purses — just what you need to carry your phone and credit cards and a few other  essentials so you can leave the big purse at home.
We are back to in-person meetings. If you need to come by Zoom, we can make arrangements to include you. Ask about a session to focus on a particular sewing challenge.
And we are happy to make baby quilts or comfort quilts for you! All money received goes to support Our Brookline Senior Center. Talk to us about a special gift for that new grandbaby!
Write to brooklinebeehive@gmail.com to get Zoom access information or to request a quilt. We invite your orders!