How to Help
We welcome donations to our non-profit to support programs, services and equipment

YES, I WANT TO HELP:
Name: ____________________________________________________________________
Address: __________________________________________________________________
City: __________________________ State_________________ Zip _________________
Email: _________________________________________________ Phone: ___________
Amount: ______________
My donation is in honor of _________________________________________________
In memory of ______________________________________________________________
Naming opportunities:  Donations of $1,000 are added to our Wall of Honor.  A donation of $10,000 brings naming rights for an office or conference room.  For $25,000, naming option for our double classroom.  For $35,000, naming option to the fitness center.  Please be in touch with Ruthann Dobek: 617. 730. 2756 rdobek@brooklinema.gov
Checks may be made payable to Brookline Senior Center.   Mail to 93 Winchester Street, Brookline, MA 02446            or use PayPal.  Thank you
Volunteer Luncheon 2016
The annual volunteer luncheon  was April 13.  Menu: salad, ravioli, meatballs, eggplant Parmesan and cupcakes.  Entertainment by Alan Balsam, director,  Brookline Public Health Department, who played guitar.  Nancy Daly thanked everyone on behalf of the Board of Selectmen for supporting efforts to make Brookline a senior friendly town. She said the Center could not run without its volunteers.  Ruthann Dobek, director, led a moment of silence for those who were ill or died since last year.  She also spoke briefly about Corinne Long, whose daughter, Robin was present. She mentioned the Out-to-Lunch group and the Flower Program, some of Corinne's volunteer duties.  Robin added that she felt that her mother was looking down and proud to see all the volunteers.
Patricia Burns was pleased to meet many volunteers since last year. Her theme was WIN/WIN Volunteering at BSC. She told three stories about WIN/WIN volunteers – 1) Ruth Geller who was new to Brookline and came to BSC at the strong recommendation of her daughter and found a new community of friends while volunteering; 2) Corinne Long who had lived in Brookline for many years, but had been the full time caregiver for her mother and whose children lived far away. When her mother died at 103, Corinne felt the need for a new community of friends and came to the BSC, volunteered and found those friends; and 3) Brookline High School SHOP volunteers. At the orientation one young man said it took about 2 hours to get the list, shop, and go over the receipt and list, but he always spent at least another hour talking. He enthusiastically added, "These seniors are so interesting! They lived the history that we read about in our classes."
Patricia gave some statistics from the 2016 survey – 47 new volunteers this year; most of the volunteers who responded were between 60-96 years old; 45 had volunteered for 3-6 years; 15 had volunteered for 7-20 years; and the largest number of volunteers worked at Food Distribution, the Gift Cart or as a COA Board Members.
– – Muriel Stark, left, volunteer of the year with director Ruthann Dobek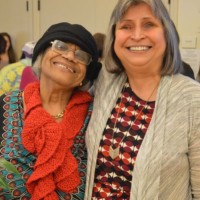 Volunteer of the year /Community partner of the year
Julie Washburn read the nominees for volunteer of the year:  Rita d'Entrement, Akemi Minami, Lydia Pearl, Fran Pechenic, Vera Sharma and Muriel Stark.   Muriel Stark is volunteer of the year for 2016.  Ruthann outlined how Muriel has volunteered and  her position as a Center ambassador as well as her "we'll get through it" attitude. In addition to a certificate, Muriel was also given a plant and chocolates.
Trader Joe's is our Community Partner for 2016.  They donate weekly:  flowers, produce and the Hawaiian luau.  Please thank them when you're shopping.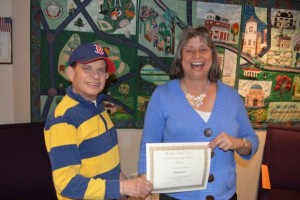 – – Corey Choen, a Center volunteer and employee of Trader Joe's with director Ruthann Dobek
$650 donated at Stock our shelves 3/22



This annual  event supports Brookline hunger initiatives – the Brookline Food Pantry, Meals on Wheels, and the Brookline Food Cooperative. Eighty attendees sampled a variety of cuisine donated by 15 Brookline restaurants, enjoyed live entertainment and won 17 donated raffle prizes. Senior Center staff and volunteers organized and implemented the event. The entrance fee was $5 with three non-perishable food items. Proceeds from this year's event ($650) and crates and bags of food equaling several hundred pounds were donated to the  organizations.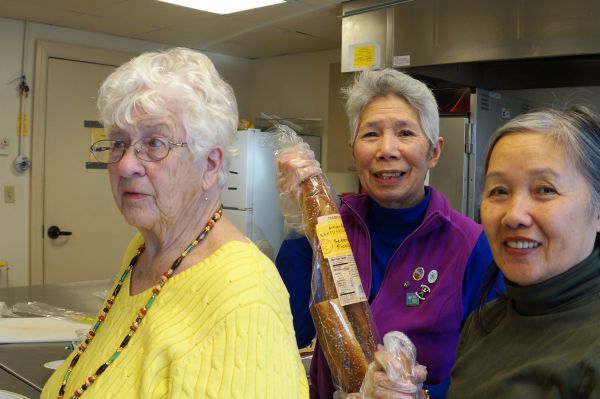 7th edition of the resource guide has been published.  It includes updates to the 65 categories in the previous edition.   Copies are available at the Center.  You can read it online at http://www.brooklinema.gov/245/Council-on-Aging