Gallery 93: Prints, Drawings and Collages by Stephanie Stigliano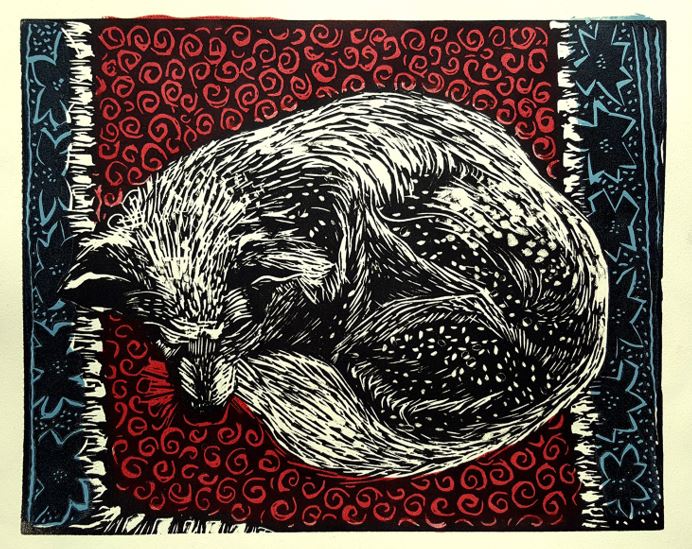 Brookline, Massachusetts, Gallery 93 at the Brookline Senior Center is pleased to present Prints, Drawings and Collages by artist Stephanie Stigliano. The exhibit runs from Sept 11 – through Nov 28, 2023.
A reception for the artist will be held on Thursday September 14 from 1:00-3:00 pm. Gallery 93, located at 93 Winchester Street, Brookline, MA, is open from 8:30-5:00, Monday through Friday.
Artist Stephanie Stigliano's work explores relationships and narrative and nature through the lens of printmaking, collage and drawing. Stigliano began her career as a jeweler. She gravitated to the printmaking studio to etch and roller-print sheets of silver and copper. Using expensive materials to make small items of adornment gave way to making prints on paper. They were more ephemeral, less expensive to create, and supported her skill as a colorist. Stigliano loved the ability to layer color and make variable prints from one matrix. She continued to use her fine-tuned craft to make artist books. They became places to display the prints and make art that could be held and touched. She makes relief prints in linoleum and wood, screen prints, monoprints, and etchings, and is currently experimenting with pronto-plates. The works on display combine drawing, painting, printmaking, and collage.The prints and artist books of Stephanie Stigliano are included in the collections of the Fogg Museum and the Houghton Library of Harvard University, the Boston Museum of Fine Arts, the National Museum for Women in the Arts, and the Book Art Museum of Łodz, Poland. In Krakow, Poland, she contributed to a print portfolio at The Jan Matejko Academy of Fine Arts. Her artist's books were included in Correspondence: The 9th International Book Art Festival, which traveled throughout Poland, and Al-Mutanabbi Street Starts Here, which traveled globally. She exhibited her prints at Íslensk Grafík, Reykjavik, Iceland. In 2022, her prints and books were exhibited at the Bedford Library in Cut and Paste; Cool, Calm, and Collected at Gallery Twist; and at the Arnold Arboretum in The Art of Nature/ The Nature of Art. In 2023, Stigliano contributed prints and an artist book to The Freedom Project which is traveling between the USA and Poland. Her books were part of Building Books, exhibited at University of Southern Maine in Portland; and Art and Poetic Text at the Cultural Center of Cape Cod in Yarmouth, Mass. At the Edge of the Ocean, a collaboration among Stigliano, nine other artists and one poet, was recently exhibited at Zea Mays Printmaking in Florence, Mass. Four Women for Freedom, her collaboration with three other artists, will be exhibited at the 30th anniversary of the Book Arts Museum in Łodz, Poland and become a part of the museum's permanent collection. She is a professor at Boston College where she teaches Making Prints/Making Books. A longtime member of The Boston Printmakers, she has served on the board, and as editor of The Quarterly and Member News. She is a co-founder of New England Book Artists.
For Additional Information about the artist or her work, please visit her website.
For exhibit related questions, please contact: Hilary Tolan, Curator, Gallery 93 – 781-420-6018, hilarytolan@gmail.com or Jamie Jensen, Program Director, Brookline Senior Center – 617-730-2753, jjensen@brooklinema.gov