Volunteering: Giving time, touching hearts
The Brookline Council on Aging and the Brookline Senior Center are happy to enlist new volunteers to share their talents and program ideas.
Your contributions enable us to expand service and activities for all elders in Brookline. If you would like to pursue volunteer service, please make an appointment with Patricia, the volunteer coordinator 617. 730. 2743 for an opportunity to learn more about the Center and opportunities where you might best use your time and talent/skills. We are eager to hear new ideas and have a list of volunteers for special events.
– – All volunteer content written by Patricia Burns
August Opportunities
This month: conversation and refreshments for the Memory Café – 1:30-3:00 on the 5th Wednesday in August, friendly visitors, volunteers for the Tuesday Food Pantry afternoon shift:   1-3:30,  Russian interpreter for the monthly Food Commodity program on the 3rd Wednesday morning of each month, participants and donors for the Senior Center team for the Alzheimer's Walk. The walk is September 25, preparations, sign-ups and donations start now.
If you would like to apply for these or other volunteer opportunities at the Center, please call Patricia, the Volunteer Coordinator @ 617 730 2743 or email  pburns@brooklinema.gov
Alzheimer's Walk
Sunday, September 25: Please sign up for the Brookline Senior Center Alzheimer's Walk team. Put your walking shoes on and/or get donations from your friends. Sign-in starts at 8:30 and the walk starts at 10. You can walk either 1 ½ or 3 ½ miles while enjoying a lovely view and visiting with friends. There are many sponsors giving out great swag for walkers. Transportation to and from the Senior Center will be provided (Schedule to be announced).  Donations should be made out to the Brookline Senior Center with 'Alzheimer's Walk' in the memo section as each team sends in one team check. Call Patricia, the volunteer coordinator at 617 730 2743 or email at pburns@brooklinema.gov to sign up or for more information. Clara Chin is our team leader.   (Last year's team)
The Garden at the Alzheimer's Walk! Each walker gets a flower representing the person(s) that they are walking for. The walker can write the person's name or a message on their flower. The walker 'plants' the flower before the walk, but can 'pick' it and take it home after the walk.
Annual File Audit

Check the pile of items on your 'to-do-list'! We have finished mailing the last set of forms that are missing or outdated from your individual volunteer file. It is amazing that some of you who have volunteered for many years still have missing forms that you do need to complete and return either by mail or by dropping them off here in the envelope in the mailing. As Ruthann said at a recent COA meeting, 'the Town can audit our files at any time and would expect them to be complete and up-to-date'.  She also stressed that these files are where your emergency contacts are kept. Should you become ill or have an emergency here, we could assist you.  Any questions, or if you need a new copy of the forms, please contact Patricia at 617. 730. 2743 or pburns@brooklinema.gov or better yet, stop by her office.
TRIPPS



 (Transportation Resources, Information, Planning, and Partnership for Seniors)
This program provides education and support to Brookline residents 60+ looking for alternatives to driving due to age, ability or individual choice.  We're seeking volunteers to serve as "Transportation Information Specialists". These volunteers help research and compile detailed information on transportation options for non-drivers. This information is collected for a resource guide, which will be available both online and in print.
We are also looking for volunteer "Transit Advisors" (TAs) who will help elders decide which transportation options to use when they're unable or choose not to drive. TAs will offer personalized support as seniors learn to use these new ways of getting around. For example, TAs might accompany elders on their first few trips on the T, on The Ride, or with a car sharing service. If you would like more information, please contact TRIPPS Program Director Kerri Ann Tester at 617. 730. 2644.   Volunteers contact Patricia Burns at 617. 730. 2743
What volunteers have to say



"I had to suspend my volunteering at the Center because of knee replacement surgery.  I was quite surprised how much I missed the place and  the people.  Both have become so very meaningful and dear to me.  The connection has given me friends, fun and purpose. It was gratifying to return after several weeks to what became a kind of celebration and confirmation of our mutual joy in being together once again." – –
"Thoroughly enjoyable and rewarding – lovely women & lots of fun. Look forward to coming each week." "Wonderful to be part of this committed group." "I enjoy working in the kitchen serving food & knowing more friends. It is a brand new experience for me." "Thankful for the opportunity to meet so many interesting people." "Wonderful to feel useful, help others and help me feel fulfilled." – –
From director Ruthann Dobek:
"One of our strengths is recruiting volunteers. We have more than 300 volunteers from ages 12-96, many of whom have worked with us for ten years or more. These volunteers donate the equivalent number of hours of 20 full-time people."
We ask that all of our volunteers add one more important job to their volunteering – being an ambassador for the Brookline Senior Center.  We can be aware of new faces here or in our community – churches, synagogues or social networks – and welcome and encourage seniors to come to the BSC.  Our volunteers know that the secret to longevity is active involvement and physical fitness.
From someone who was helped:  "I wanted to make sure that you know how important the Brookline High School students are who provide me food shopping assistance with the SHOP Program. The girls are wonderful. They are always on time and even call the night before to confirm the time. They even bought me a bouquet of flowers on Valentine's Day. They are wonderful and I enjoy their company and the service they provide. A huge thanks to all who help coordinate the program and especially the students." – –
Someone who is new to the Center applied for the Food Commodity Program. She was given much needed supplies from our Equipment Loan Fund. She came to my office in tears saying, "I am overwhelmed by your generosity, staff and programs. You cannot imagine how meaningful the extra food and supplies are to me as I am on a very low income budget. I thank you from the bottom of my heart." – –
Volunteer Luncheon
The annual volunteer luncheon  was April 13.  Menu: salad, ravioli, meatballs, eggplant Parmesan and cupcakes.  Entertainment by Alan Balsam, director,  Brookline Public Health Department, who played guitar.  Nancy Daly thanked everyone on behalf of the Board of Selectmen for supporting efforts to make Brookline a senior friendly town. She said the Center could not run without its volunteers.  Ruthann Dobek, director, led a moment of silence for those who were ill or had died since last year.  She also spoke briefly about Corinne Long, whose daughter, Robin was present. She mentioned the Out-to-Lunch group and the Flower Program, some of Corinne's volunteer duties.  Robin added that she felt that her mother was looking down and proud to see all the volunteers.
Patricia Burns was pleased to meet many volunteers since last year when she had only been in the position for a few months. Her theme was WIN/WIN Volunteering at BSC. She told three stories about WIN/WIN volunteers – 1) Ruth Geller who was new to Brookline and came to BSC at the strong recommendation of her daughter and found a new community of friends while volunteering; 2) Corinne Long who had lived in Brookline for many years, but had been the full time caregiver for her mother and whose children lived far away. When her mother died at 103, Corinne felt the need for a new community of friends and came to the BSC, volunteered and found those friends; and 3) Brookline High School SHOP volunteers. At the orientation one young man said it took about 2 hours to get the list, shop, and go over the receipt and list, but he always spent at least another hour talking. He enthusiastically added, "These seniors are so interesting! They lived the history that we read about in our classes."
Patricia gave some statistics from the 2016 survey – 47 new volunteers this year; most of the volunteers who responded were between 60-96 years old; 45 had volunteered for 3-6 years; 15 had volunteered for 7-20 years; and the largest number of volunteers worked at Food Distribution, the Gift Cart or as a COA Board Members. She also noted that the volunteer pages of the Town and BSC websites are now updated monthly and that there is a full page article about the BSC volunteers in the fiftyplus advocate newsletter.  She urged everyone to check these websites.   www.brooklinema.gov/                           www.fiftyplusadvocate.com
Muriel Stark, left, volunteer of the year 2016 with director Ruthann Dobek
Ruthann thanked all  volunteers for their dedication, time and energy on behalf of the Center. She said the Center could not provide its services and programs without them.   Ruthann also said that many volunteers support more than one program and many also volunteer at other organizations as well.
Ruthann requested volunteers to be ambassadors for  Center. She asked that we all be aware of new faces here or in our community – churches, synagogues or social networks – and welcome and encourage them to join us.  Our volunteers know that the secret to longevity is active involvement and physical fitness.
Volunteer of the year /Community partner of the year



Julie Washburn read the nominees for volunteer of the year:  Rita d'Entrement, Akemi Minami, Lydia Pearl, Fran Pechenic, Vera Sharma and Muriel Stark.   Muriel Stark is volunteer of the year for 2016.  Ruthann outlined how Muriel has volunteered and  her position as a Center ambassador as well as her "we'll get through it" attitude. In addition to a certificate, Muriel was also given a plant and chocolates.
Ruthann announced that Trader Joe's is our Community Partner of the year. She thanked the company for their weekly donation of flowers, produce and the Hawaiian luau and encouraged us to thank them when we are shopping.
Corey Choen, a Center volunteer and employee of Trader Joe's with director Ruthann Dobek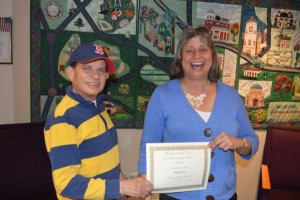 SHINE

SHINE (Serving Health Insurance Needs of Everyone) is administered by the Massachusetts Executive Office of Elder Affairs in partnership with councils on aging and other aging service access points. SHINE helps people on Medicare and others understand complex insurance options. SHINE volunteer counselors educate and provide unbiased help to choose an insurance program best for the individual. SHINE trains counselors in a two days/week for six weeks course. Meetings to get support and meet with other counselors occur monthly. Once certified, you will be assigned to work six hours per week in a senior center or other public setting.
Call Dorene Nemeth, MetroWest Regional SHINE Director: 781. 455. 7555, ext 202
Retirement Engagement Alternatives Program
The REAP program for Brookline seniors is designed for people who wish to remain engaged and active in the community while in retirement or partial retirement. The goal of this program is to enhance the retirement experience by linking participants with either part-time paid or volunteer work either in the community or at the Brookline Senior Center  itself.
The Center partners with other local organizations to offer fulfilling and interesting opportunities. These include, but are not limited to:
BrooklineCAN
Senior Community Service Employment Program
Brookline Adult and Community Education
Executive Office of Elder Affairs
Various Brookline Town Departments
In addition, opportunities exist for Tax Work-Off, and limited grant funded employment at the BSC for qualified Brookline residents.
What Does the REAP Program Provide:
The REAP program provides the following free services:
Individual, confidential and free consultation around skills and interests
Individual assistance with resume, cover letter and LinkedIn profile development or revision (Patricia Burns 617 730 2743 or pburns@brooklinema.gov)
On-going skills based workshops and training for employment seekers
Employer-employee matching service
Consultation and matching for participants seeking meaningful volunteer opportunities
On-going opportunities to network and explore avenues and options for self-fulfillment in the retirement years.
On-going Workshops and Trainings Include:
Wisdom Works Job Search Training
Your Age Advantage in the Workplace
Job Seekers Support Group
LinkedIn Basics
Resume Writing
Interviewing Techniques
Program Eligibility:
In order to receive service from the REAP program participants must meet the following criteria:
Brookline residence
Age 55 or 60 and above depending on the program
Enrollment:
Call 617 730 2767 or email Deidre at dwaxman@brooklinema.gov
$650 donated at Stock our shelves 3/22



This annual  event supports Brookline hunger initiatives – the Brookline Food Pantry, Meals on Wheels, and the Brookline Food Cooperative. Eighty attendees sampled a variety of cuisine donated by 15 Brookline restaurants, enjoyed live entertainment and won 17 donated raffle prizes. Senior Center staff and volunteers organized and implemented the event. The entrance fee was $5 with three non-perishable food items. Proceeds from this year's event ($650) and crates and bags of food equaling several hundred pounds were donated to the  organizations.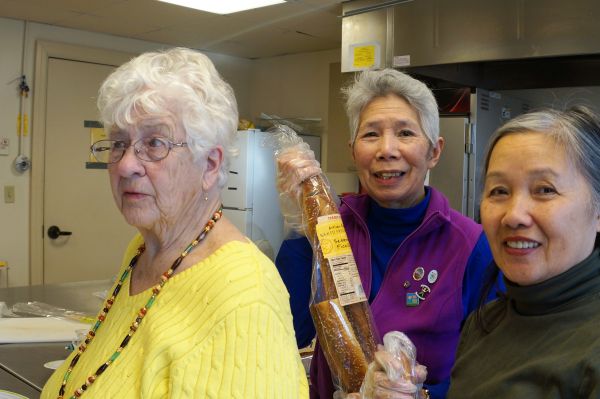 Mass Commission for the Blind
Help a visually impaired person by reading or shopping with them. No special skills needed. Call Kyle Robidoux, Director of Volunteer Support Services, Mass Commission for the Blind – 617. 926. 4312
Brookline Emergency Food Bank
The Brookline Emergency Food Bank needs donations of: instant coffee and tea, sugar, oil, flour, spices, pasta, canned tomatoes and sauce, canned soup, beans, vegetables, fruit (low salt and sugar) dry beans, health snacks for kids, granola bars, and fruit cups. They also need toiletries such as: shampoo, conditioner, moisturizer and sunscreen (not covered by SNAP).
Donations may be made at the Emergency Food Bank in St. Paul's Church, 15 St. Paul St. 617. 872. 3060