Volunteer
Emergency Food Bank Donations Needed
Toiletries:  shampoo, conditioner, moisturizer, sunscreen.  These items are not covered by food stamps
Food:  instant coffee and tea, sugar, oil, flour, spices.  Pasta, tomatoes, sauces.  Canned soup, beans, vegetables, fruit (low salt and no sugar).  Dry beans, fresh produce, healthy snacks for kids:  granola bars, seaweed and vegetable packs, fruit cup.
Donations may be made at Brookline's Emergency Food Bank in St. Paul's Church, 15 St. Paul St.  617. 872. 3060
Volunteers now
We are looking for new people.  Your contribution helps us expand our services.  Right now, we need help with shopping, delivering food distribution bags, going to the farmer's market, and working here Fridays for mailings.  Call Patricia Burns, our volunteer coordinator for an appointment:  617. 730. 2743   pburns@brooklinema.gov
SHINE Volunteer Counselors Needed
SHINE helps people on Medicare and others understand complex insurance options.  There is a need for volunteers to educate and provide unbiased help.  SHINE (Serving Health Insurance Needs of Everyone) counselors are trained and the next training starts in April and runs two days/week for six weeks.  Once you're certified, you'll work six hours/week meeting with clients in Senior Centers or other public settings.  You'll also attend monthly meetings where you'll get support and meet with other counselors.  Call Dorene Nemeth, MetroWest Regional SHINE director:  781. 455. 7555 x 202.   – – SHINE is administered by the Massachusetts Executive Office of Elder Affairs in partnership with councils on aging and aging services access points.
"One of our strengths is recruiting volunteers. We have 275, many of whom have worked with us for ten years or more. They donate the equivalent number of hours of 20 full-time people."
– – Ruthann Dobek

At our annual Volunteer Luncheon we recognize the selfless work of our volunteers without whom the Senior Center could not operate.
Our 2015 volunteer of the year is Jean Doherty (right) with director Ruthann Dobek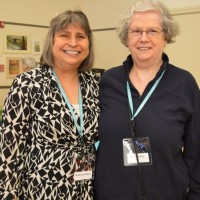 – – – – – – – – – – – – – – – – – – –
Volunteer with us:

Information and referral red tape cutter specialists, receptionist and greeter, mass mailings, gift cart; cultural events, trips and theatre organizers; weekend programs, computer lab, group leaders, games, exercise and fitness,
library, chorus, support groups, food distribution, kitchen
– – – – – – – – – – – – – – – – – – –
High school volunteers are available to help you with your grocery shopping. Call the coordinator to find our more about the SHOP program:       617. 730. 2743
Volunteers to read and shop
Help a visually impaired person by reading or shopping with them.  No special skills needed.  Call Kyle Robidoux, director of volunteer and support services, Mass Association of the Blind:  617. 926. 4312