Volunteering: Giving time, touching hearts
The Brookline Council on Aging and the Brookline Senior Center are happy to enlist new volunteers who can share their talents and program ideas.  – – Volunteer content written by Patricia Burns
April Opportunities
This month's opportunities include: conversation and refreshments for the Memory Café – 1:30-4:30 on the 4th Wednesday of each month, friendly visitors, Russian interpreter for the Food Commodity program for 3 morning hours on the 3rd Wednesday of each month, scanning in hundreds of photos of BSC events for use in slide shows at upcoming events, reformatting the resource guide into one Word document and co-leader and driver for the SOLEMATES walking program at Jamaica Pond on Friday mornings at 10.
New program; new opportunity



TRIPPS (Transportation Resources, Information, Planning, and Partnership for Seniors)
This new program provides education and support to Brookline residents aged 60+ looking for alternatives to driving due to age, ability or individual choice.We're currently seeking volunteers to serve as "Transportation Information Specialists". These volunteers help research and compile detailed information on transportation options for non-drivers. This information is collected for a resource guide, which will be available both online and in print.
We are also looking for volunteer "Transit Advisors" (TAs) who will help elders decide which transportation options to use when they're unable or choose not to drive. TAs will offer personalized support as seniors learn to use these new ways of getting around. For example, TAs might accompany elders on their first few trips on the T, on The Ride, or with a car sharing service. If you would like more information, please contact TRIPPS Program Director Kerri Ann Tester at 617 730 2644. Anyone interested in volunteering is invited to contact Volunteer Coordinator Patricia Burns at 617 730 2743
Quotes from current volunteers



"Thoroughly enjoyable and rewarding – lovely women & lots of fun. Look forward to coming each week." "Wonderful to be part of this committed group." "I enjoy working in the kitchen serving food & knowing more friends. It is a brand new experience for me." "Thankful for the opportunity to meet so many interesting people." "Wonderful to feel useful, help others and help myself feel fulfilled."
Your contributions would enable us to expand the high level of service and activities that are provided for all elders in Brookline. If you would like to actively pursue volunteer service, please make an appointment with Patricia, the Volunteer Coordinator (617 730 2743) for an opportunity to learn more about the Center and these and other opportunities where you might best use your time and talent/skills. We are always eager to hear new ideas and keep a list of volunteers for special events.
From director Ruthann Dobek:
"One of our strengths is recruiting volunteers. We have >310 volunteers from ages 12-96, many of whom have worked with us for ten years or more. These volunteers donate the equivalent number of hours of 20 full-time people."
Annual Volunteer Survey & File Audit
Check your mail! We have sent you the first of two important mailings. The first contained our annual volunteer survey and an updated comprehensive emergency procedure. The survey gives us valuable data for the BSC's annual report and will be used in continued fund raising so please fill it out and return it to Patricia. The second mailing will include any missing or very outdated forms from YOUR particular volunteer file. Both mailings have a self-addressed envelope to either mail or drop off for Patricia, the Volunteer Coordinator. Any questions, please contact her at 617. 730. 2743 or pburns@brooklinema.gov
Volunteer Luncheon
The annual volunteer luncheon  is April 13 at the Brookline Senior Center. It is a wonderful occasion complete with a delicious meal, entertainment, party favors and the announcement of the Volunteer of the Year. It also gives staff the opportunity to thank and celebrate all of our volunteers (now more than 300). Your RSVP is important. Please call 617 730 2778 to let us know whether you will attend
Volunteer of the year /Community partner of the year



Voice your opinion and nominate a volunteer! You are also invited to nominate an organization for the Community Partner Award. Submit your nominations and reason(s) for the nomination to Ruthann in writing (drop in her mailbox on the 2nd floor), by phone or voicemail at 617 730 2756 or by e-mail rdobek@brooklinema.gov. Please note that the winner is not selected by the number of votes received, but by the Volunteer Award Committee.
Brookline Senior Center volunteers in the news



Brookline Senior Center volunteers are featured in an article in the April issue of the fiftyplus advocate entitled Volunteering: A Work of Heart at the Brookline Senior Center. The article can be found at   www.fiftyplusadvocate.com
SHINE

SHINE (Serving Health Insurance Needs of Everyone) is administered by the Massachusetts Executive Office of Elder Affairs in partnership with councils on aging and other aging service access points. SHINE helps people on Medicare and others understand complex insurance options. SHINE volunteer counselors educate and provide unbiased help to choose an insurance program best for the individual. SHINE trains counselors in a two days/week for six weeks course. Meetings to get support and meet with other counselors occur monthly. Once certified, you will be assigned to work six hours per week in a senior center or other public setting.
Call Dorene Nemeth, MetroWest Regional SHINE Director: 781. 455. 7555, ext 202
$650 donated at Stock our shelves 3/22



This annual  event supports Brookline hunger initiatives – the Brookline Food Pantry, Meals on Wheels, and the Brookline Food Cooperative. Eighty attendees sampled a variety of cuisine donated by 15 Brookline restaurants, enjoyed live entertainment and won 17 donated raffle prizes. Senior Center staff and volunteers organized and implemented the event. The entrance fee was $5 with three non-perishable food items. Proceeds from this year's event ($650) and crates and bags of food equaling several hundred pounds were donated to the  organizations.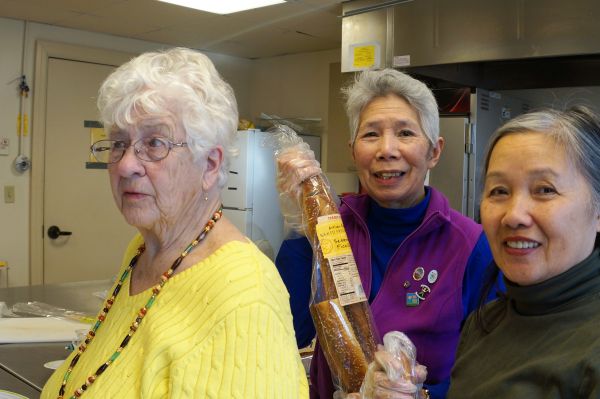 Mass Commission for the Blind
Help a visually impaired person by reading or shopping with them. No special skills needed. Call Kyle Robidoux, Director of Volunteer Support Services, Mass Commission for the Blind – 617. 926. 4312
Brookline Emergency Food Bank
The Brookline Emergency Food Bank needs donations of: instant coffee and tea, sugar, oil, flour, spices, pasta, canned tomatoes and sauce, canned soup, beans, vegetables, fruit (low salt and sugar) dry beans, health snacks for kids, granola bars, and fruit cups. They also need toiletries such as: shampoo, conditioner, moisturizer and sunscreen (not covered by SNAP).
Donations may be made at the Emergency Food Bank in St. Paul's Church, 15 St. Paul St. 617. 872. 3060