Honoring the wisdom that comes with age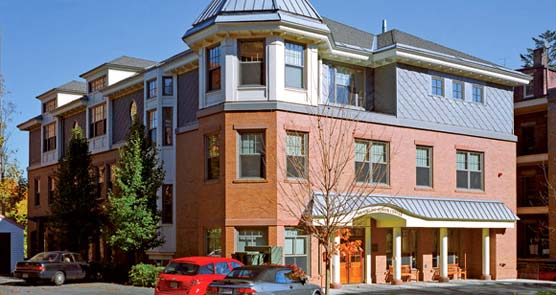 Ruthann Dobek, director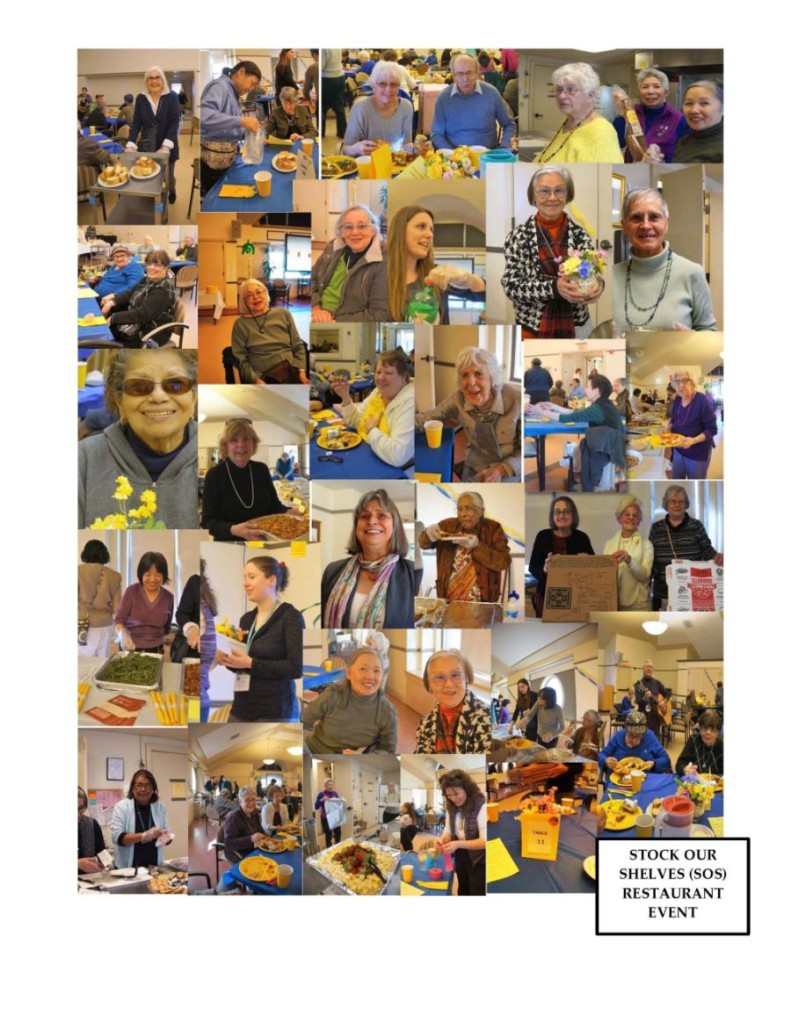 June brings the Farmer's Market.  Be here Thursday, June 9 at 2 for the Marie Lavine concert with the Winiker Band, vocalist Cindy Gale, and Neil Greene, pianist.  Wednesday, June 22 at 6 we're hosting the Public Health's 20th Annual Report Card on Health Care.  Michael Dukakis hosts celebrating 20 years of advocating for health care reform.  Sunday, June 5 at 3 the LGBT community celebrates The Silver Party with a dinner dance at the Brookline Holiday Inn, Beacon St.  We have some free tickets so please see me.
Welcome Emily Brenner, our new Zumba Gold instructor.  See more about her:  Emily's website
Farewell Mary Stevenson, our present Zumba Gold instructor who relocates to New York at end of summer.  We'll miss you and millions of thanks.
Whatever your interests, get to know us.  Stay connected with our programs and services.  We're here to help fill your days with creative activities and new friends whether it's exercising, volunteering or learning something new.  Our gym has new gear and great staff.   Stop in 8:30-4:30.   And take a hike, or dance, lift weights, walk, yoga.  For every minute you exercise, you add seven minutes to your life, so says Harvard School of Public Health.
Naming opportunities:  Donations of $1,000 are added to our Wall of Honor.  A donation of $10,000 brings naming rights for an office or the conference room.  For $25,000, naming option for our double classroom.  For $35,000, naming option for the fitness center. rdobek@brooklinema.gov    617. 730. 2756
Our concerts and movies are free.  Get transportation at subsidized rates:  the van runs every day.  Our staff and volunteers offer counseling and direct assistance with fuel, food stamps and income tax.  Also, we'll mail the paper edition of News and Events to you for $10/yr.

---
Screenings: blood pressure, podiatry, sugar

Barbara Westley is public health nurse for the Brookline Department of Health

Wednesday, June 8 – – Barbara Westley will do blood pressure screening at Sussman House, 50 Pleasant St, 1-2 pm
Thursday, June 16 – – Barbara Westley does blood pressure screening at the Senior Center, 9-10 am
Wednesday, June 22 – – Barbara Westley does blood pressure screening at O'Shea House, 61 Park St, 1-2 pm
Wednesday, June 15 – – The peer-led low vision group meets here at 1 pm
Thursday, June 16 – – Brookline Hearing Services will be here 1-2 pm for cleanings and counseling.  Batteries:  $5/pack.
Podiatry Clinic with Dr. John McLaughlin:  Call for an appointment for routine foot care, nails and callouses.  $30 now, $40 as of July.  617. 730. 2777
---
Get Organized, 6/1
Wednesday,  June 1 9:30-11:  meet Dr. Roberto Olivardia, PhD instructor of psychiatry at McLean Hospital.  He'll discuss Organizing for Life Management (ADD, collecting and letting go).  Also Lee Shuer and Bec Belofsky Shuer discuss In Pursuit of Life Less Cluttered (challenging attachment), 11:30 – 1 pm.  The Shuers are founders of Mutual Support Counseling.  Brookline Health Department, 11 Pierce St.  Register:  617. 730. 2770
---
Coolidge Corner Chorus Spring Concert, 6/4
The Coolidge Corner Community Chorus concert is June 4 at 8 pm at All Saints Parish, 1773 Beacon St.  Have a preview of the event at a dress rehearsal with the orchestra here Wednesday, May 25 6-9 pm.  The rehearsal is free and open to all.
---
Marie Lavine Memorial Concert, 6/9
The 13th Annual Marie Lavine Concert is Thursday, June 9 at 2 here featuring the Winiker Band with Cindy Gale on vocals from the Great American Song Book and Neil Green, pianist.  Dessert to follow. – – Underwritten by Eileen Solomon and Kathy Sue Lavine
---
Tracy Clark Duo in Concert, 6/15
Brookline resident and realtor Tracy Clark with Bonnie MacLeod in concert Wednesday, June 15 at 1 pm.
---
Modern Beading Workshop, 6/15
Join head beader Marge Harvey here Wednesday, June 15 at 1:30.  Beginners and experienced beaders will learn modern techniques using Soft Flex and crimps.  Bring:  beads, earring backs, crimps and a yard of Soft Flex.
---
Brookline Elks Barbecue, 6/18
It's our annual barbecue prepared by the Brookline Elks Lodge 866 Saturday, June 18 at 1 here.  Drinks and 'cue.  Reservations:  617. 730. 2770                           – – Sponsored by the Brookline Elks
---
International Day of Yoga, 6/21
Celebrate the international day/night of yoga Tuesday night, June 21, 7-8:30 at Cypress Field (across from the high school).  Local yoga teachers will do a class outside (in the gym if it rains).  Open to Brookline residents.  June 21 marks the summer solstice.  Yoga day is celebrated worldwide.  Information:  Lynne Karsten, Brookline Department of Health    lkarsten@brooklinema.gov  617. 730. 2336 – – Sponsored by Brookline on the Move, Brookline Department of Health, Brookline Recreation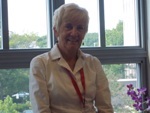 ---
Memory Connections Cafe, 6/22
Memory Connections Cafe Wednesday, June 22 1:30 – 3:30.  Please see more here
---
Elizabeth Pollock, president

May is a special month here.  We have spring, great weather and we honored the women in our lives:  mothers, grandmothers and all who make a difference to us.  If you would like to make a lasting tribute to someone, please contact Ruthann Dobek @ 617. 730. 2756.
This year our endowment fund donated $47,000 to the Center's operating budget.  Endowment ensures additional income to preserve our legacy.
I care deeply about the future of the Center and so I have included it in my estate planning. Endowments help ensure the future of the organization with reserves. We're hoping to double our endowment by 2018. You can contribute directly or put the Brookline Senior Center in your will.  Gifts of $1,000 will be added to our Wall of Honor.  Be sure to let us know you've included us in your will or trust so we can recognize you in our Ambassador Club.  ***   "I give $___ to Brookline Multi-Service Senior Center Corp (EIN 04-2719972), a Massachusetts non-profit corporation, located at 93 Winchester St, Brookline, MA 02445 to be used for general purposes." – – Consult your lawyer or financial advisor
---
News
– – –
– – – – – – – –
Newsletter
– – Find the newsletter at the library, Town Hall, banks, Stop & Shop, Star Market on Beacon and the Brookline Booksmith.  The best way to be sure you get one is to subscribe:   for $10 we'll mail it to you for a year.  If you're a retailer with space for a stack of newsletters, call us.  We deliver.  Be an advertiser:  Click for ad specs
Planned Giving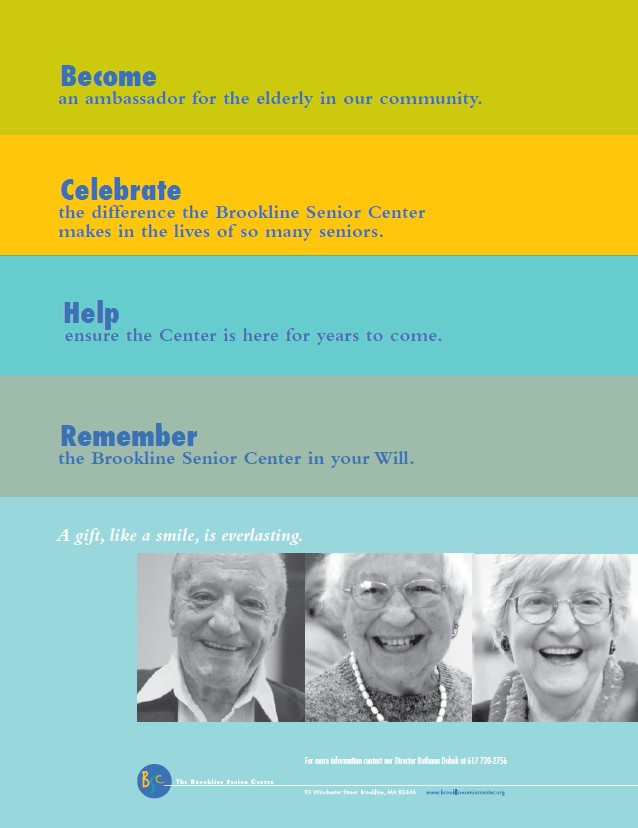 – – Consider leaving a legacy to the Senior Center.  Your bequest is a gift of hope.  Please call Ruthann Dobek, director:  617. 730. 2756 and help us secure a bright future
– – – –
Thank You, Brownies
Thanks to Brownie Troop 62558 and their leader, Kerri Ann Tester for donating Girl Scout cookies.  We have some every chance we get.
– – – – – –
Cathie Brenner Exhibit
Wish You Were Here:  Mixed media works by the artist in the gallery through June 30