Honoring the wisdom that comes with age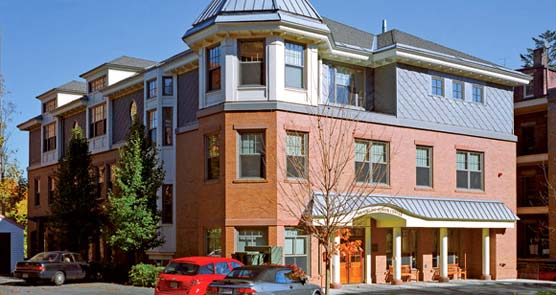 Ruthann Dobek, director
We are closed Monday, May 25 in honor of Memorial Day.
Our thanks go out to these merchants who made Benefit Bingo a success:
Patricia Burns, Massage Envy,  Osaka Japanese, Dok Bua, Paris Creperie, The Abbey, 16 Handles, JP Licks, Lineage, The Pear Tree, Pomodoro, Chef Chow's House, Starbucks, When Pigs Fly, Anna's Taqueria, Lynn Schuster from the Greater Medford Visiting Nurse Association, Cheryl Ann's Bakery, Goddard House

With Mother's Day, I think of the special women in my life, like my late grandmother, Bernice Dobek, who inspired me to become a social worker.  She lived downstairs and often took care of me when my parents worked.  I cherish memories:  in the garden, holding me close and sharing her lilacs.  She was a role model for aging in place.  In her memory I'm making a donation to the Center.  I'm also honoring my mother, Patricia Dobek and my mother-in-law Gladys Boghosian, who was one of our biggest fans.
May is also the time we say goodbye to our interns:  Blair Smith, Abigail Arwady, Rebecca Abelman and Suji Kim.  They contributed so much to our community and we wish them well.
Naming opportunities:  Donations of $1,000 are added to our Wall of Honor.  A donation of $10,000 brings naming rights for an office or the conference room.  For $25,000, naming option for our double classroom.  For $35,000, naming option for the fitness center. rdobek@brooklinema.gov    617. 730. 2756
Whatever your interests, get to know us and donate time and talent to make us the best center around.  Stay connected to programs and services we offer.  We're here to help you plan your days with creative activities and new friends.  We can help whether it's exercising, volunteering or learning something new.  Our gym has new gear and great staff.   Stop in 8:30-4:30 daily.   And take a hike, or dance, lift weights, walk, yoga.  For every minute you exercise, you add seven minutes to your life, so says Harvard School of Public Health.
Food Distribution         Tuesdays 2- 4 pm – – The selection of free produce and food varies.  All food is placed in inventory before any can be distributed.  Please bring a shopping bag.  This is a busy program that depends on volunteers.  If you can help, see Lydia Pearl here Tuesday morning.
We serve lunch.  Our concerts and movies are free.  Get transportation at subsidized rates:  the van runs every day.  Our staff and volunteers offer counseling and direct assistance with fuel, food stamps and income tax.  Also, we'll mail the paper edition of News and Events to you each month for $10/yr.

---
Jean Doherty, volunteer of the year
We honored all our volunteers at the annual luncheon April 15.  Shown here is 2015 volunteer of the year Jean Doherty (right) with director Ruthann Dobek.  Thanks to all Center volunteers; we couldn't do it without you.
---
Blood pressure screening, podiatry, hearing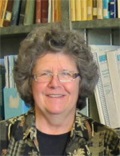 Barbara Westley is the public health nurse for the Brookline Health Department
Friday, May 29 – – Dr. John McLaughlin, podiatrist, is here from 9-noon.  15-minute sessions for routine foot care:  $30   Appointments needed:  617. 730. 2777
Thursday, May 21 – – Nurse Barbara Westley does blood pressure screening here 9-10 am
No screenings in May at the O'Shea House
Thursday, May 21 – – Staff from Brookline Hearing Services will be here 1-2 pm for free hearing aid cleaning, maintenance  and counseling.  Batteries:  $5
---
Town Meeting, 5/26
Annual Town Meeting begins Tuesday, May 26 at 7 in the high school auditorium at 115 Greenough St.  Only Town Meeting members may vote and make motions however the meetings are open.  Sessions are broadcast live via Brookline Interactive Group TV.
---
Project Bread Food Source Hotline
To find out more about SNAP and food stamps, there is a statewide free hotline:  800. 645. 8333 and press 2.  You'll be connected to a counselor who will talk about eligibility and start the application.
---
Volunteers to read and shop
Help a visually impaired person by reading or shopping with them.  No special skills needed.  Call Kyle Robidoux, director of volunteer and support services, Mass Association of the Blind:  617. 926. 4312
---
Poetry Reading, 6/3
Our poetry group, Seasoned Voices, has its annual reading of original work Wednesday, June 3 at 7 at Brookline Booksmith, 279 Harvard St.
---
Bridge Fridays
Jan Davidson, bridge coordinator, welcomes players Fridays at 9 am.  Join us for revolving games.  Call 617. 730. 2760
---
6/20, 7/18 LGBT Saturday Lunch
Goddard House, in partnership with the Council on Aging, ETHOS, LGBT Aging Project and the Boston Elderly Commission, announces the brunch bunch that will meet the third Saturday of each month at Goddard House from 11- 1pm.  RSVP to Zoraida at meals@ethocare.org  and 617. 522. 6700, x 306
---
Chess Thursdays
Come play Thursdays, 1-3 pm.  Bring your own board or use ours.   Julie Washburn:  617 730.2760
---
Betsy Pollock, president
May is a special month with spring and some of the most beautiful days and nights.  We also honor the women in our lives, those who made a difference.  Tributes are welcome.
I care deeply about the future of the Center and so I have included the Center in my estate planning. Endowments help ensure the future of the organization with income stream and reserves. It took 11 years to reach the first million. We're hoping to double our endowment by 2018. You can contribute directly or put the Brookline Senior Center in your will.  Gifts of $1,000 will be added to our Wall of Honor.  Be sure to let us know you've included us in your will or trust so we can recognize you in our Ambassador Club.  ***
People turn to us for fuel assistance, hot lunch, fitness and more.   With your help we can go on providing the community support they depend on.
*** Suggested bequest:  "I give $___ to Brookline Multi-Service Senior Center Corp (EIN 04-2719972), a Massachusetts non-profit corporation, located at 93 Winchester St, Brookline, MA 02445 to be used for general purposes." – – Consult with your lawyer or financial advisor
Betsy Pollock
---
News
"Jim's Shirt," by Nancy Marks – – now on display in the 93 Gallery through June 26.  See also works by her students:  "Art for Pleasure."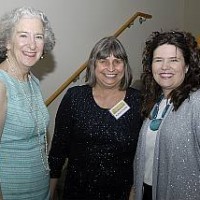 Annual Benefit:  Betsy Pollock (left), Ruthann Dobek, Julie Washburn
– – You can find copies of the newsletter at the library, Town Hall, banks, Stop & Shop, Star Market on Beacon and the Brookline Booksmith.  The best way to be sure you get one is to subscribe:   for $10 we'll mail it to you for a year.  If you're a retailer with space for a stack of newsletters, call us.  We deliver.
– – – – – – – – – – – – – – – – – – – –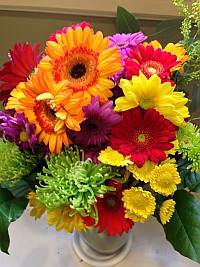 – – Brookline Trader Joe's sent us flowers!  Each week you brighten our desks and office.  Millions of thanks
– – – – – – – – – – – – – – – – – – – –
Planned Giving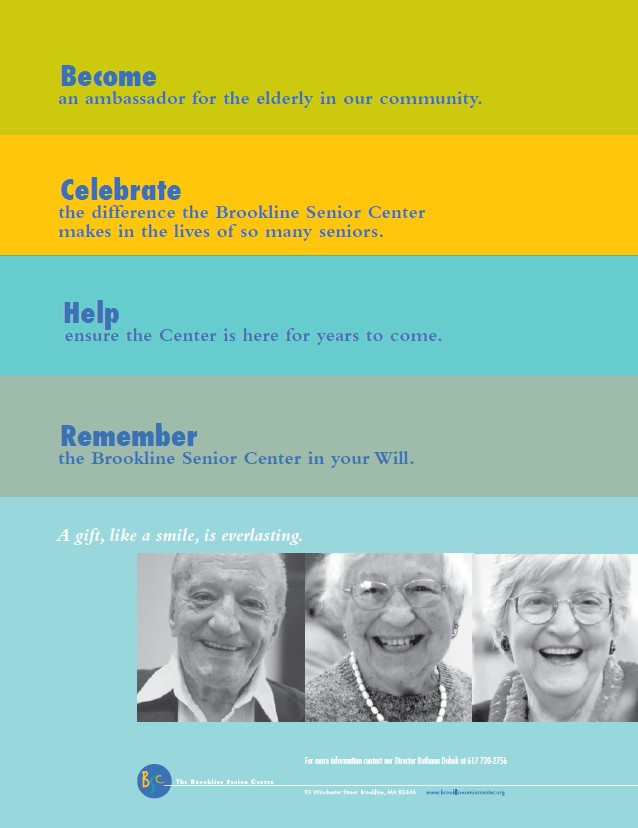 – – Consider leaving a legacy to the Senior Center.  Your bequest is a gift of hope.  Please call Ruthann Dobek, director:  617. 730. 2756 and help us secure a bright future