Honoring the wisdom that comes with age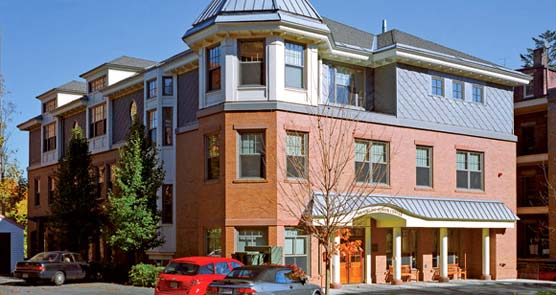 Ruthann Dobek, director
Holiday Toy Drive  Brookline sponsors a holiday toy drive.  Bring new toys, not wrapped, here by December 17.  Gifts are also being collected in the mailroom at Town Hall, at the Health Department and at the Police Department.  Info:  617. 730. 2190, 617. 730. 2186

This is my season of gratitude.  I'm grateful for
Volunteers – nearly 300 and here every day for us.  We couldn't do it without them.
Board members – advocates in rain, snow, cold and against the ageists.  They are the reason we have funding and programs.
Staff – a strong team of devoted people who work to make the community strong and vibrant and independent.  Say thank you.
Services – the envy of other communities.  We provide dignity and independence, our vision for more than 50 years.
You – Brookline seniors, who make this job worthwhile with your wisdom, creativity and energy.  Thank you.
Sponsors – Thank you to all who supported our autumn benefit.  Your donations enable the van the operate every day.  Thank you.
Spirit of Kindness – People who come here share this.  We care about each other.  Joy and heartache are part of our community.  We support each other and stay connected.
BETSY POLLACK – for dancing with the Brookline stars
We are closed Monday, December 26 for Christmas
Volunteers needed:  Generations, Inc is looking for older adults to help kindergarten through second grade students with their reading.  It's twice a week at either the Winship School, Brighton or Lydon School, West Roxbury.  Meet us here, Friday, December 9 from 1-2:30 to find out more.  All are welcome.  617. 423. 6633  
Council on Aging meets Wednesday, December 14 at 1.  Meet Lisa Weber,  consumer programs coordinator at the Office of Consumer Affairs and Business Regulation who will discuss the state automotive lemon law
Knit for the Community:  Make hats, gloves and scarves (or purchase new) for 75 soup kitchen patrons in Brighton.  Dotty Bell is accepting donations before December 16.
Whatever your interests, get to know us.  Stay connected with our programs and services.  We're here to help fill your days with creative activities and new friends whether it's exercising, volunteering or learning something new.  Our gym has new gear and great staff.   Stop in 8:30-4:30.   And take a hike, or dance, lift weights, walk, yoga.  For every minute you exercise, you add seven minutes to your life, so says Harvard School of Public Health.
What's the difference between the Council on Aging and the Senior Center?  "The Council is a municipal department of the Town of Brookline.  The Senior Center is the building.  And then there's the Brookline Multi-Service Center Corporation.  That's our official name for the non-profit that raises funds.  The official name is unwieldy so we ask you to make checks out to Brookline Senior Center.  And, the Town's budget for us covers 70% of our total costs.  The non-profit raises money to pay for the rest.  30% of our budget comes from you.  In this fiscal year, which ended June 30, private donations were $241,000.  Here's how we spent part of it: 
– – – $33,000 to the Fitness Program classes for 368 participants and scholarships
– – – $59,000 for a new van:  $27,000 for the driver and gas for 2,987 rides
– – – $27,000 for programs, supplies and food
---
Health screenings: blood, podiatry, low vision

Barbara Westley, public health nurse, Brookline Public Health Department
Medicare Open Enrllment ends December 7.  Some plans have made changes to premiums, deductibles, copays and covered drugs.  All Medicare drug plans and Advantage plans like HMOs and PPOs have network pharmacies.  Use a preferred shop.  Or buy by mail order.  For changes, call  800. MEDICARE
Wednesday, December 7 – – Blood pressure screening with Barbara Westley, RN at the Health Department, 11 Pierce St 2-3 pm
Thursday, December 15 – – Staff from Brookline Hearing Services here from 1-2 pm for free hearing aid cleaning and counseling, no charge.  Batteries:  $5/pack.
Wednesday, December 21 – – The Low Vision Group, peer-led, meets at 1
Thursday, December 22 – – Blood pressure screening with Barbara Westley, RN here 9-10 am
Wednesday, December 28 – – Blood pressure screening with Barbara Westley, RN at the O'Shea House, 61 Park St, 1-2 pm
Podiatry Clinic – – Routine foot care with Dr. John McLaughlin here.  Cost: $40.  Call for appointments:  617. 730. 2777
---
Elks Holiday Dinner, 12/3
Join us for the annual Elks holiday celebration Saturday, December 3 at 1.  Presented by the Brookline Elks Lodge 886 along with a holiday tree.  Reservations needed for this turkey with everything dinner:  617. 730. 2770.  Thanks, Elks, we couldn't do it without you.
---
Let's Talk about Salt, 12/5
Join Meghan Ostrander, registered dietician at Springwell, for a discussion about salt.  How much?  Why?  Join us for lunch first and reserve by 10:30 December 2.  Suggested lunch donation: $2    The talk is free.   Reserve:  617. 730. 2747
---
Zumba Gold, Thursdays
Join instructor Emily Brenner Thursdays in December from 1:30 – 2:30 for Zumba gold.  This month drop-in days:  December 1, December 15 and December 22.  Cost: $7/class,  free for Brookline Housing Authority residents.  Winter session starts in January – – Sponsored by the Brookline Multi-Service Senior Center Corp
---
Brookline Music School Concert, 12/7
Wednesday, December 7 at 1hear Brian Friedland, piano faculty on piano and Ben Whiting on sax, one of a series of concerts from the Brookline Music School  http://www.bmsmusic.org/about/
---
Lovin' Spoonfuls Plenty Workshop, 12/8
Co-owner of Mei Mei Street Kitchen, Irene Li is here for a cooking demonstration.  Irene will offer ideas for cooking great food on a limited budget.  The workshop is designed to highlight whole ingredients.  Open to all.  Register:  617. 730. 2770  – – Sponsored in partnership with Lovin' Spoonfuls and the Brookline Senior Center
---
Tripps Trip, 12/9
Our next outing is December 9 when we'll visit, by T,  the Target store at Fenway with TRIPPS leader Barbara Kean.  We leave at 10 and return about 1 pm.  Shopping and the cafe.  Free.  If you or a senior you know in Brookline or Newton would like to come, call 617. 730. 2644 or register online!
Please share  with friends  to help spread the word about adventures available to seniors via the MBTA  and Senior Reduced Fare CharlieCards.
---
Concert by 3AM, 12/12
Monday, December 12 at 1 we welcome 3AM, a band that plays folk, country and rock on guitar, banjo and bass.
---
Holiday Concert, 12/16
Join us Friday, December 16 at 10 am for the senior chorus holiday concert.  We will present a check from the proceeds of the holiday craft fair in November.  A donation to Hearth, Inc will also be made.  We raised $4,000 this year.  Thank you to the crafters, volunteers, our donors (see right) and customers who made the event a success.
---
Elizabeth Pollock, president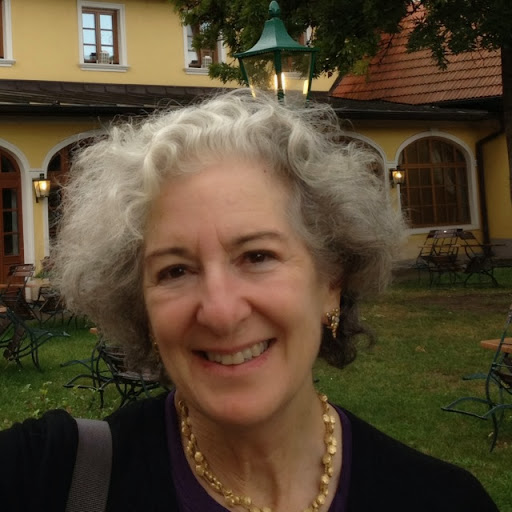 Holiday Toy Drive  Brookline sponsors a holiday toy drive.  Bring new toys, not wrapped, here by December 17.  Gifts are also collected in the mailroom at Town Hall, at the Health Department and at the Police Department.  Info:  617. 730. 2190
We thank everyone who participated in our autumn benefit.  Special thanks to diamond sponsors Beth Israel Deaconess Medical Center and Michael Merrill.  As well, thank you to supporters who donated tickets.  The benefit supports programs and transportation services.  As Thanksgiving nears, I am reminded of how many give time and money to help Brookline seniors live with dignity and respect.  Thank you.
"Exercise is the only thing that helps everything associated with aging," says Janice Schwartz, MD, professor of medicine at UC, San Francisco.  Look for better physical health and memory.   We hope you'll look into our fitness center and ping pong program.  Our fiscal year ends June 30.  If you can, help us with scholarships to the fitness center.  We're grateful to Bay State Federal Savings Charitable Foundation for their donation with much appreciation.
This year our endowment fund donated $47,000 to the Center's operating budget.  Endowment ensures additional income to preserve our legacy.
I care deeply about the future of the Center and so I have included it in my estate planning. Endowments help ensure the future of the organization with reserves. We're hoping to double our endowment by 2018. You can contribute directly or put the Brookline Senior Center in your will.  Gifts of $1,000 will be added to our Wall of Honor.  Be sure to let us know you've included us in your will or trust so we can recognize you in our Ambassador Club.  ***   "I give $___ to Brookline Multi-Service Senior Center Corp (EIN 04-2719972), a Massachusetts non-profit corporation, located at 93 Winchester St, Brookline, MA 02445 to be used for general purposes." – – Consult your lawyer or financial advisor
---
News


Holiday Craft Fair Thanks
Thank you  for their donations.  We couldn't do it without you:  Albert's Flowers, Allandale Farm, Bodyscapes Fitness, Brookline Grooming & Pet Supplies, Brookline Growers, Dok Bua, Dunkin' Donuts in Allston, Edible Arrangements, Fire Opal, Focal Point Opticians, Hello Caroline Clothing, Hops N Scotch, KaBloom, Kolbo Judaica, Mattei Galleria, Michael's Deli, Osaka Japanese, Otto's Pizza, Pizzeria Dante, Serenade Chocolatier, Shiki Sichuan Gourmet, Starbucks at Coolidge Corner, The Spa, T. Anthony's Pizza, Trader Joe's, The Uncommon Yarn 4A Coffee,Aborn True Value, Anna's Taqueria, Basil Rice, Brookline Booksmith, Brothers Restaurant, Coolidge Corner Theatre, Corrib Pub, Marriott Courtyard, Dorado Tacos, JP Licks, Mint Julep, Paris Creperie, Party Favors, The Pear Tree, Shanghai Jade, Simons Shoes, Sol Azteca, Temptations Cafe, When Pigs Fly Bakery, Zaftigs

– – – – – – – –
Artist Gary Chen gussies the van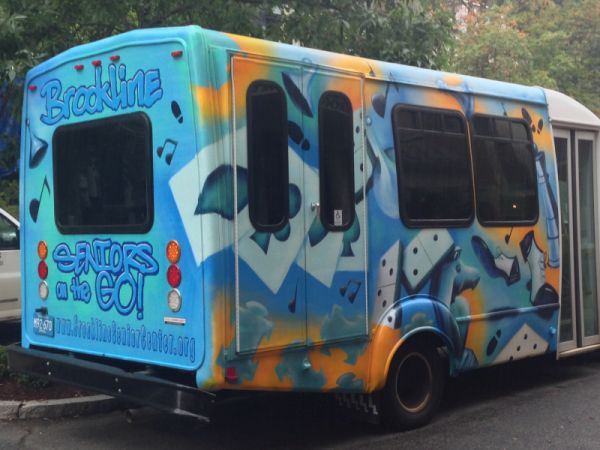 photo by Mary Nguyen
Thanks a million, Artists for Humanity!   
– – – – – – – –
Newsletter
– – Find the newsletter at the library, Town Hall, banks, Stop & Shop, Star Market on Beacon and the Brookline Booksmith.  The best way to be sure you get one is to subscribe:   for $10 we'll mail it to you for a year.  If you're a retailer with space for a stack of newsletters, call us.  We deliver.  Be an advertiser:  Click for ad specs
Planned Giving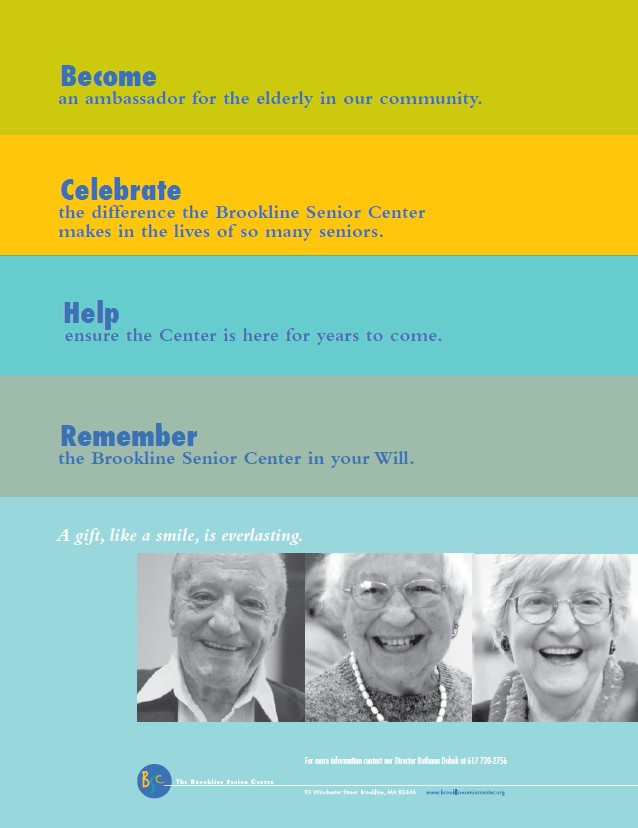 – – Consider leaving a legacy to the Senior Center.  Your bequest is a gift of hope.  Please call Ruthann Dobek, director:  617. 730. 2756 and help us secure a bright future
– –
Ginny Zanger Exhibit
Duneshack Dreams:  Monotypes by Ginny Zanger
through December 29
Gallery 93 is open Monday-Friday  8:30-5 pm
– –