Honoring the wisdom that comes with age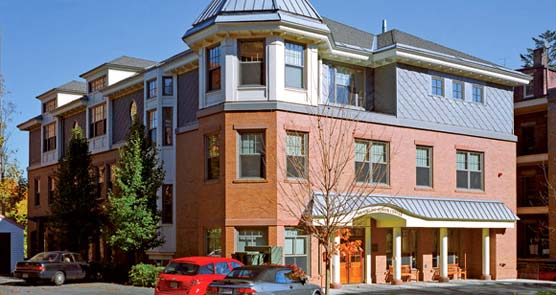 Ruthann Dobek, director
We are closed Thursday, December 25 for Christmas.  We are open every other weekday in December.
- – - – - – - – - – - – - – - – - – - – - – - – - – - -
November is a month of gratitude for me.  I'm grateful for:
Volunteers – 300 strong and here for us every day
Board members – They're the reason we have funding
Staff – Our team of devoted people who work to keep seniors independent.  Stop in and say thanks
Services – Modestly speaking, other towns envy our programs
You – You make this job worthwhile with your wisdom, creativity and energy
Sponsors – Thank you to all who supported our 13th Annual Autumn Benefit
Kindness – People who come here share their kindness.  The joys and heartaches unite us and help us stay connected
- – - – - – - – - – - – - – -
If you were unable to join us for Brookline's Dancing With the Stars and would like to support the event, please make checks payable to "Rotary District 7910 Charity Fund" and write "Jerry Billow – Brookline Senior Center" on the memo line.  Mail to:  Rotary Club of Brookline, PO Box 136, Brookline, MA  02446    Thank you
- – - – - – - – - – - – - – - – - – - -
FINAL FLU CLINIC:
Thursday, December 4, Brookline Health Department, 11 Pierce St, 4-6 pm       All Brookline residents welcome

- – - – - – - – - – - – - – - – - -
Seasons greetings!  This is a great way to stay connected to programs and services we offer.  Come out and join us.  As well, we will mail you the paper edition of News and Events each month for $10/yr.      We offer free bread and produce every Tuesday, 2-4 pm.  Lunch is available weekdays.  Our concerts and movies are free.  Transportation is available at subsidized rates.  Our staff and volunteers offer counseling and direct assistance with fuel, food stamps and income tax.
---
Elks Holiday Dinner, 12/6
Join us Saturday, December 6 at 1 pm for our annual holiday turkey dinner and Christmas tree presented by the Brookline Elks Lodge 886.  We are grateful for their generosity  and appreciate their kindness all year round.   Reservations needed:  617. 730. 2770     

---
Alice in Wonderland, 12/8
She's here, Alice herself, Monday, December 8, 3:30-4:30.  This is the musical version of her story done by the Devotion School Extended Day Program.  RSVP:  617. 730. 2770
---
Dance Party, 12/11
Thursday, December 11, 6:30 – 8:30, join us here for a dance party.  DJ Tommy Bahama plays tunes from the '50s, '60s and '70s.  Light refreshments.  This is a neighborhood event.   Residents of 100 Centre, 112 Centre and 1550 Beacon Street can sign up in their buildings.  Everyone else, please register:  617. 730. 2770    – - This event is sponsored by the Brookline Senior Center and Centre Communities of Brookline
---
Jean Kramer Memory Party, 12/13
The family of Jean Kramer will hold a memory party here Saturday, December 12, 3-6 pm
---
Senior Chorus Concert, 12/19
Join us Friday, December 19 at 10 am for a holiday concert by the Senior Chorus.   Prior to the event, there will be a check presentation from the annual craft fair.  Thanks all crafters and volunteers who made it possible.  And thank you to individuals and businesses for your donations.
---
Party like it's 2015, 12/29
We're having a party Monday, December 29, our annual New Year's bash.  Join us starting at 2 pm.  At 3,  entertainment by pianist and singer Arlene Bailey Lucas.  Food and drink to follow.  RSVP :  617. 730. 2770
---
Van and Bus Schedule
There is no bus service December 26, 29, 30 and 31 and January 2.  Recorded message:  617. 730. 2750
---
Thank you: Autumn Benefit Sponsors (as of 11/1)
Diamond:  $2,500
Beth Israel Deaconess Medical Center
Chou Chou and Michael Merrill
Ruby:  $1,500
Bay State Federal Savings Charitable Foundation, Goddard House Assisted Living, Hamilton Company:  Maura and Harold Brown, Chobee Hoy, Shulamit Kahn and Kevin Lang, Betsy Pollock, Suzanne Salamon and Alan Einhorn, Winnie and Richard Rubino
Sapphire:  $1,000
Laurde and Elias Audy:  Cypress Automart
Emerald:  $500
Atkin Associates LLC, Doris Toby Axelrod and Lawrence Marks, Bank of Canton, Center Communities of Brookline/Hebrew Senior Life, Coolidge House, Golden Living Centers/Heathwood, Margie and Rev. George Chapman, Patricia Dobek, Ruthann Dobek and Glenn Boghosian, Sidney Gelb, Deb Goldberg, HouseWorks, Jewish Family & Children's Service, The Move Maven, Providence House Senior Living, Ruth Kertzer Seidman and Aaron Seidman, Wade Horowitz LaPointe LLC, Sonia and William Wong
Topaz:  $300
Anonymous (3), Carla and Dick Benka, Brookline Bank, Brookline Hearing Services, Brookline Municipal Credit Union, Carol and Frank Caro, Nancy Daly and Kevin Cavanaugh, Helen Charlupski, Marilyn and Andre Danesh, Betsy and Dennis DeWitt, Emilie Drooker, Elder Achievers, Thomas Faulhaber, Doris and Saul Feldman, Demee Gamboulos and Kenneth Goldstein, Epoch Senior Healthcare of Chestnut Hill, Global Partners and Alliance Energy, Marcia and Robert Heist, Helen and Rudy Kass, Home Instead Senior Care,  Nancy and Harry Johnson
Helen and Rudy Kass, Jean and Robert Kramer, Alberta and Roger Lipson, V. Celia Lascarides-Manley, Levine/Stanetsky Memorial Chapels, Corrine Long, So Hing Mak, Sylvia and Ralph Memolo, Cecily and Alan Morse, Mount Pleasant Home, Lucy and Dick Robb, Enid Shapiro, Robert Sperber, Jean and Peter Stringham, Roberta Winitzer, Christina Wolf and John Bassett, Leroy Neuberg, Wade Horowitz LaPointe LLC, Ada and William White, Phyllis Baker, Beverly Gleason, Martha Sue Turnbull, Mady and Bruce Donoff, John Hull, Ellen Ziskind, Beatrice Telegen, Elizabeth Buonaugurio, Paula Gardner, Mary Ames, Paula and Norman Menyuk, Helen and How Wong, John Carrier, John Backman, Adele Pike, Frances Chaikin, Harriet and Allan Sutfin
---
Podiatry, Blood Pressure Screening
Barbara Westley
Wednesday, November 26 – -  Barbara Westley, Brookline Public Health Nurse, blood pressure screening at O'Shea House    (Call to confirm:  617. 730. 2300)
Wednesday, December 3 – - Barbara Westley, Brookline Public Health Nurse, will do blood pressure screening at 2pm at the Health Department on Pierce St
Thursday, December 4 – - The nurse from the Greater Medford Visiting Nurse Association will be here at 11 for routine blood pressure screening and health questions.  Information:  781. 396. 2633
Friday, December 5 and Friday, December 19 – - Podiatry Clinic from 9-12 noon.  Dr. John Laughlin will see you here for a 15-minute session for routine foot care.    $30   Appointments:  617. 730. 2777
Wednesday, December 10 – -  Barbara Westley, Brookline Public Health Nurse, will do blood pressure screening 1-2 pm at Sussman House, 50 Pleasant St
Thursday, December 18 – -  Barbara Westley, Brookline Public Health Nurse, will do blood pressure screening here 9-10 am
No screenings at O'Shea House in December
---
Betsy Pollock, president
To everyone who attended or volunteered, you made the evening a wonderful time.  To our sponsors:  thank you for caring.  Special thanks to diamond sponsors, Beth Israel Deaconess Medical Center,  Chou Chou and Michael Merrill.  And thanks to those who donated their tickets to others.  Money that's raised by the benefit supports programs and services to help the most needy with fuel assistance, emergency resources and SNAP, the Supplemental Nutrition Assistance Program that helps stretch food dollars with food stamps. ( If you need help, please call Sonia Wong:  617. 730. 2774)
Our endowment is now $1 million. Endowments help ensure the future of the organization with income stream and reserves. It took 11 years to reach the first million. We're hoping to double our endowment by 2018. You can contribute directly or put the Brookline Senior Center in your will.  Gifts of $1,000 will be added to our Wall of Honor.
Last winter we launched our first major renovation since the building was built:  renovating 2,500 square feet in our four-story building.  We have two new classrooms, three new offices, a conference room,  and we moved the fitness center from the basement to the sunny second floor.  It's fantastic.
You know people turn to us for fuel assistance, hot lunch, fitness and more.   With your support we can go on providing the community support you depend on.  Please use the Paypal button above.
---
News
You can find copies of the newsletter at the library, Town Hall, banks, Stop & Shop and the Brookline Booksmith.  The best way to be sure you get one is to subscribe:   for $10 we'll mail it to you for a year.  If you're a retailer with space for a stack of newsletters, call us.  We deliver.
Planned Giving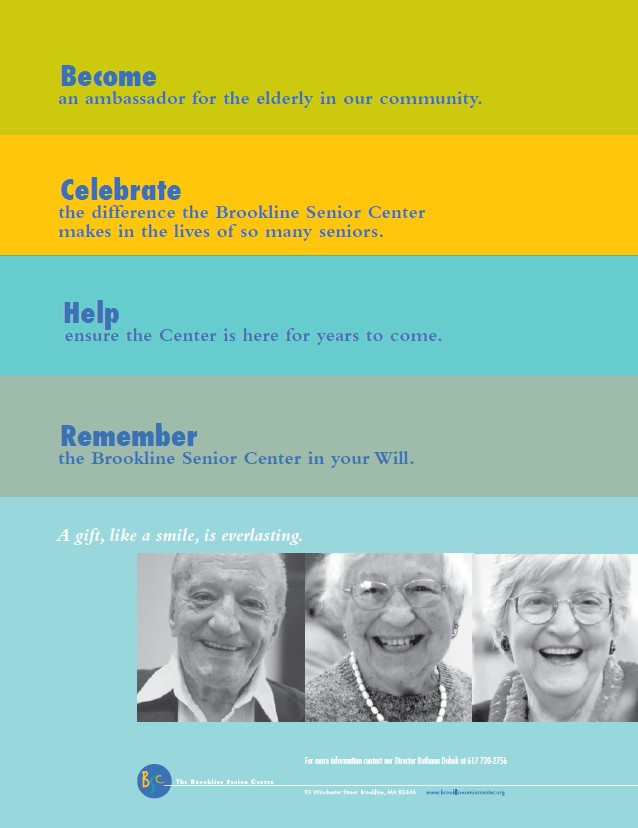 Consider leaving a legacy to the Senior Center.  Your bequest is a gift of hope.  Please call Ruthann Dobek, director:  617. 730. 2756 to help us secure a bright future.