Honoring the wisdom that comes with age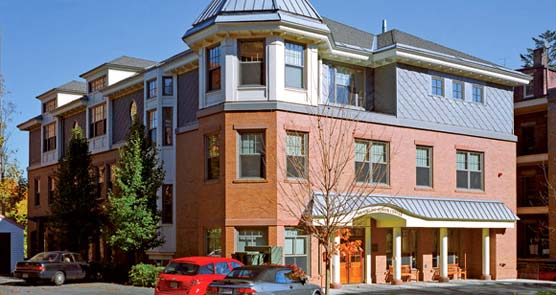 Ruthann Dobek, director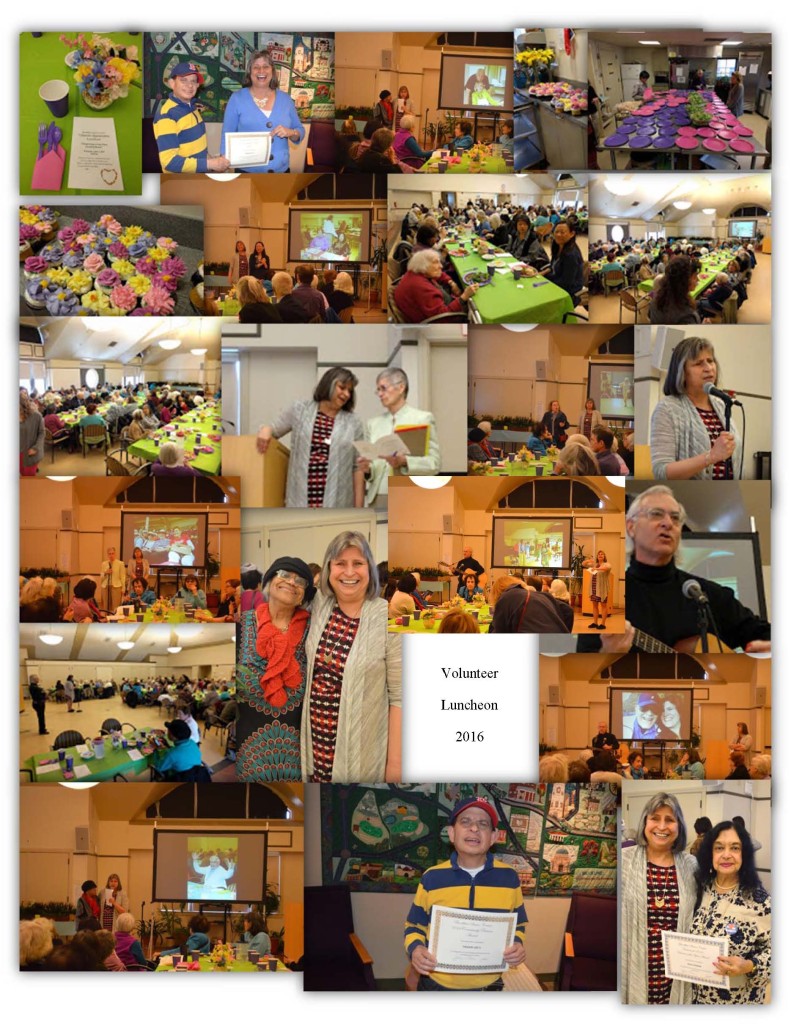 – – Collage by Maureen Cosgrove-Deery, newsletter editor

Thanks to state legislators who worked to increase our funding.  We will get $10/person thanks to advocates Frank Smizik, Jeffrey Sanchez, Michael Moran, Ed Coppinger and Cynthia Creem.
AUGUST is a time for vacations and a slower pace, but not here.  We have most of our regular programs and we're air conditioned.  Join us for dance caliente Wednesday, August 10 at 2, Springwell's BBQ Tuesday, August 16 and the genius of George Gershwin Monday, August 22 at 1.  The nominating committee of the Council on Aging meets Wednesday, August 10 at 1 to recommend new members.  (Regular meeting of the Council is Wednesday, September 14.)  If you would like to serve, contact Ruthann:  rdobek@brooklinema.gov                
Welcome Emily Brenner, our new Zumba Gold instructor in the fall.  See more about her:  Emily's website
Almost farewell but not yet Mary Stevenson, our present Zumba Gold instructor who relocates to New York at end of summer.  We'll miss you and millions of thanks.  Meantime we'll be working up a sweat with you Thursday afternoons
Wednesday, October 26 is our 15th Annual Benefit.  We will honor Dr. Alan Balsam, director of Brookline Public Health, for his commitment to health and elder services.  Beth Israel Deaconess Medical Center is a diamond sponsor.  We need sponsorship from you and your organization to maintain our programs.  Let us hear from you.
Whatever your interests, get to know us.  Stay connected with our programs and services.  We're here to help fill your days with creative activities and new friends whether it's exercising, volunteering or learning something new.  Our gym has new gear and great staff.   Stop in 8:30-4:30.   And take a hike, or dance, lift weights, walk, yoga.  For every minute you exercise, you add seven minutes to your life, so says Harvard School of Public Health.
Naming opportunities:  Donations of $1,000 are added to our Wall of Honor.  A donation of $10,000 brings naming rights for an office or the conference room.  For $25,000, naming option for our double classroom.  For $35,000, naming option for the fitness center. rdobek@brooklinema.gov    617. 730. 2756
Our concerts and movies are free.  Get transportation at subsidized rates:  the van runs every day.  Our staff and volunteers offer counseling and direct assistance with fuel, food stamps and income tax.  Also, we'll mail the paper edition of News and Events to you for $10/yr.

---
Screenings: blood pressure, podiatry, sugar

Barbara Westley is public health nurse for the Brookline Department of Health

Wednesday, August 3 – – Blood pressure screening with Barbara Westley at the health department, Pierce St, 2-3 pm
Wednesday, August 17 – – Peer-led support group for low vision  at 1 pm
Thursday, August 18 – – Blood pressure screening with Barbara Westley here at the Center, 9-10 am
Thursday, August 18 – – Brookline Hearing Services staff is here 1-2 pm for routine hearing aid cleaning and counseling.  No charge.  Batteries: $5/pack.
Wednesday, August 24 – – Blood pressure screening with Barbara Westley at the O'Shea House, 61 Park St, 1- 2 pm
Thursday, September 1 – – Lynn Schuster, RN, Greater Medford Visiting Nurse Association,  returns at 11 am here for Ask a Nurse.
Podiatry Clinic with Dr. John McLaughlin:  Call for an appointment for routine foot care.  $40   617. 730. 2777
---
Dance Caliente, 8/10
Eileen Herman-Haase and Raul Nieves of Dance Caliente return Wednesday, August 10 at 2 with a ballroom performance of "Dancing Through the Decades, part 2."  Costumes, stories and lessons.   Reservations:  617. 730. 2770 – – Supported in part by Brookline Commission for the Arts and Mass Cultural Council.
---
Free Fridays
Free cultural attractions in Massachusetts is part of the The Highland Street Foundation's Free Fun Fridays program.  It offers free admission to 80 major cultural attractions through August 26.
July 29
John F. Kennedy Presidential Library & Museum
Commonwealth Museum
Battleship Cove
Marine Museum at Fall River
Sandwich Glass Museum
Nantucket Whaling Museum
Tower Hill Botanic Garden
Commonwealth Shakespeare Company
August 5
Harvard Museum of Natural History
Old State House
Greenway Carousel
Springfield Museums
Historic Deerfield
Hancock Shaker Village
The Old Manse, The Trustees
Worcester Historical Museum
August 12
MIT Museum
Museum of the NCAAA
Concord Museum
Garden in the Woods
Mahaiwe Performing Arts Center
Naumkeag, the Trustees
Emily Dickinson Museum
Metropolitan Waterworks Museum
August 19
Institute of Contemporary Art/Boston
USS Constitution Museum
The Discovery Museums
EcoTarium
Children's Museum of Greater Fall River
New England Historic Genealogical Society
Fuller Craft Museum
Griffin Photography Museum
August 26
Franklin Park Zoo
Old Sturbridge Village
Freedom Trail Foundation
Museum of African American History
Norman Rockwell Museum
Berkshire Museum
Ventfort Hall Mansion and Gilded Age Museum
Cape Cod Museum of Natural History
---
BrooklineCAN Annual Meeting, 9/15
BrooklineCAN annual meeting and expo is Thursday, September 15, 5-7 pm here.  Discussion:  housing options for seniors.
---
Quilt Raffle, 11/5
Buy tickets for the maple leaf quilt raffle Saturday, November 5.  It's king-sized and handmade by the Brookline Bees.  $1 tickets at the Gift Cart or the Council on Aging Office, second floor.  View it in the coffee lounge on the first floor.
---
Solemates Fridays
Solemates takes walks Fridays at 10.  Meet here and we drive to Jamaica Pond for a walk.  Register:  Sharon Devine 617. 730. 2769.  We're looking for a co-leader and more drivers.  Special thanks to Mildred Siegel , our leader.
---
Senior Chorus Fridays
New members welcome, no audition.  Led by Joe Reid, Fridays at 10:30
---
Ping Pong Fridays
Join Lin Sasman, coordinator, who's here Fridays 1-5 pm.  Connect with players, all are welcome.
---
Yoga Wednesdays
We do active and restorative poses to build strength, flexibility and balance.  Wednesdays 1-2 pm, donations:  $5-$10 please.  Register with Sharon Devine:  617. 730. 2769
---
Elizabeth Pollock, president

"Exercise is the only thing that helps everything associated with aging," says Janice Schwartz, MD, professor of medicine at UC, San Francisco.  Look for better physical health and memory.   We hope you'll look into our fitness center and ping pong program.  Our fiscal year ends June 30.  If you can, help us with scholarships to the fitness center.  We're grateful to Bay State Federal Savings Charitable Foundation for their donation with much appreciation.
This year our endowment fund donated $47,000 to the Center's operating budget.  Endowment ensures additional income to preserve our legacy.
I care deeply about the future of the Center and so I have included it in my estate planning. Endowments help ensure the future of the organization with reserves. We're hoping to double our endowment by 2018. You can contribute directly or put the Brookline Senior Center in your will.  Gifts of $1,000 will be added to our Wall of Honor.  Be sure to let us know you've included us in your will or trust so we can recognize you in our Ambassador Club.  ***   "I give $___ to Brookline Multi-Service Senior Center Corp (EIN 04-2719972), a Massachusetts non-profit corporation, located at 93 Winchester St, Brookline, MA 02445 to be used for general purposes." – – Consult your lawyer or financial advisor
---
News
– – –
– – – – – – – –
Newsletter
– – Find the newsletter at the library, Town Hall, banks, Stop & Shop, Star Market on Beacon and the Brookline Booksmith.  The best way to be sure you get one is to subscribe:   for $10 we'll mail it to you for a year.  If you're a retailer with space for a stack of newsletters, call us.  We deliver.  Be an advertiser:  Click for ad specs
Planned Giving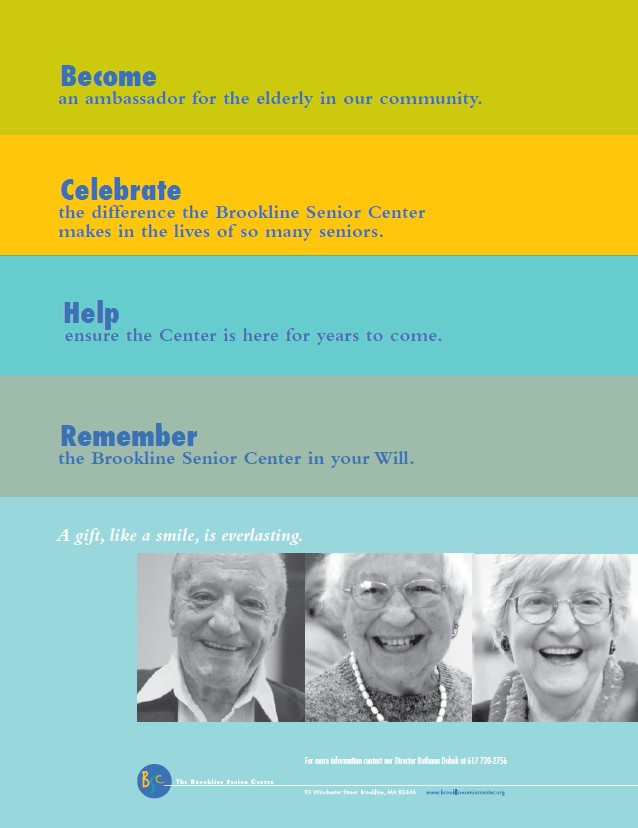 – – Consider leaving a legacy to the Senior Center.  Your bequest is a gift of hope.  Please call Ruthann Dobek, director:  617. 730. 2756 and help us secure a bright future
– –
Morgan Chickering Exhibit
Finding Peace:  paintings and drawings in the Gallery through September 29
– –