Honoring the wisdom that comes with age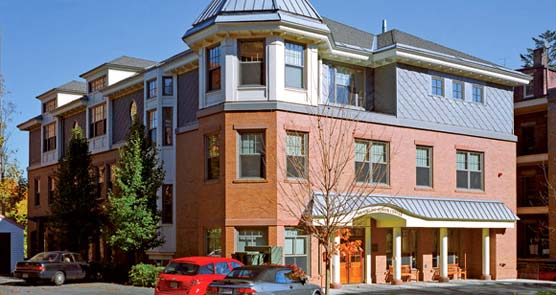 Ruthann Dobek, director
Thanks to everyone who came to our 14th Annual Autumn Benefit.  We honored Carol and Frank Caro (photo) for community advocacy. If we must say so ourselves, it was a great event.  Photos by Mimi Katz here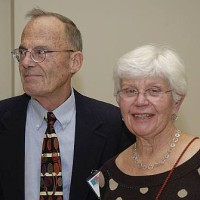 Whatever your interests, get to know us.  Stay connected with our programs and services.  We're here to help fill your days with creative activities and new friends whether it's exercising, volunteering or learning something new.  Our gym has new gear and great staff.   Stop in 8:30-4:30.   And take a hike, or dance, lift weights, walk, yoga.  For every minute you exercise, you add seven minutes to your life, so says Harvard School of Public Health.
We close Thursday, November 26 for Thanksgiving.  Here are things I'm grateful for:  Our volunteers, our board members, our programs, staff, services, sponsors, the spirit of kindness from our participants.  We will support one another and stay connected.

Naming opportunities:  Donations of $1,000 are added to our Wall of Honor.  A donation of $10,000 brings naming rights for an office or the conference room.  For $25,000, naming option for our double classroom.  For $35,000, naming option for the fitness center. rdobek@brooklinema.gov    617. 730. 2756
Our concerts and movies are free.  Get transportation at subsidized rates:  the van runs every day.  Our staff and volunteers offer counseling and direct assistance with fuel, food stamps and income tax.  Also, we'll mail the paper edition of News and Events to you for $10/yr.

---
Autumn Benefit Sponsors as of 11/1
DIAMOND   Michael Merrill,   Beth Israel Deaconess Medical Center
RUBY    Bay State Federal Savings Charitable Foundation,  Goddard House Assisted Living, Hamilton Company – Maura and Harold Brown, Chobee Hoy, Shulamit Kahn and Kevin Lang,  Betsy Pollock, Suzanne Salamon and Alan Einhorn, Carol and Morry Sapoznik
SAPPHIRE  Patricia Dobek, Ruthann Dobek and Glenn Boghosian
EMERALD   Atkin Associates LLC – Barrie Atkin, Doris Toby Axelrod and Lawrence Marks, Center Communities of Brookline/Hebrew SeniorLife,  Margie and Rev. George Chapman, Marilyn and Andre Danesh, Gerontology Institute @UMass Boston, Sidney Gelb, Deborah Goldberg and Michael Winter, Jewish Family & Children's Services, Pathway Home Realty Group, Providence House Senior Living Community, Ruth Kertzer Seidman and Aaron Seidman, Sherrill House, Village Mobil/Cypress Automart, Wade Horowitz LaPointe LLC, Sonia and William Wong
TOPAZ     Bank of Canton,  Brookline Bank, Brookline Hearing Services, Brookline Municipal Credit Union, Ellen Bruce and Richard Segan, Cathleen and Stanley Cavell, Nancy Daly and Kevin Cavanaugh, Helen Charlupski and Joseph Biederman, Eastern Bank Charitable Foundation, Elder Achievers, EPOCH Senior Living, Thomas Faulhaber, Doris and Saul Feldman, Benjamin Franco, Regina Healy and Bob Sloane, Marcia and Robert Heist, Home Instead Senior Care, House Works, Linda Jason and Andrew Fischer, Elaine Kwiecien, V. Celia Lascarides, Corinne Long, So Hing Mak, John Grew Jr, Helen and Shael Herman, Helen and Rudy Kass, Harry Margolis, Sylvia and Ralph Memolo, Sneider Kellman PC, Alberta and Roger Lipson, Cecily and Alan Morse, Judy Meyers and Mark Pasternack, Mount Pleasant Home, The Move Maven, Lucy and Dick Robb, Antoinette Schroder, Shirley Selhub, Enid Shapiro, Dr. Robert Sperber, Stanetsky Memorial Chapels and Levine Chapels, Arlene Stern, Jean and Peter Stringham, Ellen and Matthew Weiss, Roberta Winitzer, Ashima Dayal and David Caro.
---
Elks Holiday Dinner, 12/5
We're gathering Saturday, December 5 at 1 pm here for the annual holiday dinner given by  Brookline Elks Lodge 886.  We begin taking reservations Friday, November 20:  617. 730. 2770
The Lodge also provides us with a tree for the holiday season which is the centerpiece for all celebrants.  We are grateful for these gifts to our community.
---
Computer Basics Tuesdays
Sign up for one on one sessions TUESDAYS.   Get help with basics and apply for benefits.  Register:  617. 730. 2777.  Olga Sliwa:  617. 730. 2768
---
Health: blood pressure, podiatry, sugar screenings

Barbara Westley is the public health nurse for the Brookline Health Department
Thursday, December 17 – – Brookline Hearing Services is here from 1-2 pm for hearing aid cleanings and counseling.  No charge.  Batteries: $5/pack.
Wednesday, November 25 – – Barbara Westley, RN does blood pressure screening at O'Shea House, 1-2 pm  61 Park Street
Dr. Howard Liu, Diploma of American Board of Medical Acupuncture, offers monthly appointments here.  For one hour sessions: $15 donation.  617. 730. 2777
---
Reiki Therapy, Tuesdays
Akemi Minami, certified Reiki therapist, offers 25-minute appointments to Brookline residents over 60 and Senior Center volunteers.  Sessions: 9 – 12 noon Tuesdays here.  Cost: $7.  Five-treatment books:  $25.
"Reiki (霊気/ˈreɪkiː/) is a form of alternative medicine developed in 1922 by Japanese Buddhist Mikao Usui.[1][2] Since its beginning in Japan, Reiki has been adapted across varying cultural traditions. It uses a technique commonly called palm healing or hands-on-healing. Through the use of this technique, practitioners believe that they are transferring "universal energy" through the palms of the practitioner, which they believe encourages healing.  Some physicians have said it might help promote general well being." – – Courtesy of Wikipedia
,
---
Aging Backward, Wednesdays
Join us in the Fitness Center any Wednesday from 2-3 pm for exercise routines designed by Miranda Esmonde-White from Aging Backwards on WGBH.  Sharon Devine:  617. 730.2769
---
Health Coach, Wednesdays
Health Coach Ilse Leeser, registered nurse practitioner (and the leader of our arthritis exercise class) does health coaching Wednesdays.  Get support for a healthy diet and exercise to help with weight, diabetes and blood pressure.  She'll help you understand medications and test results.  Register for 30 minute, 1‐on‐1 appointments Wednesday afternoons:  617. 730. 2777
---
Chess Thursdays
Come play Thursdays, 1-3 pm.  Bring your own board or use ours.   Julie Washburn:  617 730.2760
---
Bridge Fridays
Jan Davidson, bridge coordinator, welcomes players Fridays at 9 am.  Join us for revolving games.  Call 617. 730. 2760
---
Elizabeth Pollock, president

Ruthann Dobek and I were proud to honor Carol and Frank Caro at the annual benefit for their activism and support.  Great food from Vine Ripe Grill.  Thank you to everyone who attended and all our sponsors.  Special thanks to diamond donors Michael Merrill and Beth Israel Deaconess Medical Center and lead business sponsors:  Goddard House, Chobee Hoy, Harold Brown.  Donations still welcome from individuals, companies and nonprofits at all levels.  Money raised by the annual benefit supports programs and services for the most needy:  fuel assistance, SNAP (Supplemental Nutritional Assistance) and emergency resources.

"Exercise in the only thing that helps everything associated with aging," says Dr. Janice Schwartz, professor of medicine at UC San Francisco.  I'm continually amazed by the amount of new research that shows the value of fitness:  improving health, boosting memory and helping to prevent dementia.  We're grateful for our renovated fitness center.  Not everyone can afford the membership fee.  To help, we're raising funds for scholarships.  $35/month or $420/year keeps one adult active.  Please join me in supporting them.
I care deeply about the future of the Center and so I have included it in my estate planning. Endowments help ensure the future of the organization with income stream and reserves. It took 11 years to reach the first million. We're hoping to double our endowment by 2018. You can contribute directly or put the Brookline Senior Center in your will.  Gifts of $1,000 will be added to our Wall of Honor.  Be sure to let us know you've included us in your will or trust so we can recognize you in our Ambassador Club.  ***   "I give $___ to Brookline Multi-Service Senior Center Corp (EIN 04-2719972), a Massachusetts non-profit corporation, located at 93 Winchester St, Brookline, MA 02445 to be used for general purposes." – – Consult your lawyer or financial advisor
---
News
– – – – – – – – – –
Ethel Weiss is sweet on you
– – – – – – – – – – – – – – –
Erik Gehring in the gallery
Heritage Trees and Vistas of the Emerald Necklace
Show runs through December 30
Planned Giving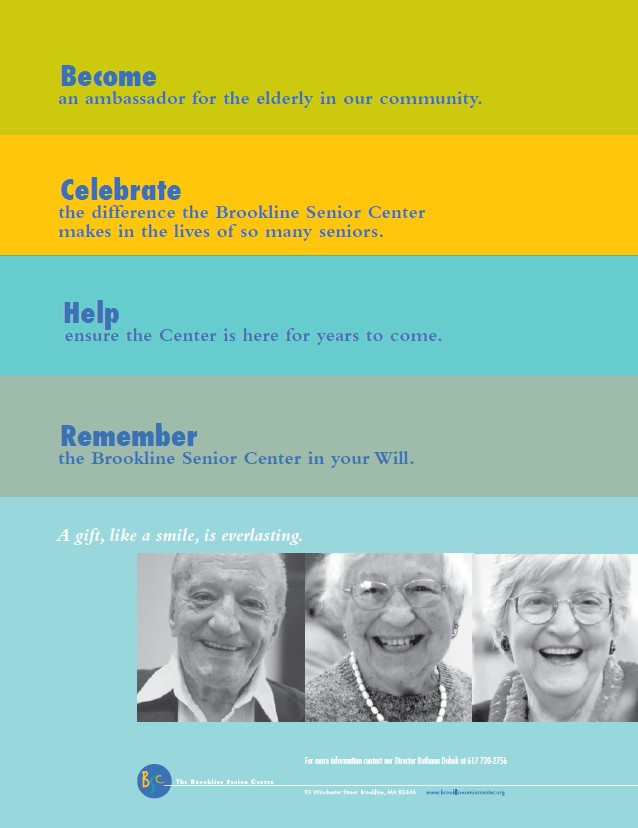 – – Consider leaving a legacy to the Senior Center.  Your bequest is a gift of hope.  Please call Ruthann Dobek, director:  617. 730. 2756 and help us secure a bright future
Party of the Century
"We had a wonderful time celebrating with our centenarian friends July 15 and none of it would have been possible without our community partners: BrooklineCAN, Center Communities of Brookline and Goddard House Assisted Living." – – Julie Washburn   
– – Find the newsletter at the library, Town Hall, banks, Stop & Shop, Star Market on Beacon and the Brookline Booksmith.  The best way to be sure you get one is to subscribe:   for $10 we'll mail it to you for a year.  If you're a retailer with space for a stack of newsletters, call us.  We deliver.
– – Brookline Trader Joe's sent us flowers!  Each week you brighten our desks and office.  Millions of thanks