Honoring the wisdom that comes with age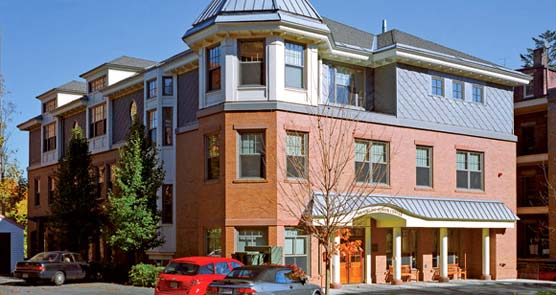 Ruthann Dobek, director
We hope this month brings you warmth and daffodils.
Naming opportunities:  Donations of $1,000 are added to our Wall of Honor.  A donation of $10,000 brings naming rights for an office or the conference room.  For $25,000, naming option for our double classroom.  For $35,000, naming option for the fitness center. rdobek@brooklinema.gov    617. 730. 2756
Whatever your interests, get to know us and donate time and talent to make us the best center around.  Stay connected to programs and services we offer.  We're here to help you plan your days with creative activities and new friends.  We can help whether it's exercising, volunteering or learning something new.  Our gym has new gear and great staff.   Stop in 8:30-4:30 daily.   And take a hike, or dance, lift weights, walk, yoga.  For every minute you exercise, you add seven minutes to your life, so says Harvard School of Public Health.  
Food Distribution         Tuesdays 2- 4 pm
The selection of free produce and food varies.  All food is placed in inventory before any can be distributed.  Please bring a shopping bag.  This is a busy program that depends on volunteers.  If you can help, see Lydia Pearl here Tuesday morning.
We serve lunch.  Our concerts and movies are free.  Get transportation at subsidized rates:  the van runs every day.  Our staff and volunteers offer counseling and direct assistance with fuel, food stamps and income tax.  Also, we'll mail the paper edition of News and Events to you each month for $10/yr.

---
Jean Doherty, volunteer of the year
We honored all our volunteers at the annual luncheon April 15.  Shown here is 2015 volunteer of the year Jean Doherty (right) with director Ruthann Dobek.  Thanks to all Center volunteers; we couldn't do it without you.
---
REAP Volunteers, 4/23
Our Retirement Engagement Alternatives Program  (REAP)  addresses the needs of Brookline residents over 60:
Are you newly retired and looking for work?
Are you planning for retirement?
Do you want to volunteer?
Could you use part-time work?
Meet Judith Kidd, volunteer consultant and lead governance trainer for Executive Service Corps, Thursday April 23 at 1 pm. She will talk about identifying your skills, understanding how organizations use volunteers, and building relationships.  Register with Patricia Burns:  617. 730. 2743   or  Deidre Waxman:  617. 730. 2767
Patricia J. Burns, the REAP program job skills counselor, will work with you on job search skills like resumes, cover letters, networking support and LinkedIn profiles.  By appointment:  617. 730. 2743     PBurns@brooklinema.gov
Need a volunteer?  We have them. We have people who will meet up with you in our community room or in your home.  Connect with someone like you who's interested in playing games, puzzles and walking.  Patricia Burns:  617. 730. 2743
REAP also places volunteers and others in nonprofits and businesses.
---
Open Studios, 4/26
We are featuring one exhibit for the Open Studios event.  See Nancy Marks's work in our Gallery 93: "The Intimacy of Memory."  Her students also have an exhibit from her class Painting for Pleasure.  Hours for this event:  Sunday, April 26 11- 5 pm.
---
Election Forum, 4/30
BrooklineCAN's livable community advocacy committee's forum will introduce candidates for the Board of Selectmen and candidates for the school committee.  Join us Thursday, April 30 4-6 pm here.
---
Blood pressure screening, podiatry, hearing
Barbara Westley is the public health nurse for the Brookline Health Department
Wednesday, April 22 – - Barbara Westley will do blood pressure screening at O'Shea House, 61 Park St, 1-2 pm
---
Health Fair, 5/14
Health Fair Thursday, May 14 10-2 pm – Join us to hear from brain health experts about the importance of music, meditation, diet and physical activity on your mind.  Learn how to know if memory loss is normal or Alzheimer's.  Immediately following at 2:15, Rhonda Glyman, executive director of Center Communities of Brookline, will host an open house until 3:30 at 100 Centre St.  See the medical and common areas, food demo and refreshments. – - This event is co-sponsored by the Brookline Council on Aging, the Brookline Department of Public Health, Center Communities, Goddard Assisted Living and Ryan Construction.
---
Continue the Conversation, 5/19
Jerry Goldberg, of the Conversation Project, shares his family conversations and gets you ready for your own.  Tuesday, May 19, 5:30 – 7 pm.  Admission is free, reservations needed:  617. 730. 2770
---
Computer Basics Tuesdays
Sign up for one on one sessions TUESDAYS with Jacob.   Get help with basics and apply for benefits.  Register:  617. 730. 2777.  Olga Sliwa:  617. 730. 2768
---
Wise as Salamon
Suzanne Salamon, MD is chief associate of clinical geriatrics at Beth Israel Deaconess Medical Center.   Email general questions to mdeery@brooklinema.gov or call Maureen: 617. 730. 2743.   These are excerpts.
APRIL:  High blood pressure is called hypertension.  It often rises as we get older, possibly from being overweight or salt intake.  We take it seriously because high blood pressure predisposes for heart attack, stroke, kidney disease, eye problems and erectile dysfunction. First, try to manage without medicine by losing weight, by doing at least 30 minutes of exercise a day, and cutting down on salt (especially from canned and processed foods).
MARCH:  Do I need to get vaccinated against pneumonia?  Yes!  There are two vaccines you should get and not at the same time.  Wait one year between.  You need them both just once.
FEBRUARY:  What are the biggest cold weather problems?  Hypothermia, internally, our bodies get too cold.  Muscles get stiff, shivering, confusion, irritability.  How can we protect ourselves in winter?  Get a flu shot, wash hands often, dress warmly with hat, gloves and warm coat.  Use handrails, wear shoes with heavy soles, have a three-day supply of food, water, medicine.  Keep extra blankets.
JANUARY:  A story by Wall Street Journal reporter Anne Tergesen about misconceptions.
Depression is more prevalent?  Not true.  Cognitive decline is inevitable?  No, so keep learning new skills like using an iPad or taking photographs; crossword puzzles, not so much.  Older workers are less productive?  No, since jobs that require experience give us a leg up.  Loneliness is more likely?  Friendships improve with age, as do marriages, conflict with children and closer ties with social networks.  Creativity declines?  You can reach your full potential like Cezanne, Twain, Robert Frost and Virginia Woolf.  More exercise is better?  No marathons needed but 30 minutes a day is great.
DECEMBER:  "What tests might I need?"  Colonoscopy, mammogram, pap test, blood pressure, eye check, Hepatitis C, abdominal aortic aneurysm, bone density.  What vaccines?  Flu shot:  annually.  TDAP tetanus, diphtheria and whooping cough:  every 10 years.  Pneumonia vaccine:  once at age 65.  Get the second pneumonia vaccine one year after the first.  Shingles: at age 60 if you had chicken pox.
NOVEMBER:  "It's winter."  Dr. Salamon says:  get a flu shot, wash your hands often.  Dress warmly.  Wear shoes with heavy soles that grip and use handrails.  Have a three day supply of food, water and medicine in case of bad weather.  Keep extra blankets.  Stay in touch with friends.
OCTOBER:  "Is dizziness the same as vertigo?"  Dizziness is a vague term.  It can be lightheaded or feeling like you may faint or feel off balance.  Some causes:  not enough fluids, heart problems, medicine, low blood sugar, anxiety, anemia.  Most dizziness is transient.
Vertigo is the feeling that you or the room is spinning.  It can be caused by abnormality in the ear or brain.  The most common type is Benign Paroxysmal Positional Vertigo (BPPV) which happens when the head is moved suddenly or in a certain position, like leaning backing in the sink at the hair salon.  Symptoms usually last a few minutes.  Most BPPV resolves by itself.  Medication has side effects and is rarely helpful.
SEPTEMBER:  "Lowering cholesterol without meds."  Dr. Daniel Pendick, Harvard Medical Health Letter writes:  To help prevent kidney stones, drink water and citrus, get calcium from dairy since not enough can cause stones.  Reduce salt: too much triggers stones.  Will also help blood pressure and heart.  Limit animal protein: red meat, poultry, eggs, seafood since it boosts uric acid.  The Mayo Clinic writes: Lose weight, eat healthier fats and lean meat, olive and canola oils; no trans fats (partially hydrogenated oils); limit cholesterol, eat fruit and vegetables, and food rich in omega-3 fatty acids like salmon, mackerel, herring, walnuts, almonds, flaxseed.  Exercise, don't smoke, alcohol in moderation."
JULY:  "Irritable bowel syndrome is a disorder of the intestines.  It is different from ulcerative colitis or Crohn's disease.  We really don't know what causes IBS.  For some, dairy, caffeine, carbonated drinks, fruit, vegetables, sugar and artificial sweeteners are culprits.  For others, stress may make symptoms worse.  Some doctors recommend probiotics, good bacteria found in yogurt and pills.  A new diet called FODMAP is getting press.  They are poorly digested sugar and fiber that may add to ISB symptoms:  wheat, barley, rye, onion, garlic, beans, dairy, honey, apples, peaches, apricots, blackberries, corn syrup and sweeteners.  It would be worth eating less of them to see if you improve."
JUNE:  Not sleeping.  Why?  "Spicy foods, heartburn, lactose intolerance, abdominal pain, caffeine from coffee, tea and chocolate; alcohol, medications like decongestants, some blood pressure, some anti-depressants and steroids; sleeping pills.  Try warm showers, reading, deep breathing, some teas. It is common to have short periods of trouble sleeping.  If they persist, speak with your doctor.
MAY:  Cholesterol.  "People with cholesterol that is too high have a greater risk of heart attack and stroke.  We consider "normal" to be total cholesterol below 200;  LDL below 130;  HDL above 60; Triglycerides below 150.  Not everyone with high cholesterol needs statins.  However, if you've already had a heart attack, stroke, heart disease, diabetes, or peripheral artery disease, these medicines are important.  Statins lower cholesterol and help prevent plaque buildup.  You can stop eating saturated fat (red meat, cheese), lose weight, be more active, eat fatty fish 2X/week and take fish oil to try to lower cholesterol without medication."
Suzanne Salamon
---
Betsy Pollock, president
I care deeply about the future of the Center and so I have included the Center in my estate planning. Endowments help ensure the future of the organization with income stream and reserves. It took 11 years to reach the first million. We're hoping to double our endowment by 2018. You can contribute directly or put the Brookline Senior Center in your will.  Gifts of $1,000 will be added to our Wall of Honor.  Be sure to let us know you've included us in your will or trust so we can recognize you in our Ambassador Club.  ***
People turn to us for fuel assistance, hot lunch, fitness and more.   With your help we can go on providing the community support they depend on.
*** Suggested bequest:  "I give $___ to Brookline Multi-Service Senior Center Corp (EIN 04-2719972), a Massachusetts non-profit corporation, located at 93 Winchester St, Brookline, MA 02445 to be used for general purposes." – - Consult with your lawyer or financial advisor
Betsy Pollock
---
News
"Jim's Shirt," by Nancy Marks – - now on display in the 93 Gallery through June 26.  Gallery reception Thursday, April 16,  at 6 pm.  Also on display are works by her students:  "Art for Pleasure."  Nancy Marks will be giving a gallery talk Friday, April 24 at 1 pm      - – - – - – - – - – - – - – - – -
Annual Benefit:  Betsy Pollock (left), Ruthann Dobek, Julie Washburn
You can find copies of the newsletter at the library, Town Hall, banks, Stop & Shop, Star Market on Beacon and the Brookline Booksmith.  The best way to be sure you get one is to subscribe:   for $10 we'll mail it to you for a year.  If you're a retailer with space for a stack of newsletters, call us.  We deliver.
Planned Giving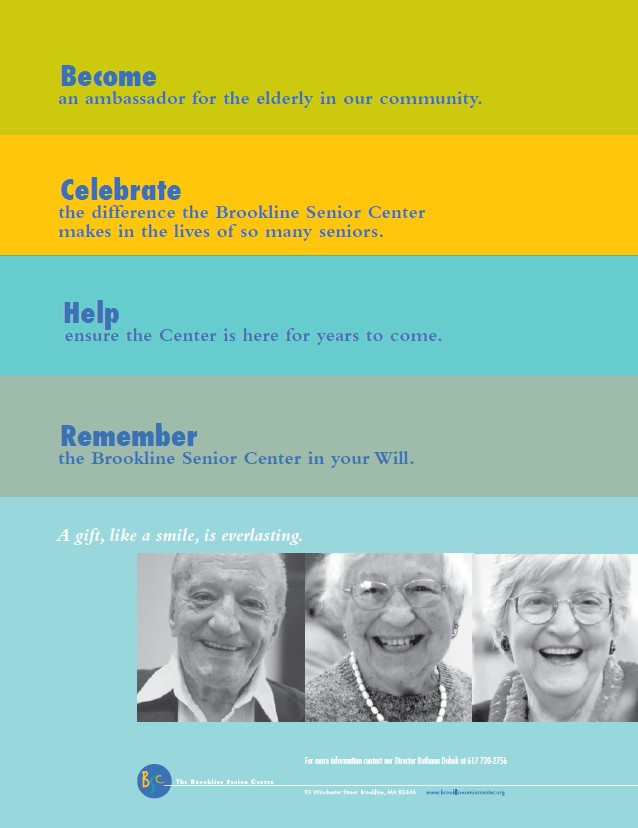 Consider leaving a legacy to the Senior Center.  Your bequest is a gift of hope.  Please call Ruthann Dobek, director:  617. 730. 2756 to help us secure a bright future.