Honoring the wisdom that comes with age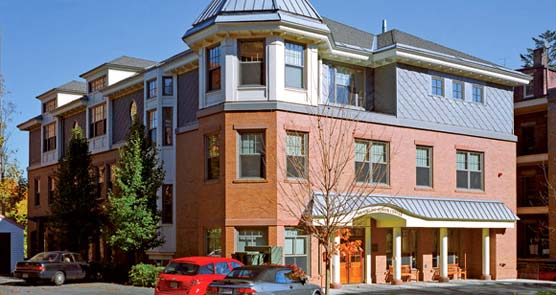 Ruthann Dobek, director
We hope this month brings you warmth and daffodils.
We're lucky here to be on the receiving end of dedication from so many who go beyond to make the world better.  March is social work month and this year's theme is "Helping People Help Themselves."  I would like to recognize the important work our social workers do including our interns, professional staff and social worker volunteers.  Each one adds to our strong sense of community.
We'll be open Saturday, March 28 for a performance by the the Coolidge Corner Chorus.  Thursday, April 2 is evening Benefit Bingo 4-6 pm.  Donation:  $10 in advance, $15 at the door.  Tickets include food, two boards per game and three raffle tickets.   Proceeds benefit the theatre club.  These events are open to all and supported by a grant from the Brookline Community Foundation.
Naming opportunities:  Donations of $1,000 are added to our Wall of Honor.  A donation of $10,000 brings naming rights for an office or the conference room.  For $25,000, naming option for our double classroom.  For $35,000, naming option for the fitness center. rdobek@brooklinema.gov    617. 730. 2756
Whatever your interests, get to know us and donate time and talent to make us the best center around.  Stay connected to programs and services we offer.  We're here to help you plan your days with creative activities and new friends.  We want to help you reach your resolution whether it's exercising, volunteering and learning something new.  Our gym has new gear and helpful staff.   Stop in 8:30-4:30 daily.   
Food Distribution         Tuesdays 2- 4 pm
The selection of free produce and food varies.  All food is placed in inventory before any can be distributed.  Please bring a shopping bag.  This is a busy program that depends on volunteers.  If you can help, see Lydia Pearl here Tuesday morning.
We serve lunch.  Our concerts and movies are free.  Get transportation at subsidized rates:  the van runs every day.  Our staff and volunteers offer counseling and direct assistance with fuel, food stamps and income tax.  Also, we'll mail the paper edition of News and Events to you each month for $10/yr.

---
March is National Social Work Month
We are commemorating National Social Work Month as the National Association of Social Work celebrates its 60th anniversary.  We will be welcoming back many of our interns March 26 in honor of the occasion.  Hug your social worker – - from the webmaster
---
Akino Watanabe and Yoshino Watanabe, kotoists
Thanks to sisters Akino Watanabe (left), a sophomore at the Commonwealth School, and Yoshino Watanabe, kotoists, who gave a zither recital here March 16.  Akino bridges Eastern and Western culture through music.  Her sister, a third-grader at Brookline's Lincoln School, also plays the piano and sings with Voices Boston.
---
Blood pressure screening, podiatry
Barbara Westley is the public health nurse for the Brookline Health Department
Thursday, March 26 – – Staff from Brookline Hearing Services here 1-2 pm.  Hearing aid cleanings and counseling at no charge.  Batteries:  $5.
---
AARP Income Tax Assistance, thru 4/7
AARP volunteers will be here Tuesdays through  April 7 to assist with filing taxes.  Make an appointment:  617. 730. 2777 and ask for an intake review sheet.  You will give it to the tax preparer at your appointment.  What to bring:  last year's return and this year's W-2 and 1099 statements;  photo ID;  Social Security or Medicare card.  If you send a representative to do the filing, that person must provide their own photo ID AND your photo ID.  Taxes will be e-filed.
---
Piatigorsky Foundation Concert, 4/1
Our annual concert is Wednesday, April 1 here.  Featured artists are cellist Richard Dowling and pianist Quing Li.  Dowling appears regularly across the country in recitals, chamber music and jazz festivals.  Li was guest concert master at the Iceland Symphony in 2012 and appears worldwide as a soloist and chamber player.
---
Bingo Night, 4/2
Join us Thursday, April 2 from 4-6 pm for a bingo event including food and games.  $10 if you pre-register, $15 at the door.  Proceeds benefit the theatre club.  617. 730. 2777 to register
---
National Public Health Week, 4/6 - 4/14
Lynne Karsten is the Director of Community Health, Brookline Department of Public Health
This is the link to find out more at Brookline Department of Public Health's Facebook:  https://www.facebook.com/152515524763622/photos/np.78339840.100003249581872/1048397238508775/?type=1&notif_t=notify_me
---
Health Fair, 5/14
Health Fair Thursday, May 14 9-2 pm
---
As wise as Salamon
Suzanne Salamon, MD is chief associate of clinical geriatrics at Beth Israel Deaconess Medical Center.   Email general questions to mdeery@brooklinema.gov or call Maureen: 617. 730. 2743.   These are excerpts.
MARCH:  Do I need to get vaccinated against pneumonia?  Yes!  There are two vaccines you should get and not at the same time.  Wait one year between.  You need them both just once.
FEBRUARY:  What are the biggest cold weather problems?  Hypothermia, internally, our bodies get too cold.  Muscles get stiff, shivering, confusion, irritability.  How can we protect ourselves in winter?  Get a flu shot, wash hands often, dress warmly with hat, gloves and warm coat.  Use handrails, wear shoes with heavy soles, have a three-day supply of food, water, medicine.  Keep extra blankets.
JANUARY:  A story by Wall Street Journal reporter Anne Tergesen about misconceptions.
Depression is more prevalent?  Not true.  Cognitive decline is inevitable?  No, so keep learning new skills like using an iPad or taking photographs; crossword puzzles, not so much.  Older workers are less productive?  No, since jobs that require experience give us a leg up.  Loneliness is more likely?  Friendships improve with age, as do marriages, conflict with children and closer ties with social networks.  Creativity declines?  You can reach your full potential like Cezanne, Twain, Robert Frost and Virginia Woolf.  More exercise is better?  No marathons needed but 30 minutes a day is great.
DECEMBER:  "What tests might I need?"  Colonoscopy, mammogram, pap test, blood pressure, eye check, Hepatitis C, abdominal aortic aneurysm, bone density.  What vaccines?  Flu shot:  annually.  TDAP tetanus, diphtheria and whooping cough:  every 10 years.  Pneumonia vaccine:  once at age 65.  Get the second pneumonia vaccine one year after the first.  Shingles: at age 60 if you had chicken pox.
NOVEMBER:  "It's winter."  Dr. Salamon says:  get a flu shot, wash your hands often.  Dress warmly.  Wear shoes with heavy soles that grip and use handrails.  Have a three day supply of food, water and medicine in case of bad weather.  Keep extra blankets.  Stay in touch with friends.
OCTOBER:  "Is dizziness the same as vertigo?"  Dizziness is a vague term.  It can be lightheaded or feeling like you may faint or feel off balance.  Some causes:  not enough fluids, heart problems, medicine, low blood sugar, anxiety, anemia.  Most dizziness is transient.
Vertigo is the feeling that you or the room is spinning.  It can be caused by abnormality in the ear or brain.  The most common type is Benign Paroxysmal Positional Vertigo (BPPV) which happens when the head is moved suddenly or in a certain position, like leaning backing in the sink at the hair salon.  Symptoms usually last a few minutes.  Most BPPV resolves by itself.  Medication has side effects and is rarely helpful.
SEPTEMBER:  "Lowering cholesterol without meds."  Dr. Daniel Pendick, Harvard Medical Health Letter writes:  To help prevent kidney stones, drink water and citrus, get calcium from dairy since not enough can cause stones.  Reduce salt: too much triggers stones.  Will also help blood pressure and heart.  Limit animal protein: red meat, poultry, eggs, seafood since it boosts uric acid.  The Mayo Clinic writes: Lose weight, eat healthier fats and lean meat, olive and canola oils; no trans fats (partially hydrogenated oils); limit cholesterol, eat fruit and vegetables, and food rich in omega-3 fatty acids like salmon, mackerel, herring, walnuts, almonds, flaxseed.  Exercise, don't smoke, alcohol in moderation."
JULY:  "Irritable bowel syndrome is a disorder of the intestines.  It is different from ulcerative colitis or Crohn's disease.  We really don't know what causes IBS.  For some, dairy, caffeine, carbonated drinks, fruit, vegetables, sugar and artificial sweeteners are culprits.  For others, stress may make symptoms worse.  Some doctors recommend probiotics, good bacteria found in yogurt and pills.  A new diet called FODMAP is getting press.  They are poorly digested sugar and fiber that may add to ISB symptoms:  wheat, barley, rye, onion, garlic, beans, dairy, honey, apples, peaches, apricots, blackberries, corn syrup and sweeteners.  It would be worth eating less of them to see if you improve."
JUNE:  Not sleeping.  Why?  "Spicy foods, heartburn, lactose intolerance, abdominal pain, caffeine from coffee, tea and chocolate; alcohol, medications like decongestants, some blood pressure, some anti-depressants and steroids; sleeping pills.  Try warm showers, reading, deep breathing, some teas. It is common to have short periods of trouble sleeping.  If they persist, speak with your doctor.
MAY:  Cholesterol.  "People with cholesterol that is too high have a greater risk of heart attack and stroke.  We consider "normal" to be total cholesterol below 200;  LDL below 130;  HDL above 60; Triglycerides below 150.  Not everyone with high cholesterol needs statins.  However, if you've already had a heart attack, stroke, heart disease, diabetes, or peripheral artery disease, these medicines are important.  Statins lower cholesterol and help prevent plaque buildup.  You can stop eating saturated fat (red meat, cheese), lose weight, be more active, eat fatty fish 2X/week and take fish oil to try to lower cholesterol without medication."
Suzanne Salamon
---
Betsy Pollock, president
We're replacing our 12 year-old van!  Barbara Kellman and Jerry Billow chose the Center as their charity for Brookline Rotary's Dancing with the Stars.  Jerry won the dance contest.  Thanks to Jerry and Barbara,  their friends and your support,  we'll be buying a new van in the spring.
Money raised at the benefit supports programs and services to help the most needy with fuel assistance, emergency resources and SNAP, the Supplemental Nutrition Assistance Program that helps stretch food dollars with food stamps. ( If you need help, please call Sonia Wong:  617. 730. 2774)
I care deeply about the future of the Center and so I have included the Center in my estate planning. Endowments help ensure the future of the organization with income stream and reserves. It took 11 years to reach the first million. We're hoping to double our endowment by 2018. You can contribute directly or put the Brookline Senior Center in your will.  Gifts of $1,000 will be added to our Wall of Honor.  Be sure to let us know you've included us in your will or trust so we can recognize you in our Ambassador Club.  ***
You know people turn to us for fuel assistance, hot lunch, fitness and more.   With your support we can go on providing the community support you depend on.
*** Suggested bequest:  "I give $___ to Brookline Multi-Service Senior Center Corp (EIN 04-2719972), a Massachusetts non-profit corporation, located at 93 Winchester St, Brookline, MA 02445 to be used for general purposes." – - Consult with your lawyer or financial advisor
Betsy Pollock
---
News
 - – "Let's do Lunch,"  24 x 24 inches, oil on canvas
LAST WEEK TO SEE   Feathered Friends by BJ Comerford through March 27, second floor gallery, 8:30-5 pm