Honoring the wisdom that comes with age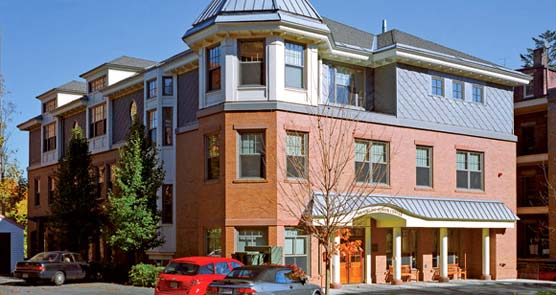 Ruthann Dobek, director
We are closed Monday, September 5 for Labor Day.
September's when we mail our newsletter to town residents.  Find out what we do, programs, services, and events, most of which are free.  It's also Senior Center month:  "Find Balance at your Center."   We have our August Moon festival Monday, September 12 to honor the harvest. (see below)
Ralph Perkins, our building engineer, retires Friday, September 30.  His dedication ensures the Center runs smoothly.  Join us on Friday  the 30th for a party starting at 4.  Elvis might show.  Register:  617. 730. 2770
Thanks to state legislators who increased our funding.  We will get $10/person thanks to advocates Frank Smizik, Jeffrey Sanchez, Michael Moran, Ed Coppinger and Cynthia Creem.                   
Welcome Emily Brenner, our new Zumba Gold instructor.  See more:  Emily's website
Wednesday, October 26 is our 15th Annual Benefit.  We will honor Dr. Alan Balsam, (right) director of Brookline Public Health, for his commitment to health and elder services.  Beth Israel Deaconess Medical Center is a diamond sponsor.  Early sponsors:  Michael Merrill, Chobee Hoy and Elias Audy.  We need you and your organization to maintain our programs.  Let us hear from you. (See Betsy's column, below, for details)

Whatever your interests, get to know us.  Stay connected with our programs and services.  We're here to help fill your days with creative activities and new friends whether it's exercising, volunteering or learning something new.  Our gym has new gear and great staff.   Stop in 8:30-4:30.   And take a hike, or dance, lift weights, walk, yoga.  For every minute you exercise, you add seven minutes to your life, so says Harvard School of Public Health.
Naming opportunities:  Donations of $1,000 are added to our Wall of Honor.  A donation of $10,000 brings naming rights for an office or the conference room.  For $25,000, naming option for our double classroom.  For $35,000, naming option for the fitness center. rdobek@brooklinema.gov    617. 730. 2756
Our concerts and movies are free.  Get transportation at subsidized rates:  the van runs every day.  Our staff and volunteers offer counseling and direct assistance with fuel, food stamps and income tax.  Also, we'll mail the paper edition of News and Events to you for $10/yr.

---
Screenings: blood pressure, podiatry, sugar, acu

Barbara Westley is public health nurse for the Brookline Health Department
Thursday, September 1 – – Lynn Schuster, RN of the Greater Medford Visiting Nurse Association is here  at 11 am for blood pressure screening and questions
Wednesday, September 7 – – Barbara Westley, RN does blood pressure screening at the Health Department on Pierce Street 2-3 pm
Wednesday, September 14 – – Barbara Westley, RN does blood pressure screening at Sussman House, 50 Pleasant St 1-2 pm
Thursday, September 15 – –  Barbara Westley, RN does blood pressure screening here 9-10 am
Thursday, September 15 – – Staff from Brookline Hearing Services here 1-2 pm for hearing aid cleanings and counseling.  No charge.  Batteries:  $5/pack
Wednesday, September 21 – – Peer-led low vision support group at 1 pm
Wednesday, September 28 – – Barbara Westley, RN does blood pressure screening at the O'Shea House, 61 Park St 1-2 pm
Podiatry Clinic with Dr. John McLaughlin for routine foot care. Appointments:  $40   617. 730. 2777
ACUPUNCTURE
Acupuncturist Julia Herskowitz, LICAC holds information sessions Thursdays in September here.  Julia will talk about  acupuncture's usefulness for you and provides a one-time demonstration treatment.  Consults are private, demos are not.  She will make referrals to nearby practitioners.  Donation: $5.  Register:  617. 730. 2777
---
Free Fridays
Free cultural attractions
  is part of the The Highland Street Foundation's Free Fun Fridays program.  It offers free admission to 80 major cultural attractions through August 26 – – this is it
August 26
Franklin Park Zoo
Old Sturbridge Village
Freedom Trail Foundation
Museum of African American History
Norman Rockwell Museum
Berkshire Museum
Ventfort Hall Mansion and Gilded Age Museum
Cape Cod Museum of Natural History
---
Ask a Nurse, 9/1
Lynn Schuster, RN from the Greater Medford Visiting Nurse Association is here Thursday, September 1 at 11.  Blood pressure screening and questions.
---
Legal Assistance, 9/7
A Brookline legal assistance bureau volunteer attorney will be here Wednesday, September 7 from 9-12 noon.  She/he will help you with legal issues.  The service is free to Brookline residents and you don't need an appointment.  Pick up a number at the reception desk.
---
Reunion Project, 9/8
A local photographer, Lora Brody, is working on a project that uses portraits and writing to allow women to go back and talk to their teenage selves.  She is a visiting research associate at the Women's Study Research Center of Brandeis University.   She will be here Thursday, September 8 at 1 pm to talk more about it.  Register:  617. 730. 2770
"The Reunion Project gives senior women a voice for speaking to young women about life choices and decisions. This interactive, trans-generational presentation uses photographic images, text and the spoken word to create an environment that invites and facilitates reflection and meaningful discourse between women at both ends of the age spectrum." – – courtesy of  Lora's website     email: lora@lorabrody.com     617-974-6497
---
Managing your Diabetes Workshops, 8/25-9/29
This is a six-week workshop on Thursdays from August 25 – September 29 here from 1-3:30 pm.  Learn to care for yourself and prevent complications.  Emphasis on healthy eating and exercise.  Also blood sugar monitoring, foot care, stress, depression, relaxation, keeping track of meds,  and talking to your doctor.  Living a Healthy Life with Chronic Conditions is the text that will be loaned to attendees, $15 to buy.  Course is free and needs at least ten people.  Register:  617. 730. 2770 – – Sponsored by Springwell
---
August Moon Festival, 9/12
We celebrate the harvest with August Moon Festival, Monday, September 12, 12:30-2 pm.  Tickets $7, on sale now.  Reservations:  617. 730. 2777 – – Sponsored by the Brookline Senior Center and the Greater Boston Chinese Golden Age Center 
---
Piatigorsky Foundation Concert, 9/14
– – photos courtesy Piatigorsky
Our annual Piatigorsky Foundation concert is Wednesday, September 14 at 2.  Named for Gregor Piatigorsky, cellist, the Foundation's mission is bringing classical music to all.  Hear Evan Drachman (left), cellist, and Richard Dowling, pianist.  Drachman, founder and artistic director performs throughout the world.  Dowling does recitals and chamber music.  No charge.  Register:  617. 730. 2770
---
BrooklineCAN Annual Meeting, 9/15
BrooklineCAN annual meeting and expo is Thursday, September 15, 5-7 pm here.  Vendors and discussion:  housing options for seniors.
---
Elizabeth Pollock, president

Our 15th Annual Benefit is Wednesday, October 26.  We're honoring Dr. Alan Balsam, director of Brookline Public Health.  The evening includes food, drink, raffles and entertainment.  Sponsorship is welcome from individuals, companies and nonprofits.  All proceeds go towards our services.  We welcome also gift certificates, merchandise and services for raffles.  Thank you.
"Exercise is the only thing that helps everything associated with aging," says Janice Schwartz, MD, professor of medicine at UC, San Francisco.  Look for better physical health and memory.   We hope you'll look into our fitness center and ping pong program.  Our fiscal year ends June 30.  If you can, help us with scholarships to the fitness center.  We're grateful to Bay State Federal Savings Charitable Foundation for their donation with much appreciation.
This year our endowment fund donated $47,000 to the Center's operating budget.  Endowment ensures additional income to preserve our legacy.
I care deeply about the future of the Center and so I have included it in my estate planning. Endowments help ensure the future of the organization with reserves. We're hoping to double our endowment by 2018. You can contribute directly or put the Brookline Senior Center in your will.  Gifts of $1,000 will be added to our Wall of Honor.  Be sure to let us know you've included us in your will or trust so we can recognize you in our Ambassador Club.  ***   "I give $___ to Brookline Multi-Service Senior Center Corp (EIN 04-2719972), a Massachusetts non-profit corporation, located at 93 Winchester St, Brookline, MA 02445 to be used for general purposes." – – Consult your lawyer or financial advisor
---
News

 See below for sponsorship
– – – – – – – –
Newsletter
– – Find the newsletter at the library, Town Hall, banks, Stop & Shop, Star Market on Beacon and the Brookline Booksmith.  The best way to be sure you get one is to subscribe:   for $10 we'll mail it to you for a year.  If you're a retailer with space for a stack of newsletters, call us.  We deliver.  Be an advertiser:  Click for ad specs
Planned Giving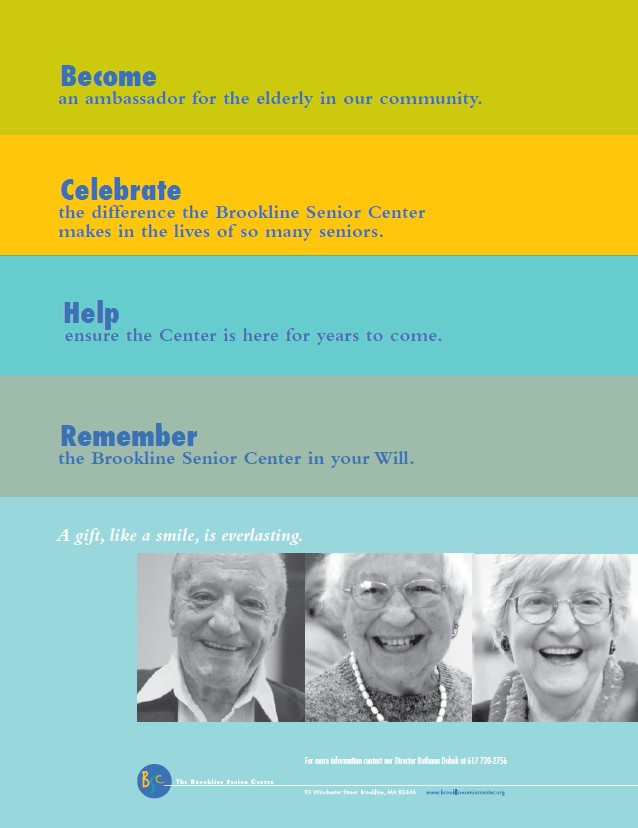 – – Consider leaving a legacy to the Senior Center.  Your bequest is a gift of hope.  Please call Ruthann Dobek, director:  617. 730. 2756 and help us secure a bright future
– –
Morgan Chickering Exhibit
Finding Peace:  paintings and drawings in the Gallery through September 29
– –