Honoring the wisdom that comes with age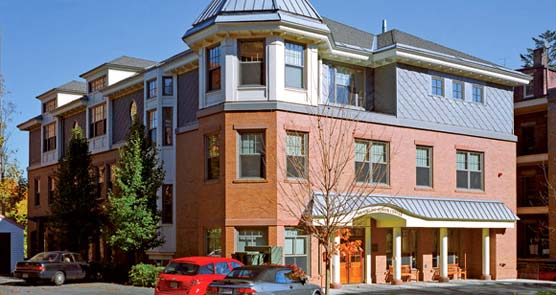 Ruthann Dobek, director
March has some of the bleakest weather and with it some of us get the winter blues.  We're here to help make each day warm and fun with lots of programs and activities.  As well, think about buying daffodils or a slice of Irish bread and take a walk over.  We look forward to seeing you soon.
I'd like to thank everyone who's responded to the Annual Appeal.  These donations support the van, equipment and food.  As well, we're adding evening and weekend programs.
Our construction is now complete.  The new Fitness Center on the second floor operates daily from 8:30 – 5.
I'm concerned with the high cost of food and heat.  Please call us if you need help with heating bills.  Remember that we offer free bread and produce every Tuesday.  Lunch is available weekdays.  Our concerts and movies are free.  Transportation is available at subsidized rates.  Our staff and volunteers offer counseling and direct assistance with fuel, food stamps and income tax.
Annual Stock Our Shelves Restaurant Event is Wednesday, March 19 from 4-6 pm.  Proceeds support all Brookline food programs:  the Food Pantry, Meals on Wheels and the Brookline Food Coop here.  We'll have cuisines to sample:  Italian, Asian and Mexican.  Admission:  $5 plus two items for the Food Pantry like instant coffee, soup/ramen, mayo, packets of powdered milk, tea bags, cocoa packets, canned meat, fish, vegetables, fruit and soup; macaroni and cheese boxed, pasta and sauce, hot and cold cereal, jelly, oil, baby food, shampoo, toothpaste, toilet paper and all soaps.  Entertainment and raffle.  Please register:  617. 730. 2770.
March is Social Work Month.  I'd like to acknowledge the important work of our social workers, interns, professional staff and social work volunteers.  Each one adds to Brookline's strong sense of community.  Thanks to everyone who makes the Center a vibrant community.
Welcome Jamie Donchin, MSW, LICSW, our new HELP counselor.  She is a graduate of Wheelock College and Boston College School of Social Work.  We're thrilled to have her on the team.
If you can't get out to shop, please call about our SHOP programs.  We have Brookline High students ready to help with grocery needs.  Call:  617. 730. 2743
---
St. Patrick's Event
Tuesday, March 18 1:45-3 pm at Center Communities, 100 Center Street.  Food, drink with entertainment from Tim McHale.  Please register:  617. 730. 2770.
---
Podiatry, Blood Pressure, Flu Shots
Fridays,  March 7 and March 21 – - from 9-12 noon – Dr. John McLaughlin provides routine foot care in the Podiatry Clinic.  Fifteen minute sessions, $30.  Appointments:  617. 730. 2777
Wednesday, March 12:  Blood pressure screening with Barbara Westley at Sussman House, 50 Pleasant St 1-2 pm
Thursday, March 20:  Blood pressure screening with Barbara Westley from the Brookline Health Department here  9-10 am
Wednesday, March 26:  Blood pressure screening with Barbara Westley from the Brookline Health Department at O'Shea House, 61 Park St  1-2 pm
Flu shots are available at most pharmacies and from your health care provider.  To make an appointment for a flu shot at the Health Department:  617. 730. 2320  They also have a limited amount of state-supplied shingles vaccine for uninsured people over 60.
---
Mass Senior Action Council (MSAC)
Wednesday, April 16, 1 pm – Meet the Mass Senior Action Council to hear about their campaign to uncover obstacles to Medicare, to strengthen Medicare and to improve access to healthcare.
---
Retirement Engagement Alternatives
Our Retirement Engagement Alternatives Program  (REAP)  addresses the needs of Brookline residents over 60:
Are you newly retired and looking for work?
Are you planning for retirement?
Do you want to volunteer?
Could you use part-time work?
Help wanted:  we're seeking an experienced marketing/public relations professional.  Here's a chance to work with our staff to attract younger seniors to our programs.  You'll be a volunteer with a flexible work schedule.  We'd love to hear from you.
REAP places volunteers and others in nonprofits and businesses.  If your business needs help, email:  dwaxman@brooklinema.gov
REAP offers job support Tuesdays:  March 11, March 18, March 25 and April 1, 2- 3pm.  This is networking at its best to facilitate your search.  Led by Deidre Waxman and Mia Louik.  Call to register:  617. 730. 2767
Help wanted:  a market research firm needs researchers to call businesses.  You'll be cold calling respondents.  Each project lasts two to three weeks.  There's no selling but you need to be able to convince listeners to join these studies.  Pay range:  $13-$22/hour.  Call Deidre Waxman:  617. 730. 2767
---
As wise as Salamon
Suzanne Salamon, MD is chief associate of clinical geriatrics at Beth Israel Deaconess Medical Center.   Email general questions to mcosgrove-deery@brooklinema.gov or call Maureen: 617. 730. 2743.   These are excerpts.  You can read the entire column by clicking on the month under "News" to the right.
MARCH:  Drug abuse.  This is often "under-identified, under-diagnosed and under-treated."  Older people "rarely use alcohol or drugs to get high, but rather turn to them to alleviate physical and psychological pain, the loss of loved ones or social isolation.
"Although alcohol is most common, drugs like Klonopin or Ativan, sleeping pills like Ambien and opiates like Oxycodone have abuse potential.  These are addicting and can impair memory, cause depression, increase falls and interact with other medications.
Look for "memory trouble, loss of coordination, changes in sleep, bruising, irritability, changes in eating, having trouble concentrating and lack of interest in usual activities."
FEBRUARY:   "The flu is caused by a virus that changes every year.  Symptoms include fever, headache, aches and/or cough.  The cough may last two-three weeks.  If it gets worse and includes shortness of breath, call your doctor to be sure there is no secondary pneumonia.
"If the flu is diagnosed by a nasal swab test, it may help to take anti-viral flu medicine.  However, these often have side effects.  Regular antibiotics are not effective against viruses.
"The best protection is the flu vaccine.  It's not too late.  The vaccine is made of dead flu virus.  You cannot get the flu from the flu vaccine.
"In addition to frequent hand washing, clean your phone, computer and door handles."
JANUARY:  When should you see a cardiologist?   "We know that prevention means exercise, less meat, more fruit and vegetables, not smoking, and keeping blood pressure, blood sugar and weight in a healthy range.
"Symptoms are chest pain which can be caused by blockage in your arteries.  Arrhythmia can cause palpitations.  Congestive heart failure causes fluid to build up in your lungs.  Others:  squeezing or heaviness, pain or pressure in your neck, jaw, back or arm.  Paleness, cold sweat and strong, uneven heart beats, trouble catching your breath.   Call 911.  Chew an uncoated aspirin while you wait for help."
---
Council on Aging Meeting
Wednesday, March 12 at 1 join Dawn Carmen Sibor, Brookline's Emergency Preparedness and Medical Reserve Corps leader here to talk about the Emergency Preparedness Buddies program.
Brookline's Emergency Management team, in collaboration with community partners, developed the Buddies program.  It matches Brookline Medican Reserve Corps and Community Emergency Response Team volunteers with elders to assist in identifying preparedness needs, setting up communication plans and preparing supplies for evacuation or sheltering in place.  All are welcome.
---
Mass College of Pharmacy Workshops
Students from Mass College of Pharmacy and Health Sciences hold workshops here Thursday, March 27 and  Thursday, April 10 at 1 pm
---
No senior will go hungry in Brookline
We have the SNAP program, we'll help you sign up for food stamps, we serve hot lunches here and we'll connect you with the Brookline Food Pantry at St. Paul's Church.
We distribute food every Tuesday 2-4 pm.  There's bread and produce, soups, salad and sandwiches and it's free.  Bring a shopping bag.  See Lydia Pearl Tuesday mornings if you can help.  Numbers are given out starting at 11 am.
---
Senior Center Sponsors
Thanks to our sponsors:
PLATINUM -  Beth Israel Deaconess Medical Center, Chou Chou and Michael Merrill

GOLD – Bay State Federal Savings Foundation, Eastern Bank, The Hamilton Company/Harold and Maura Brown, Chobee Hoy, Betsy Pollock, Suzanne Salamon and Alan Einhorn, Winnie and Richard Rubino, Shulamit Kahn and Kevin Lang, Goddard House Assisted Living.

SILVER – Bank of Canton

FRIENDS – Barrie Atkin, Patricia Dobek, Ruthann Dobek and Glenn Boghosian, Jewish Family and Children's Service, Center Communities of Brookline, Doris Toby Axelrod and Lawrence Marks.

BRONZE – Lucille Tawa, Jean and Peter Stringham, Carla and Dick Benka, Brighton House, Brookline Hearing Services, Brookline Municipal Credit Union, Carol and Frank Caro, Michael Chambers, Lesley and John Christian, Nancy Daly and Kevin Cavanaugh, Michael Chambers, Margie and George Chapman, Coolidge House, Leslie and John Christian, Rita and Morgan Daly, Marilyn and Andre Danesh, Betsy and Dennis DeWitt, Emily Drooker, Elder Achievers, Doris and Saul Feldman, Sidney Gelb, Demee Gambulos and Ken Goldstein, House Works, Helen and Rudy Kass, Lasky Homesmith Services, Celia Lascarides and William Manley, Alberta and Roger Lipson, Corinne Long, So Hing Mak, Margolis & Bloom LLP, Jesse Mermell, Cecily and Alan Morse, Mt. Pleasant Home, Robert O'Brien, Judy Meyers and Mark Pasternack, Providence House, Lucy and Dick Robb, Ruth Kertzer Seidman and Aaron Seidman, Enid Shapiro, Robert Sperber, Arlene Stern, Molly and Lewis Turlish, United Health Care Community Plan, Wade Horowitz LaPointe LLC; Roberta Winitzer, Sonia and William Wong

THANK YOU BROOKLINE ROTARY!  Once again Rotary will be supplying all the gasoline for our Center Van.  We couldn't do it without you.  Millions of thanks.

---
Betsy Pollock, president
A special thank you to everyone who made end of year donations.  They are completely deductible.  We use your gifts to keep the van running as well funding furnishing, improvements and programs.
Our thanks to Harold Brown whose generosity enabled us to expand our van service to Fridays.  And thank you to all who made end of year donations.   What this means is more weekend events.

Our endowment is now $1 million. Endowments help ensure the future of the organization. It took 11 years to reach the first million. We're hoping to double our endowment by 2018. You can contribute directly or put the Brookline Senior Center in your will.  I, the board and the entire Center family thank you.
---
News
- – - – - – - – - – - – - – - -
You can find copies of the newsletter at the library, Town Hall, banks, Stop & Shop and the Brookline Booksmith.  The best way to be sure you get one is to subscribe:   for $10 we'll mail it to you for a year.  If you're a retailer with space for a stack of newsletters, call us.  We deliver.
- – - – - – - – - – - – - – - -
Planned Giving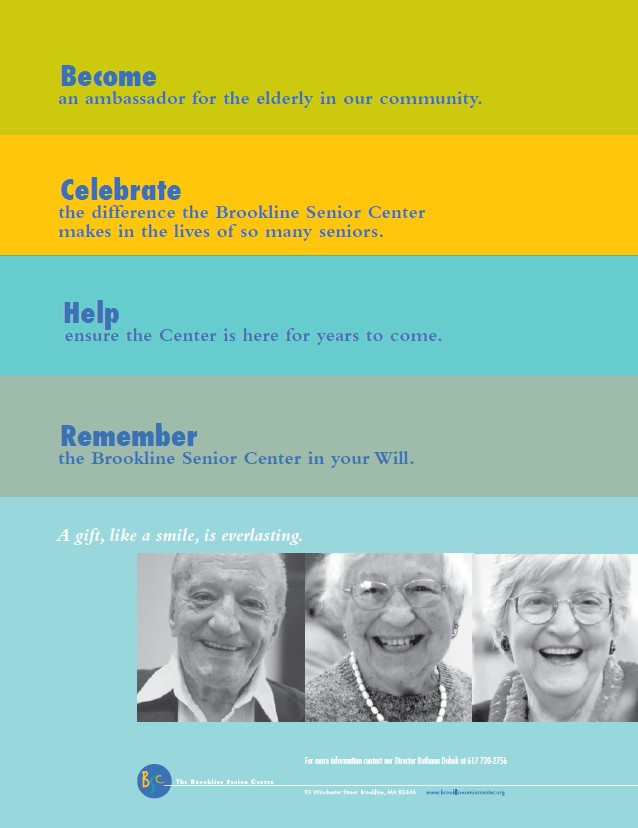 Consider leaving a legacy to the Senior Center.  Your bequest is a gift of hope.  Please call Ruthann Dobek, director:  617. 730. 2756 to help us secure a bright future.