Honoring the wisdom that comes with age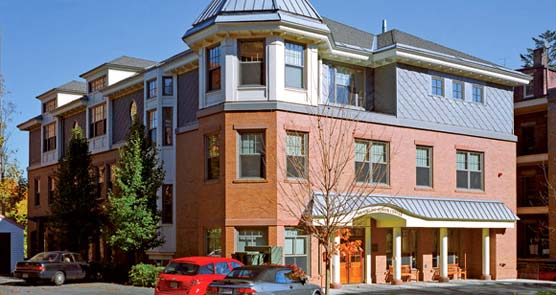 Ruthann Dobek, director
I would like to extend an invitation to all to come to our autumn benefit Wednesday, October 29 at 6 pm.  We're honoring Elias Audy for his devotion to local civic and charitable organizations.

Elias Audy

It's a great evening of food, drink and dancing.  Tickets:  $100, $65 for seniors.  And it's our main fundraising event for the year.  Each dollars will help us reach our goal of $50,000 for the year.  A special thank you to our business sponsors:  Beth Israel Deaconess Medical Center, Harold Brown, Chobee Hoy, Elias Audy and Goddard House.  If you would like to be a corporate sponsor, and we hope you will, please be in touch:  617. 730. 2756     
- – - – - – - – - – - – - – - – - – -

Dancing With the Stars, the Brookline version, Saturday, November 8, 6:30 @Our Lady of Annunciation
Eight contestants, each representing a Brookline group, compete to raise money for a special charity.  JERRY BILLOW is dancing to support us.  Specifically, his goal is to help us raise enough to buy a much-needed new van. 
Why? Last year 150 riders took 3,700 rides.  The van has made 40,000 rides in its lifetime.
Buy a ticket, be a sponsor.  The event is one of the Brookline Rotary's fun raisers. . . Our Lady of Annunciation Church, 7 VFW Parkway, West Roxbury, 6:30 – 10:30.  Here's how you can help:  
http://www.brooklinerotary.org  click the dancers
If you're unable to join us and would like to support the event, please make checks payable to "Rotary District 7910 Charity Fund" and write "Jerry Billow – Brookline Senior Center" on the memo line.  Mail to:  Rotary Club of Brookline, PO Box 136, Brookline, MA  02446    Thank you
- – - – - – - – - – - – - – - – - – - -
Shoot the Flu
Flu clinics, open to all Brookline residents, begin right here Tuesday, October 28 from 11-1 pm.  There is no charge but please bring all health insurance cards.  Everyone, adults, seniors and kids over six months should get the vaccine each year according to the Brookline Department of Public Health.  – - This event is sponsored by the Department,  the Public Schools of Brookline, Brookline Housing Authority and Brookline Council on Aging with special thanks to Beth Israel Deaconess Medical Center.
If you can't make it, there are three other clinics:
Wednesday, October 29, Baker School, 205 Beverly Road, 5-7 pm
Sunday, November 9, Devotion School, 345 Harvard St, 11-2 pm
Thursday, December 4, Brookline Health Department, 11 Pierce St, 4-6 pm
- – - – - – - – - – - – - – - – - – -
We're hosting a Halloween party with the Mom's Club of Brookline here Sunday, October 26, 4-6 pm.  This party is for all ages so bring grandchildren.  Reservations:  617 730. 2770
- – - – - – - – - – - – - – - – - – - – -
Welcome, Interns!
Our new social work interns:  Abbey Arwady from Boston College Graduate School, Blaire Smith from Boston College Graduate School, Rebecca Ableman from Boston University Graduate School of Social Work.
- – - – - – - – - – - – - – - – - – - – -
A special October welcome to those reading for the first time.  This is a great way to be connected to programs and services we offer.  So come out and join us for activities and classes.  We're happy to mail you the paper edition of News and Events each month for $10/yr.
- – - – - – - – - – - – - – - – - – - – - -
We offer free bread and produce every Tuesday, 2-4 pm.  Lunch is available weekdays.  Our concerts and movies are free.  Transportation is available at subsidized rates.  Our staff and volunteers offer counseling and direct assistance with fuel, food stamps and income tax.
---
---
2014 Autumn Benefit Sponsors
Diamond:  $2,500
Beth Israel Deaconess Medical Center
Ruby:  $1,500
Bay State Federal Savings Charitable Foundation, Goddard House Assisted Living, Hamilton Company:  Maura and Harold Brown, Chobee Hoy, Shulamit Kahn and Kevin Lang, Betsy Pollock, Suzanne Salamon and Alan Einhorn, Winnie and Richard Rubino
Sapphire:  $1,000
Laurde and Elias Audy:  Cypress Automart
Emerald:  $500
Atkin Associates LLC, Doris Toby Axelrod and Lawrence Marks, Bank of Canton, Center Communities of Brookline/Hebrew Senior Life, Coolidge House, Golden Living Centers/Heathwood, Margie and Rev. George Chapman, Patricia Dobek, Ruthann Dobek and Glenn Boghosian, Sidney Gelb, Deb Goldberg, Mount Pleasant Home, The Move Maven, Providence House Senior Living, Ruth Kertzer Seidman and Aaron Seidman, Wade Horowitz LaPointe LLC, Sonia and William Wong
Topaz:  $300
Anonymous (3), Carla and Dick Benka, Brookline Hearing Services, Brookline Municipal Credit Union, Carol and Frank Caro, Nancy Daly and Kevin Cavanaugh, Marilyn and Andre Danesh, Betsy and Dennis DeWitt, Emilie Drooker, Elder Achievers, Doris and Saul Feldman, Demee Gamboulos and Kenneth Goldstein, Marcia and Robert Heist, Helen and Rudy Kass, V. Celia Lascarides-Manley, Levine/Stanetsky Memorial Chapels, Corrine Long, So Hing Mak, Cecily and Alan Morse, Lucy and Dick Robb, Enid Shapiro, Robert Sperber, Jean and Peter Stringham, Roberta Winitzer, Christina Wolf and John Bassett, Leroy Neuberg, Wade Horowitz LaPointe LLC, Ada and William White, Phyllis Baker, Beverly Gleason, Martha Sue Turnbull, Mady and Bruce Donoff, John Hull, Ellen Ziskind, Beatrice Telegen, Elizabeth Buonaugurio, Paula Gardner, Mary Ames, Paula and Norman Menyuk, Helen and How Wong, John Carrier, John Backman, Adele Pike, Frances Chaikin, Harriet and Allan Sutfin
---
Podiatry, Blood Pressure, Blood Sugar
Friday, October 17 and October 31 – - Podiatry Clinic from 9-12 noon.  Dr. John Laughlin will see you here for a 15-minute session for routine foot care.    $30   Appointments:  617. 730. 2777
Thursday, October 16 – - Blood pressure screening with Nurse Barbara Westley from the Health Department here from 9-10 am
There are no other blood pressure screenings in October with Barbara Westley
Thursday, October 16 – - Blood sugar screening with Jewish Family & Children's Service Visiting Nurse here at 11 am
- – - – - – - – - – - – - – - – - – - – - – - – - – - – - – - – - – - -
Tuesday, October 28 – - Brookline Health Department flu clinic here 11-1 pm
---
Mass College of Pharmacy Workshop 10/16
Students from the Mass College of Pharmacy and Health Sciences workshop Thursday, October 16 at 1 pm here.  Topic:  insomnia
---
Your Choice Workshop with Lynn Schuster, 10/20
Lynn Schuster, RN of Greater Medford Visiting Nurses tells you what you need to know about Medicare acute care hospitals and post-acute facilities.  Join her in this patient choice workshop Monday, October 20 at 1 pm here.   Reservations needed:  617. 730. 2770    Speak up to your health care providers – it's your right to receive:
a list of Medicare certified home health agencies in your area
full disclosure if the facility has financial interest in the place it recommends
discharge plan with assessment of your needs
case managers and physicians consult on the discharge plan which you have to sign.  You are to be aware of your rights and options.  This is patient choice.  It's helpful to research options before you need service since it is difficult to advocate when you're sick.
Ask for what you want – it is your right and your choice
---
Health Department evening program, 10/22
Wednesday, October 22, 5:30-7 pm, learn about controlling ants, bats and others with a panel from the Health Department and pest control providers.  This program is free and reservations are needed:  617. 730. 2770.       Sponsored by Brookline Community Aging Network and Town of Brookline Health Department
---
Registry of Deeds at Town Hall, 10/23
Thursday, October 23, 10-12 noon, meet William O'Donnell, register of  deeds for Norfolk County  at Brookline Town Hall, 333 Washington St.  The register and staff will answer general questions and specifics about the Mass Homestead Act.  They will print a recorded deed, confirm a mortgage status discharge and check on other filings.  No appointment is needed.  Call the Registry for more information:  781. 234. 3304 and 781. 234. 3336 and visit www.norfolkdeeds.org
---
Flu Clinic 10/28
The Brookline Health Department will hold one of its flu clinics here Tuesday, October 28, 11-1 pm.
---
Get a Job
ITN Greater Boston is looking for a dependable, caring paid driver to cover Brookline, Newton and parts of Boston.  If you're available 10-12 hours a week, please call 508. 309. 7375 or email ITN:       jpbushness@itngreaterboston.org
---
Betsy Pollock, president
Our 13th Annual Benefit is Wednesday, October 29 at 6.  We're honoring Elias Audy for his civic and charitable contributions to Brookline.  The evening promises great food, raffles and entertainment.   Catering by VineRipe Grill and  Catering.  (You can find them each day at the Putterham Golf Course,  1281 West Roxbury Parkway in Chestnut Hill.)
All proceeds fund our programs.  We welcome sponsorships from people like you, companies and nonprofits alike.  If you can donate a gift certificate or merchandise for the raffles, we'd love it.  We're proud of our strong community and need your help to sustain it.  Please be as generous as you can.
Call Ruthann Dobek:  617. 730. 2756.  See you there.
- – - – - – - – - – - – - – - – - – - – - – - – - – - – - – -
Ever lose your balance?  It's scary.   
That's why we offer classes like "Matter of Balance" and chair yoga.  They keep you stronger.  That's why we're so excited about our new Fitness Center.
But balance isn't just important for older adults.  It's important for the Senior Center itself!  And this winter, with all of our construction costs, we lost our balance.  To finish our renovation, we borrowed money.  
We want to balance our books and put the Senior Center back in balance.  Please help by making a gift.   You can donate online here or send a check to Brookline Senior Center, 93 Winchester St., Brookline MA 02446.  Gifts of $1,000 are added to our Wall of Honor.
Our endowment is now $1 million. Endowments help ensure the future of the organization with income stream and reserves. It took 11 years to reach the first million. We're hoping to double our endowment by 2018. You can contribute directly or put the Brookline Senior Center in your will.  These gifts help maintain our programs and physical plant.  I, the board and the entire Center family thank you.
You are a special part of us!  Thanks to your generosity we continue moving forward.  A while back, we reached out to learn what services and facilities you think are most valuable to our health.  Fitness and balance classes topped the list.  People asked for more private space, more medical services and classrooms.  So renovating our fitness center became a priority.
Last winter we launched our first major renovation since the building was built:  renovating 2,500 square feet in our four-story building.  We have two new classrooms, three new offices, a conference room,  and we moved the fitness center from the basement to the sunny second floor.  It's fantastic.
The cost came to $294,000.  Out of pocket for demolition, architect, labor and materials is $234,000.  Plus, we budgeted $60,000 for computers, medical and fitness gear.  The Town of Brookline helped us get two Community development Block Grants for $108,000 and insisted we raise the rest from people like you.  We're $92,150 out of balance.
Will you help?  You know the value.  You know people turn to us for fuel assistance, hot lunch, fitness and more.   With your support we can go on providing the community support you depend on.  Please use the Paypal button above.   Checks welcome.  Thank you.
---
News
You can find copies of the newsletter at the library, Town Hall, banks, Stop & Shop and the Brookline Booksmith.  The best way to be sure you get one is to subscribe:   for $10 we'll mail it to you for a year.  If you're a retailer with space for a stack of newsletters, call us.  We deliver.
Planned Giving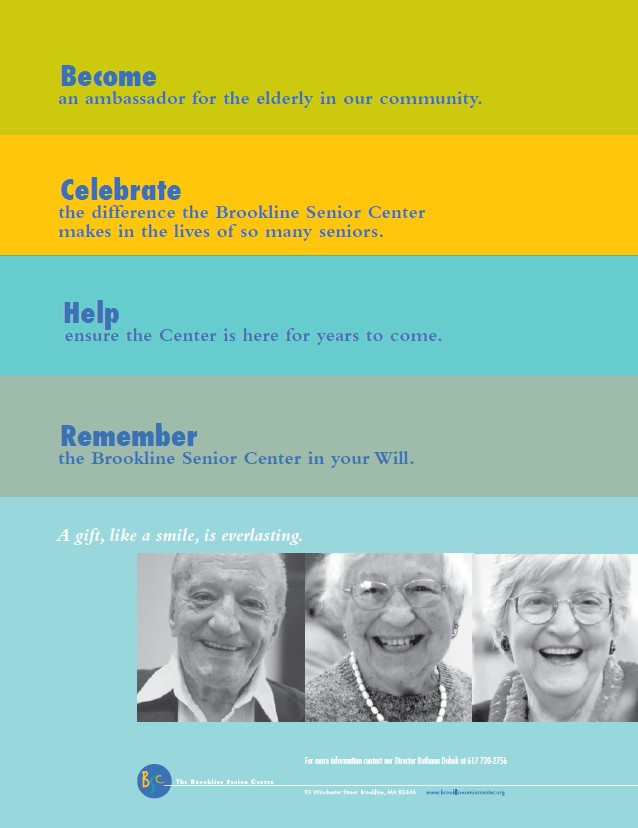 Consider leaving a legacy to the Senior Center.  Your bequest is a gift of hope.  Please call Ruthann Dobek, director:  617. 730. 2756 to help us secure a bright future.