Honoring the wisdom that comes with age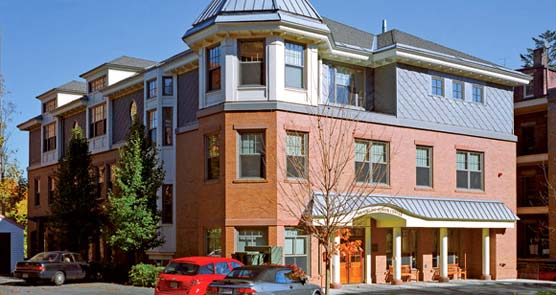 Ruthann Dobek, director
Our building engineer,  Ralph Perkins, retires Friday, September 30.  His dedication ensures the Center runs smoothly.  Join us on Friday  the 30th for a party starting at 4.  Elvis might show.  Register:  617. 730. 2770
Wednesday, October 26 is our 15th Annual Benefit.  We will honor Dr. Alan Balsam, (right) director of Brookline Public Health, for his commitment to health and elder services.  Beth Israel Deaconess Medical Center is a diamond sponsor.  Early sponsors:  Michael Merrill, Chobee Hoy and Elias Audy.  We need you and your organization to maintain our programs.  Let us hear from you. (See Betsy's column, below, for details)

Whatever your interests, get to know us.  Stay connected with our programs and services.  We're here to help fill your days with creative activities and new friends whether it's exercising, volunteering or learning something new.  Our gym has new gear and great staff.   Stop in 8:30-4:30.   And take a hike, or dance, lift weights, walk, yoga.  For every minute you exercise, you add seven minutes to your life, so says Harvard School of Public Health.
Naming opportunities:  Donations of $1,000 are added to our Wall of Honor.  A donation of $10,000 brings naming rights for an office or the conference room.  For $25,000, naming option for our double classroom.  For $35,000, naming option for the fitness center. rdobek@brooklinema.gov    617. 730. 2756
Our concerts and movies are free.  Get transportation at subsidized rates:  the van runs every day.  Our staff and volunteers offer counseling and direct assistance with fuel, food stamps and income tax.  Also, we'll mail the paper edition of News and Events to you for $10/yr.

---
Tax Work Off, 9/28
Earn an hour credit towards this work off program Wednesday, September 28 , 2-3 pm.  Work for the town, get a tax write off.  Gary McCabe, Brookline town assessor is here.  Regrets only:  Deidre Waxman:  617. 730. 2767
---
Age Advantage at Work, 9/28
Come explore the advantages you and your age have in the workplace.  How can you capitalize on these advantages during your job search?   The workshop will be facilitated by Patricia Burns, REAP advisor.   Time:  3-5 pm     To reserve call:  Deidre Waxman 617. 730. 2767 or Patricia Burns at 617. 730. 2743
---
Mass College of Pharmacy, 9/29 & 10/13
Students from the Mass College of Pharmacy and Health Sciences workshops begin Thursday, September 29 at 1.  Talking topics of general interest and answering questions.  Next workshop: Thursday, October 13.
---
Brookline Music School Concert, 10/5
Wednesday, October 5 at 2 is the first Music School concert of the season.
---
Reel in the Closet, 10/19
Wednesday, October 19 at 7 pm at the Coolidge Corner Theatre:  Reel in the Closet.  Screening with director Stu Maddux, who also directed Gen Silent.  Reel is a documentary connecting LGBTQ people from the past through home movies.  Reception at the Senior Center with Maddux 5-6 pm.  To attend the reception:  617. 730. 2770.  – – Sponsored by Goddard House, BrooklineCan, Center Communities of Brookline, Beth Israel Deaconess Medical Center and Brookline Senior Center
---
Yoga Wednesdays
We do active and restorative poses to build strength, flexibility and balance.  Wednesdays 1-2 pm, donations:  $5-$10 please.  Call to register: Sharon Devine:  617. 730. 2769
---
Balance Class Tuesdays, Thursdays
Join us in the fitness center to practice balance and flexibility  Tuesdays and Thursdays 4-4:30.  Register:  Sharon Devine  617. 730. 2769
---
Computer Basics, Phones, Laptop Tuesdays
Fran Pechenick helps with email and the internet.  Dan Siagel works with basics, Smartphones, laptops and tablets using Apple and Android operating systems.  Liam Dwyer is a high school student who helps with basics and Smartphones. Sign up for Tuesday 30 or 60 minute one on one sessions.  Register:  617. 730. 2777.  Olga Sliwa:  617. 730. 2768
Computers are available in the lab Mondays,  Wednesdays and Thursdays  2-4 pm
---
Reiki Therapy Tuesdays
Akemi Minami, certified Reiki therapist, offers 25-minute appointments to Brookline residents over 60 and Senior Center volunteers.  Sessions: 9-12 noon Tuesdays.  Cost: $7.  Five-treatment books:  $25.
"Reiki (霊気/ˈreɪkiː/) is a form of alternative medicine developed in 1922 by Japanese Buddhist Mikao Usui.[1][2] Since its beginning in Japan, Reiki has been adapted across varying cultural traditions. It uses a technique commonly called palm healing or hands-on-healing. Through the use of this technique, practitioners believe that they are transferring "universal energy" through the palms of the practitioner, which they believe encourages healing.  Some physicians have said it might help promote general well being." – – Courtesy of Wikipedia
,
---
News

 See below for sponsorship
– – – – – – – –
Artist Gary Chen gussies the van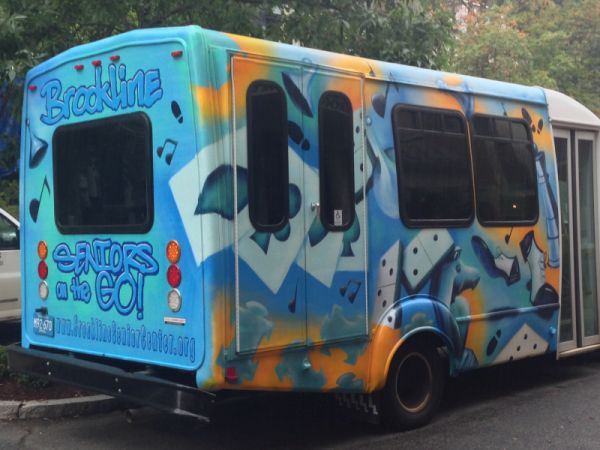 photo by Mary Nguyen
Thanks a million, Artists for Humanity!   
– – – – – – – –
Newsletter
– – Find the newsletter at the library, Town Hall, banks, Stop & Shop, Star Market on Beacon and the Brookline Booksmith.  The best way to be sure you get one is to subscribe:   for $10 we'll mail it to you for a year.  If you're a retailer with space for a stack of newsletters, call us.  We deliver.  Be an advertiser:  Click for ad specs
Planned Giving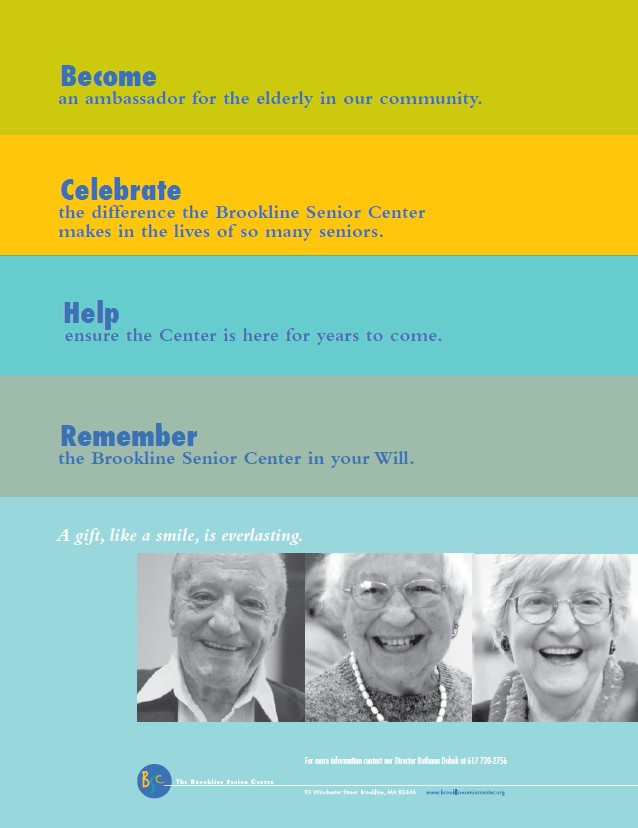 – – Consider leaving a legacy to the Senior Center.  Your bequest is a gift of hope.  Please call Ruthann Dobek, director:  617. 730. 2756 and help us secure a bright future
– –
Morgan Chickering Exhibit
Finding Peace:  paintings and drawings in the Gallery through September 29
– –