Honoring the wisdom that comes with age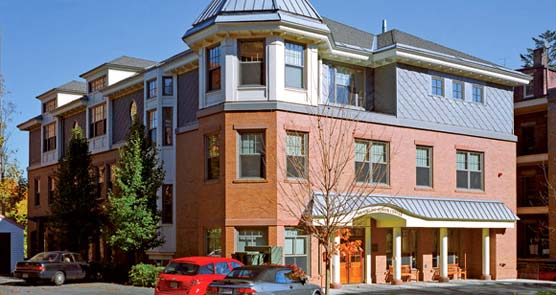 Ruthann Dobek, director
We are closed Monday, February 15 in honor of President's Day.
What we do matters . . . whether we're hosting someone's birthday or helping to find housing or gifted by someone's estate.  We're proud to be a vital part of the community.  We provide a safe haven for elders and a vibrant community center.  I think this community of people who enrich lives.
February 10 at 1 is orientation for new Council on Aging board members.  All are welcome to learn more about the Council's mission.
February 24 hear the Silver Leaf Gospel Singers
Thanks to Nancy Daly who danced at the Brookline Rotary's Dancing for the Stars for us and our Alzheimer Respite Program.  She raised $12,300!   Nancy is a selectwoman, a member of the Council on Aging, and co-chair of Age-Friendly Brookline,  a member of the World Health Organization's network. Millions of thanks, Nancy.
Thanks to everyone who came to our 14th Annual Benefit.  Photos by Mimi Katz here
Whatever your interests, get to know us.  Stay connected with our programs and services.  We're here to help fill your days with creative activities and new friends whether it's exercising, volunteering or learning something new.  Our gym has new gear and great staff.   Stop in 8:30-4:30.   And take a hike, or dance, lift weights, walk, yoga.  For every minute you exercise, you add seven minutes to your life, so says Harvard School of Public Health.
Naming opportunities:  Donations of $1,000 are added to our Wall of Honor.  A donation of $10,000 brings naming rights for an office or the conference room.  For $25,000, naming option for our double classroom.  For $35,000, naming option for the fitness center. rdobek@brooklinema.gov    617. 730. 2756
Our concerts and movies are free.  Get transportation at subsidized rates:  the van runs every day.  Our staff and volunteers offer counseling and direct assistance with fuel, food stamps and income tax.  Also, we'll mail the paper edition of News and Events to you for $10/yr.

---
TRIPPS at Putterham Library, 2/12
Meet TRIPPS program director Kerri Ann Tester, Friday, February 12 10:30-11:30 at the Putterham Library, 959 West Roxbury Parkway.  Learn more about transportation options without cars.
---
Job/Volunteer Search Team Meetings, daily thru 3/15
We're sharing resources and support.  Join us daily through March 15 here, 2-3:30 pm.  This group is free for all job and volunteer work seekers.   Info:  Deidre Waxman  617. 730. 2767   dwaxman@brooklinema.gov             Patricia Burns:  617. 730. 2743   pburns@brooklinema.gov
---
Real Estate Tax Exemptions, 2/16
Learn more about abatements and exemptions from Sandy Spector, Tuesday, February 16 10-12 noon here.
---
Silver Leaf Gospel Singers, 2/24
Wednesday, February 24 at 1, the a capella Silver Leaf Gospel Singers return with  Deacon Randy Green, Deacon Lucious Sparks, Billy Campbell, Bobby Jackson, Deacon Smitty Jones, Deacon Warren Alston – preview on YouTube                                                                     
---
TRIPPS Uber Training, 2/25
TRIPPS transit advisor volunteers:  join us for Uber Training Thursday, February 25 2-3 pm here.  Register with  Kerri Ann Tester:  617. 730. 2644    tripps@brooklinema.gov
---
Stock our Shelves Event, 3/22
Coming soon:  Stock our Shelves restaurant event supports all Brookline initiatives:  the Food Pantry, Meals on Wheels, and the Food Cooperative.   Try some of everything from local restaurants here Tuesday, March 22, 4-6 pm.  Admission:  $5 plus three nonperishable items.  Register:  617. 730. 2770
---
Screenings: blood pressure, podiatry, sugar

Barbara Westley is public health nurse for the Brookline Health Department
Wednesday, February 10 – – Barbara Westley does blood pressure screening at Sussman House, 50 Pleasant St, 1-2 pm
Thursday, February 18 – – Barbara Westley does blood pressure screening here, 9-10 am
Thursday, February 18 – – Staff from Brookline Hearing Services will be here, 1-2 pm for hearing aid cleaning and counseling.  No charge.  Batteries:  $5/pack.
Wednesday, February 24 – – Barbara Westley does blood pressure screening at O'Shea House, 61 Park St, 1-2 pm
Health Coach Ilse Leeser, registered nurse practitioner (and the leader of our arthritis exercise class) does health coaching Wednesdays.  Get support for a healthy diet and exercise to help with weight, diabetes and blood pressure.  She'll help you understand medications and test results.  Register for 30 minute, 1‐on‐1 appointments Wednesday afternoons:  617. 730. 2777
---
Online Volunteer Jobs Mondays
Work with Alberta Lipson to find volunteer jobs online through database inquiries and support.  See her here Mondays in February 2-4 pm.
---
Morning dance party Tuesdays
Meet instructor Lynn Modell every Tuesday 11-11:45 here for modern dance with a new name.  $2 suggested donation
---
Elizabeth Pollock, president


Thanks to everyone who remembered us in their year-end contributions.  Your generosity ensured the van runs every day.
One more thing:  I care deeply about the future of the Center and so I have included it in my estate planning. Endowments help ensure the future of the organization with income stream and reserves. It took 11 years to reach the first million. We're hoping to double our endowment by 2018. You can contribute directly or put the Brookline Senior Center in your will.  Gifts of $1,000 will be added to our Wall of Honor.  Be sure to let us know you've included us in your will or trust so we can recognize you in our Ambassador Club.  ***   "I give $___ to Brookline Multi-Service Senior Center Corp (EIN 04-2719972), a Massachusetts non-profit corporation, located at 93 Winchester St, Brookline, MA 02445 to be used for general purposes." – – Consult your lawyer or financial advisor
---
News
Peg O' Connell
An exhibition of photographs in Gallery 93:  "Landscapes in Platinum" showing through March 31.  Reception with Peg O'Connell  Tuesday, January 26, 6-8 pm
– – – – – – – – – – – – –
– – – – – – – – – – – – –
A TRIO OF THANKS



Elks Lunch & Tree
Millions of thanks to the Brookline Elks who brought us lunch and a tree for the holidays.  We wish you all the happiest and best in the New Year.
Newsletter Providers
Thank you printer Tim Sullivan for meeting tight deadlines
Thank you proofreaders Rhona Hirschowitz and Fran Pechenick
Thank you Sonia Wong for advertising and donors
Thank you Dotty Bell and crew for getting the newsletter in the mail
Merchant donations to holiday craft fair:
Millions of thanks to 4A Coffee, Aborn True Value. Albert's Florist, Anna's Taqueria, Basil Rice, Brookline Booksmith, Brookline Grooming & Pet, Brothers Restaurant, Coolidge Corner Theatre, Corrib Pub, Courtyard by Marriott, Dok Bua, Dorado Tacos, Dunkin' Donuts Allston, Fire Opal, Hops N Scotch, JP Licks, Mattei Galleria, Michael's Deli, Mint Julep, Osaka Sushi & Steak House, Paris Creperie, Party Favors, The Pear Tree, Shanghai Jade, Skiki Restaurant, Sichuan Gourmet, Simons Shoes, Sol Azteca, Brookline Spa, Temptations Cafe, When Pigs Fly Bakery, Zaftigs
– – – – – – – – – –
Planned Giving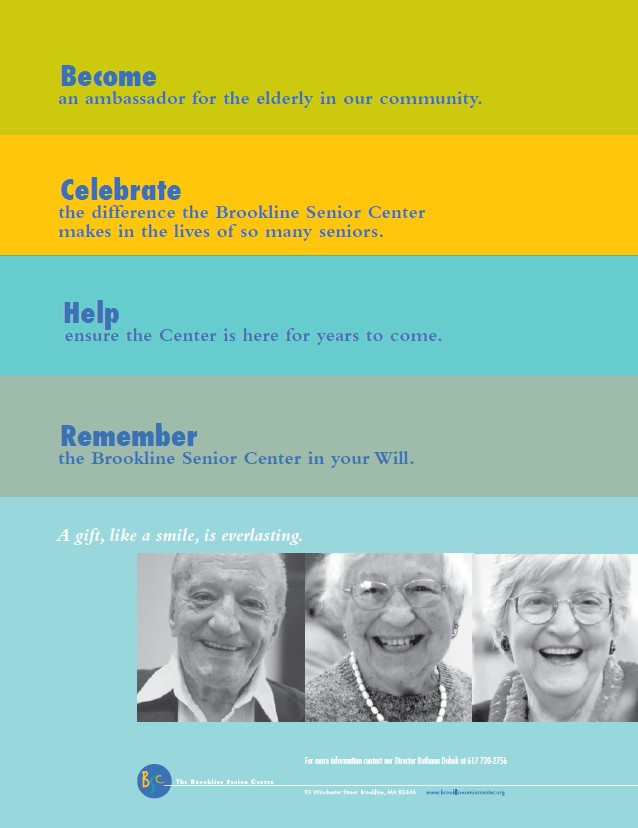 – – Consider leaving a legacy to the Senior Center.  Your bequest is a gift of hope.  Please call Ruthann Dobek, director:  617. 730. 2756 and help us secure a bright future
– – – – – – – –
Newsletter
– – Find the newsletter at the library, Town Hall, banks, Stop & Shop, Star Market on Beacon and the Brookline Booksmith.  The best way to be sure you get one is to subscribe:   for $10 we'll mail it to you for a year.  If you're a retailer with space for a stack of newsletters, call us.  We deliver.  Be an advertiser:  Click for ad specs
– – – Brookline Trader Joe's sends us flowers!  Each week you brighten our office.  Millions of thanks