Honoring the wisdom that comes with age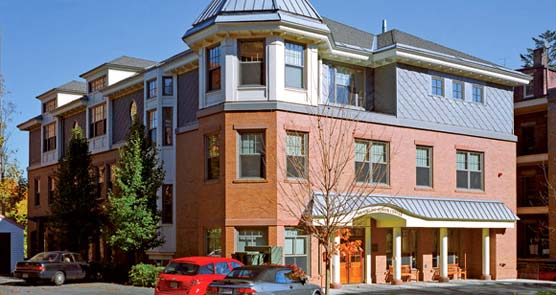 Ruthann Dobek, director
Join us Thursday, July 30 to learn more about the REAP program.  Panel discussion with REAP activists and networking 3:30–5:00.  Free and open to all; please register:  Deidre Waxman  dwaxman@brooklinema.gov   617. 730. 2767
The heat is on as Mary Stevenson does her great workouts for Zumba Gold classes Thursday afternoons.  Brookline Housing residents get these classes at no charge
Naming opportunities:  Donations of $1,000 are added to our Wall of Honor.  A donation of $10,000 brings naming rights for an office or the conference room.  For $25,000, naming option for our double classroom.  For $35,000, naming option for the fitness center. rdobek@brooklinema.gov    617. 730. 2756
Food Distribution         Tuesdays 2- 4 pm – – The selection of free produce and food varies.  All food is placed in inventory before any can be distributed.  Please bring a shopping bag.  This is a busy program that depends on volunteers.  If you can help, see Lydia Pearl here Tuesday mornings
Whatever your interests, get to know us and donate time and talent to make us the best center around.  Stay connected to programs and services we offer.  We're here to help you plan your days with creative activities and new friends.  We can help whether it's exercising, volunteering or learning something new.  Our gym has new gear and great staff.   Stop in 8:30-4:30 daily.   And take a hike, or dance, lift weights, walk, yoga.  For every minute you exercise, you add seven minutes to your life, so says Harvard School of Public Health.
We serve lunch.  Our concerts and movies are free.  Get transportation at subsidized rates:  the van runs every day.  Our staff and volunteers offer counseling and direct assistance with fuel, food stamps and income tax.  Also, we'll mail the paper edition of News and Events to you each month for $10/yr.

---
Party of the century in the news
"We had a wonderful time celebrating with our centenarian friends July 15 and none of it would have been possible without our community partners: BrooklineCAN, Center Communities of Brookline and Goddard House Assisted Living." – – Julie Washburn

Photo by Jessica Rinaldi, Globe Staff
Read the story in the Boston Globe
– – – – – – – – – – – – – – –
Photos by Jesse Costa, WBUR
by Carey Goldberg, WBUR
BROOKLINE, Mass. It's a rare milestone, to turn 100 — but not nearly as rare as it used to be.
This week in the town of Brookline, Massachusetts, the senior center hosted more than a dozen local centenarians for a "Party of the Century." In the not-so-distant past — centenarian parties in 2002 and 2007 — party organizers had to reach out to centenarians from all of Greater Boston to gather a critical mass for a fete.
But now, the 99-and-over set has so grown that the party had to limit itself to just Brookline, says Ruthann Dobek, director of the Brookline Council on Aging. And if the numbers keep growing, she told the crowd, "we're going to have to start it at 105 or 110 to be eligible."
The centenarians are the leading edge of the fastest-growing sector of the population: people over 60. In this state, the population over 60 has grown 17 percent over just the last five years, and the over-60 cohort will soon outnumber people under 20 for the first time in history, says David Stevens, the executive director of the Massachusetts Association of Councils on Aging.
– – – – – – – – – – – – – – –
Photos by The Tab Staff
---
Dobek and Caro: Innovators of the Year
Ruthann Dobek, Frank Caro and the Brookline Community Aging Network were honored by the Mass Councils on Aging (MCOA) with this year's Innovator of the Year award.  The award, presented by Jayne Colino, director of Newton's Senior Center, recognizes Dobek and Caro for their approaches and accomplishments.  BrooklineCAN was instrumental in having WHO honor Brookline as an age-friendly community.  Dobek and Caro are co-chairs.
MCOA is a statewide nonprofit that links the councils on aging throughout Massachusetts.  BCAN helps residents remain independent and engaged.  The all-volunteer group advocates for residents, works with town agencies and facilitates ways for members to contribute.  More information BCAN:  www.brooklinecan.org        617. 730. 2777  – – courtesy of the Brookline Tab
---
Blood pressure screening, podiatry, hearing

Barbara Westley is the public health nurse for the Brookline Health Department
Wednesday, July 22 – – Nurse Barbara Westley does blood pressure screening 1-2 pm at O'Shea House, 61 Park Street
Thursday, July 23 – – Brookline Hearing Services will be here 1-2 pm for cleanings, maintenance and counseling at no charge.  Battery packs: $5
---
Longwood Symphony Ensemble, 7/25
Chamber music by the Longwood Symphony Orchestra Ensemble Saturday, July 25 at 2 here.  The ensemble's made up of mainly doctors, medical students, scientists, nurses, therapists and caregivers.  Reservations:  617. 730. 2770 – – Event made possible by a grant from the Brookline Community Foundation
---
REAP panel and networking, 7/30
Our Retirement Engagement Alternatives Program  (REAP)  addresses the needs of Brookline residents over 60:
Are you newly retired and looking for work?
Are you planning for retirement?
Do you want to volunteer?
Could you use part-time work?
Patricia J. Burns, the REAP program job skills counselor, will work with you on job search skills like resumes, cover letters, networking support and LinkedIn profiles.   REAP places volunteers and others in nonprofits and businesses.
Join us Thursday, July 30 3:30- 5 to learn more about the REAP program.  Panel discussion with REAP activists and networking.  Free and open to all; please register:  Deidre Waxman  dwaxman@brooklinema.gov   617. 730. 2767

(Need a volunteer?  We have them. We have people who will meet you in our community room or at home.  Connect with someone who's interested in playing games, puzzles and walking.)  Patricia Burns:  617. 730. 2743
---
Pawtucket's Red Sox Game, 7/30
Centre Communities of Brookline and the Center get together for an afternoon of baseball at McCoy Stadium, Pawtucket, RI starting at noon Thursday, July 30.  Tickets:  $15 for reserved box seats.  Register:  617. 730. 2777
---
Jean Doherty, volunteer of the year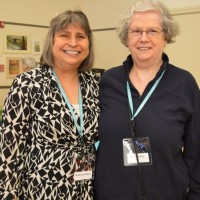 We honored all our volunteers at the annual luncheon April 15.  Shown here is 2015 volunteer of the year Jean Doherty (right) with director Ruthann Dobek.  Thanks to all Center volunteers; we couldn't do it without you.
---
Volunteers to read and shop
Help a visually impaired person by reading or shopping with them.  No special skills needed.  Call Kyle Robidoux, director of volunteer and support services, Mass Association of the Blind:  617. 926. 4312
---
Autumn Benefit Sponsors 2014
We honor Elias Audy for his community service as a member of the Brookline Chamber and Brookline Rotary.  He has been an advocate for the Center since its inception and believes that a society is judged by how it cares for its children and elders.  He lives in West Roxbury with his wife, Laurde.
Diamond:  $2,500
Beth Israel Deaconess Medical Center
Chou Chou and Michael Merrill
Ruby:  $1,500
Bay State Federal Savings Charitable Foundation, Goddard House Assisted Living, Hamilton Company:  Maura and Harold Brown, Chobee Hoy, Shulamit Kahn and Kevin Lang, Betsy Pollock, Suzanne Salamon and Alan Einhorn, Winnie and Richard Rubino
Sapphire:  $1,000
Laurde and Elias Audy:  Cypress Automart
Emerald:  $500
Atkin Associates LLC, Doris Toby Axelrod and Lawrence Marks, Bank of Canton, Center Communities of Brookline/Hebrew Senior Life, Coolidge House, Golden Living Centers/Heathwood, Margie and Rev. George Chapman, Patricia Dobek, Ruthann Dobek and Glenn Boghosian, Sidney Gelb, Deb Goldberg, HouseWorks, Jewish Family & Children's Service, The Move Maven, Providence House Senior Living, Ruth Kertzer Seidman and Aaron Seidman, Wade Horowitz LaPointe LLC, Sonia and William Wong
Topaz:  $300
 Anonymous (3), Carla and Dick Benka, Brookline Bank, Brookline Hearing Services, Brookline Municipal Credit Union, Carol and Frank Caro, Nancy Daly and Kevin Cavanaugh, Helen Charlupski, Marilyn and Andre Danesh, Betsy and Dennis DeWitt, Emilie Drooker, Elder Achievers, Thomas Faulhaber, Doris and Saul Feldman, Demee Gamboulos and Kenneth Goldstein, Epoch Senior Healthcare of Chestnut Hill, Global Partners and Alliance Energy, Marcia and Robert Heist, Helen and Rudy Kass, Home Instead Senior Care,  Nancy and Harry Johnson
Jean and Robert Kramer, Alberta and Roger Lipson, V. Celia Lascarides-Manley, Levine/Stanetsky Memorial Chapels, Corrine Long, So Hing Mak, Sylvia and Ralph Memolo, Cecily and Alan Morse, Mount Pleasant Home, Lucy and Dick Robb, Enid Shapiro, Robert Sperber, Jean and Peter Stringham, Roberta Winitzer, Christina Wolf and John Bassett, Leroy Neuberg, Ada and William White, Phyllis Baker, Beverly Gleason, Martha Sue Turnbull, Mady and Bruce Donoff, John Hull, Ellen Ziskind, Beatrice Telegen, Elizabeth Buonaugurio, Paula Gardner, Mary Ames, Paula and Norman Menyuk, Helen and How Wong, John Carrier, John Backman, Adele Pike, Frances Chaikin, Harriet and Allan Sutfin
---
Elizabeth Pollock, president

"Exercise in the only thing that helps everything associated with aging," says Dr. Janice Schwartz, professor of medicine at UC San Francisco.  I'm continually amazed by the amount of new research that shows the value of fitness:  improving health, boosting memory and helping to prevent dementia.  We're grateful for our renovated fitness center.  Not everyone can afford the membership fee.  To help, we're raising funds for scholarships.  $35/month or $420/year keeps one adult active.  Please join me in supporting them.
I care deeply about the future of the Center and so I have included it in my estate planning. Endowments help ensure the future of the organization with income stream and reserves. It took 11 years to reach the first million. We're hoping to double our endowment by 2018. You can contribute directly or put the Brookline Senior Center in your will.  Gifts of $1,000 will be added to our Wall of Honor.  Be sure to let us know you've included us in your will or trust so we can recognize you in our Ambassador Club.  ***
People turn to us for fuel assistance, hot lunch, fitness and more.   With your help we can go on providing the community support they depend on.
*** Suggested bequest:  "I give $___ to Brookline Multi-Service Senior Center Corp (EIN 04-2719972), a Massachusetts non-profit corporation, located at 93 Winchester St, Brookline, MA 02445 to be used for general purposes." – – Consult your lawyer or financial advisor
---
News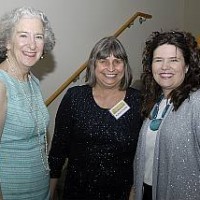 Annual Benefit:  Betsy Pollock, president (left), Ruthann Dobek, director, Julie Washburn, program manager

– – ʺA Simple Gestureʺ Life Drawings by Marcia Hnatowich, Marie Claire Kamin, Diane Pansen, Diane Schodlatz, Marcia Shanbaum, Suzanne Teich, Margo Volterra, and Norman Wilson.  Reception with the artists Thursday, September 10, 4-6 pm      Now in Gallery 93 through September 25.
– – Find the newsletter at the library, Town Hall, banks, Stop & Shop, Star Market on Beacon and the Brookline Booksmith.  The best way to be sure you get one is to subscribe:   for $10 we'll mail it to you for a year.  If you're a retailer with space for a stack of newsletters, call us.  We deliver.
– – – – – – – – – – – – – – – – – – – –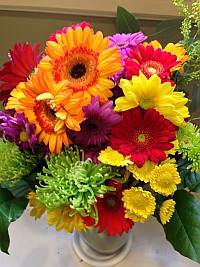 – – Brookline Trader Joe's sent us flowers!  Each week you brighten our desks and office.  Millions of thanks
– – – – – – – – – – – – – – – – – – – –
Planned Giving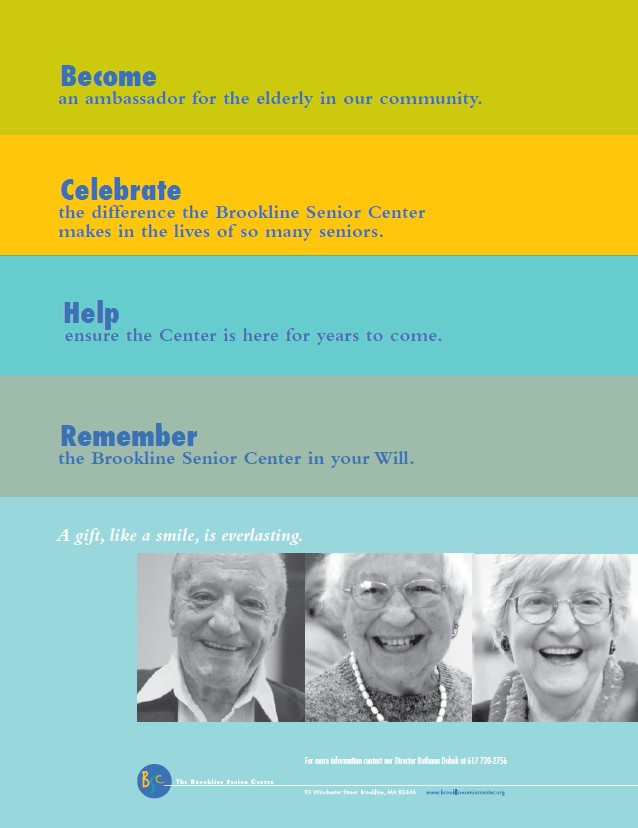 – – Consider leaving a legacy to the Senior Center.  Your bequest is a gift of hope.  Please call Ruthann Dobek, director:  617. 730. 2756 and help us secure a bright future