Honoring the wisdom that comes with age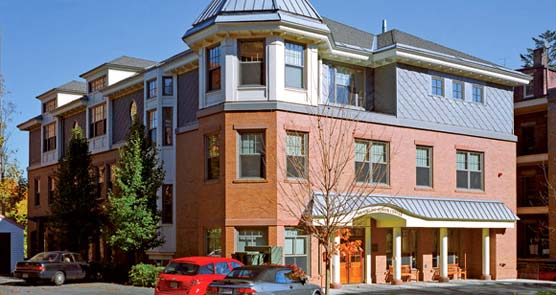 Ruthann Dobek, director
We will be closed Monday, October 12 in observance of Columbus Day.
The Council on Aging meets Wednesday, October 14 at 1 here.  Kempland Walley, biomedical engineer and clinical research associate at Beth Israel Deaconess Medical Center, will talk about bone density and a study.  "He has contributed to a vast collection of biomechanical and surgical outcome studies involving the shoulder complex, the knee, foot & ankle, and wrist & hand since his arrival to the Center for Advanced Orthopedic Studies."
Whatever your interests, get to know us.  Stay connected with our programs and services.  We're here to help fill your days with creative activities and new friends whether it's exercising, volunteering or learning something new.  Our gym has new gear and great staff.   Stop in 8:30-4:30.   And take a hike, or dance, lift weights, walk, yoga.  For every minute you exercise, you add seven minutes to your life, so says Harvard School of Public Health.
We look forward to seeing you Wednesday, October 28 for our 14th Annual Autumn Benefit.  We're honoring Carol and Frank Caro for community advocacy, specifically  Brookline Community Aging Network.  Beth Israel Deaconess Medical Center is our diamond sponsor (sponsorships available below).  This is a great evening of food, drink and entertainment.
Naming opportunities:  Donations of $1,000 are added to our Wall of Honor.  A donation of $10,000 brings naming rights for an office or the conference room.  For $25,000, naming option for our double classroom.  For $35,000, naming option for the fitness center. rdobek@brooklinema.gov    617. 730. 2756
Our concerts and movies are free.  Get transportation at subsidized rates:  the van runs every day.  Our staff and volunteers offer counseling and direct assistance with fuel, food stamps and income tax.  Also, we'll mail the paper edition of News and Events to you for $10/yr.

---
Igor Begelman in concert, 10/7
The annual Piatigorsky Foundation concert is Wednesday, October 7 at 1 pm here.  Featured artist is Igor Begelman, clarinet.  " Recipient of the Avery Fisher Career Grant, Mr. Begelman has been honored with a long list of top prizes, including those at the Geneva International, Koussevitsky, Munich International and Carl Nielsen International Clarinet competitions, as well as the Crane New Music Competition. An avid proponent of new music, he has premiered compositions by Jennifer Higdon, Anton Kuerti, Alex Krasotov, Meyer Kupferman, Elliot Schwartz, and Ralph Shapey."        The Foundation brings "live classical music to non-traditional venues in an intimate, accessible and informative way."   Register:  617. 730. 2770    Learn more about the Foundation here            
---
Emergency Preparedness Buddy Seminar, 10/8
Cheryl Snyder, who coordinates the emergency preparedness buddy program for the Brookline Medical Reserve Corps (MRC) at the Brookline Health Department, will be here Thursday, October 8 at 11.  Learn more about the program that assists local residents in getting ready for emergencies.  You will be matched to an MRC or CERT (Community Emergency Response Team) member to help you identify your needs, communications and supplies.  You're eligible if you're over 65 or have disabilities and there is no charge.  The program focuses on those who live alone with little or no family support.  To register:  617. 730. 2770
---
Bead Designer Intl Show, 10/17
Join Marge Harvey at the 37th Annual Bead Affaire Saturday, October 17 10-5 pm.  Tickets:  $6.   Armenian Cultural and Educational Center, 47 Nichols Ave, Watertown.  Info:  978-772-1767   www.beadesignintl.org
---
Health: blood pressure, podiatry, sugar screenings

Barbara Westley is the public health nurse for the Brookline Health Department
Friday October 16,  Friday, October 30 – – Routine foot care with Dr. John McLaughlin from 9-12 noon.  15-minute sessions are $30.  Appointments:  617. 730. 2777
Wednesday, October 14 – – Barbara Westley does blood pressure screening 1-2 pm at Sussman House, 50 Pleasant St
Tuesday, October 20 – – Flu Clinic here from 11-1 pm.  Free, bring insurance info
Wednesday, October 21 – – Peer support group for people with limited vision at 1 pm
Thursday, October 22 – – Barbara Westley does blood pressure screening 9-10 am here at the Center
Wednesday, October 28 – – Barbara Westley does blood pressure screening 1-2 pm at O'Shea House, 61 Park Street
Dr. Howard Liu, Diploma of American Board of Medical Acupuncture, offers monthly appointments here.  For one hour sessions: $15 donation.  617. 730. 2777
---
Estate Planning, Asset Protection Seminar, 10/19
Matthew Marcus, attorney and Peter Fredericksen, director of estate planning at Bank of Canton will be here Monday, October 19 at 1 to talk about how you can protect your estate from nursing home costs, how to make a health care proxy, minimize estate taxes and walk you through probate court.  Please reserve a seat with Elaine Joseph, Canton's Brookline bank manager:  617. 739. 9500, ext 6550
---
Flu Clinics 10/20, 10/27, 11/15
The Brookline Health Department's annual flu clinics:
Tuesday, October 20, 11-1 pm here at the Center
Tuesday, October 27, 5:30 – 7:30 at Baker School
Sunday, November 15, 11-2 pm at Devotion School
No charge, bring insurance info for forms, no rsvp needed.  617. 730. 2336
---
Mass College of Pharmacy Seminar, 10/29
Join Mass College of Pharmacy and Health Science students for a discussion on coughs, colds and flu and when to seek help.  Meets Thursday, October 29 at 11 here.
---
Autumn Benefit, 10/28
Join us Wednesday, October 28 for the 14th Annual Autumn Benefit.  We're honoring Carol and Frank Caro, founders of Brookline Community Aging Network, Brookline activists and advocates.
SPONSORSHIPS
Diamond $2,500+      
Ruby $1,000     Sapphire  $750     Emerald  $500   Topaz  $300
Thanks to early sponsors:  Beth Israel Deaconess Medical Center, Michael Merrill, Harold Brown, Chobee Hoy, Elias Audy.
Make checks payable to Brookline Senior Center.  Use your credit card on Paypal above.  Tickets:  $100, $65 for seniors
---
So you want to be an entrepreneur, 11/4
---
Elizabeth Pollock, president

Come to our 14th annual benefit Wednesday, October 28 at 6.  We're honoring Carol and Frank Caro for the activism and support.  Catering by Vine Ripe Grill, raffles and entertainment.  Proceeds benefit our programs.  Sponsorship welcome from individuals, companies and nonprofits at all levels.  We welcome gift certificates, merchandise and services for the raffles. Show your support. Call Ruthann:  617. 730. 2756. 
Thanks to our early diamond sponsors:  Beth Israel Medical Center, Michael Merrill.
Ruthann Dobek and Frank Caro were honored by the Mass Council on Aging as Innovators of the Year.  The award is based in part on a proposed mobility initiative Senior Transportation Advice Information Training and Support (STRAITS).  Congratulations Ruthann, Frank and Brookline CAN.
"Exercise in the only thing that helps everything associated with aging," says Dr. Janice Schwartz, professor of medicine at UC San Francisco.  I'm continually amazed by the amount of new research that shows the value of fitness:  improving health, boosting memory and helping to prevent dementia.  We're grateful for our renovated fitness center.  Not everyone can afford the membership fee.  To help, we're raising funds for scholarships.  $35/month or $420/year keeps one adult active.  Please join me in supporting them.
I care deeply about the future of the Center and so I have included it in my estate planning. Endowments help ensure the future of the organization with income stream and reserves. It took 11 years to reach the first million. We're hoping to double our endowment by 2018. You can contribute directly or put the Brookline Senior Center in your will.  Gifts of $1,000 will be added to our Wall of Honor.  Be sure to let us know you've included us in your will or trust so we can recognize you in our Ambassador Club.  ***
People turn to us for fuel assistance, hot lunch, fitness and more.   With your help we can go on providing this community support.
***   "I give $___ to Brookline Multi-Service Senior Center Corp (EIN 04-2719972), a Massachusetts non-profit corporation, located at 93 Winchester St, Brookline, MA 02445 to be used for general purposes." – – Consult your lawyer or financial advisor
---
News
THANKS TO OUR PARTNERS:  Brookline Rotary donates $2,500 a year toward the van's gasoline
Brookline Elks host two weekend events for us:  holiday dinners and summer barbecues
Planned Giving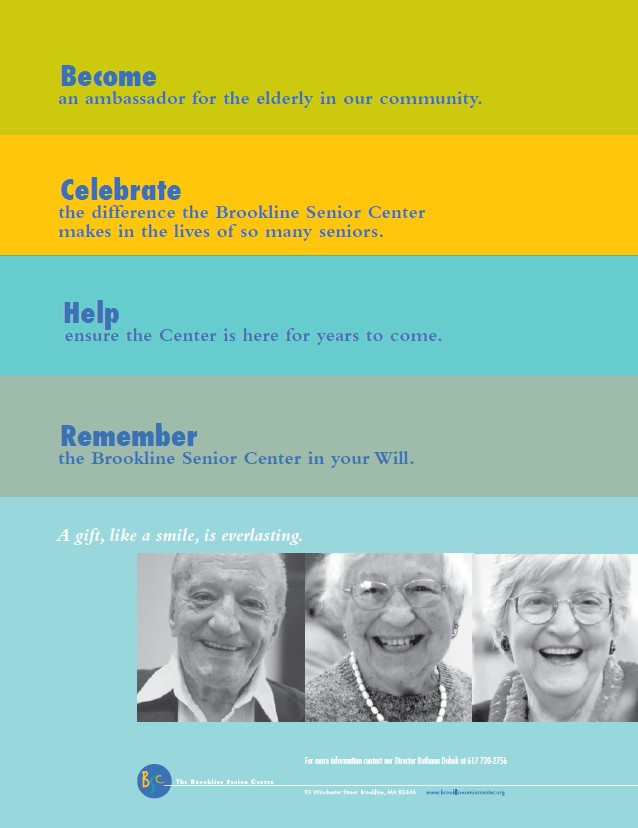 – – Consider leaving a legacy to the Senior Center.  Your bequest is a gift of hope.  Please call Ruthann Dobek, director:  617. 730. 2756 and help us secure a bright future
Party of the Century
"We had a wonderful time celebrating with our centenarian friends July 15 and none of it would have been possible without our community partners: BrooklineCAN, Center Communities of Brookline and Goddard House Assisted Living." – – Julie Washburn     
– – Find the newsletter at the library, Town Hall, banks, Stop & Shop, Star Market on Beacon and the Brookline Booksmith.  The best way to be sure you get one is to subscribe:   for $10 we'll mail it to you for a year.  If you're a retailer with space for a stack of newsletters, call us.  We deliver.
– – Brookline Trader Joe's sent us flowers!  Each week you brighten our desks and office.  Millions of thanks