Honoring the wisdom that comes with age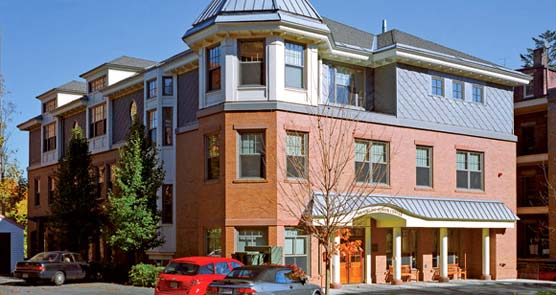 Ruthann Dobek, director
Naming opportunities:  Donations of $1,000 are added to our Wall of Honor.  A donation of $10,000 brings naming rights for an office or the conference room.  For $25,000, naming option for our double classroom.  For $35,000, naming option for the fitness center. rdobek@brooklinema.gov    617. 730. 2756
Whatever your interests, get to know us and donate time and talent to make us the best center around.  Stay connected to programs and services we offer.  We're here to help you plan your days with creative activities and new friends.  We want to help you reach your resolution whether it's exercising, volunteering and learning something new.  Our gym has new gear and a helpful staff.   Stop in 8:30-4:30 daily.  Also, we'll mail the paper edition of News and Events to you $10/yr.   We offer free bread and produce every Tuesday, 2-4 pm.  We serve lunch.  Our concerts and movies are free.  Get transportation at subsidized rates:  the van runs every day.  Our staff and volunteers offer counseling and direct assistance with fuel, food stamps and income tax.
---
Irish Voices, 3/9
In celebration of St. Patrick's Day, Stephen Collins returns with dramatic readings of Yeats, Joyce, McCourt and others Monday, March 9 at 1 pm.  Register:  617. 730. 2770
---
Council on Aging, 3/11
Wednesday, March 11 at 1 hear Stephanie Orsini, IT manager for the town discuss revised 911 calls
---
Harp Recital, 3/16
Hear Akino Watanabe, sophomore at the Commonwealth School and Yoshino Watanabe, student at Brookline's Lincoln School at a recital here Monday, March 16 at 1.
---
Diabetes Seminar, 3/19
Faculty and students from the Mass College of Pharmacy will be here Thursday, March 19 at 1 pm to talk about managing diabetes.
---
Dance Party, 3/20
DJ Tommy Bahama spins your favorites Friday, March 20 at 6:30 for a spring dance party.  Sign up:  617. 730. 2770  Residents of Centre Communities can sign up at their buildings (100 and 112 Centre St, 1550 Beacon St) – - co-sponsored by the Brookline Senior Center and Centre Communities of Brookline
---
Simplify, 3/25
Join Chris Jenkins from Home Instead Wednesday, March 25 at 1 for ideas on getting rid of clutter.
---
Retirement Engagement Alternatives
Our Retirement Engagement Alternatives Program  (REAP)  addresses the needs of Brookline residents over 60:
Are you newly retired and looking for work?
Are you planning for retirement?
Do you want to volunteer?
Could you use part-time work?
Patricia J. Burns, the REAP program job skills counselor, will work with you on job search skills like resumes, cover letters and LinkedIn profiles.  By appointment.
REAP also places volunteers and others in nonprofits and businesses.
Patricia conducts networking support open to all job and volunteer seekers.  She facilitates resource sharing.   Patricia Burns  617. 730. 2743 or pburns@brooklinema.gov
---
Podiatry, Blood Pressure Screening
Barbara Westley
Friday, March 6 and Friday, March 20 – -  Podiatry clinic for routine foot care here with Dr. John McLaughlin 9-12 noon.  Fifteen minute appointments:  $30.  Call to register:  617. 730. 2777
Wednesday, March 11 – - Blood pressure screening at Sussman House, 50 Pleasant St with nurse Barbara Westley, 1-2 pm
Wednesday, March 18 – - the low vision group meets here at 1 pm
Thursday, March 19 – - Blood pressure screening here with nurse Barbara Westley, 9-10 am
Wednesday, March 25 – - Blood pressure screening at the O'Shea House, 61 Park St with nurse Barbara Westley, 1-2 pm
Thursday, March 26 – - Staff from Brookline Hearing Services here 1-2 pm.  Hearing aid cleanings and counseling at no charge.  Batteries:  $5.
---
AARP Income Tax Assistance, thru 4/7
AARP volunteers will be here Tuesdays through  April 7 to assist with filing taxes.  Make an appointment:  617. 730. 2777 and ask for an intake review sheet.  You will give it to the tax preparer at your appointment.  What to bring:  last year's return and this year's W-2 and 1099 statements;  photo ID;  Social Security or Medicare card.  If you send a representative to do the filing, that person must provide their own photo ID AND your photo ID.  Taxes will be e-filed.
---
Betsy Pollock, president
We're replacing our 12 year-old van!  Barbara Kellman and Jerry Billow chose the Center as their charity for Brookline Rotary's Dancing with the Stars.  Jerry won the dance contest.  Thanks to Jerry and Barbara,  their friends and your support,  we'll be buying a new van in the spring.
Money raised at the benefit supports programs and services to help the most needy with fuel assistance, emergency resources and SNAP, the Supplemental Nutrition Assistance Program that helps stretch food dollars with food stamps. ( If you need help, please call Sonia Wong:  617. 730. 2774)
I care deeply about the future of the Center and so I have included the Center in my estate planning. Endowments help ensure the future of the organization with income stream and reserves. It took 11 years to reach the first million. We're hoping to double our endowment by 2018. You can contribute directly or put the Brookline Senior Center in your will.  Gifts of $1,000 will be added to our Wall of Honor.  Be sure to let us know you've included us in your will or trust so we can recognize you in our Ambassador Club.  ***
You know people turn to us for fuel assistance, hot lunch, fitness and more.   With your support we can go on providing the community support you depend on.
*** Suggested bequest:  "I give $___ to Brookline Multi-Service Senior Center Corp (EIN 04-2719972), a Massachusetts non-profit corporation, located at 93 Winchester St, Brookline, MA 02445 to be used for general purposes." – - Consult with your lawyer or financial advisor
Betsy Pollock
---
News
 - – "Let's do Lunch,"  24 x 24 inches, oil on canvas
Gallery exhibition:  Feathered Friends by BJ Comerford through March 27, second floor gallery, 8:30-5 pm
You can find copies of the newsletter at the library, Town Hall, banks, Stop & Shop and the Brookline Booksmith.  The best way to be sure you get one is to subscribe:   for $10 we'll mail it to you for a year.  If you're a retailer with space for a stack of newsletters, call us.  We deliver.
Planned Giving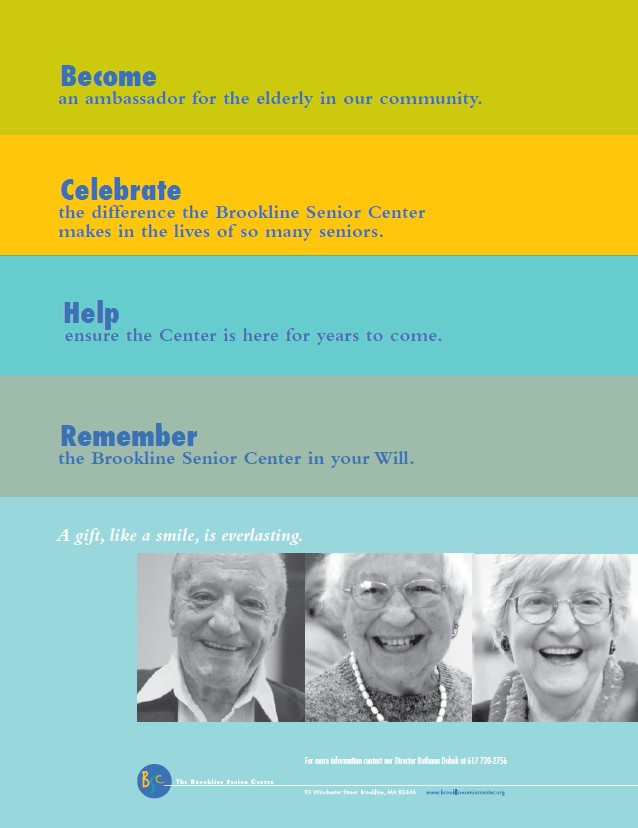 Consider leaving a legacy to the Senior Center.  Your bequest is a gift of hope.  Please call Ruthann Dobek, director:  617. 730. 2756 to help us secure a bright future.