Honoring the wisdom that comes with age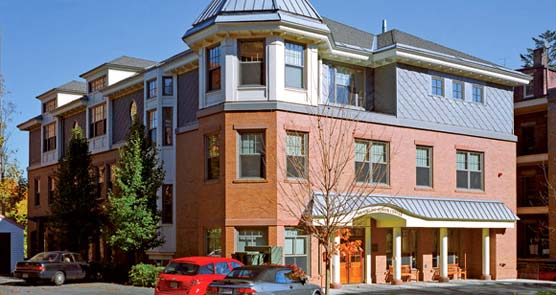 Dancing with the Brookline Stars, 11/5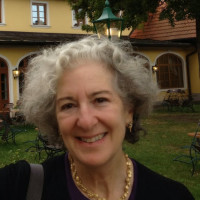 Betsy Pollock, board president, is dancing with the Brookline stars, Saturday, November 5.  Support her at Our Lady of Annunciation Church, 7 VFW Parkway (Route 1) in West Roxbury at 6:30.  This event raises funds for several charitable groups, of which we are one, who are supported in part by the Brookline Rotary.  Betsy is dancing to raise money for our transportation/van services.  Contributions can be made by check or via Paypal here.  Click the donate button at the top of the page.  Type in "Dancing with the Stars" in  "add special instructions."
Click for Brookline Rotary's team, tickets and sponsorship:  scroll for all the Dancers:  Melanee Alexander, Kara Brewton, Hsiu-Lan Chang, Dr John Hermos, Rev. Jeffrey Mello, Betsy Pollock, Dr. Gloria Rudisch, Chuck Silverston
About the charities:  See the groups
---
Ruthann Dobek, director
Wednesday, October 26 is our 15th Annual Benefit.  We will honor Dr. Alan Balsam, (right) director of Brookline Public Health, for his commitment to health and elder services.  Beth Israel Deaconess Medical Center is a diamond sponsor.  Early sponsors:  Michael Merrill, Chobee Hoy and Elias Audy.  We need you and your organization to maintain our programs.  Let us hear from you. (See Betsy's column, below, for details)

Whatever your interests, get to know us.  Stay connected with our programs and services.  We're here to help fill your days with creative activities and new friends whether it's exercising, volunteering or learning something new.  Our gym has new gear and great staff.   Stop in 8:30-4:30.   And take a hike, or dance, lift weights, walk, yoga.  For every minute you exercise, you add seven minutes to your life, so says Harvard School of Public Health.
What's the difference between the Council on Aging and the Senior Center?  "The Council is a municipal department of the Town of Brookline.  The Senior Center is the building.  And then there's the Brookline Multi-Service Center Corporation.  That's our official name for the non-profit that raises funds.  The official name is unwieldy so we ask you to make checks out to Brookline Senior Center.  And, the Town's budget for us covers 70% of our total costs.  The non-profit raises money to pay for the rest.  30% of our budget comes from you.  In this fiscal year, which ended June 30, private donations were $241,000.  Here's how we spent part of it: 
– – – $33,000 to the Fitness Program classes for 368 participants and scholarships
– – – $59,000 paid for a new van.  $27,000 went for the driver and gas for 2,987 rides
– – – $27,000 went for programs, supplies and food
Thank you. – – Ruthann Dobek
---
Health screenings: blood, podiatry, low vision, sugar

Barbara Westley, public health nurse, Brookline Public Health Department
Wednesday, October 26 – – Barbara Westley, RN does blood pressure screening at O'Shea House, 61 Park St from 1-2
---
Brookline Green Electricity, 10/24
Starting in January, Brookline will be buying electricity on behalf of eligible residents and businesses.  Learn how to enroll and the program's options Monday, October 24 at 1 pm here.  This is a Town forum led by Maria Morelli, senior planner:  617. 730. 2670    Website for Brookline Green
---
Medicare Choices, 10/25
From Blue Cross and Blue Shield, Sue Flanagan is here Tuesday, October 25 at 1 pm for an overview of how Medigap and Medicare Advantage plans work.  Open to all.
Also, Medicare open enrollment ends December 7.  Each year, Medicare Part D and Medicare Advantage programs change premiums, copays, deductibles, pharmacies and drugs.  We offer help through the SHINE program.  Call for an appointment: 617.730. 2770
---
Wisdom Works Job Search, 10/27
This is job search for older workers.  It meets Thursday, October 27 from 1-4 pm here.  Classes cover skills, values, resumes, networking, interviews and searching.  Classes are useful for volunteers as well.  $5 fee for materials.  Register:  Deidre Waxman 617. 730. 2767          Patricia Burns:  617. 730. 2743
---
Norfolk County Register of Deeds in Brookline, 10/27
Register of Deeds William P. O'Donnell will be at Town Hall Thursday, October 27 from 10-12 noon.  Meet him in Room 111 at 333 Washington St.  He and staff will answer questions about the Homestead Act, and have work stations to see the status of your mortgage discharge and print your deed.  No appointment needed.  The Registry of Deed is a resource for homeowners, title examiners, mortgage lenders and municipalities for accurate land record information.  See more:  www.norfolkdeeds.org
---
Craft Fair Planning, 10/31
The Craft Fair is Friday, November 4 and Saturday, November 5.  The last meeting is Monday, October 31 at 1 pm.  Proceeds benefit our programs and services.
---
Flu Clinic, 11/1
Our flu clinic is here Tuesday, November 1 from 11-1 pm.  Flu shots are free.  Bring your health insurance cards.  This program is administered by the Brookline Health Department.  617. 730. 2336
---
Acupuncture Thursdays
Thursdays in October meet Julia Herskowitz, LicAc MAc for information about acupuncture.  You can have a demonstration to see what it's like.  She makes referrals for ongoing treatment.  Donation: $5.  Make an appointment:  617. 730. 2777
---
Elizabeth Pollock, president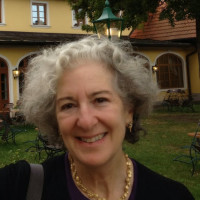 Our 15th Annual Benefit is Wednesday, October 26 at 6 pm.  We're honoring Dr. Alan Balsam, director of Brookline Public Health.  The evening includes food, drink, raffles and entertainment by the Winikers ( Winiker Orchestra.)  Sponsorship is welcome from individuals, companies and nonprofits.  All proceeds go towards our services.  We welcome also gift certificates, merchandise and services for raffles.  Thank you.  (Catering by Vine Ripe Grill:  Vine Ripe Grill at Lynch Golf Course )    
Thanks to Diamond Sponsors:  Beth Israel Deaconess Medical Center, Michael Merrill, Chobee Hoy and Elias Audy
"Exercise is the only thing that helps everything associated with aging," says Janice Schwartz, MD, professor of medicine at UC, San Francisco.  Look for better physical health and memory.   We hope you'll look into our fitness center and ping pong program.  Our fiscal year ends June 30.  If you can, help us with scholarships to the fitness center.  We're grateful to Bay State Federal Savings Charitable Foundation for their donation with much appreciation.
This year our endowment fund donated $47,000 to the Center's operating budget.  Endowment ensures additional income to preserve our legacy.
I care deeply about the future of the Center and so I have included it in my estate planning. Endowments help ensure the future of the organization with reserves. We're hoping to double our endowment by 2018. You can contribute directly or put the Brookline Senior Center in your will.  Gifts of $1,000 will be added to our Wall of Honor.  Be sure to let us know you've included us in your will or trust so we can recognize you in our Ambassador Club.  ***   "I give $___ to Brookline Multi-Service Senior Center Corp (EIN 04-2719972), a Massachusetts non-profit corporation, located at 93 Winchester St, Brookline, MA 02445 to be used for general purposes." – – Consult your lawyer or financial advisor
---
News

 See below for sponsorship
– – – – – – – –
Artist Gary Chen gussies the van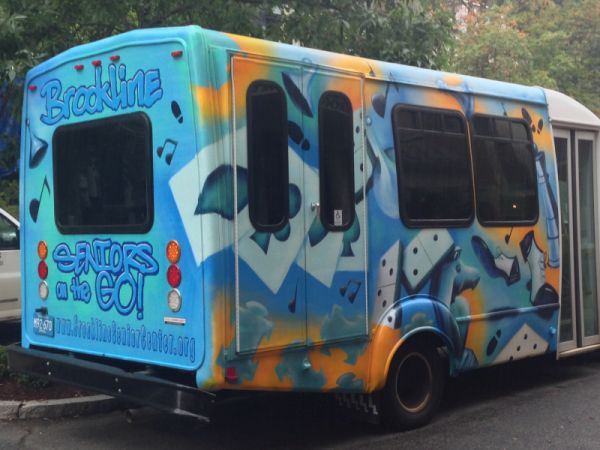 photo by Mary Nguyen
Thanks a million, Artists for Humanity!   
– – – – – – – –
Newsletter
– – Find the newsletter at the library, Town Hall, banks, Stop & Shop, Star Market on Beacon and the Brookline Booksmith.  The best way to be sure you get one is to subscribe:   for $10 we'll mail it to you for a year.  If you're a retailer with space for a stack of newsletters, call us.  We deliver.  Be an advertiser:  Click for ad specs
Planned Giving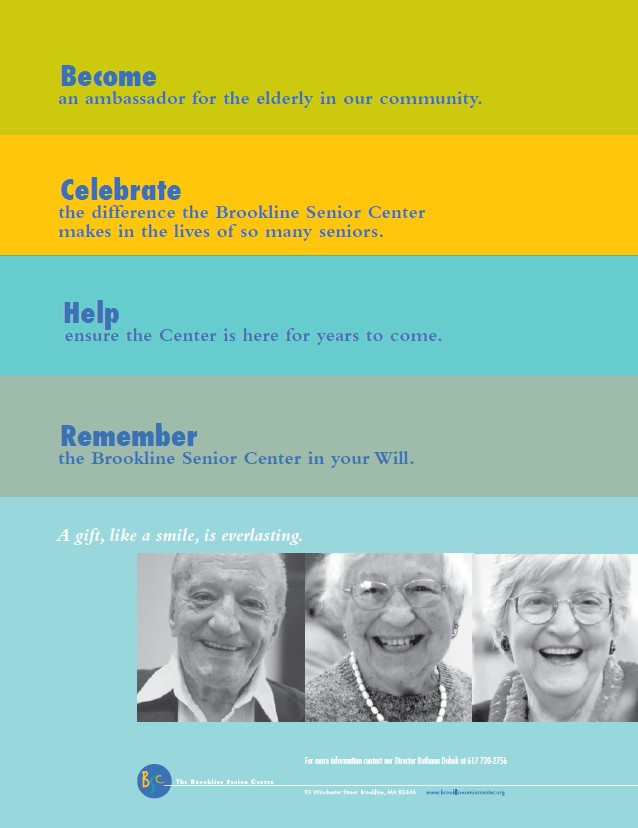 – – Consider leaving a legacy to the Senior Center.  Your bequest is a gift of hope.  Please call Ruthann Dobek, director:  617. 730. 2756 and help us secure a bright future
– –
Ginny Zanger Exhibit
Duneshack Dreams:  Monotypes by Ginny Zanger
through December 29
Gallery 93 is open Monday-Friday  8:30-5 pm
– –