Honoring the wisdom that comes with age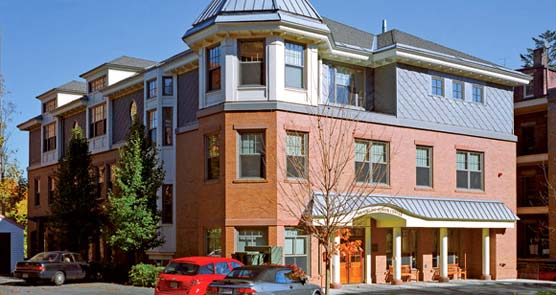 Ruthann Dobek, director
Our autumn benefit is Wednesday, October 29, 6 pm.  We're honoring Elias Audy for his devotion to local civic and charitable organizations.  We're happy to announce early sponsors:
Beth Israel Deaconess Medical Center

Harold Brown
Chobee Hoy
Elias Audy
It's a great evening of food, drink and dancing.  And it's our main fundraising event for the year. If you would like to be one of our corporate sponsors, and we hope you will, please be in touch.  Ruthann Dobek:  617. 730. 2756    
A special September welcome to those reading for the first time.  This is a great way to be connected to programs and services we offer.  So come out and join us for activities and classes.  We're happy to mail you the paper edition of News and Events each month for $10/yr.  Send us a check.
- – - – - – - – - – - – - – - – - – - – - – -
A special thank you to state legislators Frank Smizik, Jeff Sanchez, Mike Moran, Ed Coppinger and Cynthia Creem.  They're our advocates on Beacon Hill and we're grateful for the funding!
- – - – - – - – - – - – - – - – - – - – - – -
We offer free bread and produce every Tuesday.  Lunch is available weekdays.  Our concerts and movies are free.  Transportation is available at subsidized rates.  Our staff and volunteers offer counseling and direct assistance with fuel, food stamps and income tax.
---
---
REAP: Resume writing 9/18
Our Retirement Engagement Alternatives Program  (REAP)  addresses the needs of Brookline residents over 60:
Are you newly retired and looking for work?
Are you planning for retirement?
Do you want to volunteer?
Could you use part-time work?
REAP offers job support.   Patricia J. Burns, MSc.  works with groups and individuals to enhance job search skills. Thursday, September 18 she is doing an individual workshop on resume and cover letters here from 1-3 pm.  Bring your resume.  Make an appointment with Deidre Waxman:  617. 730. 2767   dwaxman@brooklinema.gov
REAP places volunteers and others in nonprofits and businesses.  If your business needs help, email:  dwaxman@brooklinema.gov
---
Medicare Open Enrollment Info, 9/22
Medicare Prescription Drug Plan (part D) and Medicare Advantage Plan (HMO, PPO) new information is sent by the end of September.  During open enrollment, October 15 – December 7, you can change your plan for 2015.  Our SHINE counselors can help with Medicare and health insurance programs; it's free and confidential.  For an appointment here:  617. 730. 2777
Monday, September 22 at 1 pm join us for a presentation by our SHINE counselors for general information on Medicare Open Enrollment options.
---
Age Diversity Workshop with Patricia Burns, 9/30
Patricia Burns, Msc, MPH, our REAP leader,  holds workshops each month on job search techniques.  Join her to explore the advantages of being part of a diverse work team.  Evaluate your attitude and identify skills each generation brings to problem solving.  Discuss the challenges of ageism and how to handle it!!
Our first meeting is Tuesday, September 30, 3-5 pm.  Register with Deidra Waxman: 617. 730. 2767  dwaxman@brooklinema.gov
---
Podiatry, Blood Pressure, Blood Sugar, Shingles
Thursday, September 18 – - Nurse Barbara Westley will do blood pressure screening here 9-10 am.
Friday, September 19 – - Podiatry Clinic routine foot care with Dr. John McLaughlin here 9-noon.  Fifteen minute sessions:  $30.  Appointments:  617. 730. 2777
Wednesday, September 24 – - Nurse Barbara Westley will do blood pressure screening at O'Shea House, 61 Park Street, 1-2 pm
Tuesday, October 28 – - Brookline Health Department flu clinic here 11-1 pm
The Brookline Health Department has free shingles (zoster) vaccine for uninsured or under-insured people over 60.  617. 730. 2320 for an appointment with nurse Barbara Westley.
---
Dispute Resolution Training 10/7
Metropolitan Mediation Services (MMS) offers 36-hour certificate programs in mediation, an Alternative Dispute Resolution method for reaching collaborative resolution of disputes.  MMS has been training attorneys, social workers, municipalities, human resources, educators, police officers and business people for 25 years.
MMS is looking for volunteers to train.  The next course begins October 7.  Scholarships may be available.  Call Deidre Waxman:  617. 730. 2767 or dwaxman@brooklinema.gov
---
Mass College of Pharmacy Workshop 10/16
Students from the Mass College of Pharmacy and Health Sciences workshops begin Thursday, October 16, at 1 pm here.  Topic:  insomnia
---
Flu Clinic 10/28
The Brookline Health Department will hold one of its flu clinics here Tuesday, October 28, 11-1 pm.
---
As wise as Salamon
Suzanne Salamon, MD is chief associate of clinical geriatrics at Beth Israel Deaconess Medical Center.   Email general questions to mdeery@brooklinema.gov or call Maureen: 617. 730. 2743.   These are excerpts.
SEPTEMBER:  "Lowering cholesterol without meds."  Dr. Daniel Pendick, Harvard Medical Health Letter writes:  To help prevent kidney stones, drink water and citrus, get calcium from dairy since not enough can cause stones.  Reduce salt: too much triggers stones.  Will also help blood pressure and heart.  Limit animal protein: red meat, poultry, eggs, seafood since it boosts uric acid.  The Mayo Clinic writes: Lose weight, eat healthier fats and lean meat, olive and canola oils; no trans fats (partially hydrogenated oils); limit cholesterol, eat fruit and vegetables, and food rich in omega-3 fatty acids like salmon, mackerel, herring, walnuts, almonds, flaxseed.  Exercise, don't smoke, alcohol in moderation."
JULY:  "Irritable bowel syndrome is a disorder of the intestines.  It is different from ulcerative colitis or Crohn's disease.  We really don't know what causes IBS.  For some, dairy, caffeine, carbonated drinks, fruit, vegetables, sugar and artificial sweeteners are culprits.  For others, stress may make symptoms worse.  Some doctors recommend probiotics, good bacteria found in yogurt and pills.  A new diet called FODMAP is getting press.  They are poorly digested sugar and fiber that may add to ISB symptoms:  wheat, barley, rye, onion, garlic, beans, dairy, honey, apples, peaches, apricots, blackberries, corn syrup and sweeteners.  It would be worth eating less of them to see if you improve."
JUNE:  Not sleeping.  Why?  "Spicy foods, heartburn, lactose intolerance, abdominal pain, caffeine from coffee, tea and chocolate; alcohol, medications like decongestants, some blood pressure, some anti-depressants and steroids; sleeping pills.  Try warm showers, reading, deep breathing, some teas. It is common to have short periods of trouble sleeping.  If they persist, speak with your doctor.
MAY:  Cholesterol.  "People with cholesterol that is too high have a greater risk of heart attack and stroke.  We consider "normal" to be total cholesterol below 200;  LDL below 130;  HDL above 60; Triglycerides below 150.  Not everyone with high cholesterol needs statins.  However, if you've already had a heart attack, stroke, heart disease, diabetes, or peripheral artery disease, these medicines are important.  Statins lower cholesterol and help prevent plaque buildup.  You can stop eating saturated fat (red meat, cheese), lose weight, be more active, eat fatty fish 2X/week and take fish oil to try to lower cholesterol without medication."
---
Betsy Pollock, president
Our 13th Annual Autumn Benefit is Wednesday, October 29 at 6.  We're honoring Elias Audy for his civic and charitable contributions to Brookline.  The evening promises great food, raffles and entertainment.   Catering by VineRipe Grill and  Catering.  (You can find them each day at the Putterham Golf Course,  1281 West Roxbury Parkway in Chestnut Hill.)
All proceeds fund our programs.  We welcome sponsorships from people like you, companies and nonprofits alike.  If you can donate a gift certificate or merchandise for the raffles, we'd love it.
Please call Ruthann Dobek:  617. 730. 2756.  See you there.
- – - – - – - – - – - – - – - – - – - – - – - – - – - – - – -
Ever lose your balance?  It's scary.   
That's why we offer classes like "Matter of Balance" and chair yoga.  They keep you stronger.  That's why we're so excited about our new Fitness Center.
But balance isn't just important for older adults.  It's important for the Senior Center itself!  And this winter, with all of our construction costs, we lost our balance.  To finish our renovation, we borrowed money.  
We want to balance our books and put the Senior Center back in balance.  Please help by making a gift.   You can donate online here or send a check to Brookline Senior Center, 93 Winchester St., Brookline MA 02446.  Gifts of $1,000 are added to our Wall of Honor.
Our endowment is now $1 million. Endowments help ensure the future of the organization with income stream and reserves. It took 11 years to reach the first million. We're hoping to double our endowment by 2018. You can contribute directly or put the Brookline Senior Center in your will.  These gifts help maintain our programs and physical plant.  I, the board and the entire Center family thank you.
You are a special part of us!  Thanks to your generosity we continue moving forward.  A while back, we reached out to learn what services and facilities you think are most valuable to our health.  Fitness and balance classes topped the list.  People asked for more private space, more medical services and classrooms.  So renovating our fitness center became a priority.
This winter we launched our first major renovation since the building was built:  renovating 2,500 square feet in our four-story building.  We have two new classrooms, three new offices, a conference room,  and we moved the fitness center from the basement to the sunny second floor.  It's fantastic.
The cost came to $294,000.  Out of pocket for demolition, architect, labor and materials is $234,000.  Plus, we budgeted $60,000 for computers, medical and fitness gear.  The Town of Brookline helped us get two Community development Block Grants for $108,000 and insisted we raise the rest from people like you.  We're $92,150 out of balance.
Will you help?  You know the value.  You know people turn to us for fuel assistance, hot lunch, fitness and more.   With your support we can go on providing the community support you depend on.  Please use the Paypal button above.   Checks welcome.  Thank you.
---
News
You can find copies of the newsletter at the library, Town Hall, banks, Stop & Shop and the Brookline Booksmith.  The best way to be sure you get one is to subscribe:   for $10 we'll mail it to you for a year.  If you're a retailer with space for a stack of newsletters, call us.  We deliver.
Planned Giving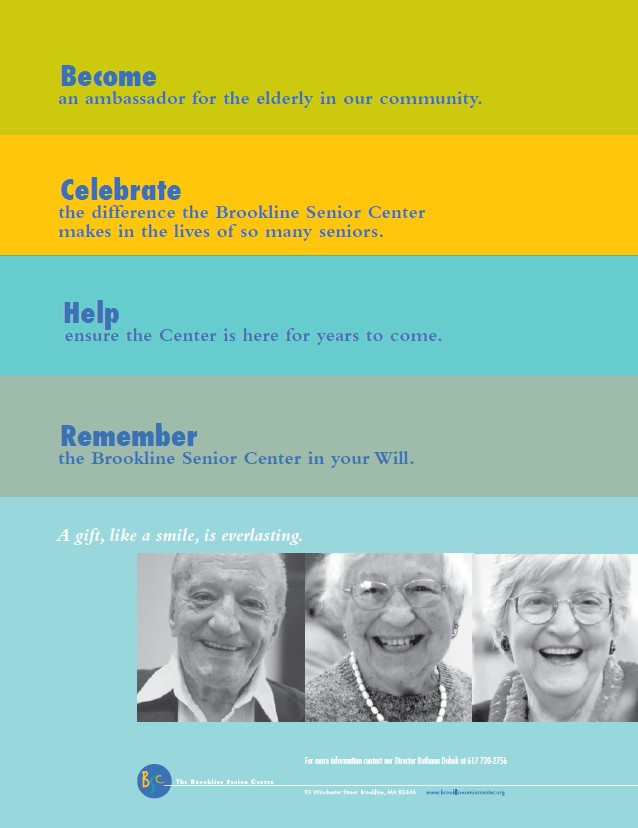 Consider leaving a legacy to the Senior Center.  Your bequest is a gift of hope.  Please call Ruthann Dobek, director:  617. 730. 2756 to help us secure a bright future.