Marie Lavine Memorial Concert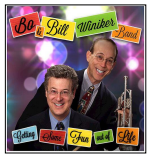 Join us for our annual Marie Lavine Memorial Concert, featuring the Winiker Band,
on Friday, June 9 at 1:00 pm at the Senior Center. The concert is a tribute to the
memory of Marie Lavine, a beloved Senior Center volunteer who loved concerts
and theater. The concert is lovingly underwritten every year by Marie Lavine's
daughters, Eileen Solomon and Kathy Sue Lavine. The Winikers certainly need no
introduction to Brookline and it seems all the more fitting that they knew Marie
personally. In addition to the wonderful Bill and Bo Winiker, vocalist Cindy Gale and pianist Neil Greene
will also be performing. The band will entertain us with an eclectic program with each member
featured in different ways playing a lot of the music that Marie loved. Afterwards, join your friends for some delicious desserts, including homemade chocolate chip cookies, Marie's favorite.
To register, please call 617‐730‐2770.