Piatigorsky Foundation Concert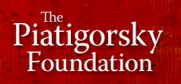 Join us on Tuesday, May 9 at 1:00 pm at the Senior Center for another
wonderful Piatigorsky Foundation Concert with featured artists, violinist
Linda Rosenthal and piano accompanist Maxim Pakhomov. Violinist Linda
Rosenthal performs in recitals throughout North America, Europe, and Asia as
a soloist with orchestra and as a chamber musician. Over the past decade, Ms. Rosenthal has
commissioned and premiered more than a dozen works, including pieces for solo violin, electric
violin, violin, and piano and violin and narrator. Ms. Rosenthal plays on a violin made in Turin,
Italy, in 1772 by J. B. Guadagnini. Pianist Maxim Pakhomov has appeared throughout Russia and
has toured England, Scotland, Austria, and Estonia in both solo and chamber music concerts. The
performance will include pieces by Beethoven, Perlman, and a selection from Fiddler on the
Roof.
Please register at 617-730-2770