Social Services
Hours:  8:30 – 5pm weekdays

Find us:  93 Winchester St, Brookline, MA  02446
Information:  617. 730. 2770
Social Services:  617. 730. 2777
Ruthann Dobek, director:  617. 730. 2770          rdobek@brooklinema.gov
webmaster:  kkaufman@corp-edge
Memory Connections Cafe

Join us for the Memory Connections Cafe ____________________  from 1:30 – 3 pm.  People with early memory challenges and their care partners  (must accompany those who need assistance) are invited to connect with peers. No charge.  Register with Jamie Jensen: 617. 730. 2753  – –  April cafe is sponsored by Ro & Steve – Senior Care Reviews.  Program is supported by a grant from the Brookline Community Foundation.

Alzheimer's Caregivers Support Group



This ongoing daytime group is designed to help caregivers cope.  It meets on the 4th Tuesday.  Please call facilitator Ted Sturman:  617. 803. 6105
Food Pantry Tuesdays

Tuesdays beginning at 2 pm – – The selection of produce, food and quantities vary so be here before 3.  Bring a bag and help yourself. We need volunteers.  Patricia Burns: 617. 730. 2743.  Numbers are given out starting at 11 am  – – We are honored to  have a grant for the second year from the Brookline Community Foundation's Safety Net Fund for our work in food distribution.    www.brooklinecommunity.org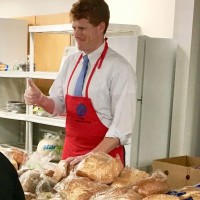 Congressman Joseph Kennedy helping on Tuesday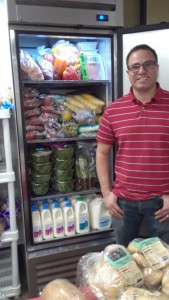 New refrigerator
Parc Program
If you are a caregiver for a senior or disabled person who lives in Brookline, Parking Access for Resident Caregivers, PARC, can help.  The Council on Aging, in cooperation with the Town Transportation Department helps caregivers with parking permits. 617. 730. 2752
Vibrant Assistive Technology Program
Mass Association for the Blind and Visually Impaired announces the VIBRANT program together with the Centers on Aging and our Center.  It's about assistive technology.  If you're losing sight, we'll train you on technology to help.  Assistive is hardware or software to help with cooking, cleaning, shopping, reading, TV, creating spreadsheets, banking, travel, health and fitness.  If you have low vision or are blind, reach out.
Assessments are done by Jerry Feliz, our assistive technology coordinator.  You'll be matched with a volunteer for training on screen magnification, text aloud, shopping online: 857. 443. 6636 or email: jfeliz@mabcommunity.org     Meet him here Wednesday and Thursday afternoons.
Rides to Eye Appointments
We have a program called Trust Transportation Partner with a grant from ITN America that provides free rides to eye care appointments.  Call  617. 730. 2752 at least one week before your appointment.
TRIPPS

TRIPPS supports Brookline seniors looking for alternatives to driving.  Whether it's age, ability or choice, transit advisors will help you choose transportation options.  They provide support as you learn new ways of getting around.  Come join the team to support our members and educate everyone about car-free choices.  Call Maria Foster:  617.730. 2644  – email to volunteer@trippsmass.org   and TRIPPS@brooklinema.gov

Services
BETS (Brookline Elder Taxi System) – Taxi discount program via coupons.  BETS can be used in all cab companies based in Brookline.  Alicia Ebrat, BETS coordinator, is here Mondays, Tuesdays and Wednesdays, 12-4 pm, to take applications and sell coupons.  Bring last year's tax return to establish income.  617. 730. 2740
BLAB  (Brookline Legal Assistance Bureau) – A volunteer lawyer is here first Wednesdays. Brookline residents only, no charge. 9-12 noon.   617. 730. 2777
HELP – finds affordable trained workers to help with meals, errands, cleaning and shopping.  617. 730. 2752
ELF – (Equipment Loan Fund) promotes the donation and loan of gently used equipment.  We have crutches, commodes and walkers to give away.  Please call first:  Jamie Jensen @ 617. 730. 2753  jjensen@brooklinema.gov
REAP – (Retirement Engagement Alternatives Program)  Deidre Waxman facilitates job search, resumes and networking.  dwaxman@brooklinema.gov     617. 730. 2767
RECYCLE – We collect cell phones, eyeglasses and soda can pull tabs.  The Lions Club gets the glasses.  Cell phones are sent to the National Council on Aging.  Shriners Hospital gets the tabs.   Collection boxes in reception.
SHINE – Explore health insurance options with counselors Sonia Wong, Ed Levin, Sybil Levisohn and Oliver Buckley.  By appointment:  617. 730. 2777
SHOP – High school students shop for seniors.  Brookline High School is recruiting students who will earn community service credit.  Patricia Burns:  617. 730. 2743

SNAP – (Supplemental Nutrition Assistance Program) helps stretch food dollars with.  Sign up for food stamps, hot lunches and the Brookline Food Pantry at St. Paul's Church.   617. 730. 2777
Greater Boston Food Bank

The Greater Boston Food Bank Commodity Program provides shelf stable food.  Two bags are delivered for each participant to the Senior Center (93 Winchester St), Sussman House (50 Pleasant St) and O'Shea House (61 Park St).  Deliveries are made the third Wednesday of the month.  We are recruiting new applicants. Eligibility by age, income and size of household.  Patricia Burns:  617. 730. 2743
REAP: Retirement Engagement Alternatives Program
REAP  addresses the needs of Brookline residents over 60
Are you newly retired and looking for work?
Are you planning for retirement?
Do you want to volunteer?
Could you use part-time work?
REAP is designed for people who wish to remain engaged and active in the community while in retirement or partial retirement. The goal of the program is to enhance the retirement experience by linking participants with either part-time paid or volunteer work either in the community or at the Brookline Senior Center.
THE BROOKLINE SENIOR CENTER partners with other local organizations to offer fulfilling and interesting opportunities.  These include:    BrooklineCAN, Senior Community Service Employment Program (SCSEP), Brookline Adult and Community Education, Executive Office of Elder Affairs, Brookline Town Departments in addition to the Tax Work-Off, and limited grant funded employment at the Brookline Senior Center for qualified Brookline residents.
REAP OFFERS:  Confidential, free consultation around skills and interests
• On-going skills based workshops and training for employment seekers
• Employer-employee matching service
• Matching participants to meaningful volunteer opportunities
• Networking support groups
WORKSHOPS and training include:  Wisdom Works Job Search Training, networking support groups, resume writing and online job search
STAFF:  Deidre Waxman, LICSW  REAP coordinator and employment skills counselor Patricia Burns
ELIGIBLE: Brookline residents age 60 and over
FEES:  none
GET STARTED:
1.  An initial interview with the program coordinator to determine interests, skills and background
2.  Complete a confidential application
3.  On-going support in job search and volunteer placement
Deidre Waxman:  617. 730. 2767             dwaxman@brooklinema.gov