Social Services
Hours:  8:30 – 5pm weekdays   WE ARE CLOSED TO THE PUBLIC.  Some services are operating.  See below

Address:  93 Winchester St, Brookline, MA  02446
Information:  617. 730. 2770
Social Services:  617. 730. 2777
Ruthann Dobek, director:  617. 730. 2770          rdobek@brooklinema.gov
webmaster:  kkaufman@corp-edge
Services
BETS (Brookline Elder Taxi System) – Taxi discount program via coupons. Call Maria Foster: 617. 730.2644 or write mfoster@brooklinema.gov for transportation needs.
BROOKLINE TRIPPS – For alternatives to driving, and questions about the MBTA, TheRIDE, Uber, Lyft and medical transportation, call Maria Foster: 617.730.2644
BLAB  (Brookline Legal Assistance Bureau) – No volunteer lawyers at this time. (Brookline residents only, no charge, no appointments.)
HELP – Help with meals, errands, cleaning and shopping is operating.  Only grocery shopping and errands for new clients.  Leave a message:  617.730.2752
ELF – (Equipment Loan Fund) donation and loan of gently used equipment.  We are not loaning or accepting donations now. To find similar resources, call:  Jamie Jensen @ 617. 730. 2753  jjensen@brooklinema.gov
REAP – (Retirement Engagement Alternatives Program) is operating.  Deidre Waxman facilitates job search, resumes and networking.  dwaxman@brooklinema.gov     617. 730. 2767
SHINE – Explore health insurance options by phone now with counselors Sonia Wong, Ed Levin and Sybil Levisohn. Will you be 65 soon?  Planning to retire?  Understand Medicare? Need help paying for drugs?  Free confidential counseling by appointment now.  Leave a message: 617. 730. 2777
SNAP – (Supplemental Nutrition Assistance Program) helps stretch food dollars.  Sign up for food stamps, hot lunches and the Brookline Food Pantry at St. Paul's Church.   617. 730. 2777
CARE Caregiver Assistance Relief
We are operating for current clients only.  We provide Brookline families free respite and companionship through the CARE program, which operates under the auspices of our HELP program.  CARE provides Brookline caregivers a break from caring for an older adult family member.  It does not include personal care, dressing, bathing, medication services.  To participate, call the HELP staff: 617. 730. 2752. – – Thanks to State Senator Cynthia Stone Creem

Memory Connections Cafe

The Cafe is closed.
(Meet peers, have a snack and take part in programming.  Either party may attend by themselves but a care partner must come with anyone who needs care assistance. )     Jamie Jensen: 617. 730. 2753
Alzheimer's Caregivers Support Group

Ted Sturman is available by phone to support caregivers:  617. 803. 6105   (This ongoing daytime group is designed to help caregivers cope.  It meets on the 4th Tuesday.)
On the Road with TRIPPS
We are offering four subsidized rides a month via Lyft in our new transportation pilot program. For more information, call Maria Foster, community outreach specialist: 617. 730. 2644.
TRIPPS supports Brookline seniors looking for alternatives to driving.  Whether it's age, ability or choice, transit advisors will help you choose transportation options.  They provide support as you learn new ways of getting around.  Come join the team to support our members and educate everyone about car-free choices. Maria Foster:  617.730. 2644  – email to volunteer@trippsmass.org   and TRIPPS@brooklinema.gov
We have a transportation resource guide; peer mentors; education and programs, field trips on the T and workshops with Uber and Lyft apps.  We've learned that peer support works by helping you overcome fears and try new options.  State Rep Tommy Vitolo:  "How important is TRIPPS? It keeps people out of nursing homes and helps them stay healthy and engaged."
TRIPPS has been recognized as a best practice program.  It's expanded to other towns its volunteers are leading workshops in Uber and Lyft.  We still need your help since MassDOT's pilot program has ended. We need new grants and private donations.  See Paypal above in the right column and put "TRIPPS" in the memo line of your donation.  Thank you.
Brookline Rideshare Discount Pilot Program

Through a grant from the National Council on Aging and Lyft, we have a pilot program with Lyft to provide four Lyft rides each month for income eligible seniors ($62,450 individual; $71,400 couple). It provides a coupon of $10 and you need a smartphone. Maria Foster: 617. 730. 2644   mfoster@brooklinema.gov
Greater Boston Food Bank
The Greater Boston Food Bank Commodity Program provides shelf stable food.  Two bags are delivered for each participant to the Senior Center (93 Winchester St), Sussman House (50 Pleasant St) and O'Shea House (61 Park St).  Deliveries are made the third Wednesday of the month.  Eligibility by age, income and size of household.  Patricia Burns:  617. 730. 2743
Vibrant Assistive Technology Program
We are offering training by phone at this time.
Mass Association for the Blind and Visually Impaired hosts the VIBRANT program together with the Centers on Aging and our Center.  It's about assistive technology.  If you're losing sight, we'll train you on technology to help.  Assistive is hardware or software to help with cooking, cleaning, shopping, reading, TV, creating spreadsheets, banking, travel, health and fitness.  Anyone with low vision or blindness is welcome, as well as those interested in how we are serving the spectrum of vision loss.  Call Rachel Castle: 617. 608. 4150,  Jerry Feliz: 857. 443. 6636 , or ATCenter@mabcommunity.org 
Yes, Rides to Eye Appointments

Trusted Transportation Partner, with a grant from ITN America, offers free rides to eye care appointments. It is operating for current clients via the Lyft program only.   No new clients.  Call  617. 730. 2752 at least one week before your appointment.  (We encourage you to postpone visits when you can.)  Leave a message to get on the wait list.  P.S. Good news. The program has been funded for another year.
Brookline Senior Center Van – closed

Monday-Thursday, 9:00-3:00pm
617. 730. 2750
The van provides door-to-door transportation to the Center for educational and social activities. It operates Monday-Thursday. Suggested donation: $1.  Call 617. 730. 2750 by 3:00 on the business day before.
Brookline Elderbus – closed

Monday-Friday, 9:00 -3:00pm
617. 730. 2777
Elderbus makes an hourly circuit between the Center and 112 Center St, 100 Center St, 1550 Beacon St, 1731 Beacon St Star Market, 61 Park St, Town Hall, Main Library, Walnut St at the back of the Fire Station, 99 Kent St Lynch Center, 70 Pearl St at Brookline Place, Stop & Shop, Harvard at Beacon, 90 Longwood Ave, Beacon and Powell St, Amory and Egmont St, Egmont and Pleasant St, 50 Pleasant St, Harvard and Fuller St. Suggested donation: 50 cents.  Book a ride: 617. 438. 2938
Food Pantry Tuesdays – closed

Tuesdays beginning at 2 pm – – Selection of free fruits and vegetables, dairy and natural grains. Quantities vary so be here before 3.  Bring a bag and help yourself.  Numbers are given out starting at 11 am.  Patricia Burns: 617. 730. 2743.  – – Thanks to a grant from the Brookline Community Foundation's Safety Net Fund    www.brooklinecommunity.org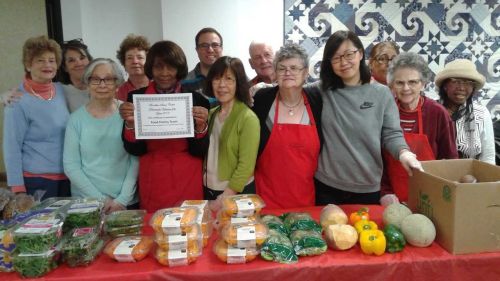 Volunteers making it happen on Tuesdays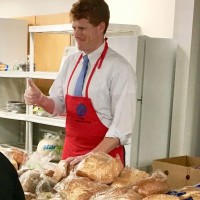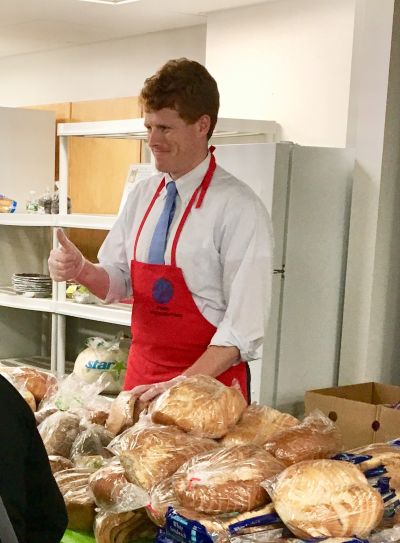 Congressman Joseph Kennedy helping on Tuesday
REAP: Retirement Engagement Alternatives Program
REAP  addresses the needs of Brookline residents over 60
Are you newly retired and looking for work?
Are you planning for retirement?
Do you want to volunteer?
Could you use part-time work?
REAP is designed for people who wish to remain engaged and active in the community while in retirement or partial retirement. The goal of the program is to enhance the retirement experience by linking participants with either part-time paid or volunteer work either in the community or at the Brookline Senior Center.
THE BROOKLINE SENIOR CENTER partners with other local organizations to offer fulfilling and interesting opportunities.  These include:    BrooklineCAN, Senior Community Service Employment Program (SCSEP), Brookline Adult and Community Education, Executive Office of Elder Affairs, Brookline Town Departments in addition to the Tax Work-Off, and limited grant funded employment at the Brookline Senior Center for qualified Brookline residents.
REAP OFFERS:  Confidential, free consultation around skills and interests
• On-going skills based workshops and training for employment seekers
• Employer-employee matching service
• Matching participants to meaningful volunteer opportunities
• Networking support groups
WORKSHOPS and training include:  Wisdom Works Job Search Training, networking support groups, resume writing and online job search
STAFF:  Deidre Waxman, LICSW  REAP coordinator and employment skills counselor Patricia Burns
ELIGIBLE: Brookline residents age 60 and over
FEES:  none
GET STARTED:
1.  An initial interview with the program coordinator to determine interests, skills and background
2.  Complete a confidential application
3.  On-going support in job search and volunteer placement
Deidre Waxman:  617. 730. 2767      dwaxman@brooklinema.gov