Brookline Social Services
Hours:  8:30 – 5pm weekdays   We are open by appointment only

Address:  93 Winchester St, Brookline, MA  02446
Information:  617. 730. 2770
Social Services:  617. 730. 2777
Ruthann Dobek, director:  617. 730. 2770          rdobek@brooklinema.gov
webmaster:  kkaufman@corp-edge
---
August Food Commodity Program

August distribution is August 19.  You will be given a time to pick up your bags outside. You will wear a mask. If you or someone you know would like 35 pounds of shelf stable food, call Patricia Burns: 617. 730. 2743   pburns@brooklinema.gov
August Medical Transport: Brookline/Longwood
We have a program for non-emergency rides ONLY in Brookline and the Longwood area using our van and bus. Priority goes to residents using the BETS program (see above). Hours: Monday-Friday, 9:00-3:00 pm. Pickups in Brookline begin at 9 am and the last pickup in Longwood area is 3 pm. Masks are required and there is a limit of one person per vehicle (you may bring a PCA or companion). Call us at least three days in advance: 617. 730. 2750
Services
BETS (Brookline Elder Taxi System) –   Maria Foster: 617. 730.2644 or write mfoster@brooklinema.gov
BROOKLINE TRIPPS – For alternatives to driving, and questions about the MBTA, TheRIDE, Uber, Lyft and medical transport: Maria Foster: 617.730.2644
BLAB  (Brookline Legal Assistance Bureau) – No volunteer lawyers now
HELP – Help with meals, errands, cleaning and shopping:  617.730.2752
ELF – (Equipment Loan Fund) donation and loan of gently used equipment.  PLEASE DO NOT COME WITHOUT SPEAKING TO JAMIE FIRST. Jamie Jensen @ 617. 730. 2753 or write  jjensen@brooklinema.gov
REAP – (Retirement Engagement Alternatives Program) is operating.  Deidre Waxman facilitates job search, resumes and networking.  dwaxman@brooklinema.gov     617. 730. 2767
SHINE – Explore health insurance options by phone with Sonia Wong, Steve Maas and Sybil Levisohn.   Free counseling by appointment:  617. 730. 2777
SNAP – (Supplemental Nutrition Assistance Program) food stamps and Brookline Food Pantry at St. Paul's Church:  617. 730. 2777
Memory Connections Cafe, 8/27
Thursday, August 27 from 11-1 pm, the Senior Center and Goddard House Assisted Living host their 4th annual camp for people living with memory changes on Zoom.  Music therapy, art therapy, light exercise, lunch with s'mores will be shared with your caregivers. Supplies and lunch will be delivered to you in Brookline and Jamaica Plain!   This event replaces the August cafe. Watch for art therapy info: https://www.youtube.com/watch?v=XN9qWG2_A24&feature=youtu.be.    
Other Memory Cafes:  https://www.jfcsboston.org/OurServices/Older-Adults/Alzheimers-RelatedDisorders-Family-Support/Directory-of-Memory-Caf%C3%A9s-in-Greater-Boston
The Cafe is for people with early memory challenges and their care partners to connect with peers through socialization and programs.  It is virtual for now.  Please contact the coordinator: Jamie Jensen: 617. 730. 2753 jjensen@brooklinema.gov for information and dates.
CARE Caregiver Assistance Relief
We are operating for current clients only.  We provide Brookline families free respite and companionship through the CARE program, which operates under the auspices of our HELP program.  CARE provides Brookline caregivers a break from caring for an older adult family member.  It does not include personal care, dressing, bathing, medication services.  Call the HELP staff: 617. 730. 2752
Tax Abatement + Community Service Employment
The tax work-off program started July 1.
During July we will reach out to everyone to discuss dates and responsibilities. You will be able to complete your 125 hours by June 30, 2021. You will get your time sheet by email or mail. You will return sheets by email or scan. Also, The REAP program is ongoing and we will be posting jobs.
We will accept new applications and include current participants. You must have filed 2019 income tax by as part of the process. If you need help with income tax, call Deidre Waxman: 617. 730. 2767.  Annual income qualification is now $67,400. The jobs you may fill are changing. Face to face activities will be reduced. We will encourage remote work and working in safer places like outdoors and in offices with low traffic. You may be asked to make phone calls, do gardening for the Town, grocery shop for people at home, and reception.  Please reach out with your ideas and what you would like to do.
Alzheimer's Caregivers Support Group
Ted Sturman is available by phone for support:  617. 803. 6105
Yes, Rides to Eye Appointments
Trusted Transportation Partner offers free rides to eye appointments.  Call  617. 730. 2752 at least one week before.  Operating for current and new clients.
TRIPPS

Brookline Senior Center Medical Transportation
While the Senior Center is closed, we are piloting a program to provide transportation to non-emergency medical appointments within Brookline and the Longwood area ONLY using the Senior Center Van and Bus.  Priority will be given to those residents who are currently using the BETS Program.  The hours are Monday to Friday 9am – 3pm.  Pick ups in Brookline will begin no earlier than 9AM and the last pick up in the Longwood area will be at 3PM.  Face coverings are required and there will be a limit to one passenger per vehicle, although you will be able to bring a PCA or companion if needed.  Please call at least three days in advance: 617.730, 2750
Brookline Transportation Program with Lyft
While we encourage everyone who can to stay at home, we realize some will need to get to important medical appointments or to the grocery store and Lyft could be a good option for those who wish to avoid the T. We are able to process applications via phone and email. 
This program offers 4 subsidized rides per month on Lyft to older adults in Brookline. This program is currently limited to income eligible seniors (60) and over (individual $67,400 maximum; couple $77,000 maximum). Lyft is a ride sharing transportation company that offers curb-to-curb service nationwide. The Brookline Program will offer four discounted rides per month of up to $10 per ride.  The passenger will pay the first $2; the coupon will pay up to the next $10. The coupon will automatically download each month into the Lyft app on your smartphone. This option will be available 24/7 without any restrictions on miles or pick up location. For more information, contact Maria Foster, Community Outreach Specialist for the Council on Aging at 617. 730. 2644 or mfoster@brooklinema.gov
HELP Program
Brookline's HELP Program can connect older adults to escorts and limited transportation. This is a paid service with home care workers vetted by Council on Aging social workers. A home visit is required to participate in the HELP Program. While the Senior Center is closed, staff will be conducting telephone assessments of new clients. Please call (617) 730-2752.
Currently, the HELP Program is offering free transportation to eye care appointments through the Trusted Transportation Program.  Call the HELP Program to find out more.
Metro Cab
Metro Cab is a Brighton cab company: 617. 782. 5500 but Metro Cab will not take the Brookline Senior Taxi Coupons.  They do provide some wheelchair accessible vans.
GoGo Grandparent
Gogo Grandparent www.gogograndparent.com orders and monitors rides on your behalf through ride-sharing services like Uber and Lyft. Gogo Grandparent calls the ride on your behalf, so users do not need a smartphone to use the service. Those who do have access to a smartphone and would like to access rides through the app should contact Maria Foster: 617. 730. 2644
Operators and oversite fee of .27 per minute from when they start monitoring to when they stop. In addition, you are charged the ride-share network fare. support@gogograndparent.com
855-464-6872 or 888-755-1775
MBTA Service Updates
General MBTA updates can be found here:https://www.mbta.com/covid19   Masks must be worn on MBTA vehicles. The Charlie Card store is closed. If you need to renew your Charlie Card, call 617. 222-3200 and follow the system prompts.
MBTA – Ride
The Ride paratransit service provides door-to-door, shared ride transportation to eligible people who are unable to use the MBTA's fixed route transit (bus, subway, trolley) some or all of the time due to physical, cognitive or mental disability.
If you are a new RIDE customer, you may be granted temporary eligibility if you meet the medical necessity criteria provided to your licensed healthcare provider by TREC (617-337-2727).
If you are a current RIDE customer who will require re-certification soon, your eligibility will be automatically extended.
Whether you are a newly approved RIDE customer (granted medical necessity), or an existing RIDE customer whose eligibility has been extended, you will eventually need to participate in an in-person interview.
Information from the RMV
For COVID-19 updates from the RMV visit: https://www.mass.gov/info-details/rmv-covid-19-information
Vibrant Assistive Technology Program is on Zoom
It's about assistive technology.  Programs include Zoom meetings, reading applications and ride sharing among others. Assistive is hardware or software to help with cooking, cleaning, shopping, reading, TV, creating spreadsheets, banking, travel, health and fitness.  Anyone with low vision or blindness is welcome, along with those interested in how we are serving the spectrum of vision loss.  Rachel Castle: 617. 608. 4150  rcastle@mabcommunity.org
Food Pantry open at St. Paul's Church

Patricia Burns: 617. 730. 2743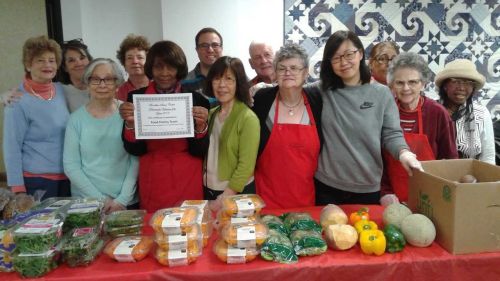 Volunteers making it happen on Tuesdays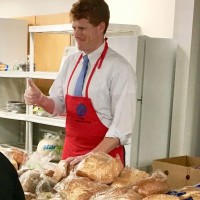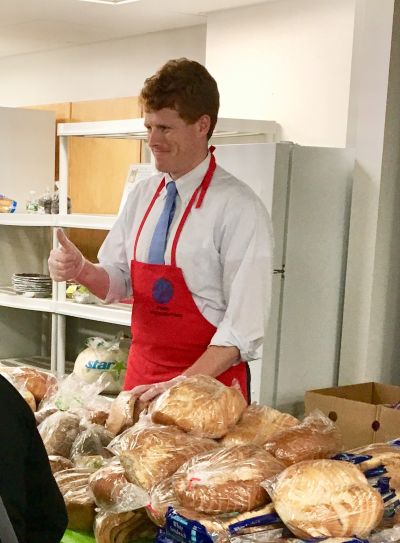 Congressman Joseph Kennedy helping on Tuesday
REAP: Retirement Engagement Alternatives Program
REAP  addresses the needs of Brookline residents over 60
Are you newly retired and looking for work?
Are you planning for retirement?
Do you want to volunteer?
Could you use part-time work?
REAP is designed for people who wish to remain engaged and active in the community while in retirement or partial retirement. The goal of the program is to enhance the retirement experience by linking participants with either part-time paid or volunteer work either in the community or at the Brookline Senior Center.
THE BROOKLINE SENIOR CENTER partners with other local organizations to offer fulfilling and interesting opportunities.  These include:    BrooklineCAN, Senior Community Service Employment Program (SCSEP), Brookline Adult and Community Education, Executive Office of Elder Affairs, Brookline Town Departments in addition to the Tax Work-Off, and limited grant funded employment at the Brookline Senior Center for qualified Brookline residents.
REAP OFFERS:  Confidential, free consultation around skills and interests
• On-going skills based workshops and training for employment seekers
• Employer-employee matching service
• Matching participants to meaningful volunteer opportunities
• Networking support groups
WORKSHOPS and training include:  Wisdom Works Job Search Training, networking support groups, resume writing and online job search
STAFF:  Deidre Waxman, LICSW  REAP coordinator and employment skills counselor Patricia Burns
ELIGIBLE: Brookline residents age 60 and over
FEES:  none
GET STARTED:
1.  An initial interview with the program coordinator to determine interests, skills and background
2.  Complete a confidential application
3.  On-going support in job search and volunteer placement
Deidre Waxman:  617. 730. 2767      dwaxman@brooklinema.gov
Brookline Social Services