News and Events Archive
Center Connections: Adding Life to the Years
Social isolation and loneliness are public health issues. We are so fortunate to live in a community that cares so much about its residents and offers opportunities for people to be involved and connect.  Research shows that helping others is one of the best ways to overcome loneliness and isolation.  The Senior Center welcomes everyone. – – Ruthann Dobek, director
The United Kingdom now has a Minister of Loneliness. Why? Because loneliness and social isolation can contribute to premature death.  Social isolation is a challenge for all generations.  In the U.S., Dr. Vivek Murthy, former surgeon general, says: "Loneliness places the body in a chronic stress state and increases inflammation, our risk of cardiovascular disease, and other chronic illnesses. The mortality effect associated with loneliness is even similar to the life-shortening we see with smoking 15 cigarettes a day.
What the Brookline Senior Center is doing and how you can help:  We have a long history and commitment to helping you become more engaged with peers and the community. We encourage people to attend activities here.  If you're at home, we offer Library Connections (the library comes to you); friendly visiting; SHOP (groceries to you) and the MY Buddy Program.
Want to make a difference?  Volunteer.  We always need more.  Share a skill, share an interest. It's a great way to meet new people and give back.  Get in touch with Patricia Burns:  pburns@brooklinema.gov     617. 730. 2743
RESOURCES
www.aplaceformom.com/blog/10-17-14-facts-about-senior-isolation
www.nytimes.com/2016/12/22/upshot/how-social-isolation-is-killing-us.html
https://www.aarp.org/aarp-foundation/find-help/         AARP resources
www.brooklinema.gov/DocumentCenter/View/282      Elder Resource Guide
Brookline Senior Center Social Work referrals (confidential):  617. 730. 2777
www.fw4elders.org     or call Friendship Works:  617. 482. 1510
Springwell Protective Services (local agency)  617. 926. 4100
Brookline Police: 617. 730. 2222
WHERE WILL YOU BE IN 2030? 
www.theagingamericaproject.com       The Aging Project
www.theagingamericaproject.com/the-big-idea.html    The Big Idea in Four Minutes
---
District Attorney Alerts
Is Public Wi-Fi Safe? – Free public Wi-Fi in places like airports or coffee shops is convenient but it can be risky.  Scammers monitor network names and set up their own "evil twin" access points hoping your computer or device will connect to it without your consent.  Or they launch "man in the middle" attacks, hacking between you and your Wi-Fi- connection.  Their goal is grabbing your personal information, email, credit card numbers and passwords.
Any data you send over free public Wi-Fi is vulnerable.  Even if it seems obvious, ask an employee the name of the network.  At the airport don't assume "free airport Wi-Fi" is a legitimate wireless network. We also recommend not doing online banking, making credit card buys, or posting on social media.  Check device setting to be sure it doesn't auto connect to any free public Wi-Fi.  – – Gayle M. Bellotti, coordinator, senior programs, Norfolk County District Attorney's Office
Credit Freeze – restrict access to your credit report
Phone Scams – This year 30% of calls to cell phones are fraud.  Landline fraud is declining (but not in my house).  Watch area codes.  Caller ID shows a local number.  Answer if a person you know name shows.  On Smartphones, you can block phone numbers call by call.  T-Mobile shows likely spam calls (they really do).
Identity Theft and Fraud – Don't carry Social Security card or number.  Don't print it on checks. Use a paper shredder. Carry one or two credit cards (Review statements. If mysterious charges show up, call!) Don't carry passwords, don't conduct business on shared public computers or hotspots, use anti virus software, use secure websites with "HTTPS" not http. Never give any information to telemarketers. Get your free credit report once a year: 877. 322.8228.  Don't order from TV ads
Read the entire article in the November newsletter: https://www.brooklinema.gov/Archive.aspx?AMID=37
---
Reiki Therapy Tuesdays
Akemi Minami, certified Reiki therapist, offers 25-minute appointments to Brookline residents over 60 and Senior Center volunteers.  Sessions: 9-12 noon Tuesdays.   $7/session  Five-treatment books:  $25    617. 730. 2777
---
Scams
Gift cards – are a popular item that are rife with opportunities for fraud.  When buying, make sure the PIN is not showing.  Also, "anyone who demands payment by gift card is always,always a scammer," says Jennifer Leach, assistant director of the FTC's division of consumer and business education.
Fake retail websites – "Any malicious link can be made to look like Amazon.com," says Experian. Addresses look similar (amazon-shop.com) and are visually identical. If you try to buy, you're just giving scammers your credit card number.
Donations – These scams rely on phony sites that look like the real thing. "You have to pay close attention that you're not going to the wrong site and not clicking bad links," says Experian.  Not all scams are digital. Unsolicited phone calls can be checked on AARP's Fraud Watch Network and charities can be checked on Charity Navigator or Give.org
Travel – If a travel offer looks too good to be true, it probably is, says Experian. Fake travel sites are common also.
Data theft – Experian's recent holiday survey shows 42% of people they surveyed don't use a personal, protected internet connection.  They use public Wi-Fi or connections without spam and malware protection.  Shoppers should always look for sites that use "https://" which means the site is using a secure, encrypted connection to your computer. – – from Gayle M. Bellotti, coordinator, senior programs Norfolk County DA's Office
---
Rummikub Fridays
The new Rummikub group meets Fridays from 9-11:30 with leader Hedwig Baillie.
---
French Conversation Tuesdays
We meet Tuesdays from 12:15-1:15.  New members, regardless of proficiency, welcome.  groupe en est un de conversation Français-Anglais
---
Chess Thursdays and Fridays
Play Thursdays, 1-3 pm.  Bring a board or use ours.   Julie Washburn:  617. 730.2760
Beginners!  Three Brookline High School seniors, co-captains of their chess club, will be here Fridays from 3-5 for lessons and games.  Patricia Burns:  617. 730. 2743
---
Phone Scams
Scammers look for someone to answer the phone so they can scam them out of money or identity.  If a call looks like it's from a neighbor, without showing a name, don't answer.  Hang up, don't answer personal questions like account numbers, social security or maiden names.  Register with the Do Not Call: www.donotcall.gov. You will still get political, charitable, debt collection and survey calls.  Mass: www.mass.gov/how-to/register-your-number-on-ma-do-not-call-list                                           
– – Courtesy of Gayle M. Belloti, coordinator, senior programs, Norfolk County District Attorney's Office
---
2017 Volunteer of the Year: Barbara Kean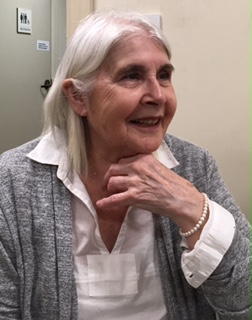 Volunteer of the Year is Barbara Kean.  The award was presented at the volunteer lunch.  Barbara is an ambassador for us who exemplifies kindness and concern.
"When the law firm she worked for closed, she was devastated. After six months, she decided to come to the BSC. She remembers opening the front door and feeling, "When one door closes, another door opens". When asked what she likes best, Barbara said the kind people. She said that it is a place that makes her happy, that she loves the classes and the good feeling she gets when she's here."
Commendations also went to Corey Cohen, Frank d'Entremont, Rita d'Entremont, Regina Frawley, Carol Fullerton, Phil Fullerton, Rhona Hirschowitz, Charlotte Millman, Michelle Moshin, Fran Pechenick, Vera Sharma, Eleanor Small, Muriel Stark, David Weinberg, Louise Weinberg, Ada White and Roberta Winitzer.
---
News
Flying Blind: Mapping Myself by Martin R. Anderson in Gallery 93 through February
– – – – – – – – – –
AGE FRIENDLY BUSINESSES

Be one:  http://www.brooklinecan.org/age_friendly_business.html
– – – – – – – – – –
LIBRARY CONNECTION

The Library Connection delivers library material to home bound Brookline residents. Volunteers will deliver. If you want to be a volunteer or receive the service, contact volunteer coordinator Patricia Burns: 617. 730. 2743
– – – – – – – – – –
WONDER WOMAN, RUTHANN DOBEK:  
wickedlocal.com/news/20180315/ruthann-dobek-brookline-senior-centers-wonder-woman
– – – – – – – – – –
BOSTON 25 TV: SHOP PROGRAM
http://www.fox25boston.com/news/shopping-for-seniors-brookline-program-creates-bond-between-seniors-students/704932381
– – – – – – – – – –
NEWSLETTER
– – Find the newsletter here, at the library, Town Hall, banks, Stop & Shop on Harvard, Star Market on Beacon and Brookline Booksmith.  The best way to get one is subscribe: for $10 we'll mail it to you for a year.  If you're a retailer with space for newsletters, call us.  We deliver.  Advertise with us:  Click for ad specs
– – – – – – – – – –
PLANNED GIVING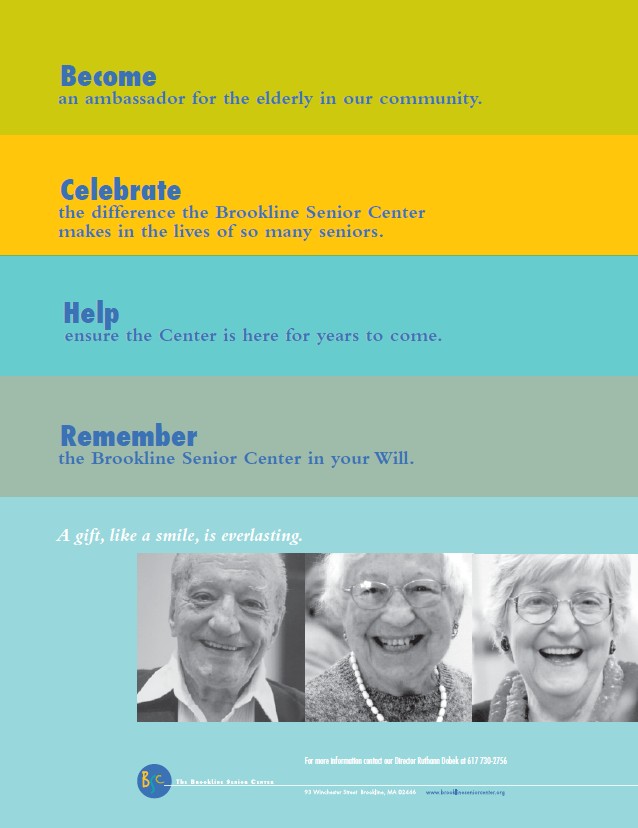 – – Consider leaving a legacy to the Senior Center.  Your bequest is a gift of hope.  Please call Ruthann Dobek, director:  617. 730. 2756 and help us secure a bright future. Brookline Multi-Service Senior Center Corp  (EIN 04-2719972), a Massachusetts non-profit corporation.