News and Events
Ping Pong Fridays
Join Lin Sasman, ping pong coordinator, Fridays 1-5 pm.
---
Reiki Therapy Tuesdays
Akemi Minami, certified Reiki therapist, offers 25-minute appointments to Brookline residents over 60 and Senior Center volunteers.  Sessions: 9-12 noon Tuesdays.   $7/session  Five-treatment books:  $25    617. 730. 2777
---
Rummikub Fridays
The Rummikub group meets Fridays from 9-11:30 with leader Hedwig Baillie.
---
French Conversation Tuesdays
We meet Tuesdays from 12-1.  New members, regardless of proficiency, welcome.  groupe en est un de conversation Français-Anglais
---
Chess Thursdays and Fridays
Play Thursdays, 1-3 pm with Joe Miller, facilitator. Bring a board or use ours.
Beginners!  Three Brookline High School seniors, co-captains of their chess club, are here Fridays from 3-5 for lessons and games.  Patricia Burns:  617. 730. 2743
---
Barbara's Tips for Riding the T
TRIPPS volunteer Barbara suggests:
– Going at off hours, not from 7-10am and 4-6 pm
– Keep your belongings close
– Use the yellow strips to indicate a stop
– Green Line at Boylston and Hynes stops don't have elevators or escalators
– Use a senior CharlieCard
– When boarding, have CharlieCard ready to tap
– Two seats at the front are for seniors and the disabled.  If you need a seat, ask.
---
Jane's Tips for Uber + Lyft
TRIPPS volunteer Jane suggests:
– downloading Uber and Lyft to compare prices
– Enter an address or a business name into "current location" so it's easier for driver to find you
– Be sure the address you put in is in the town you want.  Main St, Washington St are found everywhere.
– Stand where the driver can see you and pull over. Keep the phone in your hand.
Check license plate and name of the driver
Tips can be added after the ride in the app
Take everything with you. You can retrieve lost items but you cannot contact your driver again
Advocate. If you need help with bags or seat belt, ask.
---
2019 Volunteers of the Year
The 2019 John and Molly Dolan award went to Carol and Phil Fullerton.  Tim Sullivan received the Unsung Hero award. Brookline Bank received the Community Partner award. Patricia Burns, volunteer coordinator, quoted "volunteering as the silver bullet, a positive jolt, a giver's high and a great way to live to be 100."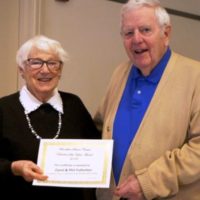 Carol and Phil Fullerton, Volunteers of the Year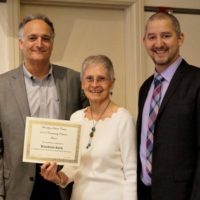 Brookline Bank, Community Partner of the Year  Left: Peter Roveto, Patricia Burns, Sasha Liang
Tim Sullivan, Unsung Hero of the Year
---
2018 Volunteer of the Year: Eleanor Small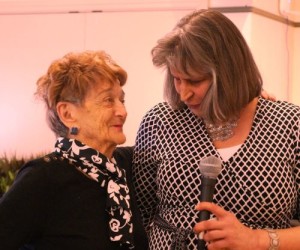 – – Eleanor Small, left
Our John and Molly Dolan volunteer of the year is Eleanor Small who's been with us for 12 years.  She works the gift cart, food pantry and the craft fair.  Eleanor is also the co-leader of the out to lunch bunch and an avid bridge player.  Ruthann Dobek describes Eleanor as warm and welcoming.  "She never waits to be asked to help.  Eleanor is a true ambassador of the Center and exemplified the sharing, giving and paying it forward of John and Molly Dolan for whom the award is named."
---
2017 Volunteer of the Year: Barbara Kean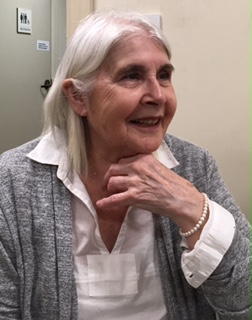 Volunteer of the Year is Barbara Kean.  The award was presented at the volunteer lunch.  Barbara is an ambassador for us who exemplifies kindness and concern.
"When the law firm she worked for closed, she was devastated. After six months, she decided to come to the BSC. She remembers opening the front door and feeling, "When one door closes, another door opens". When asked what she likes best, Barbara said the kind people. She said that it is a place that makes her happy, that she loves the classes and the good feeling she gets when she's here."
Commendations also went to Corey Cohen, Frank d'Entremont, Rita d'Entremont, Regina Frawley, Carol Fullerton, Phil Fullerton, Rhona Hirschowitz, Charlotte Millman, Michelle Moshin, Fran Pechenick, Vera Sharma, Eleanor Small, Muriel Stark, David Weinberg, Louise Weinberg, Ada White and Roberta Winitzer.
---
News
PARTY OF THE CENTURY TUESDAY, OCTOBER 15
You are invited to the party of the century Tuesday, October 15, 2-3:30 pm.  We're looking for centenarians to be honored.  Are you 99 or over?  Know someone?  Let us know.  We're celebrating Agnes Rogers whose 100th birthday is October 15.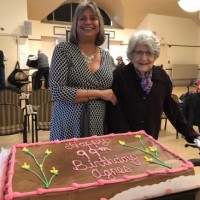 Dance to the Bo Winiker Band with treats from New Paris Bakery
To register, please contact Julie Washburn: 617. 730. 2770, jwashburn@brooklinema.gov
and let her know if you want her to send an invitation to a friend or relative.
– – – – – – – – – –
Brookline Senior Center Van
Monday-Thursday, 9:00am-3:00pm
617. 730. 2750
Door-to-door to the Senior Center for educational and social programs. Monday-Thursday. Suggested donation: $1. Call 617. 730. 2750 by 3:00pm on the business day before the ride is needed.
– – – – – – – – – –
Brookline Elderbus
Monday-Friday, 9:00am-3:00pm  
617. 730. 2777
Elderbus makes an hourly circuit that includes the Senior Center, senior housing, and shopping areas. Suggested donation: 50 cents.  Schedules in English, Russian and Chinese. Call 617. 730. 2777
_ _ _ _ _ _ _ _ _ _
Gallery 93 presents Rebecca Loechler's Art for Pleasure class:  Ina Chertok, Joel Covitz, Elena Khanina, Renee Marshall, Lyudmila Rudyakov, Nancy Van Zant, Tamara Shilmayster, Kea van der Ziel, Florence Warren, Claire Weston
Exhibition through August 30

– – – – – – – – – –
AGE FRIENDLY BUSINESSES

Be one:  http://www.brooklinecan.org/age_friendly_business.html
– – – – – – – – – –
WONDER WOMAN, RUTHANN DOBEK:  
wickedlocal.com/news/20180315/ruthann-dobek-brookline-senior-centers-wonder-woman
– – – – – – – – – –
BOSTON 25 TV: SHOP PROGRAM
http://www.fox25boston.com/news/shopping-for-seniors-brookline-program-creates-bond-between-seniors-students/704932381
– – – – – – – – – –
NEWSLETTER
– – Find the newsletter here, at the library, Town Hall, banks, Stop & Shop on Harvard, Star Market on Beacon and Brookline Booksmith.  The best way to get one is subscribe: for $10 we'll mail it to you for a year.  If you're a retailer with space for newsletters, call us.  We deliver.  Advertise with us:  Click for ad specs
– – – – – – – – – –
PLANNED GIVING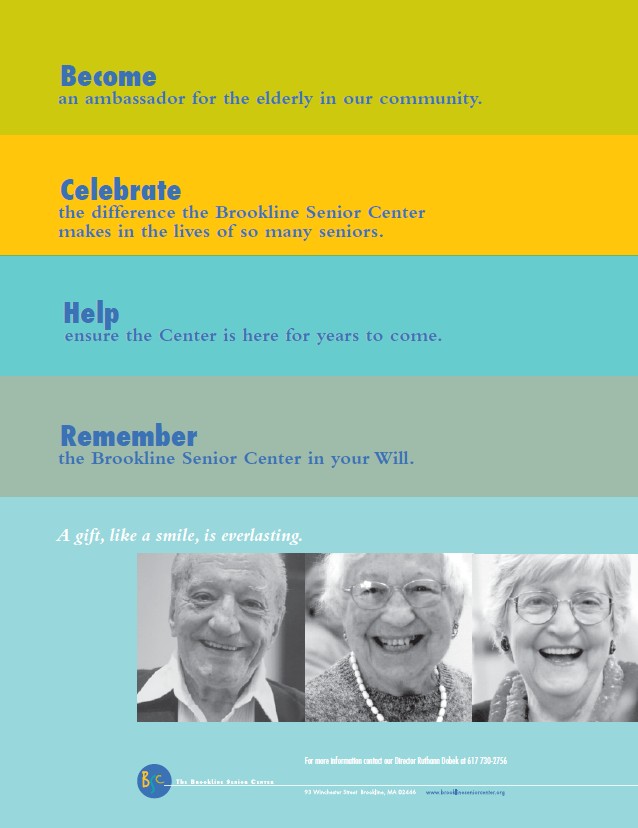 – – Consider leaving a legacy to the Senior Center.  Your bequest is a gift of hope.  Please call Ruthann Dobek, director:  617. 730. 2756 and help us secure a bright future. Brookline Multi-Service Senior Center Corp  (EIN 04-2719972), a Massachusetts non profit corporation.