News and Events Archive
Computer Tuesdays
Dan Siagel does individual half hour sessions Tuesdays.  Regular sessions resume with Fran Pechenick for computer basics, email and internet. Dan works with Smartphones, tablets and laptops Apple Windows and Android. Appointments needed:  617. 730. 2777
---
Bridge Fridays
Bridge guru Jan Davidson welcomes experienced players Fridays at 9 am.  Join us for revolving games.  617. 730. 2760
---
Senior Chorus Fridays
New members welcome, no audition.  Led by Joe Reid, Fridays at 10:30
---
Join the Fitness Center
Find out about becoming a member.  Includes strength training and cardio equipment, small group classes, relaxed atmosphere, and help from a personal trainer. Sharon Devine: 617. 730. 2769
---
Ping Pong Fridays
Join Lin Sasman, ping pong coordinator, Fridays 1-5 pm.  All are welcome.
---
District Attorney Alerts
Is Public Wi-Fi Safe? – Free public Wi-Fi in places like airports or coffee shops is convenient but it can be risky.  Scammers monitor network names and set up their own "evil twin" access points hoping your computer or device will connect to it without your consent.  Or they launch "man in the middle" attacks, hacking between you and your Wi-Fi- connection.  Their goal is grabbing your personal information, email, credit card numbers and passwords.
Any data you send over free public Wi-Fi is vulnerable.  Even if it seems obvious, ask an employee the name of the network.  At the airport don't assume "free airport Wi-Fi" is a legitimate wireless network. We also recommend not doing online banking, making credit card buys, or posting on social media.  Check device setting to be sure it doesn't auto connect to any free public Wi-Fi.  – – Gayle M. Bellotti, coordinator, senior programs, Norfolk County District Attorney's Office
Credit Freeze – restrict access to your credit report
Phone Scams – This year 30% of calls to cell phones are fraud.  Landline fraud is declining (but not in my house).  Watch area codes.  Caller ID shows a local number.  Answer if a person you know name shows.  On Smartphones, you can block phone numbers call by call.  T-Mobile shows likely spam calls (they really do).
Identity Theft and Fraud – Don't carry Social Security card or number.  Don't print it on checks. Use a paper shredder. Carry one or two credit cards (Review statements. If mysterious charges show up, call!) Don't carry passwords, don't conduct business on shared public computers or hotspots, use anti virus software, use secure websites with "HTTPS" not http. Never give any information to telemarketers. Get your free credit report once a year: 877. 322.8228.  Don't order from TV ads
Read the entire article in the November newsletter: https://www.brooklinema.gov/Archive.aspx?AMID=37
---
Reiki Therapy Tuesdays
Akemi Minami, certified Reiki therapist, offers 25-minute appointments to Brookline residents over 60 and Senior Center volunteers.  Sessions: 9-12 noon Tuesdays.   $7/session  Five-treatment books:  $25    617. 730. 2777
---
Rummikub Fridays
The new Rummikub group meets Fridays from 9-11:30 with leader Hedwig Baillie.
---
Chess Thursdays and Fridays
Play Thursdays, 1-3 pm.  Bring a board or use ours.   Julie Washburn:  617. 730.2760
Beginners!  Three Brookline High School seniors, co-captains of their chess club, will be here Fridays from 3-5 for lessons and games.  Patricia Burns:  617. 730. 2743
---
Community Partner 2018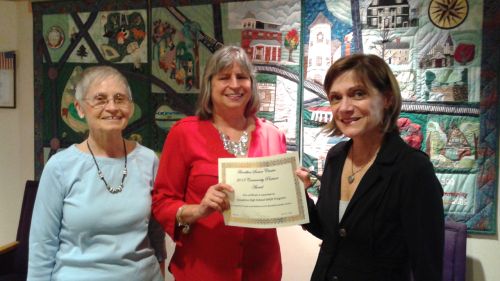 – – left to right: Patricia Burns, volunteer coordinator; director Ruthann Dobek and SHOP advisor Lisa Gaffey
Our community partner of the year is the Brookline High School SHOP program.  SHOP is a collaboration between us and the community service group at the school:  students helping seniors with shopping along with developing new friendships.  Student coordinators are  Nick Brown, Shahar Hartman and Roy Golan along with faculty advisor Lisa Gaffey.  In March, the SHOP program was featured on Boston 25 NEWS (link to the right). The luncheon was dedicated to the memory of Vivian H. Freeman, a volunteer coordinator for 18 years.  Vivian was a Wellesley College graduate with a master's in education.
Celebrating his one-year anniversary as a volunteer: Daniel Price:    Thank you speech     (click to listen)    We feel he has enriched our lives as much as we have enriched his.
---
News
– – – – – – – – – – – – – – –
Thank you to for your generous raffle donations for the Autumn Benefit and Holiday Craft Fair:
Aborn True Value, Albert's Florist, Anatolia, Athan's Bakery, Bebe Spa, Bottega de Capri, Brothers Restaurant,Cafe Fixe, Cafe Landwer, Caffe Nero, Chef Chow's House, Daily Catch, Connelly Hardware, Coolidge Corner Theatre, Dok Bua, Domani Hair Design, Fire Opal, Drive-by-Pies, Dunkin Donuts Allston, Edible Arrangements, Frank Pepe's, Osaka, Kolbo Judaica, Hong Kong Cafe, Orinoco, Hops n Scotch, Kabloom, Wild Goose Chase, Martin's Coffee Shop, Matt Murphy's Pub, Michael's Deli, Mint Julep, Paper Source, Paris Creperie,Party Favors, Peet's Coffee, Pon Thai Bistro, Prairie Fire, Zaftig's, Serenade Chocolatier, Trader Joe's, Sichuan Garden/Blossom Bar, Stop & Shop, Sichuan Gourmet, Brookline Spa, Starbucks Comm Ave, Starbucks Coolidge Corner, Starbucks Washington Square, Starbucks Village, Star Market, T.Anthony's Pizza AND to individuals and volunteers!
– – – – – – – – – –
ANDREA ROSENTHAL PHOTOGRAPHS through December 28: Reimaginings

Image: My Goal (after Andrew Wyeth)
– – – – – – – – – –
LIBRARY CONNECTION
The Library Connection, a partnership of Brookline's Council on Aging and the Public Library of Brookline,  delivers library materials to home bound Brookline residents unable to leave their home.  Call volunteer coordinator Patricia Burns at the Council on Aging   617. 730. 2743
– – – – – – – – – – – –
AGE FRIENDLY BUSINESSES

Be one:  http://www.brooklinecan.org/age_friendly_business.html
– – – – – – – – – –
WONDER WOMAN RUTHANN DOBEK:  
wickedlocal.com/news/20180315/ruthann-dobek-brookline-senior-centers-wonder-woman
– – – – – – – – – –
BOSTON 25 TV: SHOP PROGRAM
http://www.fox25boston.com/news/shopping-for-seniors-brookline-program-creates-bond-between-seniors-students/704932381
– – – – – – – – – –
Newsletter
– – Find the newsletter here, at the library, Town Hall, banks, Stop & Shop on Harvard, Star Market on Beacon and Brookline Booksmith.  The best way to get one is subscribe: for $10 we'll mail it to you for a year.  If you're a retailer with space for newsletters, call us.  We deliver.  Advertise with us:  Click for ad specs
Planned Giving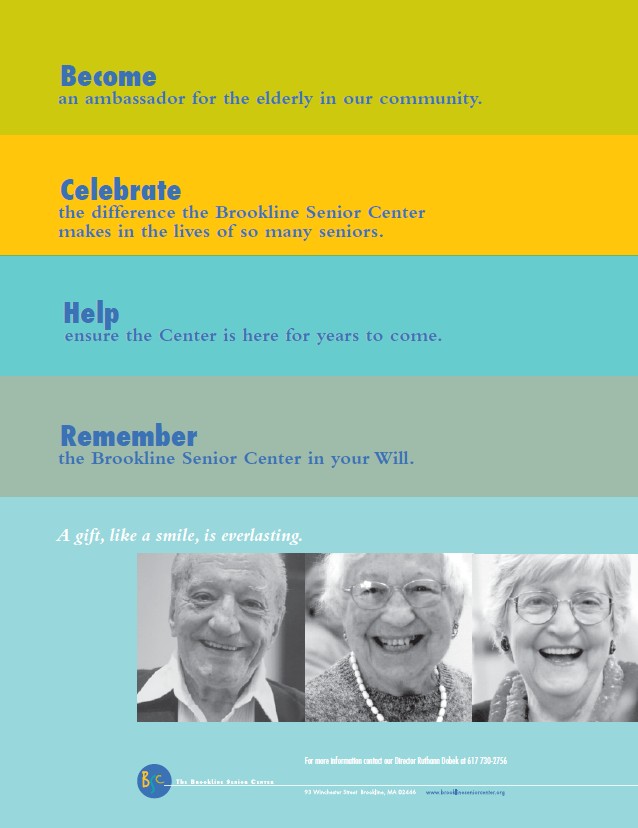 – – Consider leaving a legacy to the Senior Center.  Your bequest is a gift of hope.  Please call Ruthann Dobek, director:  617. 730. 2756 and help us secure a bright future. Brookline Multi-Service Senior Center Corp  (EIN 04-2719972), a Massachusetts non-profit corporation.