News and Events Archive
Solemates Fridays
Solemates walk Fridays at 10.  Meet here and we drive to Jamaica Pond for a walk.  Register:  Sharon Devine 617. 730. 2769.  We're looking for a co-leader and more drivers.  Thanks to Mildred Siegel ,  leader.
---
Dance Party Tuesdays
Meet instructor Lynn Modell every Tuesday 11-11:45 here to dance.  $2
---
Public Issues Nonfiction Book Group Tuesdays
Facilitator Tom Faulhaber leads a discussion on public issues and history.  Books are at the Coolidge Corner Library branch.  Tuesdays from 9-10 am.
Tuesday, February 28 – –  Breach of Trust:  How Americans Failed their Soldiers and their Country, by Andrew J. Bacevich
Tuesday, March 28 – – Maphead:  Charting the Wide, Weird World of Geography Wonks, by Ken Jennings
---
Senior Chorus Fridays
New members welcome, no audition.  Led by Joe Reid, Fridays at 10:30
---
ESL Conversation Wednesdays
Ruth Geller leads English as a second language (ESL) group.  Come practice Wednesdays 3-4 pm.  Sessions include how to talk to your doctor, current events and hobbies.
---
Ping Pong Fridays
Join Lin Sasman, ping pong coordinator, Fridays 1-5 pm.  Connect with players, all are welcome.
---
Yoga Wednesdays
We do active and restorative poses to build strength, flexibility and balance.  Wednesdays 1-2 pm, donations:  $5-$10 please.  Call to register: Sharon Devine:  617. 730. 2769
---
Balance Class Tuesdays, Thursdays
Join us in the fitness center to practice balance and flexibility  Tuesdays and Thursdays 4-4:30.  Register:  Sharon Devine  617. 730. 2769
---
Quilt Raffle, April
Buy tickets for the maple leaf quilt raffle at the annual volunteer lunch in April.  It's king-sized and handmade by the Brookline Bees.  $1 tickets at the Gift Cart or the Council on Aging Office, second floor.  See it in the coffee lounge on the first floor.
---
Reiki Therapy Tuesdays
Akemi Minami, certified Reiki therapist, offers 25-minute appointments to Brookline residents over 60 and Senior Center volunteers.  Sessions: 9-12 noon Tuesdays.  Cost: $7.  Five-treatment books:  $25.
"Reiki (霊気/ˈreɪkiː/) is a form of alternative medicine developed in 1922 by Japanese Buddhist Mikao Usui.[1][2] Since its beginning in Japan, Reiki has been adapted across varying cultural traditions. It uses a technique commonly called palm healing or hands-on-healing. Through the use of this technique, practitioners believe that they are transferring "universal energy" through the palms of the practitioner, which they believe encourages healing.  Some physicians have said it might help promote general well being." – – Courtesy of Wikipedia
,
---
News
– – – – – – – – – – – – – – – – –
Carolyn Letvin Exhibit
Sheep Specific:  Paintings and Monotypes by Carolyn Letvin

through March 30



– – – – – – – –
Artist Gary Chen gussies the van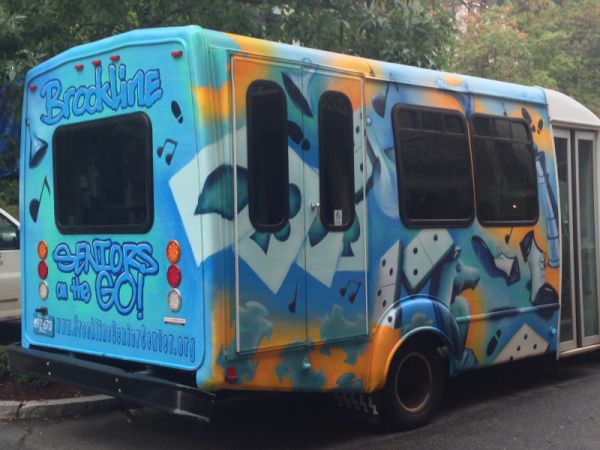 – – photo by Mary Nguyen
Thanks a million, Artists for Humanity!   
– – – – – – – –
Newsletter
– – Find the newsletter at the library, Town Hall, banks, Stop & Shop, Star Market on Beacon and the Brookline Booksmith.  The best way to be sure you get one is to subscribe: for $10 we'll mail it to you for a year.  If you're a retailer with space for a stack of newsletters, call us.  We deliver.  Be an advertiser:  Click for ad specs
Planned Giving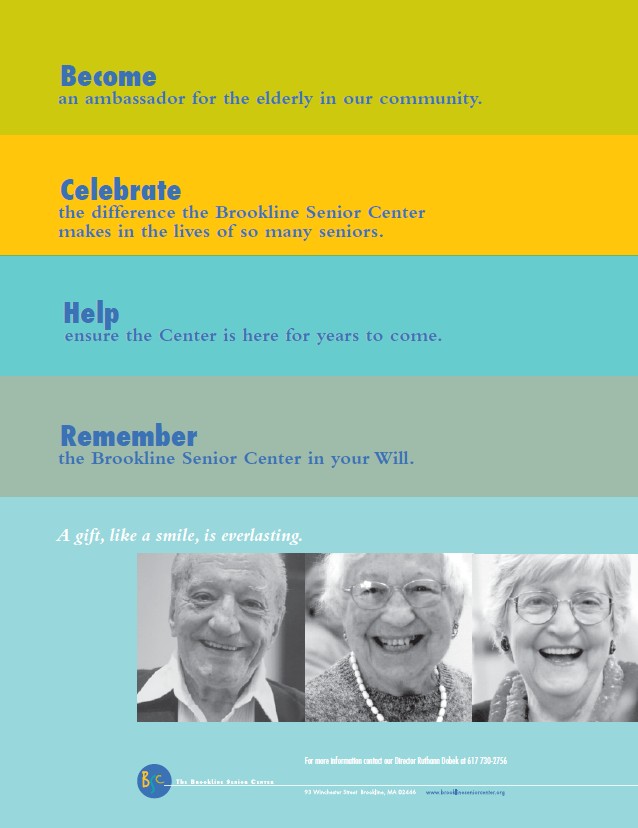 – – Consider leaving a legacy to the Senior Center.  Your bequest is a gift of hope.  Please call Ruthann Dobek, director:  617. 730. 2756 and help us secure a bright future
– –