News and Events Archive
Zumba Gold Thursdays
Emily Brenner, instructor leads Zumba Gold Thursdays from 1:15-2:15.  The session runs February 7 to March 28.  Drop in for a class: $7.  Session: $45 and free to Brookline Housing Authority residents. – – Sponsored by the Brookline Multiservice Senior Center Corp
– – Emily Brenner photo courtesy of Ohm Wellness Center
---
Age Friendly Business Practices
When we ask for opinions on what is important in making a business age friends, we get:  places to sit and rest, helpful staff, and access to rest rooms.  Others include staff who speak loudly and clearly without being patronizing and patience with transactions.  We share the results of the survey with businesses in our campaigns.  To participate click: https://www.surveymonkey.com/r/YQBNVV3
---
Computer Tuesdays + Thursdays
Meet with Fran Pechenick for computer basics, email and internet.  Dan Siagel does individual half hour sessions Tuesdays 12-2. Dan works with Smartphones, tablets and laptops Apple, Windows, and Android.  Appointments needed. Call Olga Sliwa:  617. 730. 2768
Plus, Alan Shepro is here Thursdays in the computer lab from 2-4 for drop-in visits.  If it has a chip, he can help.
---
Bridge Fridays
Bridge guru Jan Davidson welcomes experienced players Fridays at 9 am.  Join us for revolving games.  617. 730. 2760
---
Musical Memories Group
Beginning in March, Simmons social work intern Laci Gonzalez is offering a 5-week discussion group on the influence that music has on our lives. Group members will share their favorite songs and talk about how music impacts and shapes our lives.  Register: 617. 730. 2772
---
Community Partner 2018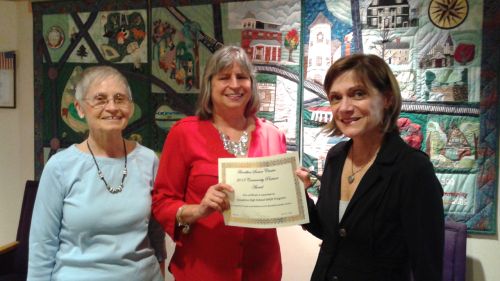 – – left to right: Patricia Burns, volunteer coordinator; director Ruthann Dobek and SHOP advisor Lisa Gaffey
Our community partner of the year is the Brookline High School SHOP program.  SHOP is a collaboration between us and the community service group at the school:  students helping seniors with shopping along with developing new friendships.  Student coordinators are  Nick Brown, Shahar Hartman and Roy Golan along with faculty advisor Lisa Gaffey.  In March, the SHOP program was featured on Boston 25 NEWS (link to the right). The luncheon was dedicated to the memory of Vivian H. Freeman, a volunteer coordinator for 18 years.  Vivian was a Wellesley College graduate with a master's in education.
Celebrating his one-year anniversary as a volunteer: Daniel Price:    Thank you speech     (click to listen)    We feel he has enriched our lives as much as we have enriched his.
---
Senior Chorus Fridays
New members welcome, no audition.  Led by Joe Reid, Fridays at 10:30
---
Join the Fitness Center
Be a member:  Includes strength training and cardio equipment, small group classes, relaxed atmosphere, and help from a personal trainer. Sharon Devine: 617. 730. 2769
---
Ping Pong Fridays
Join Lin Sasman, ping pong coordinator, Fridays 1-5 pm.
---
2018 Volunteer of the Year: Eleanor Small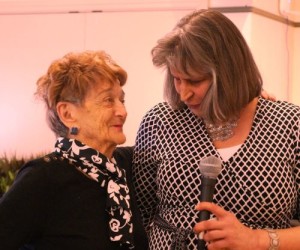 – – Eleanor Small, left
Our John and Molly Dolan volunteer of the year is Eleanor Small who's been with us for 12 years.  She works the gift cart, food pantry and the craft fair.  Eleanor is also the co-leader of the out to lunch bunch and an avid bridge player.  Ruthann Dobek describes Eleanor as warm and welcoming.  "She never waits to be asked to help.  Eleanor is a true ambassador of the Center and exemplified the sharing, giving and paying it forward of John and Molly Dolan for whom the award is named."
---
News
Flying Blind: Mapping Myself by Martin R. Anderson in Gallery 93 through February
– – – – – – – – – –
AGE FRIENDLY BUSINESSES

Be one:  http://www.brooklinecan.org/age_friendly_business.html
– – – – – – – – – –
LIBRARY CONNECTION

The Library Connection delivers library material to home bound Brookline residents. Volunteers will deliver. If you want to be a volunteer or receive the service, contact volunteer coordinator Patricia Burns: 617. 730. 2743
– – – – – – – – – –
WONDER WOMAN, RUTHANN DOBEK:  
wickedlocal.com/news/20180315/ruthann-dobek-brookline-senior-centers-wonder-woman
– – – – – – – – – –
BOSTON 25 TV: SHOP PROGRAM
http://www.fox25boston.com/news/shopping-for-seniors-brookline-program-creates-bond-between-seniors-students/704932381
– – – – – – – – – –
NEWSLETTER
– – Find the newsletter here, at the library, Town Hall, banks, Stop & Shop on Harvard, Star Market on Beacon and Brookline Booksmith.  The best way to get one is subscribe: for $10 we'll mail it to you for a year.  If you're a retailer with space for newsletters, call us.  We deliver.  Advertise with us:  Click for ad specs
– – – – – – – – – –
PLANNED GIVING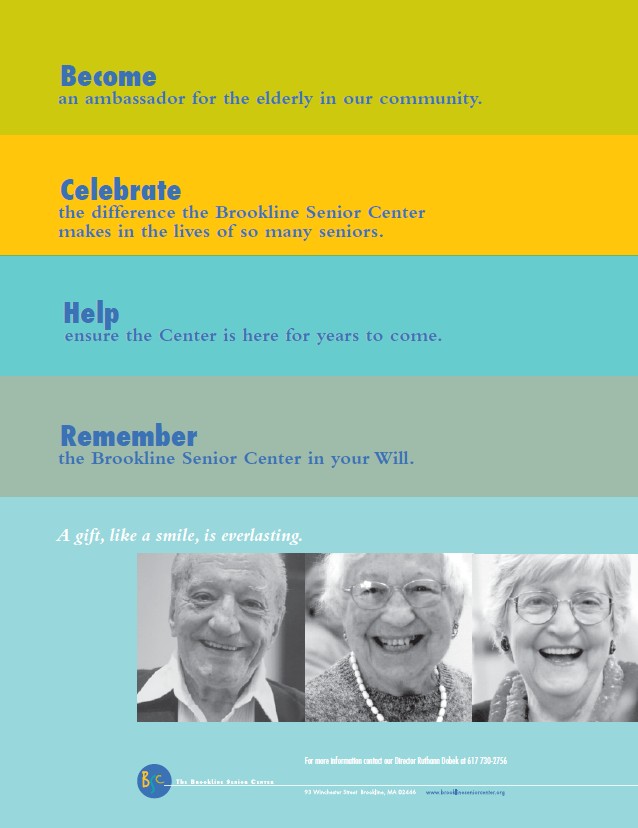 – – Consider leaving a legacy to the Senior Center.  Your bequest is a gift of hope.  Please call Ruthann Dobek, director:  617. 730. 2756 and help us secure a bright future. Brookline Multi-Service Senior Center Corp  (EIN 04-2719972), a Massachusetts non-profit corporation.