News and Events
Virtual Tours
LIVE WITH CARNEGIE HALL:  https://www.carnegiehall.org/Explore/Watchand-Listen/Live-with-Carnegie-Hall
OPERA COMPANIES:  https://operawire.com/category/indieopera/
NATIONAL TRUST FOR HISTORIC PRESERVATION:  https://savingplaces.org/
HISTORIC NEW ENGLAND LOCAL HISTORY DOCUMENTARIES:    https://www.historicnewengland.org/explore/ everyones-history/
---
Bridge Fridays
Bridge guru Jan Davidson welcomes experienced players Fridays at 9 am.  Join us for revolving games.  617. 730. 2760
---
Mahjong Mondays
Join us Mondays from 12:30-3 pm.
---
French Conversation Tuesdays
We meet Tuesdays from 12-1.  New members, regardless of proficiency, welcome.  groupe en est un de conversation Français-Anglais
---
Chess Mondays, Thursdays and Fridays
Play Mondays and Thursdays, 1-3 pm with Joe Miller, facilitator. Bring a board or use ours. Players of all levels welcome.
Brookline High School students are here Fridays from 3-5 for lessons and games.  Patricia Burns:  617. 730. 2743
---
Health Services Update

Barbara Westley, public health nurse, Brookline Public Health Department
Breathe. Slowly and deeply.
Be in touch with someone each day by phone or video chat. Even a two minute chat helps.
Move. A few stretches and a walk make a difference.
Go outside. Even if it's a minute, it makes a difference.
Validate your emotions. Whether we're in strange or normal times, there is no right way to feel. Name your feelings, self-validate and share them in moving past them.
When we reopen our doors, we hope that you will join us again for some of our wonderful health related programs.
Ask a Nurse – – Lynn Schuster, RN Hebrew Senior Life is here once a month for Ask a Nurse.
Low Vision Group – – peer led support that also meets once a month
Blood pressure screening  – – with Barbara Westley, RN
Brookline Hearing Services – – routine cleanings and counseling
Fitness Center – – become a member and use strength training and cardio equipment. Assistance of personal trainer at no charge. Call Sharon Devine: 617. 730. 2769
Podiatry Clinic – – First and third Thursdays from 9-11:30 am. Routine foot care only (nail and callus trimming) $40 for 15 minutes with Dr. John McLaughlin.   Make an appointment:  617. 730. 2777
---
Volunteer News
The annual volunteer luncheon is postponed. This does not mean staff are any less appreciative of the fantastic work and enormous time and energy all of our volunteers give. Here are the results of our recent volunteer survey. We sent 376 surveys and got 122 responses.
What features are most important in age-friendly businesses?
Places to sit and rest (68).  A clean restroom that's accessible and open to the public with high toilets (47). Live customer service available by phone (42). Wide unobstructed aisles that can accommodate wheelchairs, walkers and two carts passing each other (37).
Good lighting (36), automatic doors (31), helpful, patient trained staff (28), easy to read signage (27), sidewalks clear of snow and ice (21).
Suggestions: designated parking, sidewalks free of sandwich boards, tables and chairs; help carrying bundles, delivery, guides at entry.
Age of respondents:  71-80 (35), 61-80 (27), 81-90 (25), 90+ (7).
Years as a volunteer at the Center: 1-3 (26), 5-9 (24), 13+ (14).
Volunteer work: Food pantry (23), craft fair (12), mailing team (12), gift cart (11).
---
Senior Chorus Fridays
New members welcome, no audition.  Led by Joe Reid, Fridays at 10:30
---
Join the Fitness Center
Be a member:  Includes strength training and cardio equipment, small group classes, relaxed atmosphere, and help from a personal trainer. Sharon Devine: 617. 730. 2769
---
Ping Pong Fridays
Join Lin Sasman, ping pong coordinator, Fridays 1-5 pm.
---
News
– – – – – – – – – –
Read every single newsletter for the last 12 years here – –  https://www.brooklinema.gov/Archive.aspx?AMID=37           (Later, when we resume publishing, find the newsletter at the library, Town Hall, banks, Stop & Shop on Harvard, Star Market on Beacon and Brookline Booksmith.  The best way to get one is subscribe: for $10 we'll mail it to you for a year.  If you're a retailer with space for newsletters, call us.  We deliver.)  Advertise with us:  Click for ad specs
_ _ _ _ _ _ _ _ _ _
AGE FRIENDLY BUSINESSES

Be one:  http://www.brooklinecan.org/age_friendly_business.html
– – – – – – – – – –
WONDER WOMAN, RUTHANN DOBEK:  
wickedlocal.com/news/20180315/ruthann-dobek-brookline-senior-centers-wonder-woman
– – – – – – – – – –
BOSTON 25 TV: SHOP PROGRAM
http://www.fox25boston.com/news/shopping-for-seniors-brookline-program-creates-bond-between-seniors-students/704932381
– – – – – – – – – –
PLANNED GIVING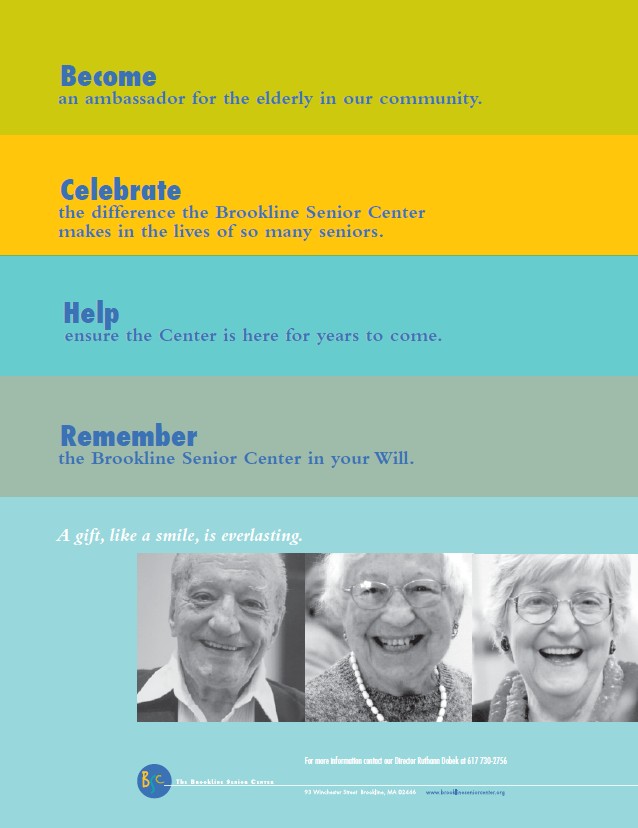 – – Consider leaving a legacy to the Senior Center.  Your bequest is a gift of hope.  Please call Ruthann Dobek, director:  617. 730. 2756 and help us secure a bright future. Brookline Multi-Service Senior Center Corp  (EIN 04-2719972), a Massachusetts non profit corporation.