News and Events Archive
TRIPPS Fall Meetings
Monday, October 2 – – Car-free getaways and holiday shopping, 1-3 pm
Friday, October 6 and October 13 – – Intro to Uber and Lyft  October 6.   We test it October 13.  1-3 pm, two sessions
TRIPPS is a network of volunteers who teach reducing dependence on driving.  We host programs in Brookline and Newton.  info@trippsmass.org – – http://www.TRIPPSMass.org     Register:  617. 730. 2644
---
Zumba Gold Thursdays
Zumba gold with instructor Emily Brenner Thursdays from 1:30 – 2:30.   Session runs through November 16.  Session:  $45, by the class $7,  free to Brookline Housing Authority residents. NO CLASS SEPTEMBER 21 and OCTOBER 19   – – Sponsored by the Brookline Multi-Service Senior Center Corp
---
Ping Pong Fridays
Join Lin Sasman, ping pong coordinator, Fridays 1-5 pm.  Connect with players, all are welcome.
---
Reiki Therapy Tuesdays
Akemi Minami, certified Reiki therapist, offers 25-minute appointments to Brookline residents over 60 and Senior Center volunteers.  Sessions: 9-12 noon Tuesdays.   Fridays in September:  1-3:30 for $7.  Five-treatment books:  $25
---
Chess Thursdays
Come play Thursdays, 1-3 pm.  Bring your own board or use ours.   Julie Washburn:  617 730.2760
---
Computer Tuesdays
Dan Siagel does half hour one on one sessions Tuesdays in the lab.  He helps with basic PC skills, Smartphones Apple and Android.  Fran Pechenick helps with computer basics like email and navigating the web.  Info:  Olga Sliwa 617. 730. 2768      Appointments:  617. 730. 2777
---
Bridge Fridays
Bridge guru Jan Davidson welcomes experienced players Fridays at 9 am.  Join us for revolving games.  Call 617. 730. 2760
---
Dance Party Tuesdays
Meet instructor Lynn Modell every Tuesday 11-11:45 here.  $2
---
Senior Chorus Fridays
New members welcome, no audition.  Led by Joe Reid, Fridays at 10:30
---
2017 Volunteer of the Year: Barbara Kean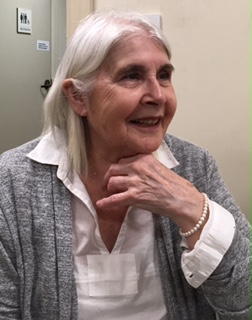 Volunteer of the Year is Barbara Kean.  The award was presented at the volunteer lunch.  Barbara is an ambassador for us who exemplifies kindness and concern.
"When the law firm she worked for closed, she was devastated. After six months, she decided to come to the BSC. She remembers opening the front door and feeling, "When one door closes, another door opens". When asked what she likes best, Barbara said the kind people. She said that it is a place that makes her happy, that she loves the classes and the good feeling she gets when she's here."
Commendations also went to Corey Cohen, Frank d'Entremont, Rita d'Entremont, Regina Frawley, Carol Fullerton, Phil Fullerton, Rhona Hirschowitz, Charlotte Millman, Michelle Moshin, Fran Pechenick, Vera Sharma, Eleanor Small, Muriel Stark, David Weinberg, Louise Weinberg, Ada White and Roberta Winitzer.
---
News
 
Exhibition                 Paintings by Miriam Aaronson:  Fruit, Flowers and Old Streets  – –   In Gallery 93 through Tuesday, October 31
Newsletter
– – Find the newsletter at the library, Town Hall, banks, Stop & Shop on Harvard, Star Market on Beacon and Brookline Booksmith.  The best way to be sure you get one is to subscribe: for $10 we'll mail it to you for a year.  If you're a retailer with space for newsletters, call us.  We deliver.  Be an advertiser:  Click for ad specs
Planned Giving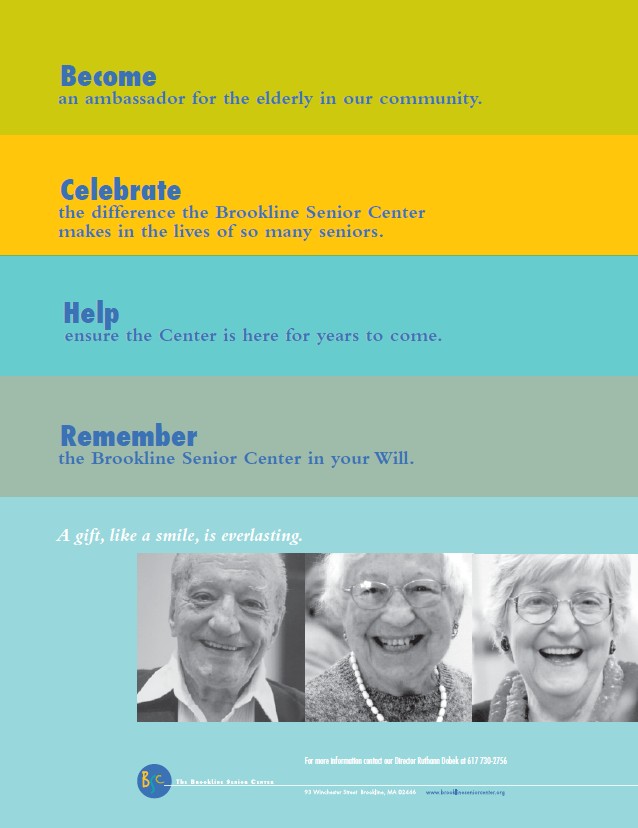 – – Consider leaving a legacy to the Senior Center.  Your bequest is a gift of hope.  Please call Ruthann Dobek, director:  617. 730. 2756 and help us secure a bright future
– –