One Person Can Make a Difference
March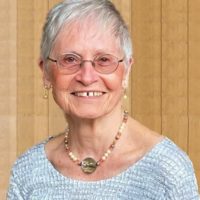 Advice on retirement from Patricia Burns, our volunteer coordinator, who retired in January.
"Take a short time to relax, explore and decide what you want to spend time doing and then get engaged. For me, of course, that will of course include more time with family and friends virtually and hopefully soon in person. I look forward to helping others, exercising, enjoying nature, attending art and drama events, photography and crafts. I'm sure the Center will be a site for some of them.
"I have thoroughly enjoyed my time that I spent with our seniors and I will miss them. I used to tell new volunteers they should go home each day with their cheeks hurting from smiling. Smiling is free and it's appreciated by all. Even with masks, they say they can see people smiling in their eyes.  Remember that!"
---
Patricia Burns, our hardworking volunteer coordinator, retired in January. She describes herself as a generalist who loves diving into new things. With us, she started as a tax work-off participant in 2013 working with Deidre Waxman in the REAP program helping seniors with resumes and cover letters. She also facilitated the Wisdom Works seminars. In 2014 she became the volunteer coordinator working with then 360 volunteers. She also continued her workshops supporting those looking for work.
In 2015 she started writing the Council's minutes for the Town, leading the Alzheimer's walk team, and coordinated the SHOP program with the high school.  It was not enough. She wrote this page every month, worked on the craft fair, ran the food commodity program, and did food safety training for staff and volunteers.
We thank Patricia for her dedication and willingness to work wherever there was need. We wish her a happy retirement.
---
FOOD COMMODITY:    Pick up food by appointment wearing a mask.  Next distribution is MARCH 17.
Low income seniors over 60 who want 35 pounds of shelf stable food on the 3rd Wednesday of each month, call 617. 730. 2770
Attention Chess Lovers!  Play virtually  617. 730. 2770
NEW "EVERYTHING BUT SHOPPING" HIGH SCHOOL STUDENTS

We are excited to work with student on activities like pen pals, zoom vocal or instrument sharing, games, crossword puzzles, Pictionary, charades, phone calls,  reading short stories, poetry, virtual museum tours.  We can help with school work: critique an essay. You help us with technology.
REGISTER:   617. 730. 2770
Seniors who participated in SHOP
To get ready for new contactless activities with students at Brookline High School, Patricia called 38 seniors who had students shop for them to see if they had other ways of getting groceries.
They were complimentary about 'their students'. Several said that their students called to check in; another that students had come to sing happy birthday to her; her students had visited her when she was in the hospital; another said she feels like they are granddaughters; and another that her student explained tech terms and acronyms for social media.
Feedback from the student is also positive.  They loved the stories when they were growing up. They said that either their grandparents live far away or died and they liked having someone to share activities with. Many visit their senior on college breaks. One student said that, "seniors are interesting because they lived the history that we are reading in class."
STEPS (Student Training & Education in Public Service)
The goal of STEPS is to encourage more people to pursue career paths where they can have an impact.
A new guidebook explains why working with seniors can be a smart career move and spotlights 13 jobs in fields like healthcare to social work and counseling including an interview with a clinical social worker who counsels
older adults.
Careers working with seniors: https://www.publicservicedegrees.org/careers/people-with-disabilities/
STEPS (Student Training & Education in Public Service): https://www.publicservicedegrees.org/
---
TECH BUDDY PROGRAM
We want to buy 20 tablets that will be programmed with apps like Food Pantry, Zoom, transportation, and so on. Each participant is matched with a tech coach who will troubleshoot. We will also create easy to follow instructions.
We're reaching out to volunteers to serve as coaches. High School and college students are encouraged.  The goal is keeping seniors connected. We want to start this year and need savvy volunteers with patience. What you'll do:
1- Prepare tablet with appropriate apps  2- Teach the basics on how to use tablets 3- Teach and troubleshoot by phone 4- Develop step-by-step reference sheets 5- Be patient and make a connection.
Who you are:
1- 16+ years old with parental consent; 2- Be or become an MRC (Medical Reserve Corps) volunteer  3- Know tablets 4- Communicate clearly; 5- Be patient
---
COLLABORATIVE VOLUNTEER EVENTS & OPPORTUNITIES
Open enrollment for Medicare supplemental insurance closed December 7. Your best resource
now is Medicare  (844 841 5538) to learn which supplemental plan is best for you.
SHINE (Serving Health Insurance Needs of Everyone) is administered by the Massachusetts Executive
Office of Elder Affairs in partnership with Councils on Aging and other aging service access points. SHINE
helps people on Medicare  understand insurance options. Volunteer counselors provide unbiased help choosing an insurance program. Premiums, deductibles, co-pays and drugs covered by your 2020 plan may have changed.
SHINE trains counselors in a 2 day/week – 6 week course. Once you're certified, you will be assigned to work 6 hours per week in a senior center or other public setting. If you are interested, call Dorene Nemeth, MetroWest
regional SHINE director: 781. 455. 7555, ext. 202
VIBRANT: MASS ASSOC FOR THE BLIND AND VISUALLY IMPAIRED
VIBRANT offers group classes and individual training to access technology programs. Topics include an introduction to Zoom, helpful reading applications, ridesharing.
Rachel Castle at 617. 608.4150  rcastle@mabcommunity.org
MASS COMMISSION FOR THE BLIND: Help a visually impaired person by reading or shopping. No special skills are needed. Call Kyle Robidoux, director of volunteer support services, Mass Commission for the Blind: 617. 926. 4312
BROOKLINE EMERGENCY FOOD BANK: The Brookline Food Pantry needs canned tuna, canned chicken, rice, cereal, lentils, macaroni and cheese, oatmeal, canned vegetables, diced tomatoes, stable milk and juice and toiletries.
REAP
Retirement Engagement Alternatives Program
The REAP program for Brookline residents 55+ helps people remain engaged and active in the community.
The goal is to enhance retirement by linking you with part-time paid or volunteer work in the community or here at the Center.
We partner with organizations to offer work with BrooklineCAN (BCAN), Senior Community Service Employment Program (SCSEP), Brookline Adult and Community Education, Executive Office of Elder Affairs, and Town of Brookline departments. There are opportunities for tax work-off, and grant funded jobs for income qualified residents.
Deidre Waxman:  617. 730. 2767  dwaxman@brooklinema.gov
Get the help you need with resumes, cover letters and LinkedIn profiles as well as help with phone, skype, in-person and mock interviews.