Volunteering: Giving time, touching hearts
VOLUNTEERING: "Volunteers Make the World a Better Place"
JUNE 2017
The Brookline Council on Aging and the Brookline Senior Center (BSC) are always happy to enlist new volunteers who can share their talents and program ideas.
Your contributions would enable us to expand the number and variety of high level programs and activities that are provided for all seniors in Brookline. If you would like to actively pursue volunteer service, please make an appointment with Patricia, the Volunteer Coordinator (617 730 2743) for an opportunity to learn more about the Senior Center & opportunities where you might best share your time and talent. We are always eager to hear new ideas & keep a list of volunteers for special events and future opportunities.
– – All volunteer content written by Patricia Burns
JUNE SPOTLIGHTED VOLUNTEER OPPORTUNITIES:
This month's spotlighted opportunities include: Preparing coffee and breakfast snacks early mornings Monday-Friday at the Brookline Senior Center (BSC), Food Commodity program on 3rd Wednesday of each month – Russian interpreters afternoons and people able to help lift 30-35 lbs. in the morning, and assistance for seniors with their SmartPhones on Wednesday afternoons 3-5.
If you would like to apply for these or other volunteer opportunities at the BSC, please call Patricia, the Volunteer Coordinator @ 617 730 2743 or email her at pburns@brooklinema.gov to make an appointment to talk about things you like to do, your skills and potential volunteer opportunities.
ANNUAL VOLUNTEER FILE AUDIT:
Annual Volunteer File Audit: It's that time of year again! We are more than half way through our review of each volunteer file for our annual volunteer file audit. Check your mail – old and new! We will continue to mail any missing or very outdated forms from YOUR particular volunteer file. Keeping our records up-to-date is a requirement of the Town of Brookline and must be taken seriously. The mailing includes a self-addressed envelope to either mail or drop off for Patricia, the Volunteer Coordinator in her mailbox on the 2nd floor or in her office. Any questions, or if you need a new copy of theforms, please contact her at 617 730 2743 or pburns@brooklinema.gov.
SHOP: "Students Helping Older People"
The SHOP program is meant to be a school year activity. Patricia is calling seniors who have been using the SHOP service regarding their summer needs. NOT ALL STUDENTS WILL BE AVAILABLW DURING THE SUMMER. Patricia will try to fill vacancies where possible, but keep in mind that availability and frequency of shopping may not be as possible as during the school year. If you absolutely need shopping help, please call Patricia, the Volunteer Coordinator at 617 730 2743 or email her at pburns@brooklinema.gov.
The S.H.O.P. Program has been a community service program at Brookline High School for many years. It is a win-win volunteer opportunity where students grocery shop for a senior in Brookline and seniors share their actual history and experience. It is a weekly to biweekly commitment that is usually shared with a student partner. It starts with visiting the elder's home to get a grocery list and money, then shopping, and returning with the groceries.
In addition to getting the groceries for the senior, the most important part of this program is developing meaningfulintergenerational relationships. Some students have shopped for the same person throughout high school and consider 'their senior' an important part of their life.
When surveying seniors in the program, we receive overwhelmingly positive feedback about the students. Likewise, when doing follow-up with the students, either during annual orientation or from unsolicited comments, the students are extremely positive about their relationships with 'their seniors'. One student continued to visit his senior regularly after she transferred to an assisted living facility where meals were provided and she no longer needed shopping!
COMMENTS FROM A SENIOR ABOUT SHOP VOLUNTEERS:
A senior who has help from the SHOP program called to say, "Can't live without them! They are kind, trustworthy and thoughtful and anticipate my needs. They are the nicest kids. I thank them and the BSC for offering this service."
VOLUNTEER SPOTLIGHT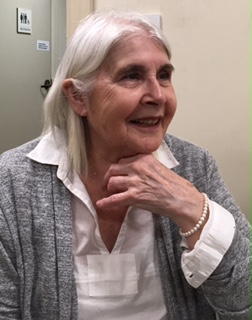 Barbara Kean, 2017 Volunteer of the Year, has been a volunteer at the Brookline Senior Center for the past 5 years. Barbara gives tours of the BSC, covers the reception desk greeting visitors and helping them find the activities they are looking for, volunteers with the TRIPPS Program – especially with the TRIPPS Challenges, has participated in the Alzheimer's Walk twice and has begun assisting visually impaired visitors to the BSC.
Barbara said that when the law firm she worked for closed its doors, she was devastated. After six months, she decided to come to the BSC. She says, that she can remember opening the front door of the BSC and immediately feeling the adage, "When one door closes, another door opens".
When asked what she likes best about the BSC, Barbara said, the kind people she has met here. She said that it is a place that makes her happy, that she loves the classes she takes and the good feeling she gets when she comes here. And yes, it was so nice to be nominated for and receive the honor of being chosen the 2017 Volunteer of the Year!
DIRECTOR, RUTHANN DOBEK:
"One of our strengths is recruiting volunteers. We have 368 volunteers of all ages – 12 – 97 performing 462 activities. Many are active in more than one activity; many hold full time jobs; many have volunteered with us for ten years or more; and many volunteer elsewhere. These volunteers, most of whom are seniors themselves, donate the equivalent number of hours of more than 20 full-time staff. Our volunteers are here and in the community every day. We would have to close our doors if we had to go without their thousands of hours of dedicated work."
Ruthann continues to ask that all of our volunteers add one more important job to their volunteering – being an ambassador for the Brookline Senior Center. She asks that we all be aware of new faces here or in our community – churches, synagogues, neighborhoods or social networks – and welcome and encourage seniors to come to the BSC.  Our volunteers know that the secret to longevity is active involvement and physical fitness.
BROOKLINE SENIOR CENTER VOLUNTEERS IN THE NEWS
Brookline Senior Center intergenerational volunteers were spotlighted on Wednesday, March 29 on BIG, the local TV channel. If you missed it, you can find the ½ hour program link on the BCAN website or on the BIG Facebook pagehttps://youtu.be/iDDCgi8vKCk. An article, 'What Makes Brookline Council On Aging So Extraordinary?' has been submitted and accepted for the Blue Cross Blue Shield Medex quarterly publication, Healthy Times. We will let you know when it will be published. Patricia also updates the volunteer pages of the Town and BSC websites and contributes to the BCAN Volunteer page monthly. She urges everyone to check these websites (www.brooklineseniorcenter.org/, www.brooklinema.gov/) and http://www.brooklinecan.org/. Brookline Senior Center volunteers were featured in an article in the April, 2016 issue of the fiftyplus advocate entitledVolunteering: A Work of Heart at the Brookline Senior Center. The article can be found on line at www.fiftyplusadvocate.com.
VOLUNTEER & COMMUNITY PARTNER OF 2017

The Volunteer of the Year Award was presented to Barbara Kean. Ruthann outlined some of the many ways that Barbara has volunteered and most importantly her position as BSC ambassador. Barbara exemplifies kindness and concern in a quiet way. In addition to the certificate of award, Barbara was also given a beautiful plant and a Brookline historical afghan.
Ruthann then announced the Community Partner Award to Goddard House. She thanked them for their collaboration in BCAN activities, the past three Parties of the Century and Brookline 300 as well as providing transportation for our Alzheimer's walk team and other events.
VOLUNTEER APPRECIATION LUNCHEON: April 5

A total of 99 of our 340 volunteers attended the Volunteer Appreciation Luncheon. A delicious meal of salad, meatballs, eggplant & chicken parmesan, stuffed shells and carrot cake was enjoyed by all.  BSC staff and social work students set up and served the meal.
Roberta Winitzer, COA Chair welcomed everyone and extended her thanks on behalf of the Brookline Senior Center for all the volunteers' contributions.  She stressed that our volunteers are special representatives in the community and are significant to all who come to the BSC. She also thanked Agnes Rogers, her little Tinkerbell looking over her in her new Chair position.
Roberta then introduced the Brookline Senior Chorus led by Joe Reid. They gave us a tease of a full concert with eight songs that we were encouraged to join in and sing. Some of the songs were accompanied by dancing by chorus members Norma Rusch, centenarian+ Leroy Neuberg and Claire Weston.
Town Selectman, Nancy Daly confirmed that she will not be running for re-election and stressed that it is the contribution of volunteers that allows the BSC to have programs. She also said that if we only had programs funded by the budget, we would only be able to have a fraction of the programs we have now. The volunteers thanked Nancy for her 12 years of support with a resounding round of applause.
Nancy reminded us that the BSC is bursting at the seams. In this Spring, she wanted to plant a seed to expand the facility in the future. She also indicated that the proposed cuts to the Federal budget and decrease in block grant dollars would not be good for seniors. She suggested that we put the contact information for our congressmen, senators and state representatives on our website and in our newsletter so we can easily contact them to voice our concerns.
Ruthann Dobek announced Nancy Daly has been selected for Benefactor of the Year and will be honored at our major fundraiser October 25.
Ruthann then spoke about one volunteer, William Wong, who is our Food Service Expert. Ruthann said that while Julie Washburn runs all the programs at BSC, she is happy to let William rule the kitchen during our food events.
Moment of Silence: Ruthann led a moment of silence for those dedicated and caring volunteers who were ill, who were honorary volunteers who had cared for so many during their years of service or had passed during the year.
Patricia Burns, Volunteer Coordinator: Patricia noted how pleased she was to have met so many more of the volunteers this year. Patricia's theme was, 'If you want something done, ask a busy person'.  She gave Sherry Lee as an example, listing the jobs she has done at the BSC and elsewhere. Patricia also gave the statistics from the 2017 survey starting with the number of volunteers who also volunteer elsewhere (51 of 123), most of whom help family or friends or with their temple or church and the 20 who work paid jobs besides their BSC volunteering.
Other statistics from the 2017 survey include: 123 of 340 volunteers responses by March 23; 58 – the increase in new volunteers from last year; 94 of the 123 volunteers are between 60-97 years old; 44 of the 123 volunteers have been volunteering for 3-6 years; 34 of the volunteers have been volunteering for 7-20 years; most of the 123 volunteers heard about the opportunity from other volunteers or the TAB; the largest number of responding volunteers work at Food Distribution, the Craft Fair, Friday mailings or as COA Board Members.Patricia reinforced that your responses are important, are tabulated and the resulting data are used to support budget requests and for other fundraising efforts as well as the Annual Report.
She also noted that the volunteer pages of the Town and BSC websites are now updated monthly and that just last week, Patricia was interviewed for the Age Friendly City series on Brookline cable TV. The link to the interview can be found on the BCAN website or on youtubehttps://youtu.be/iDDCgi8vKCk.
Nominees for Volunteer of the Year: Julie read the names of those nominated for the 2017 Volunteer of the Year Award and asked them to stand and collect their nominee certificates after the meeting. Alphabetically, they were: Corey Cohen, Frank d'Entremont, Rita d'Entremont, Regina Frawley, Carol Fullerton, Phil Fullerton, Rhona Hirschowitz, Charlotte Millman, Michelle Moshin, Fran Pechenick, Vera Sharma, Eleanor Small, Muriel Stark, David Weinberg, Louise Weinberg, Ada White and Roberta Winitzer.
Presentation of Awards: Ruthann indicated that The John and Molly Dolan Volunteer of the Year Award is given to a nominated volunteer who exemplified sharing, giving and paying it forward. She spoke of Molly and John who were dedicated to the BSC when it was housed at Devotion School. She said that their grandson, who works with Navajo Indians, said that all he learned about community, giving and leaving the world a better place, he learned from his grandparents. Ruthann reminded us all that what we do today has impact on future generations.
The 2017 Volunteer of the Year Awardwas presented to Barbara Kean. Ruthann outlined some of the many ways that Barbara has volunteered and most importantly her position as BSC ambassador. Barbara exemplifies kindness and concern in a quiet way. In addition to the certificate of award, Barbara was also given a beautiful plant, and a Brookline historical afghan. Ruthann then announced the Community Partner Award that was given to Goddard House this year. She thanked them for their collaboration in BCAN activities, the past 3 Parties of the Century and Brookline 300 as well as their provision of transportation for our Alzheimer's walk team and for other events.
Raffle: As promised, the luncheon ended with the raffle drawing. Muriel Stark, a member of the quilting group that created the quilt and last year's Volunteer of the Year drew the winning ticket. John Mulhane, COA member was the lucky winner who reported that his wife always wanted a quilt, would treasure it and would consider it an heirloom.
COLLABORATIVE VOLUNTEER EVENTS & OPPORTUNITIES:
SHINE:
SHINE (Serving Health Insurance Needs of Everyone) is administered by the Massachusetts Executive Office of Elder Affairs in partnership with Councils on Aging and other aging service access points. SHINE helps people on Medicare and other seniors understand complex insurance options. SHINE volunteer counselors educate and provide unbiased help to choose an insurance program best for the individual. Seniors interested in making an appointment with a BSC SHINE counselor – especially during the open enrollment period – should call 617 730 2777.
SHINE trains counselors in a 2 days/week – 6 week course. Meetings to get support and meet with other counselors occur monthly. Once certified, you will be assigned to work 6 hours per week in a senior center or other public setting. If you are interested in becoming a certified counselor, call Dorene Nemeth, MetroWest Regional SHINE Director: 781 455 7555, ext. 202.
MASS COMMISSION FOR THE BLIND:
Help a visually impaired person by reading or shopping with them. No special skills needed. Call Kyle Robidoux, Director of Volunteer Support Services, Mass Commission for the Blind – 617 926 4312.
The Brookline Senior Center is collaborating with the MA Commission for the Blind on a new grant to train vision impaired seniors on new technological equipment that has been installed in the BSC computer lab. Sassy, the new trainer is available by appointment on Wednesdays from 1-5 and most Thursdays.
BROOKLINE'S EMERGENCY FOOD BANK
The Brookline Emergency Food Bank needs donations of instant coffee and tea, sugar, oil, flour, spices, pasta, canned tomatoes and sauce, canned soup, beans, vegetables, fruit (low salt and low sugar) dry beans, healthy snacks for kids, granola bars, and fruit cups. They also need toiletries such as: shampoo, conditioner, moisturizer and sunscreen (not covered by SNAP).  Donations may be left in thebin under the table in the reception area at the Brookline Senior Center.
CAPPELLA CLAUSURA
This Newton-based choral group focuses on performing and supporting the music of women composers. Concerts from November to May take place in Newton and Boston. Cappella Clausura would like to offer warm and welcoming Brookline Senior volunteers free admission to their concerts in exchange for helping to greet patrons, direct audience members to ticket lines, usher and hand out programs. Interested volunteers should contact Anne Kern @ manager@clausura.org or 617 993 0013.
GENERATIONS INCORPORATED:
Generations Incorporated is recruiting older adult volunteers to help improve reading skills for Kindergarten through 2nd grade students in classroom settings twice a week at either the Winship School in Brighton or the Lydon School in West Roxbury. To find out more about the program please call 617 423 6633 or email volunteerinfo@generations.org to RSVP
REAP  Retirement Engagement Alternatives Program
The REAP program for Brookline senior residents 55 or 60 and above (depending on the program) is designed for people who wish to remain engaged and active in the community while in retirement or partial retirement. The goal of this program is to enhance the retirement experience by linking participants with either part-time paid or volunteer work in the community or at the Brookline Senior Center (BSC) itself.
The BSC partners with several other local organizations to offer fulfilling and interesting opportunities. These include, but are not limited to: BrooklineCAN (BCAN), Senior Community Service Employment Program (SCSEP), Brookline Adult and Community Education, Executive Office of Elder Affairs and Various Brookline Town departments. In addition, opportunities exist for Tax Work-Off, and limited grant funded employment at the BSC for income qualified Brookline residents.
The REAP program provides the following free services: individual, confidential and free consultation around skills and interests, on-going skills based workshops and training for employment seekers, employer-employee matching service, consultation and matching for participants seeking meaningful volunteer opportunities and on-going opportunities to network and explore avenues and options for self-fulfillment in the retirement years.  To enroll or for more information, call 617 730 2767 or email Deidre at dwaxman@brooklinema.gov
Brookline seniors – Boomers & Beyond – are eligible to receive free individual help with resumes, cover letters and LinkedIn profiles as well as tips on phone, skype, in-person and mock interviews. To schedule an appointment, call Patricia at 617 730 2743 or email her at pburns@brooklinema.gov
JUNE/JULY REAP EVENT
WISDOM WORKS:
Mondays: June 19 &26 & July 3 from 1-4 pm.
This comprehensive 3-session participative workshop explores:skills, accomplishments, and values; resumes, cover letters, networking, and interviews; and job search techniques, LinkedIn and resources. This workshop is suitable for paid and volunteerjob seekers.
PRE-REGISTRATION IS REQUIRED. To register, contact Patricia Burns at 617-730-2743 or pburns@brooklinema.gov.
A materials fee of $5 will be collected at the first class.