Volunteering: Giving time, touching hearts
VOLUNTEERING: "Volunteers Make the World a Better Place"
 AUGUST 2017
The Brookline Council on Aging and the Brookline Senior Center (BSC) are always happy to enlist new volunteers who can share their talents and program ideas.
Your contributions would enable us to expand the number and variety of high level programs and activities that are provided for all seniors in Brookline. If you would like to actively pursue volunteer service, please make an appointment with Patricia, the Volunteer Coordinator (617 730 2743) for an opportunity to learn more about the Senior Center & opportunities where you might best share your time and talent. We are always eager to hear new ideas & keep a list of volunteers for special events and future opportunities.
– – All volunteer content written by Patricia Burns
AUGUST SPOTLIGHTED VOLUNTEER OPPORTUNITIES: This month's spotlighted opportunities include: backup for the Information Desk, Food Commodity program on 3rd Wednesday of each month –Russian & Chinese interpretersmorning and afternoon shifts and people able to help with phone calls and/or lifting 30-35 lbs. in the morning;1-on-1 assistance for seniors with their Smartphones and other technology; Russian interpreters for Tuesday afternoons (1-4) in the Food Pantry, and NEW THIS MONTH – TRIPPS social media specialist (most of this position can be done from home and could be job-shared).
If you would like to apply for these or other volunteer opportunities at the BSC, please call Patricia, the Volunteer Coordinator @ 617-730-2743 or email her at pburns@brooklinema.gov to make an appointment to talk about things you like to do, your skills and potential volunteer opportunities.
ANNUAL VOLUNTEER FILE AUDIT: We are working to complete our annual volunteer file audit. Check your mail – old and new! We havemailed any missing or very outdated forms from YOUR particular volunteer file. Keeping our records up-to-date is a requirement of the Town of Brookline and must be taken seriously. The mailing includes a self-addressed envelope to either mail or drop off for Patricia, the Volunteer Coordinator in her mailbox on the 2nd floor or in her office. Any questions, or if you need help filling them out or need a new copy of theforms, please contact her at 617 730 2743 or pburns@brooklinema.gov.
ALZHEIMER'S WALK AND CAMPAIGN:
The 2017 Alzheimer's Walk will be held on Sunday morning, September 24th. Everyone knows someone with Alzheimer's. Please help fund research on this disease by signing up for the Brookline Senior Center Alzheimer's Walk Team. Put your walking shoes on and get donations from your friends and families. You can walk either 1 ½ or 3 ½ miles while enjoying a lovely view and visiting with friends. Transportation will be provided to and from the Senior Center and the walk site.
If you cannot participate in the walk, please make a donation (cash or check) at the Senior Center. Checks should be made out to Brookline Senior Center with Alzheimer's on the memo line of the check.
While the walk is not until September, it is never too early to start collecting donations. Please contact Patricia, Volunteer Coordinator at 617-730-2743 or pburns@brooklinema.gov. for more informationorto sign up.
VOLUNTEER SPOTLIGHT
COREY COHEN: Corey has just finished his 3rd year as a volunteer with the Brookline Senior Center. He helps out in the lunch program setting tables for the many seniors who enjoy the lunches and also works in the Food Pantry every Tuesday. He has helped by taking tickets as shoppers enter; bagging apples and helping shoppers select items and get them into their shopping cart.
Corey also works at Trader Joe's in Coolidge Corner where he makes sure the shelves are neat and stocked, sweeps the aisles and breaks down boxes.  Outside of the Senior Center and Trader Joe's, Corey enjoys playing softball, participating in exercise classes, dancing and bowling. He also checks in each evening with his mom, shares highlights of his day and reminds his mom to take her medication. Corey says that he likes coming to the Senior Center because he loves the people who help him a lot!
What a great son, worker, volunteer and example of customer service!
QUOTE FROM DIRECTOR, RUTHANN DOBEK:
"One of our strengths is recruiting volunteers. We have 368 volunteers of all ages – 12 – 97 performing 462 activities. Many are active in more than one activity; many have volunteered with us for ten years or more; 20have paid jobs elsewhere; and 51 volunteer elsewhere. These volunteers, most of whom are seniors themselves, donate the equivalent number of hours of more than 20 full-time staff. Our volunteers are here and in the community every day. We would have to close our doors if we had to go without their thousands of hours of dedicated work."
Ruthann continues to ask that all of our volunteers add one more important job to their volunteering – being an ambassador for the Brookline Senior Center. She asks that we all be aware of new faces here or in our community – churches, synagogues, neighborhoods or social networks – and welcome and encourage seniors to come to the BSC.  Our volunteers know that the secret to longevity is active involvement and physical fitness.
BROOKLINE SENIOR CENTER VOLUNTEERS IN THE NEWS:
Ruthann was quoted in a recent article in the Commonwealth Magazine (http://CommonwealthMagazine.org/economy). Brookline will share an article with the Chicopee COA in the October issue of the Blue Cross Blue Shield Medex quarterly publication, Healthy Times. Brookline Senior Center intergenerational volunteers were spotlighted on Wednesday, March 29 on BIG, the local TV channel. If you missed it, you can find the ½ hour program link on the BCAN website or on the BIG Facebook page https://youtu.be/iDDCgi8vKCk. Patricia also updates the volunteer pages of the Town and BSC websites and contributes to the BCAN Volunteer page monthly. She urges everyone to check these websites (www.brooklineseniorcenter.org/, www.brooklinema.gov/) and http://www.brooklinecan.org/. Brookline Senior Center volunteers were featured in an article in the April, 2016 issue of the fiftyplus advocate entitledVolunteering: A Work of Heart at the Brookline Senior Center. The article can be found on line at www.fiftyplusadvocate.com
VOLUNTEER & COMMUNITY PARTNER OF 2017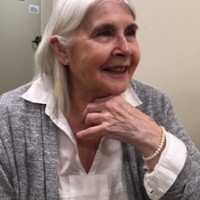 BARBARA KEAN
The 2017 Volunteer of the Year Awardwas presented to Barbara Kean. Ruthann outlined some of the many ways that Barbara has volunteered and most importantly her position as BSC ambassador. (Additional details can be found in the Volunteer Spotlight section above.) Barbara exemplifies kindness and concern in a quiet way. In addition to the certificate of award, Barbara was also given a beautiful plant and a Brookline historical afghan.
Community Partner Award was given to Goddard House. We thank them for collaborating in BCAN activities, the last three Parties of the Century and Brookline 300 as well as providing transportation for our Alzheimer's walk team and other events.
COLLABORATIVE VOLUNTEER EVENTS & OPPORTUNITIES:
SHINE
SHINE (Serving Health Insurance Needs of Everyone) is administered by the Massachusetts Executive Office of Elder Affairs in partnership with Councils on Aging and other aging service access points. SHINE helps people on Medicare and other seniors understand complex insurance options. SHINE volunteer counselors educate and provide unbiased help to choose an insurance program best for the individual. Seniors interested in making an appointment with a BSC SHINE counselor – especially during the open enrollment period – should call 617 730 2777.
SHINE trains counselors in a 2 days/week – 6 week course. Meetings to get support and meet with other counselors occur monthly. Once certified, you will be assigned to work 6 hours per week in a senior center or other public setting. If you are interested in becoming a certified counselor, call Dorene Nemeth, MetroWest Regional SHINE Director: 781 455 7555, ext. 202.
MASS COMMISSION FOR THE BLIND
Help a visually impaired person by reading or shopping with them. No special skills needed. Call Kyle Robidoux, Director of Volunteer Support Services, Mass Commission for the Blind – 617 926 4312.
The Brookline Senior Center is collaborating with the MA Commission for the Blind on a new grant to train vision impaired seniors on new technological equipment that has been installed in the BSC computer lab. Sassy, the new trainer is available by appointment on Wednesdays from 1-5 and most Thursdays.
BROOKLINE'S EMERGENCY FOOD BANK
The Brookline Emergency Food Bank needs donations of instant coffee and tea, sugar, oil, flour, spices, pasta, canned tomatoes and sauce, canned soup, beans, vegetables, fruit (low salt and low sugar) dry beans, healthy snacks for kids, granola bars, and fruit cups. They also need toiletries such as: shampoo, conditioner, moisturizer and sunscreen (not covered by SNAP).  Donations may be left in thebin under the table in reception at the Brookline Senior Center.
CAPPELLA CLAUSURA
This Newton-based choral group focuses on performing and supporting the music of women composers. Concerts from November to May take place in Newton and Boston. Cappella Clausura would like to offer warm and welcoming Brookline Senior volunteers free admission to their concerts in exchange for helping to greet patrons, direct audience members to ticket lines, usher and hand out programs. Interested volunteers should contact Anne Kern @ manager@clausura.org or 617 993 0013.
GENERATIONS INCORPORATED:
Generations Incorporated is recruiting older adult volunteers to help improve reading skills for Kindergarten through 2nd grade students in classroom settings twice a week at either the Winship School in Brighton or the Lydon School in West Roxbury. To find out more about the program please call 617 423 6633 or email volunteerinfo@generations.org to RSVP
REAP
Retirement Engagement Alternatives Program
The REAP program for Brookline senior residents 55 or 60 and above (depending on the program) is designed for people who wish to remain engaged and active in the community while in retirement or partial retirement. The goal of this program is to enhance the retirement experience by linking participants with either part-time paid or volunteer work in the community or at the Brookline Senior Center (BSC) itself.
The BSC partners with several other local organizations to offer fulfilling and interesting opportunities. These include, but are not limited to: BrooklineCAN (BCAN), Senior Community Service Employment Program (SCSEP), Brookline Adult and Community Education, Executive Office of Elder Affairs and Various Brookline Town departments. In addition, opportunities exist for Tax Work-Off, and limited grant funded employment at the BSC for income qualified Brookline residents.
The REAP program provides the following free services: individual, confidential and free consultation around skills and interests, on-going skills based workshops and training for employment seekers, employer-employee matching service, consultation and matching for participants seeking meaningful volunteer opportunities and on-going opportunities to network and explore avenues and options for self-fulfillment in the retirement years.
To enroll or for more information, call 617 730 2767 or email Deidre at dwaxman@brooklinema.gov
Brookline seniors – Boomers & Beyond – are eligible to receive free individual help with resumes, cover letters and LinkedIn profiles as well as tips on phone, skype, in-person and mock interviews. To schedule an appointment, call Patricia at 617 730 2743 or email her at pburns@brooklinema.gov