One Person Can Make a Difference
VOLUNTEERING: "One Person Can Make A Difference"
APRIL 2020
In order to prevent the spread of the COVID-19 virus and comply with the mandates of the Federal, State and local government agencies, the 2020 Annual Volunteer Luncheon scheduled for April 18 has been postponed.However, this does not mean that the staff and seniors are any less appreciative of the fantastic work, and the enormous amount of time and energy that all of our volunteers so generously give.
In the coming days we will depend on volunteers more than ever. As of April 1 our priority volunteer needs are:
Springwell Home Delivery Meals on Wheels' Drivers
At this time, Springwell is seeking volunteers who are willing to provide home delivery of meals.*Springwell is an essential part of the social safety net for thousands of older adults each year, and we are continuing to provide the services that are helping them stay safe and in their homes during this challenging time.
We especially need volunteers who can work in the towns of Belmont,Brookline,Newton,Watertown and Waltham. If you are:
interested in receiving training and support to help us reach vulnerable seniors with critical in-home meals;
have a reliable car,a current driver's license,and a clean driving record;
are available between10 am – 1 pm;
are able to provide these services, consistent with guidance we receive from the CDC, WHO and other governmental agencies,recognizing you may come into contact with high-risk members of our community and others; and are successfully able to meet the regulatory prerequisites for
Please contact us!Email volunteer@springwell.comto start the process; or go online and apply to volunteer at www.springwell.com/volunteer
Town of Brookline – send an email to COVIDVolunteer@BrooklineMA.gov to be contacted for various
Senior Center – we are glad to hear that you are committed to community assistance. We will keep your name and contact information on file and will call upon you as needed
APRIL 2020

The Brookline Council on Aging and the Brookline Senior Center are always happy to enlist new volunteers who can share their talents and program ideas.
Your contributions would enable us to expand the number and variety of high level programs and activities that are provided for all seniors in Brookline. If you would like to actively pursue volunteer service, please make an appointment with Patricia, the Volunteer Coordinator (617-730-2743) to learn more about the Senior Center & opportunities where you might best share your time and talent. We are always eager to hear new ideas & keep a list of volunteers for special events and future opportunities.
– – Volunteer content written by Patricia Burns
SPOTLIGHT VOLUNTEER
Millicent Holder
Millicent has been volunteering at the Brookline Senior Center (BSC) since October of 2017. Millicent is an integral member of the team responsible for mailing the monthly newsletters and many other mailings from the Senior Center and the Town of Brookline Human Resources Department. She enjoys this job and working with nice people who she finds easy to get along with. In addition to her volunteering, Millicent also enjoys jewelry-making, knitting and crocheting. Millicent has participated in job search workshops and trainings at the BSC and hopes to get a paid position outside of the BSC in the future.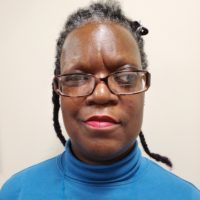 BROOKLINE SENIOR CENTER VOLUNTEERS IN THE NEWS:
Photo and blurb in the Brookline TAB in November about Brookline High School senior and SHOP Student Coordinator Sidonie Brown receiving award and scholarship from the MIT Age Lab for her inter-generational work with the SHOP program. Visit from Global Service Learning Programme of Northern Ireland, September, 2019. We hope to host their high school students in the NI Education Authority Youth Services: Boston Study Visit next summer for a day of cultural exchange.Interview from Council on Aging of Southwestern Ohio regarding how to set up a SHOP program; Article TAB July 2019 re: Lincoln School Graduating 8th Graders at the Brookline Senior Center; Article re: 2019 John & Molly Dolan Awards with photo of Brookline Bank executives receiving the Community Partner Award was featured on the 1st& 4th pages of the Brookline TAB on April 25th2019.  The Brookline Senior Center Alzheimer's Walk Team photo and blurb were featured on the Your News page of the Brookline TAB on September 27.The Brookline Senior Center Food Pantry along with Springwell and the Brookline Food Pantry were filmed in June for airing on Brookline cable's (BIG) Age Friendly City series. The topic of this episode is Food Insecurity in Brookline. The program can be viewed on: http://www.brooklinecan.org/index.html#TV and http://www.brooklinecan.org/agefriendly.html#TV.The SHOP Program between Brookline High School and Brookline Senior Center was featured on Boston 25 News on Thursday, February 22. The link to see the feature story can be found athttps://t.co/9zECVvJDEd. The Brookline Senior Center Alzheimer's Walk Team photo and blurb were featured on the Your News page of the Brookline TAB on September 28. Ruthann was quoted in a recent article in theCommonwealth Magazine (http://CommonwealthMagazine.org/economy). Brookline shared an article with the Chicopee COA in the October issue of the Blue Cross Blue Shield Medex quarterly publication, Healthy Times. Brookline Senior Center intergenerational volunteers were spotlighted on Wednesday, March 29 on BIG, the local TV channel. If you missed it, you can find the ½ hour program link on the BCAN website or on the BIG Facebook page https://youtu.be/iDDCgi8vKCk. Patricia also updates the volunteer pages of the Town and BSC websites and contributes to the BCAN Volunteer page monthly. She urges everyone to check these websites (www.brooklineseniorcenter.org/, www.brooklinema.gov/) and http://www.brooklinecan.org/. Brookline Senior Center volunteers were featured in an article in the April, 2016 issue of the fiftyplus advocate entitledVolunteering: A Work of Heart at the Brookline Senior Center. The article can be found on line at www.fiftyplusadvocate.com
COLLABORATIVE VOLUNTEER EVENTS & OPPORTUNITIES:
AARP TAX PREPARATION ASSISTANCE: Our wonderful AARP Tax Aide volunteers will once again return to the Senior Center on Tuesdays between February 11 and March 31 to assist seniors with filing your returns. Please note it is very important to bring copies of your 2018 returns to your appointment. In addition, the Tax Aide volunteers will NOT be able to assist you with any amended tax returns prior to your 2016 returns. For more information or to schedule an appointment, please call 617 730 2777.
VOTER REGISTRATION: The non-partisan League of Women Voters of Brookline is offering the opportunity to register or update voter information on February 4 from 12:30-2:30pm in the Coffee Lounge at the Senior Center. Voter registration forms will be provided. The Massachusetts deadline to register to vote in the March presidential primary is February 12. The completed registration will be confirmed by the Brookline Town Clerk's office.
SHINE:Open Enrollment for Medicare supplemental insurance has ended!However,SHINE (Serving Health Insurance Needs of Everyone) is administered by the Massachusetts Executive Office of Elder Affairs in partnership with Councils on Aging and other aging service access points. SHINE helps people on Medicare and seniors new to Medicare understand complex insurance options. SHINE volunteer counselors educate and provide unbiased help to choose an insurance program best for the individual.
SHINE trains counselors in a 2 days/week – 6 week course. Meetings to get support and meet with other counselors occur monthly. Once certified, you will be assigned to work 6 hours per week in a senior center or other public setting. If you are interested in becoming a certified counselor, call Dorene Nemeth, MetroWest Regional SHINE Director: 781 455 7555, ext. 202
MASS ASSOCIATION FOR THE BLIND (MAB) – VIBRANT:The Brookline Senior Center is collaborating with the MAB on a grant to train vision impaired seniors on new technological equipment that has been installed in the BSC computer lab. Jeremias Feliz is the VIBRANT Program Trainer and will be available with other volunteers by appointment on Wednesdays from 1-5 and most Thursdays.
Technology connects, empowers, and provides a path to freedom: From being able to hail a ride using Uber, to apps to keep you organized and pay bills on time, to software that narrates navigation while you're walking, and even being able to tell the color of a piece of clothing or denomination of money without human assistance – technology can be a game-changer. VIBRANT will help you find the tools that allow you to do what you want to do when you want to do it and live on your terms. We are committed to helping people with vision loss find new ways to access technology that helps you meet your goals – customized for your life.
VIBRANT can teach you to use assistive technology to:
Access, enlarge and read print information, hard-copy or digital
Better manage your time via note-taking, organization, paying bills, and banking
Navigate your world via transportation information and apps
Participate in leisure and recreational activities
Accomplish daily tasks, such as shopping, reading, social media, email, travel planning, handling money, and obtaining information about a visual task
An app that interfaces with a camera and sends images back to a sighted agent on the other end; gestures that enable an iPhone to work without being able to see any of the icons on the home screen, programs for reading or walking without a sighted guide were just some of the many tools a consumer in the new VIBRANT assistive technology program may learn.
The first step is coming in for an assessment, so that program organizers can help you find the right tools to help you to do what you want to do when you want to do it.
We are committed to helping people with vision loss find new ways to access technology that helps you meet your goals – customized for your life.
MASS COMMISSION FOR THE BLIND: Help a visually impaired person by reading or shopping with them. No special skills needed. Call Kyle Robidoux, Director of Volunteer Support Services, Mass Commission for the Blind – 617 926 4312
BROOKLINE'S EMERGENCY FOOD BANK: The Brookline Emergency Food Bank needs donations of instant coffee and tea, sugar, oil, flour, spices, pasta, canned tomatoes and sauce, canned soup, beans, vegetables, fruit (low salt and low sugar) dry beans, healthy snacks for kids, granola bars, and fruit cups. They also need toiletries such as: shampoo, conditioner, moisturizer and sunscreen (not covered by SNAP). Donations may be left in thebin under the table in the reception area at the BSC.
 REAP
Retirement Engagement Alternatives Program
The REAP program for Brookline senior residents 55 or 60 and above (depending on the program) is designed for people who wish to remain engaged and active in the community while in retirement or partial retirement. The goal of this program is to enhance the retirement experience by linking participants with either part-time paid or volunteer work in the community or at the (BSC) itself.
The BSC partners with several other local organizations to offer fulfilling and interesting opportunities. These include, but are not limited to: BrooklineCAN (BCAN), Senior Community Service Employment Program (SCSEP), Brookline Adult and Community Education, Executive Office of Elder Affairs and Various Brookline Town departments. In addition, opportunities exist for Tax Work-Off, and limited grant funded employment at the BSC for income qualified Brookline residents.
The REAP program provides the following free services: individual, confidential and free consultation around skills and interests, on-going skills based workshops and training for employment seekers, employer-employee matching service, consultation and matching for participants seeking meaningful volunteer opportunities and on-going opportunities to network and explore avenues and options for self-fulfillment in the retirement years.  To enroll or for more information, call 617 730 2767 or email Deidre at dwaxman@brooklinema.gov
Brookline Seniors – Boomers & Beyond – are eligible to receive free individual help with resumes, cover letters and LinkedIn profiles as well as tips on phone, skype, in-person and mock interviews. To schedule an appointment, call Patricia at 617 730 2743 or email her at pburns@brooklinema.gov