Winter Preparedness Presentation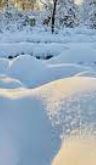 Winter is right around the corner. Winter can be an unpredictable season in New England that can prove challenging for many. On Thursday, November 30 at 11 am at the Senior Center, join the Office of Emergency Management for this informative presentation and learn how to prepare yourself, your home, your pets for the coming cold. We will talk about the warning signs of hypothermia, how to prevent falls, and how to prepare for a major snow storm. Be part of the conversation and learn some useful tips to keep yourself and your neighbors safe in the coming months. Free giveaways to all participants.
Please register at 617-730-2770.