Town of Brookline Flu Vaccine Clinic For Seniors (full)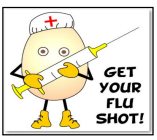 On Tuesday, September 19 from 10:00 am‐12:00 pm at the Senior Center, the Health Department will offer a flu vaccine clinic for ages 65+ ONLY. Please wear loose or short sleeve attire and bring your health insurance or Medicare card. Information will be available regarding October clinics which will be open to all other age groups. Registration is required at https://home.color.com/vaccine/
register/brookline?calendar=786e23fb‐ad7e‐4821‐8f22‐916adfbac342&site=brookline‐senior‐center
Senior Center staff are available to help seniors who may need assistance with online registration.
Homebound residents over age 65 and in need of a flu vaccine can call the Senior Center at
617‐730‐2770 to leave their name so the Health Department can schedule an appointment for them.