The Golden Age of Music Concert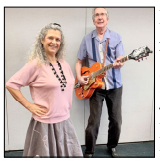 Music in the 1950s was dominated by the birth of rock and roll. It was a powerful
new form of music that combined elements of rhythm and blues (R&B), pop, blues,
and hillbilly music to create a sound that truly shook America. On Wednesday,
June 28 at 1:00 pm at the Senior Center, in this entertaining and educational
program, the duo Retro Polatin will discuss the music and singers and they will
play songs from the 50ʹs Golden Age of Music. This program is supported by a
grant from the Brookline Commission for the Arts, a local agency which is supported by the
Massachusetts Cultural Council, a state agency.

Please register at 617‐730‐2770.