Special Screening: Voices From The Basement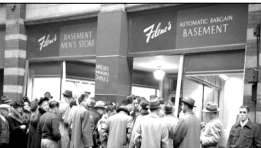 On Tuesday, June 13 at 1:00 pm at the Senior Center, the Brookline Senior Center and Balfour Senior Living will present a special screening of ʺVoices from the Basement.ʺ Join us as we reminisce and learn about the community that Filene's Basement created. This screening is followed by a Q & A discussion with Filmmaker Michael Bavaro and Executive Producer and psychologist Dr. Susan Edbril.
"Voices from the Basement" is a documentary film about Boston's beloved 100‐year‐old icon – the original Filene's Basement. The film is a journey back to a time when the American Dream was accessible to everyone who walked through the doors of The Basement. The Brahmins of Beacon Hill stood in line with the waitresses from Durgin Park with equal access to the same high‐quality, discounted merchandise for which The Basement is best known worldwide. The film is a collection of stories told by the people who worked and shopped in there. Celebrities, politicians, employees, and loyal shoppers share their passion for this landmark institution that has been one of Boston's most visited tourist attractions for generations. The history of Filene's Basement is captured through newsreels, archival footage, vintage photographs and audio recordings. The founders, Edward and Lincoln Filene, were two of the leading retail pioneers who helped shape many of the social and economic paradigms that have made America great, from employee health care to the formation of credit unions. Throughout the course of production, the producers were witness to history as it transpired. With the closing of the downtown store in 2007, they were there to capture it all. Sadly, this monument of commerce remained a hole in the ground at the end of the film as Filene's Basement filed for bankruptcy for the last time. Thanks to Balfour Senior Living for their program sponsorship.
Please register at 617‐730‐2770.