Sheriff's Office Information Session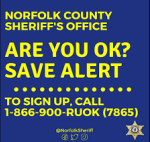 On Wednesday, May 3 at 11:30 am at the Senior Center, join Cheryl from the Norfolk County Sheriffʹs Office as she discusses all senior safety programs available for free through their office. This includes information on "Are You Ok?," Files of Life, The Yellow Dot Program, etc.
Please register at 617-730-2770.