Rob Schwartz Presents The Wisdom of Morrie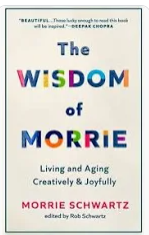 On Wednesday, September 27 at 1:00 pm at the Senior Center, join BrooklineCAN as they welcome Rob Schwartz, a Brookline native and son of Morrie Schwartz, the beloved subject of the classic, multimillioncopy, number one bestseller "Tuesdays with Morrie." Rob will give a talk on the recently released book, "The Wisdom of Morrie." Before becoming ill with ALS, Morrie wrote a poignant manuscript on aging joyfully and creatively. Set aside until now, Rob has edited the monograph and added essays creating a work that Deepak Chopra said is, "Beautiful…Those lucky enough to read this book will be inspired." A great companion to "Tuesdays with Morrie" or the perfect introduction to Morrie's thoughtful philosophies. "The Wisdom of Morrie" is filled with empathic insights, stories, anecdotes, and advice, told in Morrie's reassuring, calm and timeless voice. Let "The Wisdom of Morrie" be your guide in exploring deep questions of how to live and how to love. Joining Rob in his presentation will be Jean Stehle, an educator, writer, and educational consultant. She is a school librarian in Newton, where she takes pride in creating an inclusive, engaging learning environment where facts matter and all students are book lovers, even if they don't know it yet. She lives in Newton with her husband, two children, and countless books.

Please register at 617-730-2770.