Rhumba! Samba! Tango! Mambo!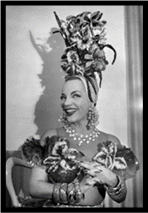 On Wednesday, September 28 at 1:00 pm at the Senior Center, John Clark and his Great American Music Experience presents this music education program in celebration of Hispanic Heritage Month. It includes dance hits and movie clips from the thirties and forties from Xavier Cugat, Carmen Miranda, and Desi Arnaz, as well as Latin jazz, folk, and even rock & roll from the fifties and sixties. The history of the influence of Latin American music on American popular music from the 1920s through the 1960s comes mostly from South American and Cuban dance music. Don't forget your dancing shoes for this fun, lively, and upbeat program!
Please register at 617‐730‐2770.