Positive Psychology – What It Can Do For YOU!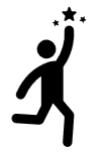 Positive Psychology focuses on enhancing how we experience life and deal with challenges. On Thursday, May 11 at 1:00 pm at the Senior Center, join Dr. Miriam Rosalyn Diamond to learn about this movement. We'll engage in activities to boost our well-being such as building awareness, recognizing our "superpowers," and preparing personal emotional "first aid kits."

Please register at 617-730-2770.