Paul Gauguin-Inspired Art Workshop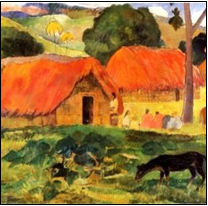 Join Art Therapist Carolyn Melbye at the Senior Center on Thursday, April 20 at 1:00 PM for this fun workshop. Paul Gauguin (1848-1903) was a French Impressionist who left France for warm, sunlit Tahiti, where he was inspired to paint mythical interpretations of the tropical climate, such as Landscape with Peacock. Travel via learning about his paintings of warm Tahiti and be inspired to paint your own sunlit landscape in acrylics.
Please register at 617-730-2770.