Just The Three of Us Concert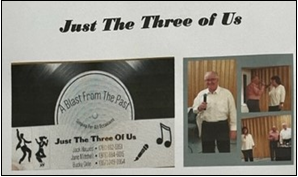 On Thursday, February 16 from 1:00 – 2:30 pm at the Senior Center, join Just the Three of Us for "A Blast from the Past" with songs of yesteryear!
The band is comprised of members Jack Hawes, Buck Cole, and Jane Mitchell. Jack has been performing various genres for many years. Buck has been singing all his life and music is a passion for him. He has performed in a band and has had many opportunities to sing with North Shore Acappella. Jane has also had a love of music all her life. She hosted a Karaoke and DJ business for over 25 years and singing is also a passion for her. Most recently, she is hosting Karaoke shows and singing with Just The Three Of Us.
Please register at 617-730-2770