Juneteenth Presentation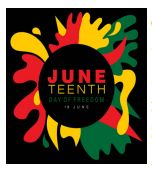 On Monday, June 5 at 1:00 pm at the Senior Center, in honor of Juneteenth, discover
the hidden history of freedom and slavery in Brookline. You will hear history and
some stories about slave traders, and enslaved people, about courageous young
men who escaped slavery, and about Brookline's Underground Railroad stations.
Speaker Barbara Brown, Ph.D. is the founder and head of Hidden Brookline which
for seventeen years has been bringing this history to light.
Please register at 617‐730‐2770.