Jordan Marsh: New England's Largest Store (rescheduled from 4/24)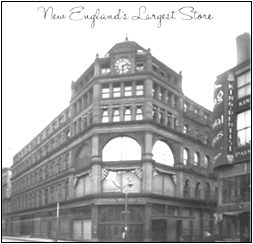 On Monday, May 22 at 1:00 pm at the Senior Center, join author and historian Anthony Sammarco for this informative presentation as he reveals the fascinating history of Boston's beloved Jordan Marsh, New England's Largest Store.
Jordan Marsh opened its first store in 1851 on Milk Street in Boston selling assorted dry goods. Following the Civil War, the store moved to Winthrop Square and later to Washington Street between Summer and Avon Streets. The new five-story building, designed by Winslow & Wetherell, unveiled the novel concept of department shopping under one roof.
It attracted shoppers by offering personal service with the adage that the customer is always right, easy credit, art exhibitions and musical performances. By the 1970s, it had become a regional New England icon and the largest department store chain in the nation.
​Many thanks to our co-sponsor Springhouse Senior Living who will be providing blueberry muffins, similar to the muffins of Jordan Marsh's yesteryear, for program participants.
Please register at 617-730-2770.