Fall Resilience Group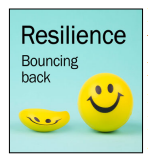 Resilience, the ability to bounce back from difficult experiences, has been shown to play a very important role in healthy aging. In particular, it is associated with better physical and psychological health. Please join us for a time‐limited 8 session group, as we discuss various strategies for promoting resilience. Our own social worker Sharon Sandalow, LICSW, will be leading the group at the Senior Center on Thursdays from 1:00‐2:30 pm, beginning September 7 and ending October 26.
Please call Sharon at 617‐730‐2769 or email her at ssandalow@brooklinema.gov to register
(required) for this new group.