Conversation With The Town Clerk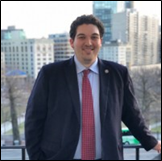 On Thursday, October 13 at 1:00 pm at the Senior Center, join Town of Brookline Clerk Ben Kaufman for an informative presentation on how Town government works. With the timing right before the November election, Ben will speak about the State election, some of the new voting procedures (vote by mail, early voting), and other topics related to November.
Please register at 617‐730‐2770.